By Philip Pilkington, a writer and research assistant at Kingston University in London. You can follow him on Twitter @pilkingtonphil
There's a lot of talk flying around about the Japanese stimulus. Some appears to be misguided, some appears to be sensible. Let's review the off-base reactions first, then the sensible talk and then finally review the results of the previous stimulus to see what the present stimulus might produce.
In a recent article, Bloomberg cited a number of economists from various banks who argued the stimulus probably won't work very well. One of these, Azusa Kato from BNP Paribus, sums up this attitude nicely.
"Fiscal stimulus is like morphine, because if you want to maintain the same level of effect you have to keep upping the dose," said Azusa Kato, an economist at BNP Paribas in Tokyo. "Japan has failed to achieve a sustainable economic expansion, and the country's record proves the strategy is wrong."
Nice metaphor, but what does it mean? When economists discuss the effects of fiscal stimulus they generally refer to what they call the "multiplier". The multiplier is the amount by which national income and employment will increase when new spending or investment is injected into the economy. So, for example, if the Japanese government hires a bunch of construction workers it is assumed that these workers will spend some of their income on consumer goods. This then generates employment and incomes in the consumer goods sector and these people in turn spend their income on, say, other consumer goods which generates further employment. This process goes on and on in an ever-diminishing cascade until finally comes to a halt. The amount of income this generates at the end of the process is known as the "multiplier" or the "Keynesian multiplier".
Now, what Kato seems to be saying is that the multiplier falls every time another stimulus is undertaken or, to put it another way, that government stimulus programs are subject to diminishing returns. Kato does not provide any support for this and neither I nor a group of other economists I discussed this with can think of any economic argument as to why this might happen. Yes, Japan seems to have some structural issues which we will discuss below, but there seems no reason to assume that fiscal stimulus will have diminishing returns. At worst, it will probably just persistently have the same effects. And if it has worse effects than the previous stimulus this will be due to other contingent factors, not due to some inherent tendency for government intervention to be subject to diminishing returns.
Richard Koo, a long time champion of fiscal stimulus, on the other hand, is quite optimistic. He claims that deflation is no longer the problem that it was in 2009 when the last stimulus was enacted. He claims, probably rightly, that deflation has a depressing effect on business and consumer confidence and that this was one of the reasons that the last stimulus only had a short-term effect. Koo is also interested in the possibility of providing tax incentives for business which, although the present government have not announced as of yet, they are apparently considering them.
So, what is actually going on with Japan? In order to understand this better we need to look at the data with respect to the last stimulus to see what it did and what it didn't do, and try to figure out why. The first graph below is Japan's annual GDP growth rate plotted together with annual growth rates of private sector final consumption – that is, by households and businesses – and government sector final consumption. This, I think, is the key graph to understanding the nature of the so-called Japanese disease.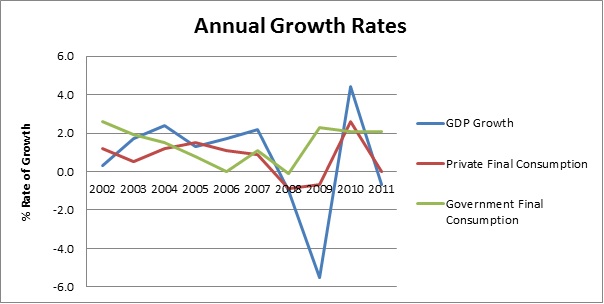 As we can see, the economy went into recession along with the rest of the world in 2008. As it bounced back the government undertook a stimulus program of similar size to the one announced this year in April 2009. This led to a spurt of growth which was, by any measure, quite brief and by no means sustained.
One of the reasons for this can be seen quite clearly in the graph. While government final consumption maintained its levels as the government poured money into the economy, the private sector only bounced back for a brief period of time and then stopped consuming. This appears to be the key feature of the Japanese disease (one which, incidentally, is not so much a problem in the US). The authorities there simply cannot lift consumers' spirits for any sustained period of time. The 2009 stimulus proved able to coax the Japanese consumer out of its cave for a brief period but they soon thereafter retreated back into the darkness.
A simple solution to this would be for the government to just keep pumping money into the economy until the Japanese consumer becomes so flush with funds that to continue saving would be ridiculous. To what level this would need to be done is anyone's guess, but if the government spent enough to push the economy up to its inflation barrier I'm fairly confident that would do it – that is, if the Japanese government spent up to full employment so that mild inflation began to occur due to excess demand in relation to supply. Likewise a sustained program of spending guaranteed to remain in place until the economy recovered – like, for example, an MMT-inspired Jobs Guarantee program – would also probably do the trick. But neither of these possibilities seem in the cards.Japan's government seems intent on pursuing silly stop-start "Keynesian" pump-priming policies instead, so we're stuck analysing the potential effects of these.
We will then consider a few more things about the contemporary scene in Japan before retiring to our respective armchairs and simply waiting to see what happens. Firstly and very importantly, the above stimulus was undertaken after a very sharp downturn and there was, as everyone will remember, far more uncertainty among both consumers and investors in the years after 2008 then there is today. Perhaps then this will mean that the new stimulus proves more effective as the spirits of our Japanese friends might not be so down in the dumps and they might emerge from the darkness of depression into the light of recovery.
Secondly, we should be quite clear on a point touched upon above: there is absolutely no logical reason why this stimulus will suffer from "diminishing returns" as argued by Kato above. At the very least it will be as effective as the previous stimulus. If the reader hears an economist making these arguments do me a favour and press them to explain them logically and within the bounds of economic theory. I am pretty confident that the person who presses this point will quickly find that the emperor has no clothes.
Thirdly, there has been much talk about a yen depreciation providing a boost to exports. Some within the Japanese government are hoping that this acts as the nitrous oxide to the stimulus gasoline, providing a boost on both sides of the economy and getting the whole freight moving once more. There are two things to consider when mulling over this view. First of all, if we compare the exchange rate of the yen to the dollar today to the exchange rate in 2009 it is quite clear, as the reader will see in the graph below, that despite the fact it has declined somewhat since its highs last year it is still far, far above its 2009 level.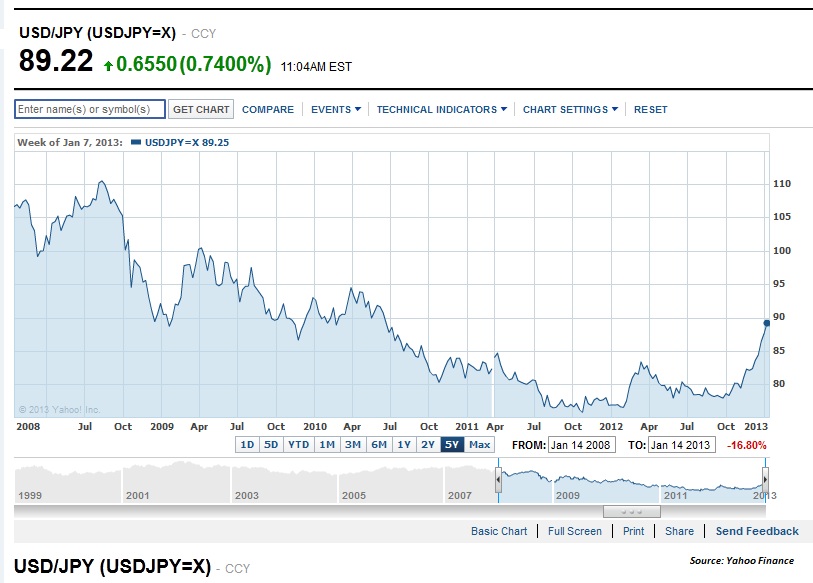 This raises the question of just how much the Japanese government are going to allow the yen to depreciate relative to other currencies – and how much other countries, mired as they are in recession or borderline recession, are going to allow. In order to reach 2009 levels the yen will have to depreciate by another by at least another 10% – and may even need another 15-20% depreciation to see real tangible results. This is by no means impossible, but it will require a steady hand by Japanese officials.
On the other hand, the world markets, while being by no means strong, are nevertheless far more buoyant than they were in the dark years of 2008-2009 when the last stimulus was enacted. This provides some hope that if the Japanese play their cards right the rest of the world might provide them with a sufficient boost to get the economy ticking over again.
The above points are not to provide the reader with a crystal ball with which to see into the future. Any economist who engages in such an undertaking is either a charlatan or a fool. They do, however, provide signposts with which to navigate the coming months. Whether the stimulus does work or not, however, Japan can teach us a quite simple lesson: namely, that stop-start pump-priming pseudo-Keynesian policies are a poor means by which to promote economic recovery. If a government is not willing to jump right in at the deep-end and spend up to the inflation barrier for political reasons, then they should instead introduce solid institutions that will mop up excess capacity automatically when the economy goes into a serious downturn. They should, in other words, guarantee businesses that there will always be a market for their goods and services to ensure a perpetually functioning economic machine.