The media increasingly appears to define the state of the economy based on corporate bottom lines and the experience of the upper echelon, reflected in the way it glosses over the anxiety and distress outside the top 1% of the population. The fact that this disconnect isn't a figment of our imagination was confirmed by a recent study by Edmund Saez that reported that 121% of the income gains from 2009 to 2011 went to the top 1%, meaning they pulled further ahead while everyone else (in aggregate) became worse off. The big cause is the state of the labor market. And that isn't just a product of the global crisis but also of a long-term restructuring of the relationship between employers and employees.
One of the pet ideas of neoliberalism is to encourage "labor market flexibility" which is code for letting companies fire employees on a whim. The problem is that a quick to hire, quick to fire posture is not a terribly sound idea. It takes a lot of time and effort to hire and train people (yes, Virginia, even a skilled employee needs to learn the quirks of how his employer likes things done), so firing people casually means a loss of this investment. Export powerhouse Germany has not been competitively impaired by its restrictions on terminating employees. But while some businesses actually believe the HR trope that "employees are our most important asset", most, to adopt an image from Robert Oak at the Economic Populist, treat them as disposables.
McKinsey took note of this development in the early 2000s, when a study they commissioned from Yankelovich determined that new college graduates could expect to have 11 jobs by the age of 38. How can you plan any spending, much the less sensibly commit to buying a house or raising a family, with that much income uncertainty? Multiply that across most of the economy and no wonder this "expansion" is so sluggish.
A recent report by Mark Szeltner, Carl Van Horn, and Cliff Zukin of the Heldrich Center at Rutgers, Diminished Lives and Futures: A Portrait of America in the Great-Recession Era, shows how far this trend has gone in the downturn.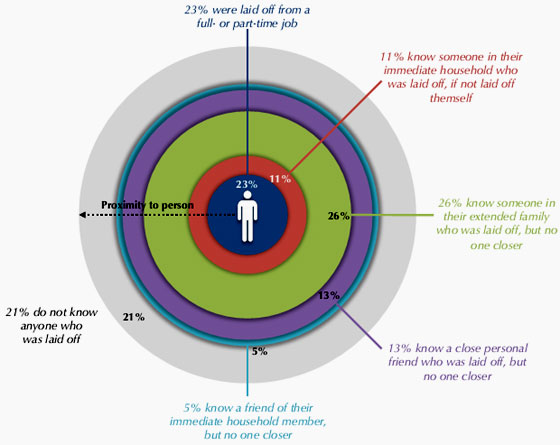 The media reports tended to play up this chart, which gives a sense of how pervasive job loss is, without hammering on the data: 23% of the respondents in their survey had lost a job. Of 18 to 34 year olds, it was 28%. And that's before you consider the high level of unemployment among college graduates, as in how many have trouble getting hired after they graduate. And remember, traditionally, new graduates are seen as prime targets for hiring, since they are comparatively cheap and high energy. But they are apparently no longer such a great bargain now that everyone is scrambling for work. In addition, 20% of the survey respondents who did have a job were working part time, and the survey did not ascertain how many of them were underemployed.
As unemployment statistics suggest, it is also hard to get a job once you've lost one. Of those who were terminated, only 35% found new work in six months. 22% said they could not get hired.
And even the ones who did find employment typically had to settle for less to get a paycheck again. The chart below shows that almost half described their current job as a step down from the one they held before their recession-related layoff. And even more took a reduction in pay.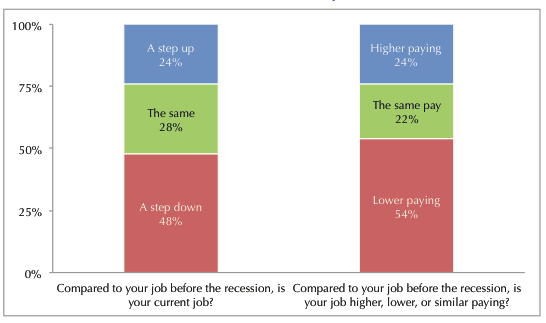 The one-two punch of no income while looking for a job and (in the overwhelming majority of cases) landing a worse to more or less the same status/pay level of employment has serious financial consequences.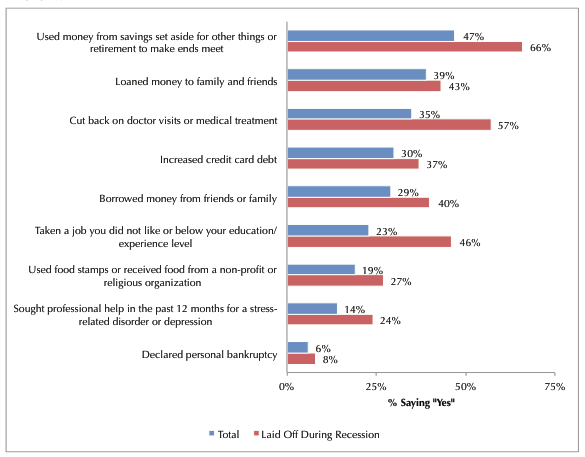 Look at that chart closely. People are draining their retirement accounts, neglecting medical care, and relying on food stamps to get by. Yet we read much more about how the economy (read the bottom lines of public companies) is getting better, while the desperate state of the un and underemployed shows up in anecdotes decorating the occasional story on those topics alone, and is underplayed when the media ventures out to see how the remnants of the middle class are doing.
Significant majorities expected that it would either take a long time for a return to normalcy or that the old way would never come back on a host of issues: college affordability, seniors not needing to work to supplement income, employees feeling secure in their jobs, lower unemployment, ability to find work commensurate with one's skill levels.
While this report has gotten media coverage, most mainstream sources have tended to focus on one aspect, perhaps because the totality is too much of a downer. I strongly encourage you read the entire report, since it will provides some badly-needed insight into conditions on the unemployment line.