By Lambert Strether of Corrente.
[Patient readers, I had an early morning Internet meltdown, followed by an RL meltdown, and so was not able to complete this lengthy piece in time (and in fact, because both Interent and phone were down — infrastructure devolution — wasn't able to communicate with Yves. Apologies!) Since there are comments on the "single," I won't take it down, since it's taken on a life of its own. This, however, is the EP! –lambert]
Even though, as the headline shows, I have little Italian, and less Italian politics, I'm so chuffed that Beppe Grillo did well in yesterday's Italian elections — even though he was neither a wizened, permanently tanned, and shamelessly unrehabilitated whoremonger nor a Goldman Sachs alumnus (sorry for the redundancy) — that I thought I'd do a wrap-up before conventional wisdom completely congeals. Alert readers will, of course, correct and amplify this post in comments!
First, I'll briefly summarize the state of play following the election. Then, I'll look at The Five Star Movement (Movimento 5 Stelle, M5S), the organization that Beppe Grillo heads: the semiotics of the M5S logo, and M5S organization and tactics, and where M5S fits on the political spectrum. I'll conclude by pointing to a meme to watch, used to describe the Italian political system (and oddly, or not, not "ours"). In Appendices, I'll give a brief timeline of Mr. Market's reactions to the election, some funny quotes from Grillo, and a note on comedians.
1. State of play in italian election
Italy's parliamentary elections were marked by a sharp fall in turnout (possibly due to bad weather), inaccurate polling before the race (possibly due to youthful cell use), and inaccurate exit polling. In policy terms, Italian voters rejected austerity:
"The result is the absolute majority of Italians have voted against austerity measures, the euro and Europe," said Enrico Letta, deputy leader of the Democrat party. "This sends a very clear signal to Brussels and Frankfurt."
However, no one party or party leader dominates, so it's not clear how a government can be formed. Stalemate:
Italy faced political deadlock on Tuesday after a stunning election that saw the anti-establishment 5-Star Movement of comic Beppe Grillo become the strongest party in the country but left no group with a clear majority in parliament. "The winner is: Ingovernability" was the headline in Rome newspaper Il Messaggero, reflecting the stalemate the country would have to confront in the next few weeks as sworn enemies would be forced to work together to form a government. The center-left coalition led by Pier Luigi Bersani won the lower house by around 125,000 votes, where it will have a majority because of a premium given to the largest party or coalition. Results in the upper house Senate indicated the center-left would end up with about 119 seats, compared with 117 for the center-right. Seats are awarded on a region-by-region basis in the Senate, where a majority of 158 is needed to govern. Any coalition must have a working majority in both houses in order to pass legislation.

Neither Grillo, a comedian-turned-politician who previously ruled out any alliance with another party, nor Silvio Berlusconi's center-right bloc, which threatened to challenge the close tally, showed any immediate willingness to negotiate.
And the stalemate may lead to another election in the near future:
The result indicated that fresh elections were a strong possibility and, at best, foreshadowed a weak government unable to pass the tough reforms [austerity] Italy needs to enhance its grim economic prospects.
(Note how the "left wing" Guardian takes austerity as growth producing, a proposition already empirically falsified.) I don't have any predictions on how this will play out, even if Mr. Market hates uncertainty, except for others; American political chess, having only 11 dimensions, is like checkers compared to Italian politics. Moreover, America, unlike Italy, has never had an authentically fascist movement seize political power (except for the Reconstruction South, of course). In any case, as we've seen above, the real story is the emergence of M5S, led by comedian Beppo Grillo:
Grillo boasted [M5S] had achieved its prominence in the space of little more than three years, "with no money and no [state] funding."
2. M5S: Semiotics of a logo
I'll start by looking at the M5S logo, and comparing it to the EU flag.
We notice immediately what they share: A circle, and stars. We notice also how they are different: The EU flag has a clean, simple, professional design; it's "hot" (McCluhan would say) because it engages one sense, the visual, almost completely, with its single message of European unity, and its contrast of deep blue and gold. The charmingly amateurish M5S logo, by contrast, might have been designed by a multi-tasking Internet user: It's "cool" in that it demands engagement to extract value. We also notice that the EU circle of stars is self-similar at all sizes and designed for expansion; adding another star to the circle wouldn't change nature of the design. The M5S logo, because it includes type, is not self-similar at all sizes; shrink it too far, and the type will not be readable. Indeed, in its refusal to scale, the M5S logo resembles heraldry: Each element — The red border, MoVimento, the 5 stars, and the URL — has a meaning, and to add a new element would be to change the meaning of all the elements taken as a whole. The M5S logo is not designed for expansion; it is hermetic, even autarkical, of Italy only; and we might not be going to far to say that this reflects the attitude of M5S's voters to the EU, the demands for austerity from Brussels and Berlin, and perhaps even the Euro. Let's take each of the elements in turn, working from the bottom up:
The URL: Hearteningly, http://www.beppegrillo.it/ goes to Il Blog de Beppe Grillo, which seems to have more bandwidth or less load now. Grillo's technical:
Grillo refuses to talk to Italian media, preferring to communicate directly through his blog, and a lot of people listen. He is Europe's most social media savvy politician, with over 1 million Facebook friends, and 880,000 Twitter followers. He uses this — and the wildly popular blog — to proselytize, advertise, organize.
The 5 stars: These symbolize the 5 planks of the M5S platform:
1. Not be an elected politician prior to 5 Stelle

2. Commit to stay in charge for no longer than 2 terms

3. Commit to take a minimum salary and give the rest back to the community

4. Post a public platform on the internet

5. Be willing to hold a public debate on the platform

(Beppe Grillo's personal position, not a mandate for the Five Star Movement, is "Get out of the Euro and default on debt." [Tremble, banksters!])
MoVimento: Movement, and not party:
Grillo says traditional [party] politics is over and advocates a "participatory democracy" in which ordinary citizens can become local protagonists."It's a lifestyle choice for whoever votes M5S — you have to participate actively in politics, change your habits: eat, travel, shop in a certain way."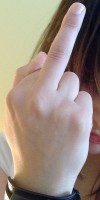 V: The V does stand for Vendetta; Grillo keeps a Guy Fawkes mask in his campaign van. The V gesture stands for a lot else, including Victory and peace, but in the Italian political context, V stands, above all, for V-Day (not this V-Day), and the "V" in V-Day stands for Vaffanculo (see Google redirect). In 2007:
Before 8 September 2007, Beppe Grillo was a famous Italian comedian. Since then he has become the man who organized the 'V-Day'. [A]nyone who desired radical change in the political system was invited to sign a petition with three demands: an electoral system based on voters directly choosing their representatives rather than voting for party lists; a "cleaning of parliament'(every candidate who's been convicted of crimes to be banned from seeking public office [which applies to Grillo himself]); and a proposal to limit politicians to two terms. More than five million people participated in the event, according to Grillo, and more than 300,000 signatures were collected. There were gatherings in more than 200 town and city squares. In Bologna, where the comedian was talking, there were 50.000 people present, according to the daily La Repubblica.
When we get 500,000 people on the National Mall for F.U. Day, all raising an extended middle finger to the Capitol, we'll know we're getting somewhere in this country.)
The red border: That says "left" to me. Eh?
3. M5S: Organization and tactics
Now let's compare the M5S organization and tactics to what we're used to in this country. (Hilariously, Axelrod worked for Bersani, and an Obama fan tried to organize the "swing states" of Lombardy and Sicily/).
The Dean Campaign: Like the Dean campaign in 2004, M5S used Meetups with great success: 792 groups, 646 cities, 109,881 members (2013-02-26). The takeaway for Dean operatives was "The Bat" as a business model; online fundraising, petitions, commissions for clickthroughs all grew from the Dean campaign. One wonders whether the takeaway for Grillos operatives will be the same, or different?
The Obama Campaigns: Like the Obama campaigns in 2008 and 2012, M5S is very tech savvy: "He is Europe's most social media savvy politician, with over 1 million Facebook friends, and 880,000 Twitter followers."
So, we might project the American experience onto Italy, and no doubt, just as in the Arab Spring, there will be some of those so-easy-to-write net triumphalism pieces coming to a paid space near you. However, I think the differences between America and Italy are far, far greater than the similarities. There are at least four:
First, investigations. Grillo used his media platform to reveal and punish corruption:
Back in December 2003, Italy was rocked by the Parmalat scandal, in which the Italian dairy conglomerate imploded in a vacuum of debt and deception that became the largest bankruptcy in European history. But Grillo had seen it coming. As early as 2001, he had a whole routine built around the Parma-based firm's dubious balance sheet — noting that even as a multibillion-euro debt was piling up, Parmalat was expanding its product line to include a new milk that contained the fish-based supplement Omega-3. Grillo would walk through the crowd dunking a dead fish in a glass of milk, looking for a taste tester: "Drink it. Drink it. What's the problem? It's Omega-3!"
To put this in perspective: Can you imagine Obama going on national TV to support the Promontory whistleblowers and savage Bank of America? Didn't think so.
Second, real, functional online voting. (See the work of Joe Firestone on Interactive Voter Choice Systems for possible evolution of this voting technology.) This is amazing:
[M5S] a movement like none other in Europe in that it has started as essentially an Internet movement which then has gone from online to offline. So it really is a original type of political movement, the kind of which we really haven't seen before. The Web was used to hold primaries, I believe the first Internet primaries we've ever seen. They were used to pick the candidates for the general election, all of whom, according to the movement's rules, are people who have never served a day at any institutional level of government before. None have even been city councilors. They will be complete novices once they get into parliament.
(Slate picks up on this, compares M5S to Americans Elect. Except Americans Elect was a top-down, billionaire-funded Potemkin village. The moral: "Easy: No matter how much money is shoveled over to "centrists," political change doesn't come from reasonable people. It grows out of mania and cold fury." Yep.)
To put this in perspective, we in this country are all agog because the Obama campaign successfully ran a top-down organization through cell-phones, data mined the electorate into ever tinier fractions. The Italians, on the other hand, set about re-inventing democracy.
Third, the scale of the rallies:
There were, however, clear signs of the Five Star Movement's growing popularity in a series of late rallies Mr. Grillo called his #TsunamiTour in appeals to his nearly one million Twitter followers, which culminated in a final campaign appearance attended by an estimated 800,000 in Rome.
To put that number in perspective: Obama campaigned in Ohio, right? And spent a ton of money on a few swing counties, right? Well, that one Beppe Grillo rally is two Clevelands.
Fourth, and most important, virtually no money (!!!!!!):
[Grillo] could claim tens of millions of euros from the state to fund his campaign but claims nothing: recently, his movement's candidates received the biggest share of the vote in regional elections in Sicily, of all places, after spending a mere €25,000.
I guess when you've got message people really want to vote for, and a channel you control to get the message out to voters, you don't have to spend hours every day asking billionaires for money to buy ads on the teebee.
4. M5S: The political spectrum
A quick note on the demographics of M5S Parliamentarians:
More than 40 per cent of the movement's deputies are women – the highest proportion among all the parties. At an average age of 32 they are also the youngest, while nearly 80 per cent have university degrees. More than a third are white-collar workers, nearly a quarter are self-employed and 15 per cent are jobless.
And on the demographics of M5S voters:
M5S supporters display rock-bottom levels of trust in political and commercial institutions: only 8% of respondents trust the government, 3% trust political parties, 2% trust parliament, 2% trust banks and financial institutions and 6% trust big companies – lower, on every measure, than the Italian general public. … Those surveyed are more likely to be male and to be older. They are more likely to be well-qualified, with 54% reporting they had a high school diploma (compared to the Italian average of 41%), but are also more likely to be unemployed – 19% compared to the Italian average of 7.9%. On average, they self-identify as left-wing… When asked to name their top two concerns, supporters chose the economic situation (62%) and unemployment (61%). A distant third was taxation at 41%. They are broadly positive about immigration: more likely than the Italian public in general to view immigration as an opportunity (56% versus 28%).
Finally, here's M5S on the European political spectrum. It's always a hoot to see Jippy Mo quote The Journal of Socialist Renewal!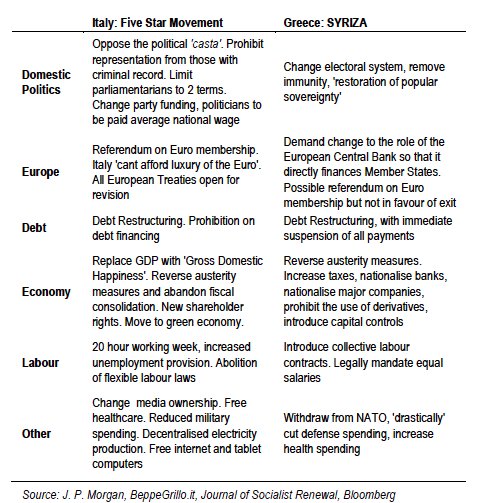 5. The meme to watch
In 2011, we saw a political innovations circle the Mediterranean and leap the Atlantic, from Tahrir Square to Zucotti Park. Could M5S's emergence have a similar effect? The future lies ahead. One clue, however, may like in the following meme, for which I will give several citations:
AP (2013):
"More than protest, Grillo is an expression of disappointment in this political class. His followers are not anti-political. Most are interested in politics, but these politicians disgust them."
The New Yorker (2008):
In the past eighteen months, the Italian political class has reached a low ebb of popularity. Last year's nonfiction best-seller, which has sold more than a million copies since its publication, in May, is "La Casta" ("The Caste"), by the journalists Gian Antonio Stella and Sergio Rizzo. The book's title has entered into daily speech, crystallizing the widespread perception that Italian politicians have become, as the authors write, an oligarchy of insatiable Brahmins, "born not of Brahma . . . but of a regime dominated by political parties and afflicted with elephantiasis."
NBC (2013):
A major factor in the murky result was the astonishing vote haul of comic-turned-political leader Beppe Grillo, whose 5 Star Movement has capitalized on a wave of voter disgust with the ruling political class.
American Thinker quoting NPR (2013):
Grillo's forces are the greatest unknown. His protest movement against the entrenched political class has gained in strength following a series of corporate scandals that only seemed to confirm the worst about Italy's establishment.
A Google News search for "political class" in Politico yields zero hits (2013-02-26:11:40AM). The same search at WaPo yields 12 hits, all but two for foreign countries. The two domestic hits are about Michelle Rhee and the SOTU, which makes sense: The DC schools and the SOTU are both collective watering holes for the political class, so they are conscious of themselves as a class, as opposed to members of parties or factions, sharing space in those settings.) The same search at the Times yields 10 results, all from 2013, of which three are domestic: One about Boston Mayor Menino's State of the City address, another about New York's Municipal Art Society, and the third in a review of "Sister Souljah" (q.v.). The parallel to WaPo's usage is exact, with the addition to shared discourse to shared setting. (There are more hits in Google proper, but I wanted the news focus.)
So, it seems that "political class" is very freely used for foreign countries, and comes easily to hand when describing Italian domestic politics. Why not our own? Because our political culture is exceptionally healthy? Because our political class is exceptionally skilled in the arts of public service?
Yeah, I crack myself up. However, if we see "political class" begin to propagate — it's been out on the blogs (48) for some time (9,880)* — we can throw both legacy parties, all the strategists, all the think tanks, all the talking shops, all the lobbyists, all the law firms, all the PACs, all the political appointees, all the national union leadership, and most of our famously free press into one ginormous squirming bucket of snakes, just like the Italians who voted for M5S did. Open 'em up like a can of tuna! I think that would be a useful outcome. Don't you?
NOTE * The rhetorical stance of many Kossacks seems to be that Kos is not part of the political class. I'm cracking myself up again! Crashing the Gates is so 2006….
Appendix I: Mr. Market's mood swings
Mr. Market had a fluttery stomach (2013-02-21) right before the vote:
Today I had the chance to talk to three very high-level financial professionals about the upcoming Italian election, which takes place this upcoming Sunday and Monday. .. And though Silvio Berlusconi is a cause for consternation, it was Beppe Grillo that made them appear physically sick to their stomach.
And Mr. Market even had a little stiffy when it looked like the austerians might win:
Shares on the Italian stock market have jumped today, reports Graeme Wearden, because of optimism that the election will deliver a clear victory for Pier Luigi Bersani's party, perhaps in a coalition with Mario Monti. Graeme reports:
But then, oh noes! Mr. Market reached for the Maalox. Ambrose Evans-Pritchard (2013-02-25):
It is unclear whether the European Central Bank (ECB) can continue to stand behind the Italian debt market under its Outright Monetary Transactions (OMT) scheme if there is no party able to deliver on austerity cuts and reforms demanded by Berlin and Brussels.
And Mr. Market took a big swig. Guardian (2013-02-25):
But another six months of instability in Italy may also delay economic reforms, unsettle the markets, ask more questions of the euro and raise the political temperature before the crucial German elections in September when Europe's most powerful leader, Angela Merkel, seeks a third term.
Because The Confidence Fairy had a sad (2013-02-25):
[Beppe Grillo's] Five Star Movement ticket looked completely ridiculous, until it surged into third place. Grillo's rallies attracted tens of thousands of people, then 100,000. Grillo's platform called for a living wage and for priests to have children "so they don't touch other people's." That, added to his aggressive social media campaign—nearly a million followers on Twitter—carved out 25 percent of the vote, denying a majority to the center-left, sending investors into a now-familiar panic, the Dow Jones index falling by 216 points.
But then, oh joy! The Confidence Fairy called for magic fingerwagging from Queen TINA! Bad voters! B-a-a-a-d voters! CNN (2013-02-25):
Italy has actually used up many of its final chances in this electoral season. Not only has the country chosen not to embrace continuing austerity under technocratic leader Mario Monti, which is necessary by any calculation to actually start moving Italy out of the recession.
Appendix II: Some choice Beppo snark
"'L'onestà andrà di moda!' tweeted Beppe Grillo as the votes came in. In English: 'Honesty will be fashionable again!"
"Mr. Grillo pointed to the row of fresh-faced Italians — candidates of his Five Star Movement — on the stage behind him. 'These kids, they may be inexperienced — they still haven't learned how to rig a budget, or give contracts to their friends,' he paused, his gravely voice drowned out by laughter and applause."
"'[Grillo] dubs Berlusconi a psycho dwarf. PM Mario Monti, rigor montis, and PD leader Pier Luigi Bersani a zombie." Seems reasonable to me. When does the invective start?
"'Italy is a tough country to be a comedian in—I can't invent stuff like this,' Grillo said on V-Day. 'Nearly eighty crooks in parliament—that's about one crook in twelve. It's worse than Scampia, the most dangerous Naples slum, which is infested by the Camorra, the Neapolitan mafia. There the criminals are only one in fifteen!'"
"In 1987 during the Saturday night TV show Fantastico 7, he attacked the Italian Socialist Party and its leader Bettino Craxi, then Italy's prime minister, on the occasion of his visit to the People's Republic of China. Grillo asked: 'If the Chinese are all socialists, from whom do they steal?' The joke hinted at the totalitarianism of the PRC, but even more to the widespread corruption for which the Italian Socialist Party was known. As a consequence, Grillo was effectively and silently banished from publicly owned television. He was vindicated a few years later, however, when the Italian Socialist Party had to be disbanded in a welter of corruption scandals known as Tangentopoli, uncovered by the Mani pulite (Clean hands) investigation."
Appendix III: The comedians
Beppo Grillo is a comedian. Senator Al Franken, Jon Stewart, and Steven Colbert are also comedians. Need I say more? Adding: Shamefully, I forgot the great Roseanne Barr, who ran for President on the Green ticket.
UPDATE My dyslexia always kicks in with "S" and "5." Several MS5s corrected to M5S.