Lambert Strether blogs at Corrente.
Each of these passages has faults of its own, but, quite apart from avoidable ugliness, two qualities are common to all of them. The first is staleness of imagery; the other is lack of precision. … As soon as certain topics are raised, the concrete melts into the abstract and no one seems able to think of turns of speech that are not hackneyed: prose consists less and less of words chosen for the sake of their meaning, and more and more of phrases tacked together like the sections of a prefabricated henhouse. – George Orwell, Politics and the English Language.
Obama's second inaugural address (January 21, 2013) was so shoddy and forgettable -– everyone did, in fact, forget it, and promptly, too, despite contemporaneous hagiography – and yet so unpleasant to read, as hack jobs are to all but hacks, that I couldn't bring myself to finish this piece on it in a timely fashion. However, the advent of the SOTU – John Favreau's last White House deliverable before he leaves for Hollywood – has concentrated my mind. Now, there's very little here for the student of rhetoric to emulate; but I hope that by throwing many of the "phrases tacked together" into buckets or categories, I can at least persuade the reader to listen to the SOTU with a well-attuned but skeptical ear. And if the categories are justly chosen, maybe I can use them for the SOTU as well.
So, I'm going to color code the speech as follows:
| Category | Note |
| --- | --- |
| Secular religion | A mish-mash of phrases from the Framers, Lincoln and MLK echoes, and so forth |
| Bathos | Bathos is an abrupt transition in style from the exalted to the commonplace |
| Neo-liberal catchphrase | "Free market," "innovation," "hard choices" etc. |
| Populism | "Our most vulnerable citizens" |
| Bipartisan shibboleth | "The troops," for example |
| Dead metaphors/cliche | "Ring the changes on," "take up the cudgel for," "toe the line," "ride roughshod over," etc. (Orwell) |
| Sheer nonsense | Word salad |
| Falsehood or truthiness | |
| Equivocation | Lawyerly parsing and weasel wording |
| Boilerplate | "Ladies and gentleman," and so forth. |
I haven't coded the pretentious diction; there's too much of it. I've divided the speech into parts for convenience, but the parts are not there in the original. To the transcript!
* * *
Part I: Introduction
A dense pattern of allusions to continuity of government: The Framers, Lincoln, and Martin Luther King, a pantheon to which Obama self-evidently, and self-executingly, belongs.
PRESIDENT OBAMA: Thank you. Thank you. Thank you so much.
Vice President Biden, Mr. Chief Justice, members of the United States Congress, distinguished guests, and fellow citizens, each time we gather to inaugurate a president, we bear witness to the enduring strength of our Constitution. We affirm the promise of our democracy. We recall that what binds this nation1 together is not2 the colors of our skin3 or the tenets of our faith or the origins of our names4.
OBAMA: What makes us exceptional, what makes us America is our allegiance to an idea articulated in a declaration made more than two centuries ago. We hold these truths to be self-evident, that all men are created equal.
(APPLAUSE) That they are endowed by their creator with certain unalienable rights, and among these are life, liberty, and the pursuit of happiness5. Today we continue6 a never ending journey to bridge the meaning of those words with the realities of our time7. For history tells us that while these truths may be self-evident5, they've never been self-executing8. That while freedom is a gift from God, it must be secured by his [sic] people here on earth.
OBAMA: The patriots of 1776 did not fight to replace the tyranny of a king with the privileges of a few, or the rule of a mob. They gave to us a republic, a government of, and by, and for the people9. Entrusting each generation to keep safe our founding creed. And for more than 200 years we have. Through blood drawn by lash, and blood drawn by sword10, we noted11 that no union founded on the principles of liberty and equality could survive half slave, and half free12.
OBAMA: We made ourselves anew, and vowed to move forward13 together.14
Notes to Part I


Lincoln, Second Inaugural, 1865: "To bind up the nation's wounds…"
Parallelism: "What binds … is not … or … or"; "___ of ___" (three times). "We gather…", "we bear witness…", "we affirm…", "we recall."
Martin Luther King, "I Have a Dream," 1963:

"Judged by the

color

of their

skin

but by the

content

of their

character." The inaugural speech was delayed so that it took place on Martin Luther King Day.

Bathos

because the parallel construction is empty: "Binds" and "skin" allude to words from the world-historical figures of Lincoln and King, but the empty calories of "tenets" and "origins" allude to nothing but themselves.

The Declaration of Independence, July 4, 1776.
Bathos

because words from a Framer's document are followed by words that are nonsense.

"

Bridge meaning… with the realities" is nonsense. Cf.

"to make life whole, it's as easy as a bridge!"

Parallelism: "self- … self- …."

Bathos because while the expansive "self-evident" (as we "hold these truths" to be) comes from the Declaration of Independence, the constricted "self-executing" is lawyerly parsing. ("Execute" is also a false note, given Obama's "kill list.")
Lincoln, Gettysburg Address, 1863: "Government of the people, by the people, for the people shall not perish from the earth."
Lincoln, Second Inaugural: "Until every drop of blood drawn with the lash shall be paid by another drawn with the sword."
Bathos,

as the weak, passive "note" yokes the blood of the Civil War with the principles for which it was fought. "Learned," perhaps, or "came to understand," but

noted

?! Obama is also weirdly equivocal about the causes of the civil war: The blood of "the" lash (Obama omits the definite article) was drawn by the Confederate slaveowners, and the blood of "the sword" was drawn by those fighting to end it. But Obama treats pro- and anti-slavery forces as morally equivalent and learning ("we noted") the same lessons from the war. None of that is true.

Lincoln, Springfield, IL, 1858: "I believe this government cannot endure, permanently half slave and half free."
Obama campaign slogan, 2012. Bathos is self-explanatory.

The last word of Part I, and the first and last words of Part II.
Part II: Plea for unity, past and present
Rhetorically, the transition from Part I and Part II is signaled by the first use of Obama's favorite device, anaphora, and by the abandonment of the dense allusions to phrases from the Framers through Lincoln (although we will see allusions to Lyndon Baines Johnson and Nixon). We will also see the introduction both of neo-liberal catchphrases and populism, and the first outright falsehoods (unless you consider the idea that "the privileges of a few" do not include slaveholding a falsehood). Elegantly, and reinforcing the populist message, Part II begins and ends – a case of epistrophe – with the word "together."
Together1 we determined that a modern economy requires railroads and highways to speed travel and commerce, schools and colleges to train our workers.2 Together we discovered that a free market3 only thrives when there are rules to ensure competition and fair play4. Together we resolve5 [sic] that a great nation must care for the vulnerable6 and protect its people from life's worst7 hazards and misfortune.
Through it all, we have never relinquished our skepticism of central authority, nor have we succumbed to the fiction that all societies ills can be cured through government alone. Our celebration of initiative and enterprise, our insistence on hard work and personal responsibility, these are constants in our character8. For we have always understood that when times change, so must we, that fidelity to our founding principles requires new responses to new challenges, that preserving our individual freedoms ultimately requires collective action9.
For the American people can no more meet the demands of today's world by acting alone than American soldiers could have met the forces of fascism or communism with muskets and militias. No single person can train all the math and science teachers we'll need to equip our children for the future. Or build the roads and networks and research labs that will bring new jobs and businesses to our shores.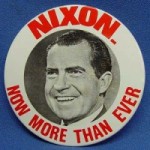 OBAMA: Now, more than ever10, we must do these things together, as one nation, and one people.
(APPLAUSE)
This generation of Americans has been tested by crises that steeled (ph) our resolve and proved our resilience. A decade of war is now ending11.
(APPLAUSE)
And economic recovery has begun12.
(APPLAUSE)
America's possibilities are limitless13, for we possess all the qualities that this world without boundaries demands: youth and drive, diversity and openness, of endless capacity for risk and a gift for reinvention.
My fellow Americans14 we are made for this moment and we will seize it, so long as we seize it together15.
(APPLAUSE)
Notes to Part II
Anaphora: "Together… . Together… . Together…. ."

Sloppy. Railroads and highways, but not airplanes? Training, but not education?

Neo-liberal catchphrases are so familiar to all that I will only annotate a few individually.

"Fair play" gives the first whiff of populism. (How, after all, could the "free market" [genuflects] ever be unfair?)

Lincoln, Gettysburg Address, 1863: "We here highly resolve that these dead shall not have died in vain."

Why only the "vulnerable"? Single payer, for example, would cover everyone, not just "the vulnerable" (except insofar as all are "vulnerable" to illness and mortality).

Not "hazards" but "worst hazards." For social insurance programs, as opposed to programs for the FIRE sector, Obama is always careful to qualify his support.

Martin Luther King, "I Have a Dream," 1963:

"Judged by the

color

of their

skin

but by the

content

of their

character."

Here beginneth the socialist part! Except not. Notice Obama carefully does not say "public" collective action. Corporations act collectively too, my friend! So, while Obama says that "no single person can train all the math and science teachers," Obama through his actions supports privatizing public schools through charters – also a form of "collective action," though for profit.

Nixon campaign slogan, 1972.

Drones,"kill list," etc.

If you belive in the three laws of thermodynamics, this is not true. If you believe, as I do not, in ZOMG!!! the Debt!!!!!, as Obama does, this is not true. If you want to do anything about climate change, you'd better at least believe that America's future as a petro-state is not limitless.

A catchphrase from Lyndon Baines Johnson.

Epistrophe: "… together," after anaphora: "Together…. together… ."
* * *
Tomorrow, I'll finish this close reading of the text, and make some final comments.