Mr. Market decided yesterday that the fact that the Cypriot finance minister, Michalis Sarris, was meeting as previously scheduled with Russian officials meant all would be well. And even better…Bernanke said the Cyprus banking mess would be contained. So why worry?
The ECB just announced that it will extend the ELA to Cyprus only through Monday. After that, it will cut off Cyprus if it has not knuckled under to an EU/IMF deal.

This is tantamount to cutting off its central bank and pushing it out of Eurozone if it does not capitulate.
During the day yesterday, Eurozone officials made it clear that they would not accept some other ideas that Cyprus had developed to try to shield depositors, such as accessing pensions fund assets, restructuring the two largest banks, and selling its gas rights to Russia. This was deemed unacceptable in that it would increase debt levels. The fallacy, of course, is that the Trokia is unduly obsessed with the numerator of this equation (the borrowings) and not the denominator (the impact on the economy). Cyprus.com estimates the impact of trashing the banking system to be a minimum 20% contraction of GDP in two years. And mind you, this is after Cyprus was a good Eurozone citizen and sent €3 billion to help the Greek government.
The overtures to Russia do not seem to have gone any better. Now it is likely that, since Anastasiades is pro-EU, that the finance minister has only offered up economic assets (the gas field interests and stakes in sick banks) and the Russians have understandably turned up their noses at that as being insufficient relative to the amount of money Cyprus needs to shore up its financial system. And they are no doubt acutely aware of the fact that the Eurozone leaders don't want Russia involved and could retrade their contribution if Russia provided meaningful support. Prime minister Medvedev took the unusual step of convening a meeting with journalists to express Russia's unhappiness with how Cyprus had been handled. From the Financial Times:
Mr Medvedev refused to be drawn on what form any Russian aid might take – whether from the state or, as has been mooted, from Gazprom's banking arm, or through the acquisition of a Cypriot bank by a Russian bank.

"Today our [Cypriot] partners arrived in Moscow with a package of proposals regarding some material assets which they believe can be considered to be acquired by the Russian Federation," he said.

But, he added, the EU should first come up with new proposals that complied with the law and "guaranteed property rights".

Asked if Russia would seek access to natural gas deposits located off the coast of Cyprus in return for any aid, Mr Medvedev said this was "not a simple question".

"First of all, I don't understand fully how much they [they are worth], then we understand there are some problems from the Turkish side," he added. "But we are prepared to listen to any ideas."
This is actually more positive than other reports during the day Wednesday, which had Russian officials sniffing at the idea of rescuing Laiki (the number two bank which is at the epicenter of the crisis) and saying they'd only do a deal on a cold-eyed commercial basis.
Now as we and others have noted, the Cypriots have more to offer than financial assets. They have strategic assets, namely port facilities and (possibly) air field access. These are of tremendous potential value to Russia. But it is likely that pro-EU, pro austerity President Anastasiades can't bring himself to hint they might be available, and the Russians are too cagey to ask. Now the ECB's ultimatum might enable them to break through the veneer, but I wouldn't give it high odds (and note we though it would be a masterstroke, but we always pegged a big Russian intervention as low odds).
This move by the EU increasingly has the smell of a proxy Germany v. Russia struggle through Cyprus. But why? I've had Germans say they think their future is more aligned with Russia than the US. Why go out of your way to alienate a supplier of important resources? I can't fathom the logic here.
And there are signs the ground for a move against Cyprus was being seeded months ago. Reader Dr. Kevin sent along an article about a Russian tax fraud, Hermitage, and the headline and much of the text tries to make Cyprus somehow responsible. In fact, all the main actors were Russian and the Russian government was the loser. Our Richard Smith happens to know the case well, since it used shell companies formed by the notorious New Zealand incorporator, GT Group. Cypriot banks are known to have been involved, but to the tune of just $31Mn. At least equally at fault: New Zealand, Moldova, the UK, and, of course, Russia. Yet it is Cyprus that is attracting opprobrium (and now, much more).
In fact, if you look at real money laundering (as opposed to tax avoidance of the sort that Apple, GE, Starbuck, and a horde of multinationals engage in through various jurisdictions), Cyprus gets better marks than Germany from the official Council of Europe body that evaluated anti-money laundering measures (cumbersomely named the Committee of Experts on the Evaluation of Anti-Money Laundering Measures and the Financing of Terrorism, aka MoneyVal). See this table (full report here). Notice that Cyprus is one of the few countries that is fully complaint (click to enlarge):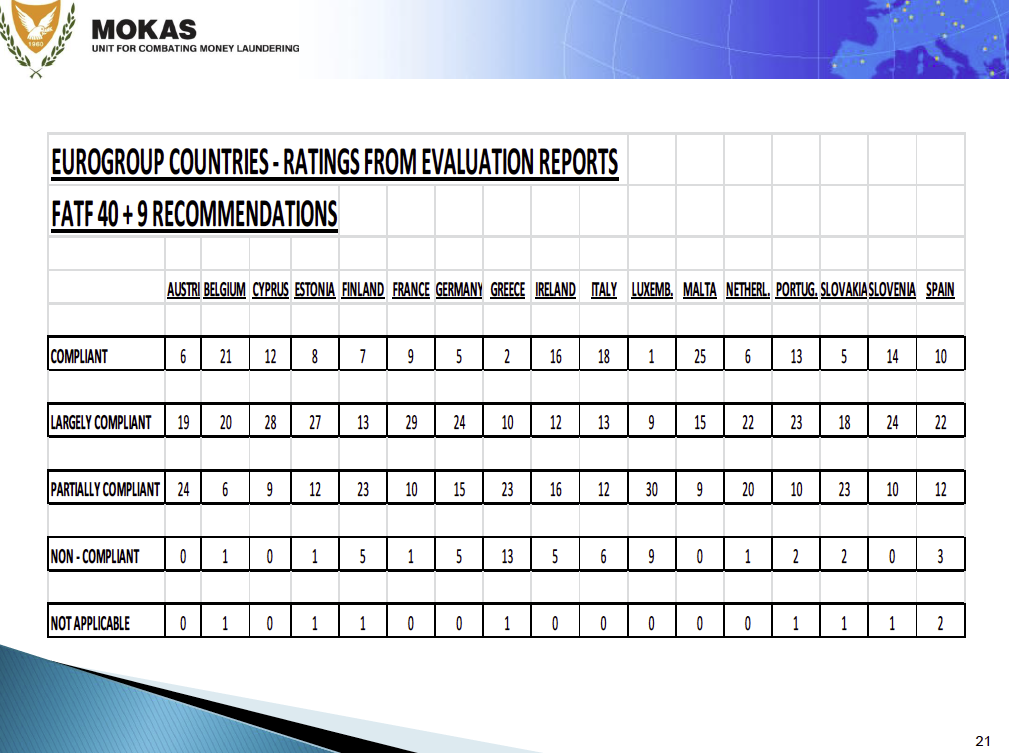 And since when is someone unhappy about the tax losses of another nation's treasury? Have you ever heard a US official fulminate how US financial firms or professionals, or places like Luxembourg are cheating, say, the Eurozone out of tax revenues? Even when convicted tax fraud Marc Rich hid in Switzerland and continued to be a major commodities trader from there, the US did not start a campaign against the Swiss banking system (although we did attempt an extraordinary rendition of Rich which Swiss officials foiled). Any Russian tax evaders are cheating Russia, not the Eurozone.
And the propaganda against Cyprus started months ago. I pinged the author of the Cyprus.com articles we've featured, and he wrote:
Cyprus is (was?), bar none, the best jurisdiction for routing investment into Russia – it has the best treaty rates with Russia and you avoid the Russian tax/legal system.

so, it is practically malpractice NOT to structure investment into Russia as a Cyprus co.

(BP-Russia is a Cyprus company and their partner AAR are also a Cyprus company. So when they were fighting last year, they were having the board meetings in Limassol.

***

All these articles are the equivalent of "discovering and being shocked by" that 100% of public companies involved in SEC violations or 100% of LLC subs of FT 500 companies engaging in tax structuring were incorporated in Delaware. Obviously, there must be something very shady about Delaware that causes SEC violations, as opposed to noting that *everyone* uses a Delaware corp, whether they are nice, mean or indifferent.

The people who are behind these articles know better and I noticed this about 6 months ago that the drumbeat of these articles started out of nowhere and just kept repeating "cyprus = money laundering for Russia".

As if the EU just discovered 6 months ago that Cyprus has a tax treaty with Russia…and every country in the EU, the USA that all the governments obviously voluntarily signed.

That is when I knew the setup was coming. Why now? Why so consistent? Even the FT which really should know better has basically not written an article about Cyprus in the last six months without some type of 'shady Russian' insinuation.

This is how this test of savings confiscation is being sold in the rest of Europe. "Yeah, I know it looks bad, but it is a special case because cyprus have all this Russian mobster money there so it is fair to take their money"
The ECB has given Cyprus virtually no runway. It's a deal by end of Monday or off with their heads. Given the difficulty of cobbling anything else together, this would seem to force Cyprus into only being able to structure yet another variant of the "rape depositors" plan. They seem either to rely on a reaction like the US had to the TARP, to having Congress capitulate after the markets swoon, or perhaps they sincerely believe that even a worse case scenario, of dumping Cyprus out of the Eurozone, is acceptable because it will tell all those lazy Latins that they'd better not even think of crossing the Troika. (It's inconceivable that a forced Cyprus exit would not lead to deposit flight from Portugal and Spain, which will pressure the Eurozone tremendously. They've really drunk their own "Cyprus is a special case" PR if so.).
It's barely 6:00 AM and I'm already getting outraged messages from readers. For instance, from Nathan Tankus:
There is no way to stress enough how extreme this is. They are threatening the lives, saving and livelihood of the Cypriot people essentially because they didn't do what they were ordered to do the first time around. In other words, Cyprus is an open air prison that can be somewhat comfortable if they follow orders. The Troika is acting like a crooked prison guard who sees the lives and possessions of prisoners as privileges that can be taken away when abused. Somehow, the concrete effects of this point to even darker scenarios. It would be one thing if the Troika was merely being sadistic while getting what it wants, but this is unnecessary torture coupled with a plan that is bound to fail. What are they going to do if Cyprus refuses another program for writing down deposits to maintain the solvency of these banks? Will they really cut off all forms of support? That would give Cyprus no choice but to leave the Eurozone and could easily cause a chain reaction all across the periphery. If they didn't withdraw support they would be admitting that their threats were empty and would be encouraging every periphery country to openly defy them.
Now some believe that the ECB might extend the timetable. But I can think this will happen only if Cyprus has capitulated and there are merely some formalities to be tidied up. Eurozone officials were making threatening noises all during the day Wednesday about how Cyprus could not keep its banking system shut much longer.
So all eyes will be on the Cyprus parliament. Will it defy the Eurocrats or surrender to their will? As our accompanying Cyprus post today describes, the island nation has no good choices. The one that is most destructive to all parties, that of a Eurozone exit, looks more likely than it should under any sane calculation.

UPDATE Far too long after the post goes up, Richard Smith suddenly remembers the US-Russian Magnitsky foodfight, which kicked off in earnest April 2012. Now *that* might be relevant to the situation in Cyprus, too, no?
Guardian live blog (including images of street protests in Nicosia, and a slow bank run).
Reuters live blog (including aggregation of interesting tweets)
Unconfirmed report that ATM withdrawals are now limited to EUR260, if you can find an ATM with notes in.
Unconfirmed report that Cypriot central bank head has knocked together a bill on banking reform, running down problem bank Laiki; the bill to guarantee deposits under EUR100,000 at that bank (or the first EUR100,000 of each deposit? Will have to read the text). Either way, one wonders how they will fund that, especially after some level of bank run. Voting on this bill to come tonight.
Sighting of Germans in glass houses, throwing stones.
Northern Cyprus and the Turkey connection complicating things.
UPDATE Latest proposal (Plan C I suppose) resolving Laiki may involve a huge ding to unsecured depositors (40% haircut, says Twitter's back-of-envelope), apparently mostly these are local or Greek businesses. That doesn't sound like a flier either, but is this the correct interpretation of the sketchy plan? Vote, anyway, in an hour or two, and more details after that, if Plan C is still a runner. Oh, and plan C apparently still leaves a shortfall of EUR3.5Bn.