The debate around Obama's proposed minimum wage increase (when he had promised to deliver an even bigger wage rise in his first term) focuses mainly around how much economic stimulus it will provide and whether it will simply lead employers to cut worker hours (given how obscene corporate profits are, most companies have plenty of room to pay their employees more, even if their kvetching would lead you to believe otherwise. Remember, companies used to share the benefits of productivity gains with workers; it was in the later 1990s they started keeping the upside all for themselves). But a look at that question reveals what low wage workers do when they get pay increases.
However, $9 an hour (which won't be in place till the end of 2015 if Obama prevails) is still well below today's living wage in most states. For instance, from the MIT site, Poverty in America (click to enlarge):

So even a single person can't get by now on $9.20 an hour in Jefferson County (see MIT site for the breakdown of living expenses).
Well, if you go to Oklahoma, the ninth poorest state in the US, you might get by:

Or West Virginia, the second poorest state:

But not Orange County, California:

Or Chicago:

This is to give some context to what happens when minimum wage workers get wage increases. They go into debt. From a study by Daniel Aaronson and Eric French, both of whom work at the Chicago Fed, per VoxEU:
A central part of President Obama's 2013 State of the Union address is a proposal to gradually raise the federal minimum wage from $7.25 to $9 per hour. Proponents have argued that raising the minimum wage may provide fiscal stimulus by putting money in the hands of people who are likely to spend it (see The New York Times 2013). This argument is sometimes based on findings from our research (Aaronson, Agarwal and French 2012), where we estimate the spending, income, and debt responses to minimum-wage hikes, as well as calibrations presented by the Economic Policy Institute (Hall and Cooper 2012). In this article, we describe our results and discuss the implications for policy…..

Our data spans 1980-2008, a period where many states had minimum wages above the federal minimum. Indeed, today, 19 states plus the District of Columbia and several cities have a minimum wage above $7.25. Our estimated minimum-wage responses are identified by comparing a minimum-wage household residing in a state receiving a state-level minimum-wage hike to another minimum-wage household at the same time who resides in a state that did not receive a hike.
What they found was pay to the lowest wage workers rose but not the pay of the workers who were above the bottom strata, which is not surprising:
We use data from the outgoing rotation files of the Current Population Survey, the Survey of Income and Program Participation, and the Consumer Expenditure Survey to estimate the impact of a $1 increase in the minimum wage on household income. The weighted average income response to a $1 minimum-wage hike across all three datasets is roughly $250 per quarter for the first year. These results are limited solely to households with adult workers very close (60% to 120%) to the old minimum wage. Workers that are just above this threshold (e.g. 120% to 300% of the minimum wage) experience no statistically or economically significant increase in their income, even when they too reside in a state with a minimum-wage hike.
Since minimum wage employees work an average 300 hours a quarter, this makes sense so far. Now look what happens:
To estimate the spending response to a minimum-wage hike, we use data from the Consumer Expenditure Survey. In the year following a $1 minimum-wage hike, we find that spending rises, on average, approximately $700 per quarter for households with minimum-wage workers. As with the income responses, we find no spending response for households without minimum-wage workers, including households with adults paid just above the minimum wage. Virtually all the additional spending is on durable goods. Specifically, spending on new cars and trucks rises by $500 per quarter, of which the majority is debt-financed.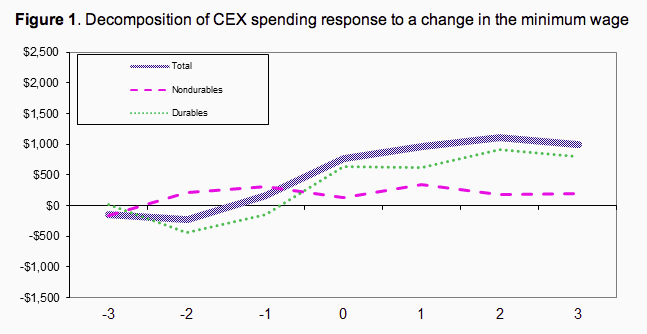 The authors stress that the borrowing is almost always collateralized, with car loans the biggest component of the increase:
Using the same estimation procedures for income and spending, we find that auto loan debt rises by $200 per quarter and the sum of auto, home equity, and credit-card debt rises by $440 per quarter following the minimum-wage hike. Figure 2 displays the dynamics of household debt (auto, home equity, and credit card) in the nine quarters that follow a minimum-wage increase. The figure clearly shows total debt rising in the first year after a minimum-wage increase for households with income below $20,000 (blue line) who probably include minimum-wage workers, but not for higher-income households (red line). In subsequent quarters, debt rises by less, to the point that by the end of the second year, we cannot reject that debt among low-income households is beginning to fall. This pattern provides direct evidence that much of the early consumption response is in fact debt-financed, and corroborates the independent CEX measures of debt-financed vehicle spending and the large spending estimates.
Now I am sure moralists somewhere will look at this result and tisk tisk over the irresponsibility of poor people. But this information raises more complicated questions that merit further study. I didn't look at a lot of metropolitan areas, but the ones with decent public transportation that I looked at all had living wages above the $9 level. Most places in America require having a car. Depending on relatives or friends for transportation is a risky proposition, particularly for low wage workers, where one absence often leads to being fired. So getting a car, or trading in an old one (that might be at risk of needing costly repairs) may not be as dodgy as it looks from 50,000 feet. Similarly, the spending increase tapers off over time, suggesting some element of pent up spending is at work (home repairs? desperately needed dental work?). This pattern seems to illustrate the treadmill the poor are on, that until you are earning a living wage, even getting more money merely means trading one form of desperation for another.