The cheery view that Europe had moved past its crisis now looks to have been a tad premature. The astonishing weekend revelation that Cyprus had struck a deal for a Eurozone rescue of the island nation's banks that hinged on a deposit grab, um, tax, of 6.75% of deposits below €100,000 and 9.9% for those above €100,000, sends a message that anyone in a weak bank in a periphery country, particularly a large deposit holder, is at risk. The one thing that America learned in the Great Depression is that to prevent debilitating bank runs, depositors need to be sure their holdings are safe. And if you need to extend government guarantees to provide that reassurance, then government bloody well better keep the banks on a short leash to make sure you don't have to pay out on those guarantees all that often. The recklessness of letting financiers talk governments out of constraining bank activities is coming home to roost.
Creditanstalt, an Austrian bank that collapsed in 1931, precipitated a financial panic that led to a series of bank failures and a currency crisis, a classic combination of contagion worsened by poor official responses. The Cyprus deposit-seizure scheme has the potential to kick off a similar broad-based financial unraveling, but whether it does depends on both customer and official reactions.
Mind you, it's not certain this deal will get done. The Cyprus parliament has to approve it, with the vote to take place Sunday. That has been postponed as a result of public outrage and the difficulty of obtaining the needed support. Cypriot president Nicos Anastasiades is trying to restructure the program to take less from small depositors and more from the big dogs. The Financial Times and Reuters both report that the idea of whacking deposits below €100,000 euros, which is supposedly guaranteed by national governments in the Eurozone, came from Anastasiades. The logic was to preserve Cyprus' standing, such as it is, as an money laundering banking center. But this thoughtful gesture apparently did not go over in some circles. The Greek blog Clockwork Project (hat tip George P) says, per Google Translate:
An angry phone call from Russian President Vladimir Putin received early Sunday morning, Nikos Anastasiadis.

The Putin reportedly said verbatim in-Cypriot President

-Better to put the German flag at the Presidential Palace. Do not you understand that this decision destroy your country?
There's been a great deal of discussion of how the deal came about, with a particularly detailed account at the Wall Street Journal. The new stance at the creditor nations and the ECB is that there will be "private sector participation" which is bureaucrat-speak for haircuts to the people who funded the banks. And in the fracas over renegotiating the pact so as to make it less unpalatable to the locals, the Eurozone officials have made clear they don't care how Anastasiades skins this particular cat as long as he comes up with €5.8 billion from local deposits. Banks were due to be closed Monday on Cyprus for a holiday; officials are now considering imposing a bank holiday on Tuesday. Funds have been frozen in the meantime, producing what is likely to be the emblematic photo of this crisis, of a man trying to break into his bank branch: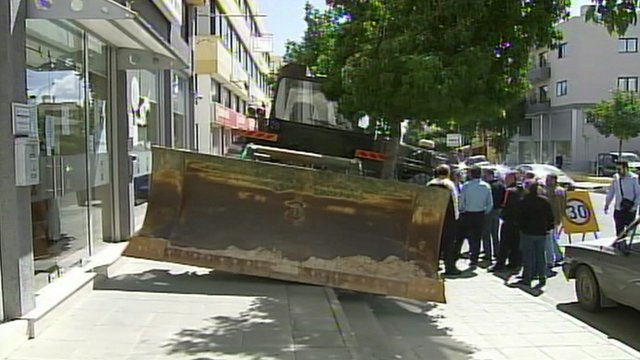 Note, however, that the Eurocrats have made clear that they are not budging, so the alternative to swallowing some version of this depositor cramdown is no deal at all. And no deal means the biggest bank in the country fail pronto, with others likely to follow fast on their heels. From a Financial Times account of the arm-wrestling, which describes how a deal was retraded:
Cyprus's new president Nicos Anastasiades did not like the idea of forcing any losses on ordinary account holders….But after receiving what Cypriot officials said were reassurances from Angela Merkel…Mr Anastasiades agreed to a deal that he thought would include relatively modest "haircuts" – a 7 per cent levy on deposits above €100,000 and a 3.5 per cent hit on those below.

With the principle of haircuts agreed, Mr Anastasiades decided to stay for the finance ministers meeting, which was just getting under way. All he asked was that the rates be tweaked: raise the levy on the bigger deposits in order to lower the hit taken by the less well off. Both sides believed a deal was at hand….

However, Mr Anastasiades was left reeling by the response to his request for modest adjustments, according to Cypriot officials. Wolfgang Schäuble, the German finance minister, said Nicosia would immediately have to raise as much as €7bn from depositor haircuts. A stunned Mr Anastasiades decided to walk out…

But Mr Anastasiades soon learnt storming out was not an option. The European Central Bank had another shock for him: the island's second-largest bank, Laiki, was in such bad shape that it no longer qualified for the eurosystem's emergency liquidity assistance – the cheap central bank loans that teetering eurozone banks need to run their day-to-day operations.

The message, delivered by the ECB's chief negotiator, Jörg Asmussen, meant that if no deal was reached, Laiki would collapse, probably bringing the island's largest bank down with it, and saddling Nicosia with a €30bn bill to reimburse accounts covered by the country's deposit guarantee scheme. It was money Nicosia did not have. All of the island's account holders would be wiped out.

Mr Schäuble was not alone. Several officials involved in the talks said he not only had backing from the Finns, Slovaks and to a lesser extent the Dutch. The International Monetary Fund, which had been urging depositor haircuts for months, had won the argument over the skittish European Commission, which had long worried that seizing depositor assets could spark a bank run in Cyprus and, potentially, elsewhere in the eurozone.
So as terrible as this deal is, the alternatives are worse, which means Parliament will probably fall into line after a bout of hand-wringing and finger-pointing.
Ekathimerini reports that the government is trying to sweeten the pot by hainvg depositors receive bonds linked to gas earnings (the government hopes to exploit gas reserves to the south) as opposed to the initial plan to give them bank equity in return for their "tax." So much for meager sweeteners to help swallow a bitter pill.
Now to the obvious question: why are depositors, the folks most senior in the creditor hierarchy, being whacked? Shareholders and bondholders should be wiped out before they lose a penny. Yes, but this is a case where expediency, unwisely, has been allowed to carry the day.
In an excellent and important post, "A stupid idea whose time had come," Joseph Cotterill of FT Alphaville explains why the axe fell on the depositors. First, have a look at the balance sheet of one of the two big (and about to fall over) banks:

Notice there is pretty much squat in the way of equity and senior debt. The "other liabilities" may be secured. So then we get to liabilities to central and other banks. The liabilities to central banks are not going to be haircut; that is part of the "private sector participation" premise. Remember, banks in periphery countries have been pledging any asset the ECB will take to it, and any stuff the ECB won't take to their own central bank. In the case of the Cypriot banks, the exposure is almost entirely that of the local central bank. Again from Cotterill:
As of January, the Cypriot central bank was extending around €9bn of secret liquidity in return for collateral no longer accepted at normal ECB liquidity ops. Much of it (it's naturally difficult to determine how much) was probably going to Laiki.
Now remember, that's €9 billion of Cyprus loans to the banks, mainly Laiki, which is junior to deposits, versus the €5.8 billion to be seized from depositors. So why aren't the loans from the Cyprus central bank being written down and the Cyprus sovereign debt investors taking losses? Well, it turns out it is easier to screw retail customers than it is professional investors:
As it is, there were lots of good reasons why a sovereign debt restructuring did not happen. I don't want to downplay them. Notably, the fact that the bonds that were best to restructure were governed under English law, and were likely held by the kind of investor who's willing to litigate. I listed the problems here. Around it all was the inability to get write-downs out of Cypriot domestic-law sovereign debt, because that was held by the banks which already bore big black holes in their balance sheets. Again we come up to something that could be raised in the defence of the deposit levy — local exposure was so great everywhere, that any distribution of losses would have been painful. For the widow depositor, substitute the pension fund holding local-law bonds….

Of course, theoretically, Cyprus could have been given a nod and a wink to carry on all the way into June and then suddenly announce a 'hard' payments default. You then really get into trade-offs there — would Cyprus want to be regarded as that kind of sovereign? Would it be good for it as a banking centre? You also have to think how deposits would have reacted in that kind of hard sovereign default.
If we get a worse-case scenario reaction, that of bank runs in periphery countries, the European officialdom will wish they had gone for just about any other resolution to the Cyprus mess.
Now the optimists are hoping that depositors in other periphery countries will see the Cyprus deposit-seizure, formally a tax, as a one-off. After all, Cyprus is just an itty bitty country with a banking system full of Russian suitcase money that is seven times as large as its GDP. And those banks were dumb enough to lend heavily to Greece. But the officialdom isn't even taking minimal steps to limit the risk of contagion by making convincing-sounding, if empty, assurances. In fact, bizarrely, they are doing the reverse. For instance, the New York Times reported (hat tip Scott):
Jeroen Dijsselbloem, the president of the group of euro area ministers, declined early Saturday to rule out taxes on depositors in countries beyond Cyprus.
Ed Harrison explains why the Germans and the Eurozone officialdom are going down such a dangerous path. Germany has kept squeezing the living standards of ordinary citizens and thinks everyone need to take that medicine, even though it is the wrong remedy in the wake of a big financial crisis:
In short, the ideological view that predominates in German policy circles is that a lack of fiscal rectitude and a lax bank regulatory environment was the problem from the start and that fixing these things by further reducing wiggle room for mischief will reduce profligacy and prevent crisis. The data contradict this view considerably. The euro has been destabilising for a number of reasons I can't go into here but Spain is the perfect example of a country that never should have joined the euro zone. Low government debt and surpluses in Spain and Ireland stood in stark contrast to the soft depression and difficult finances in Germany. Moreover, the interest rate policy of the ECB, geared as it was to the slow growth core, produced negative real interest rates and credit bubbles in Spain and Ireland during the last decade. German banks piled in to those countries as prospects domestically stagnated. None of this matters politically though. There is no sense in telling political masters in Germany this because they see Germany's recent history as one of severe belt-tightening and an economic success that they believe is a direct result of that tightening. Extrapolating the German model Europe-wide is the goal…

So, as far as German politics goes, the German government doesn't want bailouts but feels that it has to permit them in order to save the euro. However, in order to get a bailout the pre-conditions are becoming harder and harder as bailout fatigue sets in. At first, it was fiscal reform. But as the crisis continued, policy makers saw this as an opportunity. So it became fiscal and labour market reform and privatisation and pension reform. As German policy makers told Richard Koo last summer, the crisis represented a "once-in-a-lifetime opportunity" to institute real structural reforms like the ones Germany is doing.
Over the weekend, colleagues who are normally of the calm, cool and collected sort have been stunned by this development, although the Eurocrats had been muttering about a deposit haircut in Cyprus in recent months. And the message could not be clearer: you are at risk if you hold money in a shaky bank or country in the Eurozone. One reader's reaction: "I thought I'd put a prediction on the record: starting tomorrow, the euro payment system really starts to unravel."
After the PR barrage that accompanied the launch of the OMT, which was a brilliant exercise in smoke and mirrors (all it did was repackage and rebrand existing ECB powers), the quiet deposit run out of periphery countries to banks in the core nations slowed and had even reversed in recent months. Expect it to pick up with renewed vigor. Even if we don't see hot bank runs of people lined up trying to empty their accounts, anyone who has more than €100,000 on deposit in a periphery country, particularly Spain, has to recognize he is in danger. However, many of the people own businesses (a payroll of meaningful size means you'll have large deposits at least when you are about to pay staff, and unless you manage cash very aggressively, much of the rest of the time too) will need some time to switch to safer (presumably German or maybe even Swiss) banks, since selecting a new bank and moving a large, multi-serivces account is a big undertaking. And this sort of hidden-to-the-public big deposit run has felled banks; it was the proximate cause of the resolution of WaMu.
Now the EU officials could easily calm nervous depositors by announcing an ECB-backstopped deposit guarantee, instead of the current national system which depends on not-exactly-credible central banks. Germany and its fellow surplus countries have hesitated about proceeding with the necessary steps to further economic integration (notice how the plan to implement eurozone wide bank supervision, which Germany insisted was a precondition to Eurozone-level deposit guarantees, has languished?). Germany is trying to maintain policies that are contradictory: it wants to continue to have large trade surpluses, yet not fund its trade partners; its wants debtors to meet their obligations, yet refuses to allow either enough in the way of fiscal deficits or monetary easing to keep debtor countries from falling into deflationary spirals, which assure default. Germany's failure to relent on any of these conditions means that what breaks will be the financial system.