Yves here. There's been a great deal consternation in Europe of consternation over a report that found that the median Spanish and Italian households are more than three times as wealthy as the median German household. This report says that these differences aren't what they seem to be.
By Tito Boeri, Professor of Economics at Bocconi University, Milan. Cross posted from VoxEU
The ECB's recent survey on household finances and consumption threw up some unexpected results – counter-intuitively, the average German household has less wealth than the average Mediterranean household. In line with a recent VoxEU.org contribution from De Grauwe and Ji, this article analyses the principal differences in wealth and income between the main Eurozone countries.
The Household Survey (European Central Bank 2013) is a joint project of the ECB and all the Eurozone central banks providing harmonised information on the balance sheets of 62,000 households in 15 Eurozone countries (all except Ireland and Estonia).1
Media hype had been generated by the ranking of the countries' median household wealth results, especially by the fact that:
• Germany was in last place with €51,400.
• Italy and Spain were significantly above France with wealth equal to €173,500 and €182,700 respectively, compared to the French households' €115,800.
The mean household wealth averages paint a very different picture to current narratives about the relatively wealth of nations in the Eurozone. The relative dispersion in the estimates is much smaller: the German household mean is €195,200, while for France, Italy and Spain it is €233,400, €275,200 and €291,400 respectively. Moreover, Germany climbs six places in the wealth ranking.
As already noted by De Grauwe and Ji (2013), Germany's position at the bottom of the median ranking is simply due to its large wealth inequality compared with the others. This is confirmed by observing that the concentration of wealth, measured by a Gini index of 0.76, is much higher in Germany, while for France, Italy and Spain the estimate is smaller (0.68, 0.61 and 0.58 respectively).
Household Size Matters
This analysis does not take account of household composition in the various countries. The distribution of household wealth across countries is affected by differences in the demographic characteristics of households (age, education, household size):
• In northern countries, households are generally small, often composed of a single member.
• In the south it is not unusual to find many people, even from different generations (grandparents, parents and children), living together.
The splitting up of household members produces a sort of partition of wealth among the households they generate, as happens when young members exit the household to form a new family.
A simple way to sterilise for household size is to consider per capita averages:
• The per capita wealth figure for Italy and Spain is €108,700, slightly higher than for France (€104,100) and Germany (€95,500).
Hence, the differences between per capita averages are much smaller than those observed between household medians. Dealing with sample estimates, we observe that most of the above differences are not statistically significant, although National Accounts estimates confirm that per capita wealth in Germany is a little lower than in Italy, Spain or France (by 3%, 4% and 11 % respectively) (European Central Bank 2013).
Thus, there are no substantial differences in the averages for per capita wealth and that the media hype is the result of a specious reading of part of the results.
Income and Poverty
Other economic indicators paint pictures that are more favourable to Germany:
• German mean gross household income is about €43,500.
• In the other three countries the average is between €31,000 and €37,000.
If we consider household equivalent income, a measure of the resources available at the individual level that takes household size and composition into account, the income gap appears larger2: the German mean gross equivalent income is about €28,000 (the median €22,000), compared with averages ranging from €19,000 to €21,000 (and the medians from €15,000 to €17,000). Even taking into account the different purchasing power of income in the four countries, the results are similar for both means and medians. In short, Germans have a significantly higher income with respect to the citizens of the other three major Eurozone countries with similar equivalent income statistics.
Figure 1. Net wealth statistics (1000€)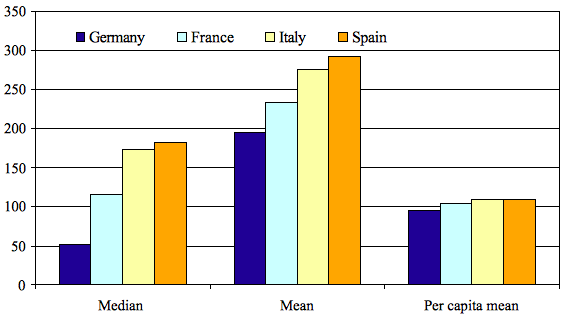 As to the poverty distribution, the proportion of relatively poor individuals is calculated by adopting a unique poverty line (half the Eurozone median equivalent income adjusted for the different price levels3) and a specific poverty line for each country.The second clearly defines poverty only in terms of the relative position (and prices) of the household in its country's income distribution, while the first treats all households as belonging to a single area, although accounting for the different level of price among countries. Figure 3 shows that the two definitions do not produce the same picture. In the first definition:
• Poverty appears to be more widespread in Italy and Spain and less widespread in France and Germany.
• Adopting national poverty lines, poverty is more widespread in Italy and Germany than in Spain and France.
These results are only a small part of what can be obtained analysing the rich database that is available to researchers. It would be worthwhile taking the study of households' economic behaviour in the Eurozone further by means of analyses that consider various dimensions (socio-demographic, economic and institutional) of cross-country heterogeneity while avoiding hasty conclusions.
Figure 2. Income statistics (1000€)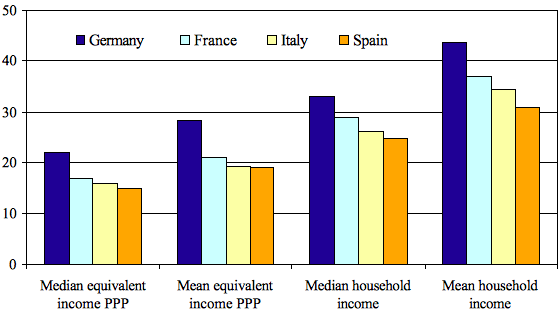 Figure 3. Distribution of poverty (per cent)