By Nathan Tankus, a student and research assistant at the University of Ottawa. He is currently a Visiting Researcher at the Fields Institute. You can follow him on Twitter at @NathanTankus

There are many seminal thinkers who are so well known they're never read. This category includes Adam Smith, Thomas Robert Malthus, Immanuel Kant, David Ricardo, John Stuart Mill, Fredrich Hayek, John Maynard Keynes and many, many others.
One thinker I'd like to focus on is Karl Marx. Rather than write about the issues that fill thousands of pages in academic journals (topics like the tendency for the rate of profit to fall, under-consumption, the "transformation problem" etc), I want to focus on Irish emigration. This is a topic from an interesting passage in Marx's writing – one that I've read little discussion of among Marxists and anti-Marxists alike. My feelings about this area of Marx's Capital are beautifully articulated in this quote from Joan Robinson: "I began to read Capital, just as one reads any book, to see what was in it; I found a great deal that neither its followers nor its opponents had prepared me to expect."
One of the greatest human catastrophes, the Great Famine, occurred between roughly 1845-1852. Marx lays out his analysis of Ireland's near death experience in Chapter 25 of volume one of Capital. Estimates vary but one commonly cited estimate says that during this time period about one million people died and one million emigrated.That would be more than 20% of the population.
As I documented in an earlier piece, emigration is a major problem for defenders of free trade from David Ricardo to Paul Krugman. The reason is simple: the most popular and most cited defenses of free trade provide numerical examples where the same amount of labor and capital produce more than they did before. However, if there is net emigration (or death) of labor, any of those efficiency gains can easily be wiped out by losing laborers (especially skilled ones). Additionally, if "efficiency" results in increased unemployment rather then reduced working time, it really isn't socially "efficient" at all. As Marx says, "England,… would have bled to death with such a drain of population as Ireland has suffered".
Despite appearing in the middle of one of the densest treatises on political economy ever written, Marx's argument is quite straightforward. He, in contrast to Malthusians of the time, didn't think that the famine and resulting suffering was being driven by "absolute surplus population" (what is commonly referred to as overpopulation) but by "relative surplus population". According to the Malthusians (as seen by Marx) absolute overpopulation means that there are too many people no matter how society is organized. In contrast, Marx argued that the starving, under/unemployed and emigrating were only superfluous "relative" to the demand for labor by Capitalists, rentiers, (especially in the Irish case) Landlords etc (see also chapter 12 of the Grundrisse. As evidence he cited statistics showing that the "production of relative surplus population has more than kept pace with the absolute depopulation". From this perspective what was needed was not more and more sustained net emigration but changes in social institutions that led to the employment and social uplift of the suffering groups (or, more radically, a destruction of the employee relationship altogether).
Needless to say, this was not the prevailing view among other social commentators of the time. According to Marx, the discussion was dominated by the "land Magnate". Marx argued that landlords defended the ideas of absolute overpopulation because they needed to clear their land of small farmers so that they could switch from growing crops to the more profitable grazing land for cattle. From this perspective, the potato blight was socially produced since small farmers were pushed into monocropping as the only crop that a family could survive farming on such small plots. Then the subsequent impact on the population in both death and emigration was sustained by the policies of "individual landlords and by the English legislature". One can easily see the antecedents to modern Austerians in Marx's summary of Lord Dufferin's position:
Lord Dufferin is one of those land magnates. That rent-rolls and profits can ever be "excessive," or that their plethora is in any way connected with plethora of the people's misery is, of course, an idea as "disreputable" as "unsound." He keeps to facts. The fact is that, as the Irish population diminishes, the Irish rent-rolls swell; that depopulation benefits the landlords, therefore also benefits the soil, and, therefore, the people, that mere accessory of the soil. He declares, therefore, that Ireland is still over-populated, and the stream of emigration still flows too lazily. To be perfectly happy, Ireland must get rid of at least one-third of a million of labouring men. Let no man imagine that this lord, poetic into the bargain, is a physician of the school of Sangrado, who as often as he did not find his patient better, ordered phlebotomy and again phlebotomy, until the patient lost his sickness at the same time as his blood.
Lest one thinks that Marx is fighting a strawman, you can read Lord Dufferin in the original.
Continuing the analogy to modern events, it is especially striking to see the analogy of bloodletting that has become commonplace among critics of austerity (see this post from Michael Hudson for example). Despite Marx's radical reputation, mainstream economists such as Kevin O'Rourke have stated something similar:
Extensive farming favored landowners but led to diminished employment opportunities. The permanent nature of the blight necessitated a switch away from old farming styles. The possibility that the Famine also provided farms with the opportunity for such a switch cannot be discounted, for of course if extensive farming was their most profitable option, one must ask why they did not switch sooner. From the perspectives of landlords and farmers, the Famine cleared large tracts of land of the smallholdings which made large-scale grazing difficult. Viewed in this light, the Famine served as a sort of speeded-up enclosure movement.
Ireland's experience in the 19th century has implications not only for today, but specifically for modern Ireland. Ireland never really recovered from the great famine. It had net emigration for the rest of the 19th century and most of the 20th century. According to Martin Ruhs of University of Oxford: "In 1996, Ireland reached its migration 'turning point,' making it the last EU Member State to become a country of net immigration". With the onset of the Euro crisis, unemployment in Ireland reached well above 10% and stayed there. As a result, net emigration has returned to Ireland according to the last migration estimates produced by the Central Statistics Office (click to enlarge).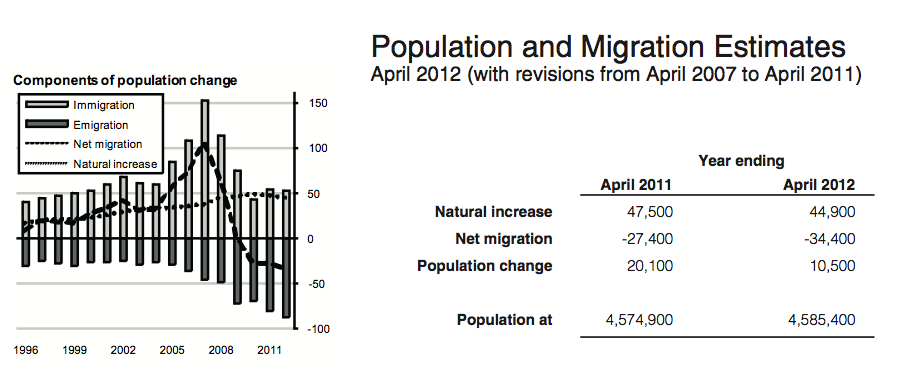 Thus, in Marx's language, Irish and Eurozone policy has produced a "relative surplus population" and reproduced the conditions which led to net emigration Ireland. The difference is largely in the fact that now Ireland has a social safety net. This may not be true for long, as Ireland implements budget cut after budget cut as the "powers that be" demand. Rather than being pushed by the British however, this austerity is being pushed by the Eurozone and the IMF. Just last week, according to the Irish Examiner,
The International Monetary Fund said Ireland should stick to the terms of the bailout agreement and cut €3.1bn from the Budget in October. The IMF said it was not its job to dictate the terms of the Budget, but said that Ireland needed to continue its track record of fiscal consolidation".
In other words, the blood-letting continues.
Finally, for those watching the history of currency unions closely, it is interesting to note that the Irish pound was ended in 1826. One major (albeit dated) study of Irish economic history argues that "the suppression of paper money in 1826 the tragic effects of the Great Famine twenty years later were made inevitable". If this latter point about the Irish pound is true, it implies that Ireland has fallen into another trap similar to the one that plagued it in the 19th century. The difference is that this time Ireland's politicians gave up autonomy rather then having it yanked from them. Words such as tragedy and farce don't begin to describe their crisis.