By Lambert Strether of Corrente.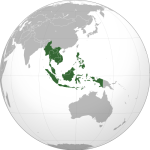 ASEAN (Association of Southeast Asian Nations), says WikiPedia, would rank as the eighth largest economy in the world if it were a single entity. It includes ten countries: Brunei, Cambodia, Indonesia, Laos, Malaysia, Myanmar (once Burma), the Philippines, Singapore, Thailand, and Vietnam. Last week, we traveled down the Mekong from Myanmar, through Laos and Cambodia, to Vietnam. This week we'll look at countries where the common thread is not a river, but significant (even official) Muslim presence: Thailand, Malaysia, Indonesia, and the Philippines. One difference between last week's ASEAN countries and this week's: No insurgencies last week. This week, lots of them. One similarity: Genocide, with the genocidaires still strutting about, last week in Cambodia, this week in Indonesia. Next week I'll finish up with the outliers: The peninsular Korea, the city state of Singapore, and the petro-statelet of Brunei. And who would have thought the Philippines would have problems with electronic voting machines?
Thailand
SPECIAL REPORT-Thai authorities implicated in Rohingya Muslim smuggling network Reuters, 2013-07-17
[A] swelling flood of Rohingya have fled Myanmar by sea this past year, in one of the biggest movements of boat people since the Vietnam War ended.

Their fast-growing exodus is a sign of Muslim desperation in Buddhist-majority Myanmar, also known as Burma. Ethnic and religious tensions simmered during 49 years of military rule. But under the reformist government that took power in March 2011, Myanmar has endured its worst communal bloodshed in generations.

A Reuters investigation, based on interviews with people smugglers and more than two dozen survivors of boat voyages, reveals how some Thai naval security forces work systematically with smugglers to profit from the surge in fleeing Rohingya. The lucrative smuggling network transports the Rohingya mainly into neighboring Malaysia, a Muslim-majority country they view as a haven from persecution.
Dark cloud hovers over Thai activists' victory Deutsche Welle, 2013-07-24
There was delight this month for community members from Samut Sakhon province, after the Thai Central Administrative Court backed their protests against the coal company's operations and ordered activities to be shut down.

The battle was about local authorities allowing a coal company to handle, transport and store coal and the construction of a port without authorization. Protesters claimed the operations were damaging the environment. Samut Sakhon lies at the mouth of the Tha Chin Klong River, a tributary of the Chao Phraya River, which runs onto the Gulf of Thailand.

In July 2011, community protest leader Thongnut Sawekchinda was shot and killed near his home by gunmen on a motorcycle. 

Thongnut is one of more than 20 activists who have paid with their lives after leading campaigns over the environment and land rights in the past decade.

n the early morning of November 19, 2012, in the southern Surat Thani province, Montha Chukaew and Pranee Boonrat were killed by unidentified assailants as the women made their way to a local market.

Thai investigators discovered ten bullet cases from assault rifles near the bodies. The women were members of the Southern Peasants Federation (SPFT), set up in 2008, to fight for land rights access against a palm oil company at the village of Khlong Sai Pattana.
Tensions mount for Yingluck in Thailand Asia Sentinel, 2013-08-06
Tensions have been rising again in Thailand, with protesters taking to Lumpini Park in Central Bangkok Sunday in what might be considered a preemptive strike against any possibility that Thailand's parliament might produce amnesty legislation that would allow Prime Minister Yingluck Shinawatra's fugitive brother, Thaksin, back into the country.

Any time amnesty or constitutional reform looms, the protesters take to the streets. … But each time the issue has come up, street protest and tensions have shelved them. The Supreme Court delayed moves to pass legislation in 2012.

Party leaders deny that there is anything in the amnesty bill relating to a pardon for Thaksin, who remains in exile in Dubai, although he is widely assumed to be running the government by remote control through his sister and through her top advisors, most of whom served Thaksin during his period as prime minister from 2001 to 2006, when he was brought down by a royalist-backed coup while he was out or the country.
Army killed six Thais shot in 2010 rallies: court Bangkok Post, 2013-08-07
Six Thais, including a nurse and two rescue volunteers, shot dead while sheltering in a Bangkok temple declared a safe zone during 2010 protests were killed by army bullets, a court ruled Tuesday. … "The court ruled that they were killed during the day on May 19 in Pathum Wanaram temple by bullets which were fired from the direction of security forces stationed on (train) rails and in front of the temple," Bangkok's Southern Criminal Court said in a statement.
Protesters disperse, amnesty bill debate begins Bangkok Post, 2013-08-07
About 2,50 protesters [of a controversial amnesty bill that many see as a disguise to allow deposed former PM Thaksin Shinawatra to return to Thailand] stopped at a police barrier midway through their march to parliament on Wednesday afternoon and Democrat Party leaders told them to disperse, with the controversial legislation expected to sail through its first reading with at least 299 votes later tonight. …

At the barricade, some protesters hurled abuse and threw water bottles at Pol Lt Gen Khamronwit Thoopkrachang, the metropolitan police chief, who was trying to negotiate with Democrat members who led the march.
Burmese workers escalate protests over wages, rights France 24, 2013-08-08
Shwe Zin is one of the workers involved: "Due to cheap working conditions in Burma … [m]ost Burmese migrants go to Thailand to work in Thai industries and factories. Many of them risk their lives as they cross the border illegally. They are also vulnerable to arrest by Thai police when they arrive due to illegal status. But the risk often pays off; they find Thailand is better than their country. There are about two million Burmese migrant workers who work legally and illegally in Thailand. Despite reforms that are being put in place in Burma, the migrant workers didn't return home and prefer to work in Thailand.

All 35 of us working in my factory are university graduates, myself included. Even though I studied hard for my degree, it is really difficult to get a decent job with a good wage in Burma.

And it seems like Burmese workers are always on the losing side: if they keep quiet, they get exploited but if they complain, they too are sacked. But I'm not giving up hope, one day there will better working conditions and better wages in my country."
Police seek to check Line posts The Nation, 2013-08-13
Police plan to study the conversations and comments posted on the popular social-media application Line to see if they violate the law or threaten national security.  Pol Maj Ge Pisit Pao-in, commander of the Technology Crime Suppression Division (TCSD), said the agency had asked Line Corporation in Japan to cooperate, but had failed with other operators of social-media websites as they were mostly in the West and did not allow such investigation. …  "We are not violating anybody's rights, as the checking is being done overseas. So you can't really attack me for this," he said.
Blowing whistles to mobilize those whose blood spills into their eyes 2Bangkok, 2013-08-15
[Interpretation of political cartoon:] "Blowing a whistle" is a Thai saying often used by "big men" to boast about their power as in former PM Chavolit's threat that he could blow a whistle and the country would be in flames. In Thailand protests are never seen as organic and natural events, but as events planned and executed by behind-the-scenes players. The saying "blood spills in one's eyes" means the person is left with no choice but to fight to the death.
Thailand fails to find closure on Bangkok massacre Asian Correspondent, 2013-08-16
[T]he wounds of what is considerably the worst political violence in the Thailand's recent history still have not healed, because not only are competing truths evidence of an ongoing divided political discourse, but also the very likelihood of repeated impunity for the authorities and the military for the May 19 crackdown still prevails, something that has been practised too often in the country's history – 1973, 1976, 1992, 2006, just to name a few – in the short-sighted hope that all is forgotten and forgiven until the next tragedy.
Thai Negotiating Skills Found Wanting The Diplomat, 2013-08-17
Prime Minister Yingluck Shinawatra attempted to handle outstanding political disputes with the Muslim community on two fronts, without much success. … After years of offering little more than band-aid solutions to the bloody insurgency in Thailand's deep south, Yingluck got serious and opted to bring in the Malaysians hoping their Islamic credentials would reinvigorate peace talks and entice separatists to the bargaining table. It failed. … Yingluck has not fared any better in attempting to resolve the spillover from Burma's atrocious treatment of its Muslim Rohingya population. There are about 1,700 Rohingyas in detention, and riots and prison outbreaks are as common as the protests over their poor treatment here and at home.
Malaysia
In crackdown on religion, activists see a nation in fear The Malay Mail, 2013-08-14
Citing the recent crackdown by religious authorities in a string of cases, [civil liberties lawyer Syahredzan Johan] said that harsh action would only render interfaith efforts difficult as the country's many religious groups may stop daring to speak their minds. … Since last month, a string of religious incidents have incurred the wrath of the authorities just ahead of the country's 56th Merdeka celebration on August 31.

Four Muslim girls were barred last month from contesting the Miss Malaysia World 2013 beauty pageant as Islamic authorities cited a 1996 fatwa (religious edict) against their participation.

Two Chinese bloggers — Alvin Tan and Vivian Lee — were charged last month with sedition after they posted a mock "Selamat Berbuka Puasa" (breaking of fast) greeting on their Facebook page that showed them eating "bak kut teh", and describing the soupy pork dish as "wangi, enak, menyelerakan" (fragrant, delicious, appetising).

Maznah Yusof, a Muslim dog trainer, is also being investigated for sedition after a video of her bathing and walking her three dogs resurfaced recently on YouTube.
We're sorry, says Buddhist chief high priest Free Malaysia Today, 2013-08-13
PETALING JAYA: Buddhist chief high priest K Sri Dhammaratana Nayake Maha Thera has apologised on behalf of a group of Buddhists who meditated in a surau in Johor recently. … We would like to apologise to our Muslim brothers and sisters for the actions of a certain Buddhist group from Singapore in having their meditation session at the surau of a resort in Kota Tinggi," he said in a statement today. … The chief high priest was referring to a viral video clip depicting a group of Buddhists led by a monk chanting inside a surau of a resort in Tanjung Sedili Besar. … 

The video showed the group sitting on mats while facing a picture of Buddha , which was placed on a table underneath Quranic verses that were hung on one of the walls. …

Police said the incident is being investigated under Section 295 of the Penal Code for injuring or defiling a place of worship with intent to insult the religion of any class.
Malaysia detains 14 trade deal protesters FOX, 2013-07-20
Eleven [TPP] protesters were arrested outside the resort where trade officials are meeting on Saturday, said Syukri Razab, a coordinator with human rights group Suaram.

Three others were arrested later outside a police station where the protesters were detained, he said.

Malaysia relies heavily on trade, but US-Malaysia free trade talks have been bogged down in sensitive areas including the Southeast Asian nation's system of affirmative action for Muslim Malays who dominate the multi-racial population.
Stop challenging Muslims over 'Allah', home minister warns Malay Mail, 2013-08-17
The word "Allah" is reserved only for followers of Islam and non-Muslims must stop challenging this absolute right, Datuk Seri Ahmad Zahid Hamidi said today ahead of the long-simmering dispute that will return to court next week. 

In 2009, the High Court made a landmark ruling in favour of the Catholic Church, when it said the Middle Eastern word was not the exclusive right of Muslims and the Herald could publish it in its Bahasa Malaysia section, which caters to its Bumiputera congregation.

In January 2010, the Home Ministry filed an appeal, but there was a three-year hiatus before the dates were fixed for hearing at the Court of Appeal.
Another Sulu attack on Sabah will be suicidal, says MNLF chief  The Star Online, 2013-08-15
Any attempt by Sulu terrorists to launch a second wave of attack on Sabah would be suicidal, ending only in utter failure, warns Moro National Liberation Front (MNLF) chairman Muslimin Sema.
Mahathir: Muslims 'doing the work of enemies of Islam The Edge, 2013-08-15
KUALA LUMPUR (Aug 15): Former premier Tun Dr Mahathir Mohamad today voiced his sadness over the massacre in Egypt, adding that throughout his years as a statesman, the Muslims around the world have retreated as they were fighting with each other and not against the enemies of Islam.

"Muslims are busy killing each other and doing the work of enemies of Islam. They are doing the work which should be done by the Jews, the Zionist and the other assortment of enemies of Islam."

"This is clearly our problem," he said adding, "(There is no) Unity of purpose work together to achieve whatever it is we have in mind. But we are all divided".

"For 60 over years, I have watched these things, saw all these things on myself lived through it,

"(There's) No end to the problem. There is no proper strategy, plan to achieve success. We are also wasting our efforts because we cannot agree with each other," he said.

Specifically in relation to the Palestinian issue, Mahathir said that aide can be provided for decades to come but aide alone will not assist in solving the impasse in the West Bank.

"Charity is not going to get us anywhere. We tie bombs to ourselves and blow ourselves up. It is very heroic but it hasn't done anything for us," he said.

He added that there needs to be a more positive way to solve the impasse and suggested to give diplomatic means another try.
Election Challenge Sputters in Malaysia Online WSJ, 2013-08-16
Malaysia's opposition is increasingly struggling to keep alive its campaign against the outcome of close elections three months ago that failed to dislodge the ruling National Front, with mass gatherings running out of steam and court challenges being thrown out. … The courts have thrown out all parliamentary seat challenges—the latest pair on Thursday—and ordered the payment of hefty legal charges that are hurting party coffers. … "We don't have a choice," said Rafizi Ramli, director of strategy at Mr. Anwar [Ibrahim]'s People's Justice Party, part of a coalition with the fundamentalist Pan Islamic Party, or PAS, and the ethnic-Chinese-dominated Democratic Action Party. "The public feels there was a widespread corruption and fraud and they would like to see that issue taken up to the highest level."
Fiscal reforms for sustainable growth The Edge, 2013-08-17. Uh oh….
Moody's says Malaysia's credit rating could move up the ranks if the Government undertook structural reforms to rebalance its economy so that the private sector could play a bigger role in driving growth. Needless to say, improving the debt dynamics would also be credit positive for the country, while deterioration in the Government's financial strength, possibly arising from ineffective policies or the lack of fiscal reforms, will put the country's credit rating under pressure.
KL's 'friends' fight for its cultural landscape The Malay Mail, 2013-08-18
We all know that protest can come in many shapes and forms; petitions, street marches, barricades, but guided heritage walks?

Well, RakanKL, a gathering of concerned citizens and civil society advocates, has been conducting guided heritage walks not just  to raise awareness of heritage conservation but to defend heritage areas from the heavy construction currently underway to build the new MRT line and the soon-to-be  started 118-storey Menara Warisan.
Indonesia
Locals stall $4 billion Indonesia power plant Japan Times, 2013-07-20
$4 billion Japanese project to build a large coal-fired power station in Indonesia has hit a major snag due to opposition from local residents, sources revealed.

Around 50 landowners are refusing to sell 40 hectares in total that would account for 20 percent of the planned construction site in Central Java province, the sources said Friday.

Unless the land purchase is completed by Oct. 6, PT Bhimasena Power Indonesia, a local company established for the project with Japanese investment, will lose its right to build the power plant and a new round of bidding will have to be conducted.
Activists Concerned FPI Backlash Will Quiet Mass Organizations Law Protest Jakarta Globe, 2013-07-28
Ray Rangkuti from pro-democracy group, the Indonesian Civil Circle (LIMA), said many have called the government to implement the controversial Mass Organization Law and use it to disband the Islamic Defenders Front (FPI).

Members of the hard-line group more than a week ago clashed with residents of Kendal, Central Java, over a raid on what the FPI said was a brothel operating during the Ramadan fasting month.

Outnumbered, FPI members attempted to flee using a hired truck, but the vehicle hit and killed a bystander, which only served to further fuel local residents' anger.

Days after the clash, 50 members of the Makassar chapter of the FPI wrecked a small shop serving beer in Makassar, South Sulawesi.

The incident was captured on video and uploaded to YouTube, causing a sensation online. Police subsequently arrested three men allegedly involved in the attack. …

But Ray said that using the law to disband the FPI would be a setback to pro-democracy groups' struggle to have it repealed.

"It will legitimize the Mass Organization Law as if it has been socially accepted," he said on Saturday.
Indonesia temple blast protests violence against Myanmar Muslims: government Reuters, 2013-08-05
A small bomb exploded at [the Buddhist Ekayana temple in West Jakarta] in Indonesia's capital, slightly injuring three people, in protest against violence against Rohingya Muslims in Buddhist-majority Myanmar, a government official said.
Ending Indonesia's forest fires Reuters, 2013-08-08
Indonesia's forest fires raged again for most of June, choking residents of much of Sumatra, where the fires are burning, as well as residents of Singapore and large parts of Malaysia. They also renewed a running debate on one of the crucial environmental issues facing South-East Asia. 

These fires are largely blamed on palm oil plantations, logging firms and farmers, all of whom resort to burning vast tracts of rainforest and peatlands to clear them for planting.
Lambert here: Oppenheimer was previously commissioned by the International Union of Food and Agricultural Workers to make a documentary in a country where workers were trying to form a union, and the team found itself in Indonesia, filming workers on an oil palm plantation.
Indonesia: A delicate succession FT, 2013-08-11
Next year's election will be the first real regime change of the democratic era, a critical test of the country's resilience.

While the archipelago of 250m has made striking economic progress, some of the nation's elite have retained their power from the Suharto era. Now, Indonesians want the next government to challenge those power structures by fighting endemic corruption and reforming a capricious judicial system. Inequality is also a concern in a nation that has more billionaires than Japan but where nearly half live on less than $2 a day.
Uncovering Indonesia's dark past San Antonio Express News, 2013-08-13
"The Act of Killing" (opening Friday at the Alamo Drafthouse Park North) recounts the mass murders of communists, ethnic Chinese and intellectuals in Indonesia in 1965 and 1966, and documents the massacres' pernicious aftermath. … As they conducted interviews, survivors urged them to speak to the killers themselves, who were living not just openly but also proudly with their brutal history. What [director Joshua] Oppenheimer discovered was that the killers — who call themselves "gangsters" — still operate with impunity in Indonesian culture, bragging of their past deeds and continuing to intimidate their victims' descendants. …

His hope is that "The Act of Killing" will be the first step on a long road toward a public reckoning, with truth commissions, trials, reconciliation rituals and a presidential apology. He quotes Werner Herzog, who with Errol Morris executive-produced "The Act of Killing," after Herzog finished reading the Tempo magazine edition.

"Werner said to me, 'Josh, art doesn't make a difference.' And I felt so sad when he said that," Oppenheimer recalled. "And then he paused and smiled and said, 'Until it does.'"
Oil Regulator in Indonesia Arrested in Bribery Investigation New York Times, 2013-08-14
Rudi Rubiandini, a former deputy energy minister who took over the oil and gas regulatory authority in January, was being detained for questioning by the anticorruption agency, known as the KPK, after being arrested Tuesday night following a raid on his home, said Elan Biantoro, a spokesman for the regulatory authority.  …  On Tuesday evening, investigators went to Mr. Rudi's house in South Jakarta and found him with $700,000 in cash, Johan Budi, a spokesman for the anticorruption commission, told reporters. Two men later identified as representatives of Kernel Oil, an oil trading company, were at Mr. Rudi's home at the time of the raid and were also arrested, he said.
Review: Mind-blowing "Act of Killing" surreally recalls mass slaughter in Indonesia Arts Atlanta, 2013-08-16. (See also The Murders of Gonzago, Slate.)
[Act of Killing] director Joshua Oppenheimer traveled to Indonesia and sought out chief figures among the paramilitary and gang members responsible for a million or more murders in 1965 and 1966. … These interview subjects include current politicians and journalists, the latter proudly claiming that their job during those years of terror wasn't to report the news, but to help the military incriminate and eliminate those who opposed them.

The documentary's central figure is Anwar Congo, who murdered with his own hands hundreds of his fellow Indonesians. These were people who, by questioning the validity of the military forces that had overthrown the government, were labeled Communists. In truth, they were mainly a non-partisan mix of farmers, union members, intellectuals and ethnic Chinese. And they were slaughtered without repercussion. In fact, their killers even now are seen as heroes.

… As he interviews them, Oppenheimer proposes to these death-squad operatives that he will make individual mini-films about their murderous youthful work. Not only do they agree, but they agree with gusto. They love movies — Brando and Pacino as gangsters! John Wayne on the range! And musicals! So they get to choose their favorite genres to tell their tales.

Occasionally, Congo and his confederates encounter civilians who discuss the horrors of the 1960s. They maintain forced smiles, insisting that they don't mean to criticize these death merchants who killed immediate family members and derailed their own futures. Likewise, small shopkeepers in bazaars keep smiling as they're shaken down for "protection" money from current hoodlums.
Lambert here: Hence, drone strikes follow first-person shooter video games? Discuss.
West Papuan Freedom Flotilla sets sail for Indonesian territory Guardian, 2013-08-16
A group of Australian and West Papuan activists will set sail from Cairns on Saturday for the Indonesian territory of West Papua, despite fears they could face arrest or worse for arriving in the country illegally.

The West Papuan Freedom Flotilla will make the trip to highlight the abuses faced by West Papuans under Indonesian rule. It is estimated that as many as 500,000 Papuans have been killed since Indonesia acquired the territory in the 1960s.
Residents against Tanjung Benoa reclamation Jakarta Post, 2013-08-16
Members of NGOs, artist communities, spiritual leaders, as well as local residents, marched to the office of the Bali Legislative Council in Renon, Denpasar, Thursday morning urging legislators to force Governor Made Mangku Pastika to meet the deadline to respond to the council's recommendation to reconsider and re-evaluate the issuance of a reclamation and development permit for Tanjung Benoa.
Indonesia, Malaysia Protest Over Deadly Egypt Crackdown Jakarta Globe, 2013-08-16
Hundreds of Muslims demonstrated in Indonesia and Malaysia Friday against a crackdown on the protest camps of Egypt's Islamists which left almost 600 people dead. …

In the Indonesian capital Jakarta, about 1,000 protesters converged on the United States embassy after Friday prayers, an AFP reporter said.

"We want the world to urge the UN to stop the killing," said Khairudin Abas, a protest organizer with Muslim group ABIM.

The NGO organized similar protests at other major mosques in several states around Malaysia, along with the country's opposition Islamic political party and other groups.
Philippines
The story behind the crying cop ABS-CBN News, 2013-07-23
It was a long and tiring dispersal. According to reports, at least 50 were injured in the clashes.

But amid the chaos, my lens caught a scene I thought I would never see during a dispersal.

A foreign protester was berating a policeman asking him why they were hurting the people. "Why are you doing this to us? Why are you hurting us?!"

The officer simply stood his ground. "I am a policeman, I'm just doing my job."

He said his job was to maintain peace and order. He said they were given orders and they had to follow.

Suddenly, the police officer cried.

The foreigner kept on shouting at the cop. But the policeman couldn't stop crying. He was trying to hold his tears, but he couldn't.

Another round of clashes erupted. The policemen were still trying to push and shove the protesters away. The crying cop simply stood his ground. He was still holding his shield firmly. Still weeping, sobbing.

Later, I approached the policeman and asked him his name. He said he is Joselito. A quick glance at his name tag revealed he is policeman Joselito Sevilla.

He said he is a private, and his uniform patch showed he is from the Marikina police unit.

Asked why he cried, he only said: "Sa gutom at pagod. Walang tulog. Walang pahinga. Dalawang araw na kami naka-deploy dito. Tapos ganito, nagkakagulo."

It was also PO1 Sevilla's first dispersal assignment.

I finally understood him. No sleep. No food. No rest. And he came face-to-face with protesters whose goal was to break the police line.
Philippine Authorities Violently Crackdown on 'People's State of the Nation March The Real News, 2013-07-24
One of the main points of the president's nearly two-hour speech that coincided with the rally was inclusive growth. He said this is a principle that drives every initiative, action, and decision of his administration. This spring, the Philippines surpassed China as the fastest growing economy in Asia. However, the gap between the rich and the poor in the country is also the worst in Asia. According to a socioeconomic research organization, IBON, the top 40 richest Filipino individuals hoard over 20 percent of the wealth of the entire Philippine economy. The government statistics say that one in four Filipinos live on less than one U.S. dollar a day.
Urban poor residents to protest road widening project Philippine Star 2013-08-05
Informal settlers in Manila will march to several government agencies on Monday to protest the pending demolition of their homes to give way to a road-widening project. …  The urban poor group will also air their rejection to the relocation sites being offered to them in areas of San Pedro in Laguna and Bocaue in Bulacan.
Dutchman banned from Philippines for making cop cry China Post, 2013-08-09
The [immigration] bureau said Thomas van Beersum was deported on Wednesday after the authorities had picked him out from a photograph that went viral showing him allegedly haranguing a uniformed police officer at an anti-government protest in Manila last month.

Van Beersum is an "undesirable alien" who violated the terms of his tourist visa by joining a protest, immigration bureau spokeswoman Antonette Mangrobang told AFP.
Philippine Offensive on Rebel Group Kills 2 ABC News, 2013-08-10
The Philippine military launched an offensive Saturday against a breakaway Muslim rebel group that opposes a peace deal and has claimed responsibility for a recent bomb attack that wounded seven soldiers in the country's volatile south.
Six wounded in clash during protest rally Gulf News, 2013-08-11
Three of the 60 policemen were injured as residents of informal settlers on Agham Road in Pag-Asa (Hope) village in Quezon City, threw pill boxes (improvised weak bombs), rocks, bottles, excrement at the policemen who dismantled the barricades that were placed to create a traffic jam on nearby major roads at 7am on Monday," Superintendent Pedro Sanchez, commander of the Quezon City Police District said in a radio interview.

The policemen were sent to check that a reported mass movement from the slum colony had spilled on the roads at the rush hour, police commander Sanchez said. …

The rally was held in protest of the order of local government leaders that residents should leave their homes at the slum area on June 30, said Danao.
#StrikeTheHike | Commuters take 'selfies' to protest against train fare hikes InterAksyon, 2013-08-12
#StrikeTheHike, a "multi-sectoral network of Filipino consumers against price hikes and privatization," is encouraging Twitter, Instagram, and Facebook users to take photos of themselves–popularly known as selfies–with accompanying messages against the ten-peso increase which will be implemented in two tranches over two years, or an increase of P5 every year.
Analysis: How to disarm Philippine rebels IRIN News, 2013-08-13
The Philippine government and Muslim rebels in Mindanao are inching forward in peace negotiations aimed at ending a long-running insurgency, but the toughest negotiations are likely to centre on how to disarm thousands of insurgents, officials and analysts say.

After months of stagnating peace talks, both sides agreed on a wealth-sharing deal in July that will give the Moro Islamic Liberation Front (MILF) powers of taxation, as well as a "profitable" share of mineral deposits by 2016 in a proposed autonomous region MILF would govern.
US Set To Boost Military Presence In Philippines Eurasia Review, 2013-08-16
US forces are set for an "increased rotational presence" in the Philippines, following negotiations in Manila. The two countries aim to counter China's growing ambitions in the region. The Philippines was a US colony between 1898 and 1946, and the presence of American troops remains controversial. The US abandoned its last base in the South Asian country in 1992.

As disputes over potentially lucrative sea lanes and underground mineral resources have grown more bitter, Manila has made diplomatic appeals to the UN over what it calls "excessive claims", and has sought greater assistance from the United States.

After years of being bogged down in Afghanistan and Iraq, Washington has also re-directed its foreign policy towards Asia, signing a docking agreement for its warships with Singapore, and bolstering its troop numbers in Australia.
Peace projects for 42 Pikit villages ready Minda News, 2013-08-17
The Department of Social Welfare and Development (DSWD) is set to implement around P25.2 million worth of community peace projects in 42 villages of Pikit in North Cotabato. … [Gemma Rivera, DSWD Region 12 director] said the proposed projects include the construction of community peace and learning centers, solar driers, potable water systems, pre and post-harvest facilities and road rehabilitation.
Rebels raid Japanese fruit exporter in Philippines Mindano Examiner, 2013-08-14
Communist [New People's Army] rebels raided a Japanese fruit exporter in the southern Philippines on Wednesday, but security officials said there were no casualties in the latest attack in the troubled region. … The motive of the attack is still unknown, but the NPA – which is fighting for a separate state in the country – has been demanding so-called revolutionary taxes from various companies in the region.
Asian golden rice research to continue despite protests SciDev.net, 2013-08-15
Research into genetically-modified golden rice will continue with a view to reaching commercialisation within two years — despite activists destroying field trials in the Philippines last week — according to the institute working on the crop. …  Last week, about 400 farmers and environmentalists stormed a field site in the Philippines province of Camarines Norte, to uproot the golden rice being tested by IRRI and officials from the government's Ministry of Agriculture.  

 In Asia, where rice is a staple, [Bruce Tolentino, spokesperson for the International Rice Research Institute (IRRI) in the Phillipines] says golden rice is one of the best ways to cut the prevalence of vitamin A deficiency, where changing people's diets can be difficult, and where food supplements are prohibitively expensive.

 But some farmers and environmentalists are critical of golden rice's apparent benefits. They say that, instead of developing golden rice, the government of the Philippines could just promote the planting and eating of indigenous and affordable fruits and vegetables that are rich in beta-carotene, such as squash.
Clashes among MILF fighters subside in NorthCot town Minda News, 2013-08-16
Clashes among members of the Moro Islamic Liberation Front (MILF) due to land conflict have subsided in North Cotabato province, a military official said Friday. … The MILF and troops from the 7th Infantry Battalion, along with Muslim elders and community officials, have rushed to the area to pacify the warring rebel factions.
Declaration Of Independence Of Another Muslim Group Threatens Peace Process In Southern Philippines BERNAMA (Malaysia official news agency), 2013-08-17
Even before the Manila government and the Moro Islamic Liberation Front (MILF) could finalise a peace agreement designed to end the decades-old armed conflict in the Southern Philippines, a new development has threatened to disrupt the peace process and revive the hostilities in the region.

The Moro National Liberation Front (MNLF), through its spokesman, Habib Mujahab Hashim, confirmed last Thursday that MNLF founder and chairman Nur Misuari has declared independence in Talipao, Sulu on Aug 12, China's Xinhua news agency reported.

The MNLF is the original Muslim secessionist group in Mindanao founded by Misuari, a former professor at the University of the Philippines, in the early 1970s.

In signing a peace agreement with the government in l996, the MNLF agreed to forego its goal of establishing a separate state in Mindanao. In protest over the decision, some MNLF top commanders bolted out and founded what is now the MILF.
There should be no dilemma The Philliipine Star, 2013-08-17
For me the Smartmatic-PCOS fake elections are paramount because these seek to destroy the basis on which our independent republican democratic state is based – the people's sovereignty through periodic elections.

Without real elections we might as well close shop. … With all the evidence being gathered from different parts of the country it is clear the same methods for fake elections were used from 2010 and 2013. It is a formula using an automated electoral system for fraud. Is it government policy to continue with fake elections since Comelec itself has stonewalled all questions and protests?

The 60-30-10 pattern which means that the entire country from barangays to municipalities to provinces and regions voted uniformly points to a pre-programmed result. This statistically impossible result defies all reason and common sense. The fake elections were lutong makaw. Now you know why the Comelec could not show the source code.