By Delusional Economics, who is determined to cleanse the daily flow of vested interests propaganda to produce a balanced counterpoint. Cross posted from MacroBusiness
Another good week for Europe as the latest PMI data shows the tentative recovery is gaining pace.
Eurozone manufacturing recovery gathers pace in August

• Final Eurozone Manufacturing PMI at 26 – month high of 51.4 in August (July:50.3)
• Growth improves in Germany, the Netherlands, Italy, Austria and Ireland.
• Input prices broadly unchanged since July

The recovery in the eurozone manufacturing sector entered its second month during August. At 51.4, up from a flash reading of 51.3, the seasonally adjusted Markit Eurozone Manufacturing PMI rose for the fourth successive month to reach its highest level since June 2011. National PMIs improved in all nations bar France, while France and Greece were the only countries to register readings below the 50.0 no-change mark.

The Netherlands topped the PMI league table,followed by Austria and then Ireland. Growth rates for production, new orders and new export business all accelerated to the fastest since May 2011, with back-to-back increases also signalled for each of these variables. Meanwhile, the outlook for output remained on the upside as the new orders-to-inventory ratio hit a 28-month high and backlogs of work rose marginally.

The upturns in production at German, Italian, Dutch and Austrian manufacturers all strengthened on the back of improving inflows of new business. Output also rose further in Ireland and returned to growth in Spain as a result of an increase in new business. All of these nations also reported higher levels of new export business, with rates of increase hitting 28-month highs in Italy and the Netherlands, a 32-month record in Spain and a 29-month high in Austria. German exports rose following five months of decline, while the rate of growth in Ireland held broadly steady at July's seven-month peak.

In contrast, output, new orders and new export orders fell at French manufacturers. Production also declined in Greece, despite stabilisations in both total new business and foreign demand following prolonged spells of contraction.
And, with improving PMI data, comes an improvement in confidence metrics.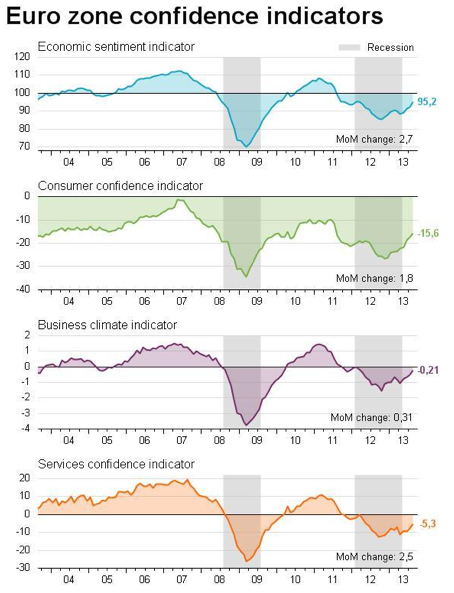 Certainly not out of the woods, but definitely on the up-trend. Unemployment, although intolerably high in many nations, also appears to be stabilizing across the region.
The euro area (EA17) seasonally-adjusted unemployment rate was 12.1% in July 2013, stable compared with June. The EU28 unemployment rate was 11.0%, also stable compared with June. In both zones, rates have risen compared with July 2012, when they were 11.5% and 10.5% respectively.

These figures are published by Eurostat, the statistical office of the European Union. Eurostat estimates that 26.654 million men and women in the EU28, of whom 19.231 million were in the euro area, were unemployed in July 2013. Compared with June 2013, the number of persons unemployed decreased by 33 000 in the EU28 and by 15 000 in the euro area. Compared with July 2012, unemployment rose by 995 000 in the EU28 and by 1.008 million in the euro area.
Importantly we are seeing some improvements in South Europe. Portugal saw a 1% rise in QoQ GDP in Q2 with a 6.3% rise in exports. They have also seen a small up-turn in car sales and a small drop in unemployment.
Greece also had some good news this week.
Greece registered a primary budget surplus and a vast improvement in the deficit of its state budget as a whole in the January-July period, the Finance Ministry said on Tuesday. The primary surplus was 2,555 million euros, against a deficit of 3,083 million in the first seven months of last year, while the overall deficit came to 1,929 million euros, against a target of 7,528 million and 13,216 million euros in the same period of 2012.
While Spain is also slowly seeing some small improvements appear.
Spain said on Tuesday it had eked out a sixth straight month of shrinking jobless queues in August when the number of people registered as unemployed dipped by just 31 people.

The total number of registered unemployed — 4.70 million in raw figures — was basically unchanged, according to the Labour Ministry report.

But the decline of 31 people from the previous month was enough for the Spanish government to hail a sixth consecutive month of declines, and the first drop in the month of August since 2000.
That, however, has been offset by the latest poor lending data which continues to show a struggling private sector.
Outstanding credit extended by Spanish banks to companies in Spain in July declined 9.8 percent from the same month a year earlier to 677.431 billion euros, the lowest level since August 2006, according to figures released on Monday by the Bank of Spain.

The magnitude of the fall was the largest since the central bank began compiling the current historical series in 1995 and remains an obstacle to economic recovery. Compared with record levels reached in 2009 of some 950 billion euros, the amount of outstanding loans has fallen 29 percent.
So, overall, it's more good news out of Europe as the national economies eke their way towards growth. Obviously there are still major issues, most notably the continued lack of demand for credit in many nations and the underlying issue of debt imbalances across the region. As I stated last week, the question now is whether the same adjustments in austerity policy that are supporting this recovery will continue after the German election, or whether we will see a return to old form and a renewed slow down. We'll obviously have to wait until after September 22nd to find that out.