By Richard Smith
First, a little briefing for our American readers, who, I conservatively assume, have about as much affinity with Formula 1 as they do with cricket. Formula 1 is somewhat like Indycars, except with slightly slower cars and significantly twistier circuits. The circuits are scattered world wide, from Canada to Japan. Thus, during the season, the competing teams and their entourages traverse the globe, burning fuel, and naturally have an elephantine carbon footprint.
Formula 1 is a reasonably big global business, annual revenues around $5-$6 Billion, depending on how you count them. The drivers are celebrities, national heroes in fact, and the glitz attracts other celebs. It's a global circus. As you might expect there is lots of TV ("600 million viewers", whatever that means) and so the cars are high-velocity, premium billboards. Glamour sells; speed sells.
Sauber is a middle-ranking Formula 1 team based in Switzerland: for a while it had a partnership with BMW and a big budget, but that deal ended a few years ago and for that and other luck-related reasons Sauber have had to make do with a smaller budget, and less success, for several years now.
Of course, they are very attentive to their numerous marketing relationships, and here's a case in point, a little web site update with a giant back history.
Here is the page devoted to one of Sauber's Promotional Partners, CNI UK, as it appears now (click it to see the whole glossy thing in clear type):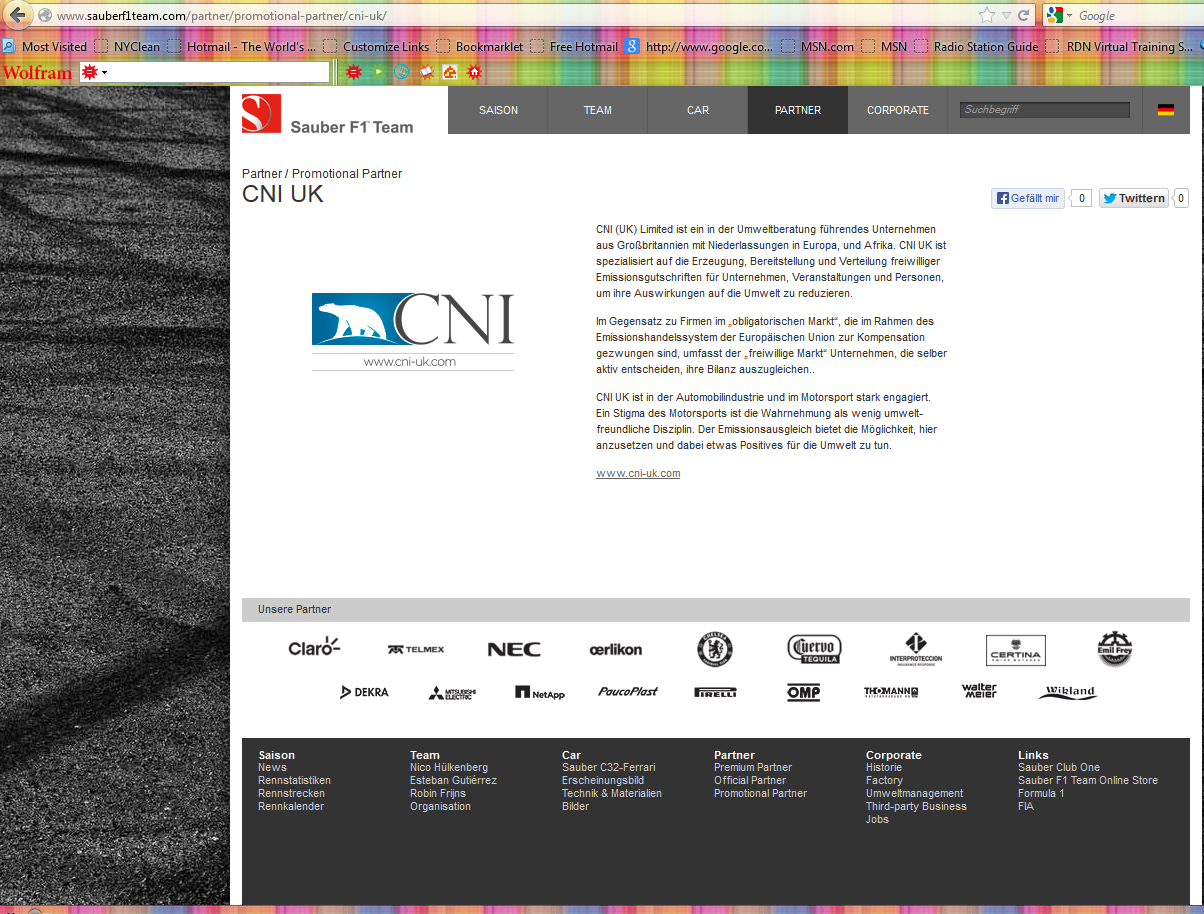 And here's how it looked on the 8th October: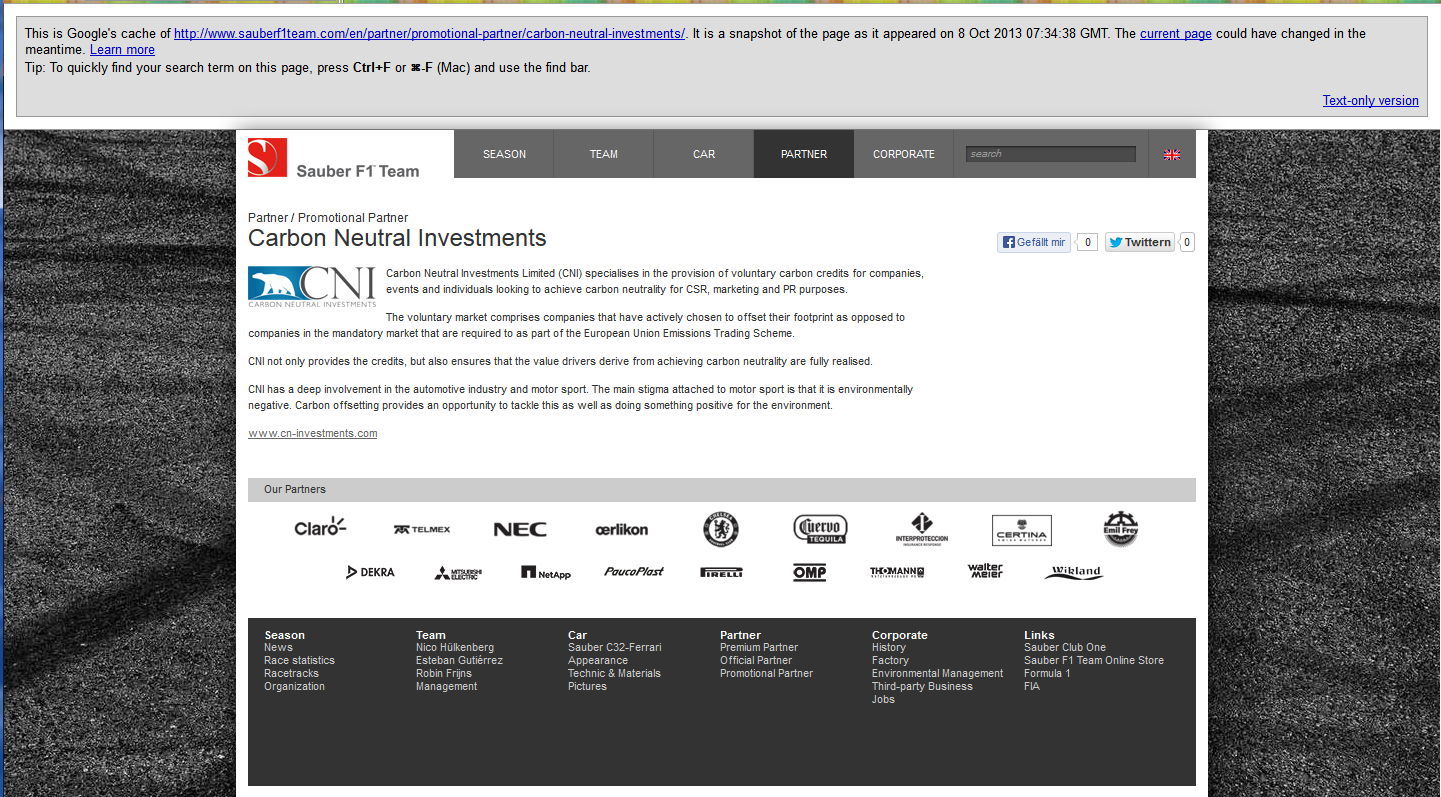 So, OK, same livery, same logo, similar blurb in a different language, but anyhow, Carbon Neutral Investments has changed its name to CNI (UK), and it's changed its web address from www.cn-investments.com to www.cni-uk.com. The diligent web folk at Sauber are tracking a rebranding, as they should.
Here's Sauber's announcement of their deal with Carbon Neutral Investments, May 2012:
Offsetting carbon involves companies financing or part-financing projects that save the equivalent amount of carbon generated by the company. Sauber has opted for 30 per cent excess, with a key factor in its offset scheme being the judicious choice and monitoring of high-quality projects.

"We attach great importance to carbon offsetting, which is a consequence of the environmental policy we have adopted," CEO Monisha Kaltenborn explained, "It allows us to make an important contribution to protecting the environment.

"In Carbon Neutral Investments, we have found the ideal partner for implementing these efforts. The certification of our environmental management system less than a month ago signified an important step towards our ecological goals and is now followed by a further step with our carbon offset commitment. The next milestone will be when our solar park goes on stream at the company headquarters in Hinwil this summer."

CNI is a leading provider in the voluntary carbon offset market, operating across multiple sectors, and specialising in the procurement, sale and retirement of Verified Carbon Standard (VCS) credits and supporting carefully selected projects around the world, such as wind farms in India, waste heat recovery in China and hydro-electric in Brazil.

"We are delighted to enter into a partnership with the Sauber F1 team," head of UK operations Edward Carlton stated, "Through the provision of our carbon credits, Sauber will be a carbon neutral F1 team for the next three years. This builds on both Sauber's strong focus on sustainability, notably their recent ISO 14001 certification, and CNI's existing activity and momentum in F1 and global motorsport. The Sauber F1 team has shown great performance on track this year, often leading the mid-field battle, and with two exciting young drivers, we're delighted to partner with such a progressive organisation."
Jolly good.
Carbon Neutral Investments is authorised by the UK's regulator FCA (formerly know as FSA, another, ahem, rebranding). When we enter their firm code, 403428, into the register, we get this, which I will screen dump, in case the details change; that happens a lot with this bunch: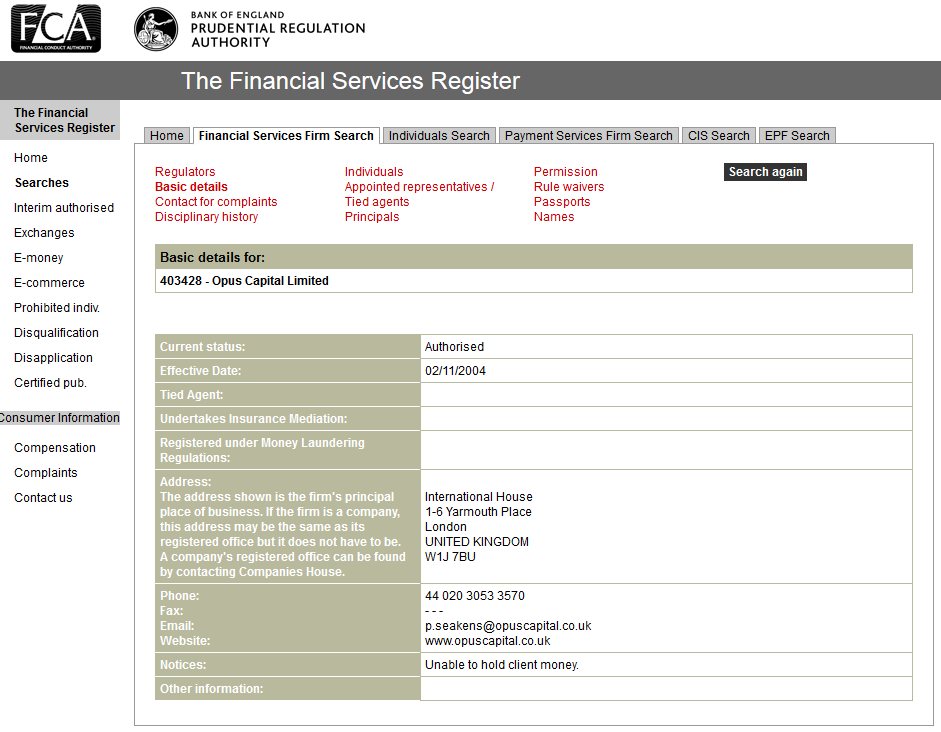 Click on the picture to make it big and legible.
Here's the related history of name changes from the FCA, going back almost to when the FSA discovered the Internet; again, click on the picture to make it big and legible: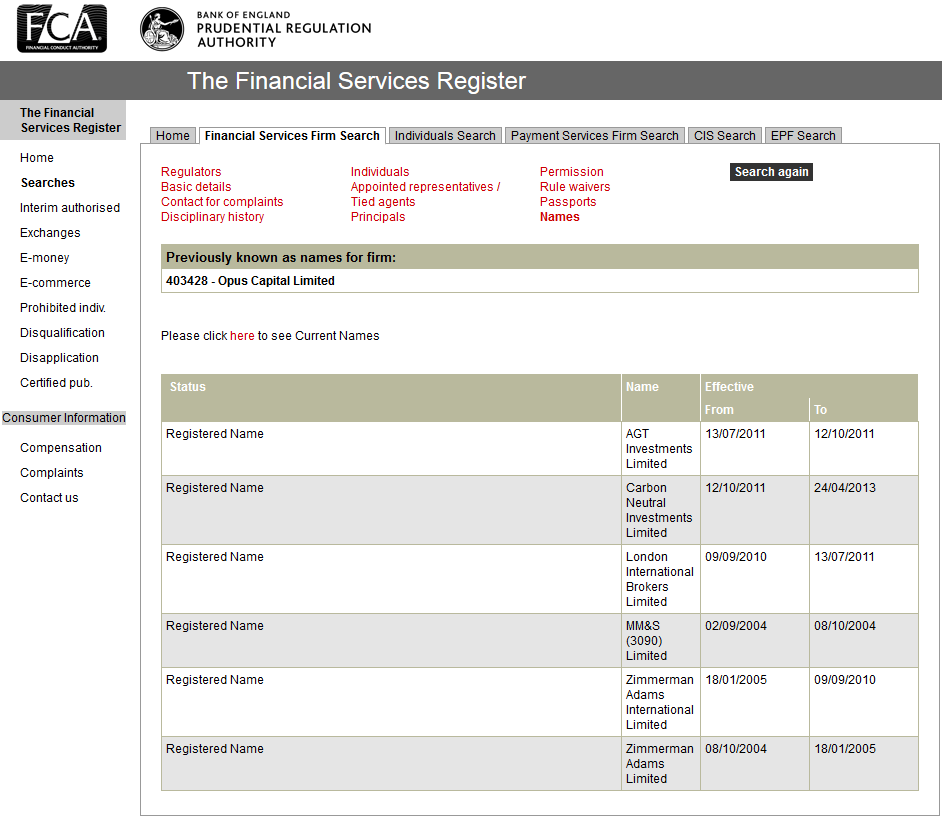 Umm, that's quite a lot of name changes, isn't it? Opus Capital's corporate identity seems decidedly, er, mutable. Let's just concentrate on the the latest one, from Carbon Neutral Investments Limited to Opus Capital Limited. Here, dumped from Opus Capital's web site, is Opus Capital's explanation of what is going on (Click On The Picture…):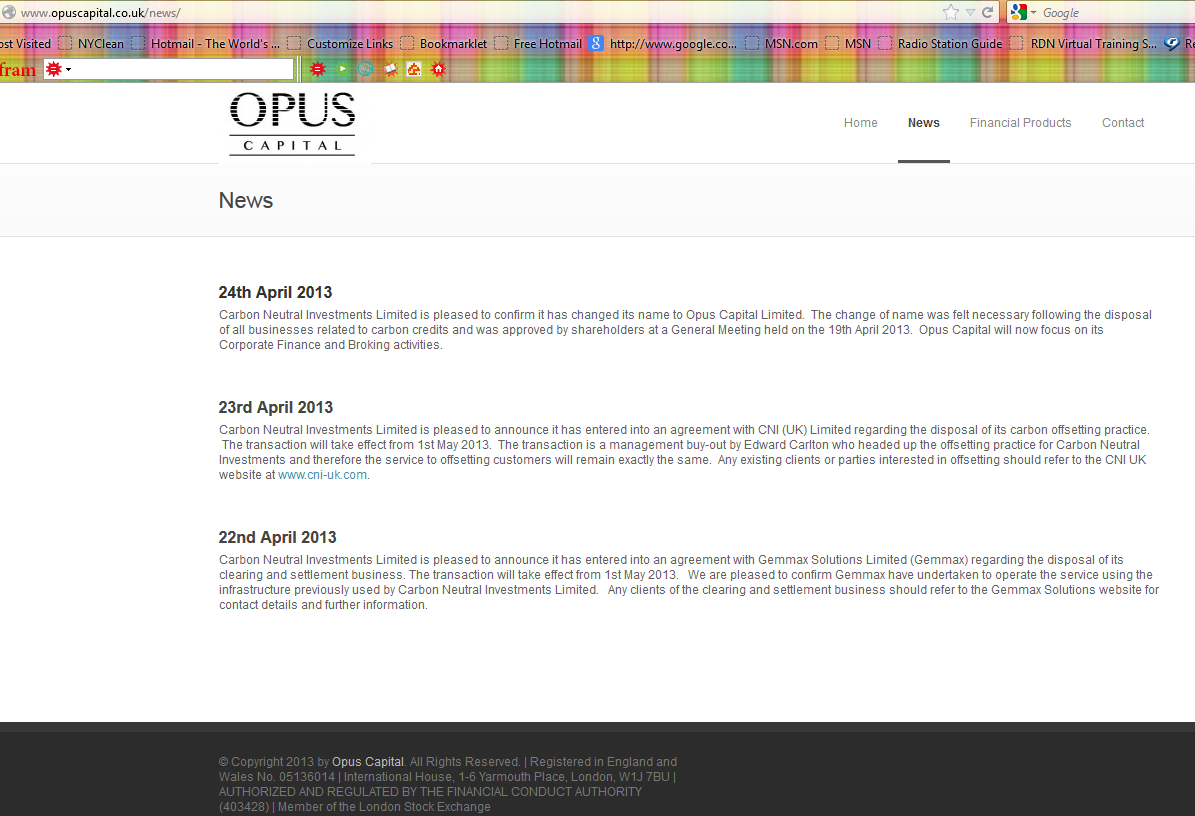 So, it's a three-way split: Carbon Neutral Investments turns into Opus Capital Limited plus CNI UK Limited plus Gemmax Solutions Limited. A row between principals perhaps, resolved by a spasm of corporate activity. It happens. The three now unconnected entities sail blissfully apart to their separate destinies.
Mind you this, issued on 29th March, less than four weeks before the three-way split, probably had a bit to do with it too: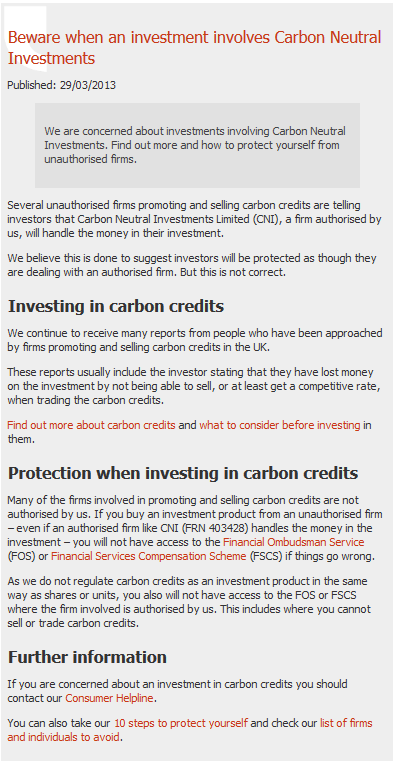 So, as far as the FCA is concerned, "Carbon Neutral Investments" means "huge scam risk".
Some offbeat company registration activity also preceded Opus Capital's announcements. From Duedil (free registration required) we also learn that CNI (UK) (director: Edward Jonathan Carlton) was, before 31st January 2013, Alfred Henry Shelco 2 Limited. Meanwhile Yarmouth Place Limited (current directors: Edward Jonathan Carlton and Paul Michael Seakens) was, before 31st January 2013, known as CNI (UK). This seems like a pointless shell game, except that, (if you don't know about Duedil, at any rate), the link between Seakens and Carlton is much harder to spot, once the shell game is complete and Carlton is the only director in CNI UK's registered history. Possible motivation: Seakens has been having some uncomfortable exposure in the national press relating to two of CNI's scammy related companies, Anglo-Capital and Carbon Green Capital. Hiding that little contretemps away from the likes of Sauber, (CNI's partner list is long and lustrous, BTW, as we will see) might make a whole lot of sense, for CNI.
So I think we can now construct an alternative history of the events preceding Sauber F1's web site update. It is partly speculation, but in my opinion it makes some sense; more than Opus Capital's account, for sure.
1. Late January, perhaps sensing imminent trouble from the FCA, and with a police raid on two clients of Carbon Neutral Investments notched up already, Seakens and Carlton try to put a bit of clear water between the Seakens name, (associated with boiler room scams) and the Carlton name (associated with F1 glam), by brewing up a new CNI (UK) that only has Carlton in its history of directors. They forget to clean up Yarmouth Place Limited, though, and the evidence of their long association via Vaeron Finance Limited is an unfixable snag anyway.
2. End March, the FCA issues its warning. Cue lots of headscratching about the now definitely tainted name of Carbon Neutral Investments.
3. By mid to late April, the boys have worked out what to do and lined up all the new web sites and companies and so on, and Opus issues its restructuring announcement. Gemmax Solutions only got its new name on 11th April 2013: part of the same spasm of activity.
4. Early July, FCA overwrite their old announcement with a new one, this time warning about both Carbon Neutral Investments *and* Gemmax Solutions (Seakens' brand new vehicle, plying the same old trade). Thankfully redd-monitor is on hand with its own archive of the 29th March announcement.
5. In October, the Sauber F1 bods, who, as a Swiss car racing team, are not readers of the UK's "Financial Mail on Sunday", and also, aren't in the habit of scanning the British financial regulator's web site for warnings about their Promotional Partners, dutifully update their website, when the news of (apparently, just) a name change of Carbon Neutral Investments finally percolates through to them. The tainted Carbon Neutral Investments Limited fades away a little more, and shiny clean new CNI (UK) moves a little more into the foreground.
So there you are, one version of the story behind the news.
I am greatly indebted to Chris Lang's blog, and I recommend it for all things green-scam-related.
There's plenty more to come on Carbon Neutral Investments' many connections to the world of glam, and the world of scam, in our next.