Like Walmart, the fast food industry has taxpayers as a silent partner. But sadly, we don't get shares or dividends.
The National Employment Law Center has been publishing reports on how the rock-bottom wages paid to fast food workers force them to rely on public assistance. The NELC released two new documents yesterday that drill further into the issue. Here's an overview from the Washington Post:
Taxpayers are spending nearly $7 billion a year to supplement the wages of fast-food workers, even as the leading fast-food companies earn billions of dollars in annual profits, according to a pair of reports released Tuesday.

More than half of the nation's 1.8 million "core" fast-food workers rely on the federal safety net to make ends meet, the reports said. Together, they collect nearly $1.9 billion through the earned income tax credit, $1 billion in food stamps and $3.9 billion through Medicaid and the Children's Health Insurance Program, according to a report by economists at the University of California at Berkeley's Labor Center and the University of Illinois.

Overall, the "core" fast-food workers are twice as likely to rely on public assistance than workers in other fields, said one of the reports, which examined nonmanagerial fast-food employees who work at least 11 hours a week and 27 weeks a year.

Even among the 28 percent of fast-food workers who were on the job 40 hours a week, the report said, more than half relied on the federal safety net to get by.
The Post deserves credit for flagging at the top of the piece that the fast food industry is handsomely profitable as a result of this stealth subsidy. It's not as if they can't afford to pay better wages but it sure is more lucrative for them not to.
But many readers will have looked only at the headlines, and not delved into the stories proper. And the headlines don't finger the employers as welfare queens. Some examples:
Half of fast food workers need public aid CNN
Majority of Texas fast-food workers on public assistance San Antonio News Express
Low fast-food wages supplemented by billions in govt welfare – report RT
Fast-Food Workers Are Costing the U.S. $7 Billion a Year in Public Aid Time
The Time article does a perversely masterful job of shielding the restaurants from blame. Here's how it starts:
Those cheap fast-food prices conceal a huge hidden cost—even if you never pull into a drive-thru. New studies by the University of Illinois, University of California, Berkeley, and the National Employment Law Project find that taxpayer-funded safety net programs effectively subsidize fast food workers' low wages.
In other words, the implication is that if there is any culprit, it's American's appetite for bargain fries and burgers. We only get an oblique reference in the sixth paragraph to the idea that the companies themselves might have something to do with this situation:
Of course, fast food companies aren't the only ones that rely on minimum- and low-wage workers; big-box retailers like Wal-Mart have also come under fire for what they pay employees. But researchers found that 44 percent of restaurant and food service workers were enrolled in one or more assistance programs, the highest of any industry.
A July report by the NELC demonstrated how these badly-paid workers were the bulk of industry employees: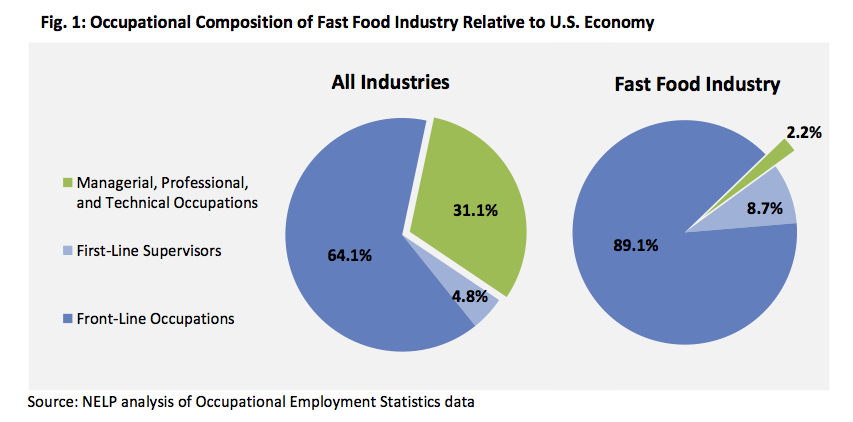 …how low the pay really is…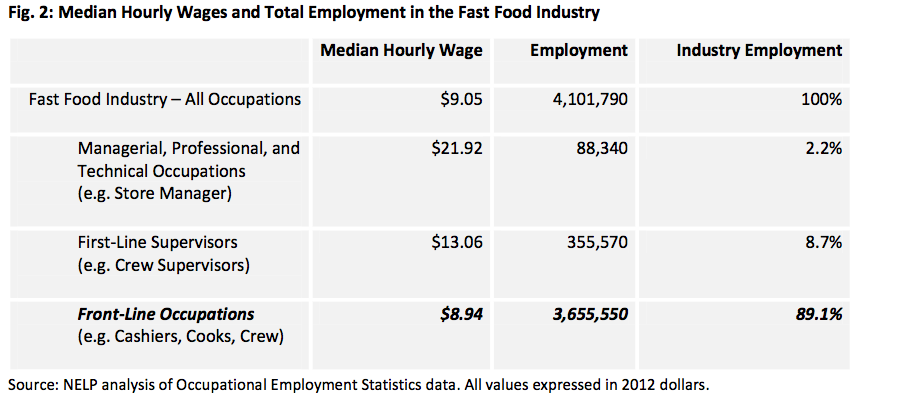 ….and how, contrary to industry claims, the jobs aren't a stepping stone to better things. Working for a McDonald's is no longer mainly a part-time or summer job for high school and college students. Only 18% are below 18 and living with their parents; even if you include all minors (which also picks up ones living on their own) and college students living at home, you reach only 1/3 of total employees.
And the claims that front line workers can become managers and owners? Complete hogwash. Most fast food stores are franchises, and they don't go for sweat equity:
This Real News Network interview with Jack Temple of NELC not only debunks the industry's efforts to defend its practices, but also describes how it is playing a central role in driving down wages: