I thought readers would have fun taking apart a reply by the Thomas Curry, the Comptroller of the Currency, to some written questions posed by Elizabeth Warren after a July 11 Senate Banking Committee hearing on systemic risk.
In fairness, the letter is a mixed bag rather than a complete train wreck. Curry's answers to Warren's questions 3 (on what more might be done to address too big to fail) and 4 (on proposed changes in leverage ratios) are basically earnest defenses of current initiatives, and top bureaucrats have to carry that sort of water. Curry is in the middle of trying to change the culture of a way too bank friendly regulator, and my guess is he does not want to stick his neck too far on policy until he's made more progress on that front. But his answers to questions on derivatives are cringe-making.
Nevertheless, this letter illustrates the degree to which the OCC relies on rationales that are, or look like, they came straight from the banks.
I'll just go through the first two questions, although I encourage you to look at the reply to Question 8 (on p. 14) as similarly shred-worthy. 5-7 aren't so great either.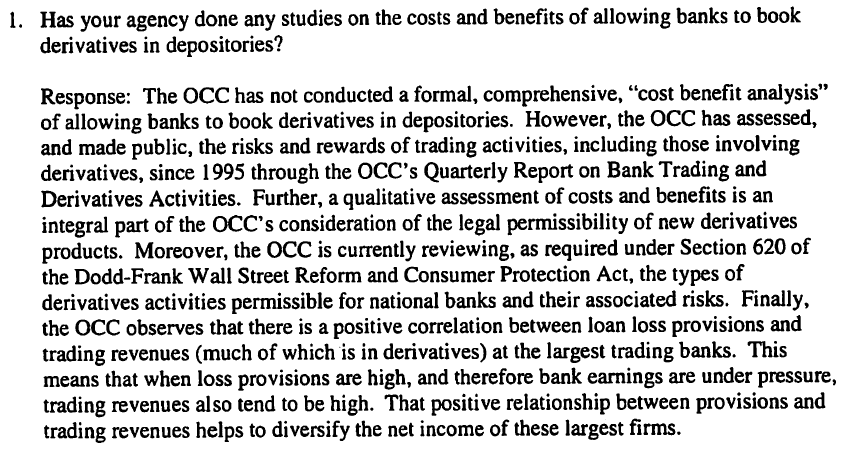 While the OCC does analyze some risk metrics on an ongoing basis, they rely on VaR, which is widely considered to be a comparatively crude and unsophisticated measurement (it's useful in combination with other tools, but not as the primary gauge). They look at the level and quality of collateral posted and also track credit derivative exposure on a net basis by counterparty. This great primer by Lisa Pollack tells you why that understates risk. You must read it because it has lovely finance geek-porn like this:
Remember at the top in the first table we said that we had to assume the CDS were "fungible" to net them off against each other like we did?

Well, they are fungible if the credit event is a non-restructuring one, e.g. bankruptcy or failure to pay. But if the credit event is a restructuring then you're going to have different buckets according to the tenor of the contract.
So the OCC is basically using a few simple and not at all stringent measures of risk to look at derivative risk. Ergo anything it says on this front must be taken with a fistful of salt.
And notice the formulation of the reply. Curry does say, foursquare, that the OCC has not done a cost benefit study but then argues that they monitor the "risks" and rewards, so we should trust that they are on top of things. But his rationale for allowing banks to park derivative exposures is "they increase earnings, since we've been measuring them, when banks have needed to make bigger loss reserves." I'd like to know how true that statement would be if you took September and October 2008 out of the picture, when it took multiple bailouts (the halting of a run on repo via guaranteeing money market funds, the multiple bailouts of AIG that led to its CDS counterparties taking no losses). From a taxpayer standpoint, the case for putting risky derivatives in a depositary to allow banks to make riskier loans (they'd have to be more prudent otherwise in the manner Curry suggests, using derivatives to offset expected loan losses) is weak; it's basically that these not necessarily socially advantageous activities might help reduce the cost of the socially valuable ones. Plus a correlation is hardly convincing, and since 2012, we've seen a move to a "risk on-risk off" trading pattern, which suggests Curry's correlation may no longer be operative.
To the second question. I found the reply to be remarkable:
So, shorter: "We have guidelines that tell banks not to take too many risks or do other bad things with derivatives. The banks are supposed to behave, but we also look at a sample of transactions that look sus to us. We ask the banks why they did these trades. They give us good explanations. We also still look at some trades a bit more and we don't find anything wrong. We don't do tax, so we make the banks have special tax people look at those transactions to make sure the bank is not doing something so terrible that Matt Taibbi might write about it, assuming he ever could figure it out."
I asked Satyajit Das for his comment. His reply:
I am flattered to have been mentioned in despatches in Comptroller's Curry's response to Senator Warren's questions about the use of derivatives.

However, I am unable to understand the responses, which in their vagueness surpass even the responses given by derivative/ structured product sales persons to clients. Clearly, regulatory capture extends to linguistics.

As I understand it the Comptroller's staff asks the bank if they are doing trades for a legitimate reason. The examiners rely on the bank's own summary and responses. Apparently, if participation in a particular transaction would create significant legal or reputational risks, bank management should take steps to address those risks. Examiners performing reviews specifically inquire about trade purpose and have reported that the purpose of most complex transactions is either to lock in a profit, hedge a risk, or make an investment – extraordinary. Um, what is the definition of hedge and investment? Author Thomas Pynchon would have recognised the position: "If they can get you to ask the wrong questions then the answers don't matter."

Sadly, the real questions are simpler but aren't being asked or answered.

1. Based on surveys conducted by the Bank of International Settlements (BIS), the global derivative market is around US$600 trillion in notional amount. This is a large increase in size from less than US$10 trillion 20 years ago. The outstanding amount compares to a global gross domestic product (GDP) of around US$60 trillion. While this comparison is not ideal, it begs the questions why volumes should be so high? What is the legitimate reason for this activity?

2. Most of the trading is in simple derivatives not complex ones – like interest rate swaps.

3. Proponents argue that derivatives are used principally for hedging and arbitrage. In this way, they perform an economically useful function aiding capital formation and reallocating risk to those willing and better able to bear them. While they can be used for this purpose, derivatives are now used extensively for speculation; that is, manufacturing risk and creating leverage. The UK FSA Turner Report reached this conclusion.

Ultimately, as German Finance Minister Wolfgang Schäuble stated: "If you want to drain the swamp, then you don't ask the frogs for their opinion".
I'm embedding the rest of the answers for your delectation. Those of you who are outside the US or have lived or worked abroad be sure to weigh in on Question 8!
OCC's Tom Curry Response to Elizabeth Warren QFRs 7-11-13