"They were careless people, Tom and Daisy – they smashed up things and creatures and then retreated back into their money or their vast carelessness, or whatever it was that kept them together, and let other people clean up the mess they had made."
– F. Scott Fitzgerald, The Great Gatsby
By Richard Smith
According to wikipedia (I really can't be bothered to do any more thorough research on it), the Gumball 3000 is
an annual British 3,000-mile (4,800 km) international motor rally which takes place on public roads, with a different route around the world each year. Founded in 1999 by Maximillion Cooper, it sees an annual entry of 120 cars, which are mostly exotic and powerful sports cars. However, more unusual entries (such as police cars and camper-vans) have been seen.
You can get the idea of it a bit more from the 2012 entry list:
Other entrants included TV personality David Hasselhoff, musician & lecturer Bun B, Finnish TV personalities The Dudesons, professional skier Jon Olsson, fashion designer Maia Norman, skateboard professional Terry Kennedy, BMX professional Nigel Sylvester, artist Futura 2000, DJ DJ Drama, Sheik Mohammed Al Thani of the Qatar Royal family, Prince Talal M. A. Al-Faisal Al-Saud of the Saudi Arabian Royal family and Sumair Hanif Bhatti from Pakistan.
I've no idea who any of these people 'are', except for The Hoff, and I don't much care. Let us call it a mixture of the rich, the royal and the wannabees (though I admit the £90,000 entry fee implies 'already am', in the dreary sense of 'am' that a wannabee would understand). More positioning from wikipedia:
Gumball 3000 is not a serious race in the traditional sense of rallying races – there are no prizes for being fastest and neither is there any official timekeeping of any sort. The organizers emphasize that it is essentially a road trip adventure and not intended to be a race.
Nevertheless, impressive speeds have been attained on occasion. For instance, when a Porsche, containing two Gumballers, collided with a Golf, containing two locals, who had the misfortune to be coming the other way on the correct side of the road, but at the wrong time, the Gumballers were estimated to be travelling at a speed of between 160kph (100 m.p.h) and 200 k.p.h (125 m.p.h.). Then, according the same report, this happened:
The 67-year-old died on his way to hospital and his wife was in a critical condition after a Porsche taking part in the super car race crossed the road at speed and ploughed into their VW Golf…

…The drivers of the Porsche 911 Turbo Techart which Macedonian TV station A1 named as Nick Morley and Matthew McConville, allegedly got out of their crashed car and ran off.

The station said they later climbed into another car, a BMW, and tried to leave the country.

But eye witnesses alerted police and the pair were arrested at the border.
Still, it all ended pretty well, really, according to wikipedia:
The subsequent court hearing found Morley guilty and convicted of "endangering traffic, leading to death" and [he] was released from custody after receiving a two-year suspended sentence. After the verdict Morley's family released a statement detailing its own expert's findings, which contradict those of the prosecution's expert. The statement also claims that the defence were denied the opportunity to present their expert's findings, which could contravene article 6 of the European convention on human rights, the right to a fair trial. However, he did not appeal the verdict.
Who can resist a spot of haggling, even with a decent deal like that? Probably right not to hold out, though: it could look ungracious. I haven't been able to find out how the widow's getting on. The locals, one imagines, tidied up the mess, as best they could.
Perhaps sensing that this annual waste of rubber, petrol, environment and the occasional innocent bystander ought, in the long term, to attend to its image better than that, the Gumball 3000 has announced its intention to go "Carbon Neutral", eventually. Apparently their method is going to be to buy carbon credits, or, to put it another way, to pay others to tidy up the mess. On 26th March 2013, Gumball 3000 announced their tie-up with CNI, who are also know as Carbon Neutral Investments:
CNI are Gumball's Carbon offsetting partner. Onboarded in conjunction with Gumball's dedication to Environmental philanthropy, CNI are dedicated to progressing the Rally into a completely Carbon Neutral State.

No strangers to motorsport, CNI already work with Sauber F1 and McLaren in similar initiatives, as well as enjoying an eclectic client base including Vogue and Newcastle United – now the World's first Carbon Positive Soccer Club.
Let's highlight some most unfortunate timing: three days after Gumball 3000's announcement, on 29th March 2013, the UK's financial regulator issued the following warning about Carbon Neutral Investments: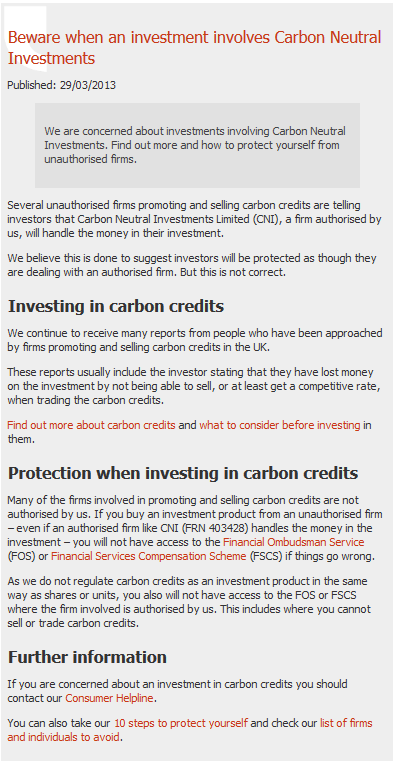 As of October 29th 2013, CNI still have their deal with Gumball 3000. I suppose the organisers of international motor rallies don't study financial regulators' warning lists all that often; nor check their partners' bona fides. There's no point in having the money, if you can't be careless, and leave a mess.