Prima facie evidence of the need to boycott Walmart (as if more were necessary). From ThinkProgress (hat tip Catherine C):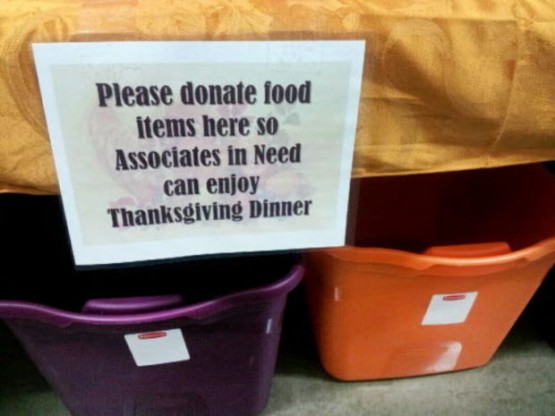 A Walmart in northeast Ohio is holding a holiday canned food drive — for its own underpaid employees. "Please Donate Food Items Here, so Associates in Need Can Enjoy Thanksgiving Dinner," a sign reads in the employee lounge of a Canton-area Walmart…

The company has long been plagued by charges that it doesn't pay its employees a real living wage. In fact, Walmart's President and CEO, Bill Simon, recently estimated that the majority of its one million associates make less than $25,000 per year, just above the federal poverty line of $23,550 for a family of four…

Walmart's low wages come at a public cost. Because low-income workers still need housing and health care, taxpayers end up doling out millions in benefits to bridge the gap faced by many of the store's retail workers. They have also led to strikes at Walmart stores from Seattle to Chicago to Los Angeles in recent weeks.
So what's next, a soup kitchen for Walmart staffers? That would be wonderfully efficient too. Get them in for some homeless-shelter quality Thanksgiving fare at 4:00 PM and they'll be ready to open at 6:00 PM on Thanksgiving when Black Friday sales start. (If you've ever been involved in food prep and service at this sort of establishment, you'll find it's often not terribly tasty, on the probably correct assumption that hungry people won't notice. In fairness, the cooks typically buy cheap ingredients to stretch limited budgets and many who are used to working with better materials don't know how to compensate).
And readers may recall that another proof that Scrooge walks among us is that food stamps allotments to 47 million Americans were cut by roughly 5% two weeks ago.
And this comes against a backdrop of more evidence of widespread distress. For instance, Real News Network reported earlier this week that Census data showed that the the number of poor people was 3 million higher than previously estimated.
The most striking element of this report are that Wicks-Lim of PERI points out that the new data increase the proportion of workers that are below the poverty line from 7% to 10%. She also argues that the official measure of poverty is far too desperate, and up to two times the official poverty line is a more realistic measure of "poor". That means 34% of Americans, including pretty much all front line Walmart workers.