By Lambert Strether of Corrente
But such a form as Grecian goldsmiths make
Of hammered gold and gold enamelling
When I was 8 or 10 years old, my parents gave me an A.C. Gilbert "American Flyer" S-gauge train set for Christmas. That was a big deal for me then, and I've come to realize (many years later) that it was an even bigger deal than I thought.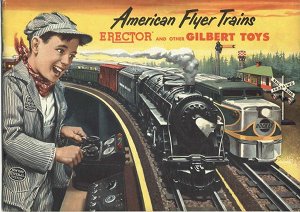 "The trains" themselves were magnificent; the (steam) engines had cast metal bodies, and real heft and mass as they chuffed and rattled round the stamped metal track at high speed on two rails (unlike their crassly larger and ill-proportioned Lionel O-gauge rivals, with their toy-like three rails (though John Armstrong would surely disagree)). My father and I — the horrible word "bonding" would not yet have been used in this context — would turn off the lights and watch the trains throw shadows on the train room wall, cast by the brilliant red and green lamps from the switches, the glow of the transformer, and the locomotive headlamps and the lit-up caboose, all on the layout table he put together out of 2×4's and Homosote (to dampen the sound!).
All the time, of course, I was learning lessons: I could mow lawns or shelve books in the library to make money to buy trains (and kits and buildings and balsa wood and glue and paint); I could solder and saw and cut and drill and wire stuff up; I could imagine a world much like our own, but mine; and even more importantly, I could build a system. This last may be that's why former model railroaders are so heavily represented in the technical community. From Steven Levy's Hackers, which describes the seminal role the Tech Model Railroad Club played in the computer revolution that's going to end by talking all our jobs away so we can live by plucking food from edible forests in our home towns except not because free markets:
The clubroom was dominated by the huge train layout. It just about filled the room, and if you stood in the little control area called "the notch" you could see a little town, a little industrial area, a tiny working trolley line, a papier-mache mountain, and of course a lot of trains and tracks. The trains were meticulously crafted to resemble their full-scale counterparts, and they chugged along the twists and turns of track with picture-book perfection.

And then Peter Samson looked underneath the chest-high boards which held the layout. It took his breath away. Underneath this layout was a more massive matrix of wires and relays and crossbar switches than Peter Samson had ever dreamed existed. There were neat regimental lines of switches, and achingly regular rows of dull bronze relays, and a long, rambling tangle of red, blue, and yellow wires twisting and twirling like a rainbow-colored explosion of Einstein's hair. It was an incredibly complicated system, and Peter Samson vowed to find out how it worked.

The Tech Model Railroad Club awarded its members a key to the clubroom after they logged forty hours of work on the layout. Freshman Midway had been on a Friday. By Monday, Peter Samson had his key.
Peter Samson fell in love with the wiring, and I suppose if I had done that, I would have become a real software engineer, instead of the somewhat competent coder that I am today. What I did fall in love with, though I wasn't aware of this until years later, was a magazine that my parents got me a subscription to: Model Railroader. From Model Railroader, and its editor, Linn Westcott, I learned, all unawares, how to structure a publication into departments; that errors, from typos on up, were not to be tolerated and should be acknowledged; that reviews were there to serve the reader, not the manufacturer, and so could should be critical;** and even — I swear that Westcott used em dashes like this — prose style. Westcott also laid the magazine using the apparatus of a technical publication, with tables, figures, diagrams (especially circuit diagrams), callouts; apparatus that possibly, I now think, served as a shield for men ridiculed for "playing with trains."
That Model Railroader had the air of a technical publication was also important — and here we're getting into the [de|e]volution part — because the highest expression of a model builder's art was, arguably, "scratch building" a detailed replica of a steam locomotive in brass or nickel silver, while actually fabricating all the components oneself; at that time, in the late '50s to mid-60s, we could actually build stuff, and there was story after story about men — Westcott unashamedly used "men," or, informally, "fellows" — actually building tiny machine tools to construct wheels, boilers, cylinders, valve gear, and so forth. The layout were important, although "picture-book perfection" (see at right) is not very much like modeling when it comes to issues of scale and scope, of a railroad instead of a locomotive, but the miniature machinist was at the pinnacle.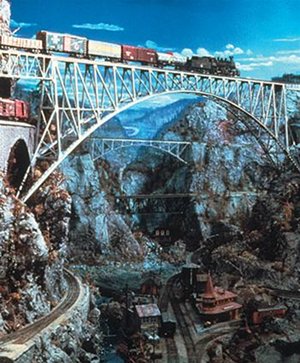 Fast forward forty years, and all that is gone, evolved or devolved I am not sure. Then, before the neo-liberal dispensation had begun walk out of the station, in the mid-70s, and now, when it's heading, at top speed, who knows where, but probably to ruin. One thing that is evident to me now, that I could not see as a child, is how class intersects with the hobby: One must achieve a certain station in life to have permanent housing with the space for a large layout, and the money to spend on lots and lots of locomotives and rolling stock.** A big layout can take a decade to build; the hobby is not one for the downwardly mobile! And now, with wealth, one can even buy a museum grade layout from any of a number of builders; such a thing was unheard of when I was a child. Another change, which may also express class ("…nothing more, and nothing less, than groups of friends…") is open expressions of friendship between men; where Westcott fictionalized friendships in the "Bull Session" Department**, today, friendships are openly expressed: Men build models for each other as gifts, exchange rolling stock, set up interchanges between their (fictional) railroads, create space for model railroaders who've had to downsize their homes, and so forth. Bonding, in other words. And third aspect of class is that we, in this country, are privileged to purchase models with absolutely fantastic detail — eye candy of a near-pornographic glaze — all "factory applied" by tiny fingers somewhere in Asia. (When I was a teenager, "detail" was synonymous with brass locomotives, scratch built, but also constructed in Asia, but in Japan, and then brought to this country by "Pacific Fast Mail." Mail! Can you imagine!)
So, as far as the locomotives and the rolling stock — surely the essentials of a railroad — what we once could make for ourselves is now made for us. Is that devolution? Or simply the workings of comparative advantage?
What we do today, and brilliantly, is model the entire railroad: We actually fill out the paper forms and "operate" the railroad more or less prototypically, even — here we find class again — modeling (reproducing) the social relations that make the General Code of Operating Rules come alive (leaving out the Jay Goulds and Jim Fisks, of course). And we model the landscape (the "scenery") infinitely better today than we did forty years ago, although we model the contours of the land by carving pink slabs of (petroleum-based) styrofoam, spraying electrostatic (petroleum-based) model grasses, gluing down the track with caulking guns like Martha Stewart, instead of using metal spikes for pity's sake…. And yet, for all the power of the illusion, especially the photographed illusion, I can't help but be reminded, when I think of today's scenery building techniques***, of the styrofoam pediments in the McMansions we built during the housing bubble before the 2008 crash; the houses were fake, because they were cogs in a giant machine of accounting control fraud. Isn't there something fake about these techniques? Sometimes, when I see structures with too much detail — especially "pre-built" structures — I'm reminded of the horrifically sentimental Thomas Kinkade, "painter of light." I hate having my heartstrings tugged, which strikes me as another kind of fraud.
Back to the timeline: The changes I've been describing encompass the neo-liberal revolution book-ended by Nixon and Obama. Somewhere along the line, we traded our ability to fabricate metal for the ability to fabricate a scene. Is that evolution or devolution? I'm not sure. If I had a son, I'm not sure I'd give him trains today.
Oh, and there was no such thing as "sponsored content" in the world of Lynn Westcott. He wouldn't have stood for an "innovation" like that. Nowadays, I guess, we're easier, more corrupt; and surely, in that aspect, devolved. MR doesn't do sponsored content, fortunately, proving that the old way still linger and culture can be strong.
NOTE * A useful set of skills and attitudes if one wishes to end up blogging for Naked Capitalism!
NOTE ** I did not know that Westcott was an operator on John Allen's Gorre & Daphetid (see image above); as an editor, he had effaced himself, another valuable lesson that vandals like Tina Brown would have done well to learn.
NOTE *** For his brilliant Miami Spur, Lance Mindheim will photograph a building's wall, catching all its weathering, coloring, and detail, and then laminate the image onto a model building and voila! In the old days, the wall would have been built, detailed, and weathered manually. Mindheim's layouts are beautiful, but again, I can't help but think that a better crafted illusion has devolved the modeling skill.