Japanese fishermen capture at least 250 dolphins ahead of annual Taiji Cove slaughter Agence France-Presse
Flashback Friday: When it comes to penis length and economic growth, size does matter. Discover Magazine (Chuck L)
Spanx And Other Shapewear Are Literally Squeezing Your Organs Huffington Post (Carol B). Wow, am I out of it. Girdles came back in fashion when I wasn't looking?
Forget about forgetting: The elderly know more and use it better MedicalXpress (Robert M)
How to Survive a Nuclear Explosion Science. I thought the answer was to be a well-located cockroach.
Aspen and the End of Snow Men's Journal (Chuck L)
Amazon says it can ship items before customers order USA Today (furzy mouse)
Science Denialists Make Fake Journal, Get Shut Down. Greg Laden (Chuck L)
The Surgeon General's Reports: 50 years of cessation ignorance WhyQuit. Tim F: "On the continued pharma control of the cessation debate, e.g., that you MUST use nicotine replacement (products $$!!) rather than the far more successful cold turkey route."
US tech firms make eleventh-hour attempt to halt tax avoidance reforms Guardian
Australia 'one-punch' laws announced in New South Wales BBC
China's GDP questioned; monetary conditions tighten once again Walter Kurtz
Default risk soars, funds pull $4bn Bangkok Post
Yuriko Koike criticizes democratic countries' indifference to the threat posed by the Thai opposition's strategy of protest Project Syndicate
European Banks Face $1 Trillion Gap Before Review, Study Shows Bloomberg (Michael Shedlock)
Impunity And Excess, Desperation And Violence: Two Worlds Collide In Spain Testosterone Pit (Chuck L)
Slave trade documents among illegal Foreign Office cache Guardian
Philomena and the story of a D.C. insider Politico
U.N. Rescinds Invitation to Iran for Syria Talks Wall Street Journal
Document: ObamaCare contractor faces mid-March deadline or disaster The Hill (Thomas P)
Net Neutrality Nixed
"Net Neutrality" Ruling Opens Door for 2-Tiered Internet Market Scientific American

Calm down. The courts didn't just end the open Internet. Ezra Klein, Washington Post
Martin Luther King. Zeitgeist alert: lots of good material this year.
King Speaks on Selma Budget Films Stock Footage. You must watch this. No exceptions permitted.

If MLK Were Alive Today (video) Popular Resistance

King Had a Dream. Obama Has a Drone George Washington
Food Stamps Obesity and Dependency Angry Bear
German transport authority claims it was 'misled' by JPMorgan Financial Times (Lee). Muppet revolt!
Wm. K. Black: JP Morgan's Frauds Are Epic, Unprecedented, NSA Scandal a PR Disaster Jesse (Pat)
David Bird, Wall Street Journal Reporter, Goes Missing After Reporting for Three Months on Oil Glut in U.S. Pam Martens
How To Manipulate The Entire IPO Market With Just $250 Million Testosterone Pit (Chuck L)
Fed on Track For Next Cut In Bond Buys Wall Street Journal
How America's Fracking Boom Is Helping Bolster Treasuries Demand Bloomberg
How overvalued are US stocks? MacroBusiness
Three Myths on the World's Poor Bill and Melinda Gates, Wall Street Journal (Lance N). OMG this is embarrassing: "Things are better for the poor because I see hardly any these days when I visit big cities." As if that's a valid proxy, but it's classic Davos Man rationalization.
Trickle-down economics is the greatest broken promise of our lifetime Guardian
Antidote du jour. Yes, she did get it off by herself: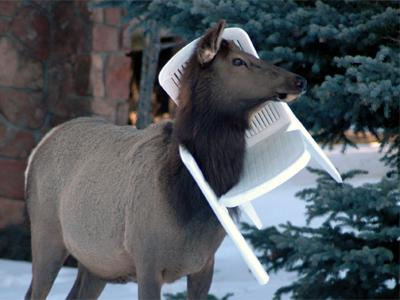 And a bonus! Hat tip Lance N: