Children naturally awful Daily Mash
FDA panel debates idea of '3-parent babies' Washington Post
Obesity Rate for Young Children Plummets 43% in a Decade New York Times
Crowded U.S. airwaves desperately in search of breathing room Network World
The Network-Based Interpretation of Dreams Physics arXiv Blog. The lede is buried: DARPA is helping fund this research.
Tech bubbles are worth it MacroBusiness
Bitcoin Has a Sad
Japan watchdog tightens scrutiny of Mt Gox Financial Times

Mt. Gox collapse riles bitcoin users, spurs policy talk MarketWatch

Bitcoin virtual currency is on verge of collapse Los Angeles Times
The instability in central bank divergence Mohamed El-Erian, Financial Times
China chokes again MacroBusiness
China dismisses concern on renminbi fall Financial Times
The long decline of the Great British Pound Frances Coppola
Foreign banks could be banned from City Telegraph
A Few Ukraine Coup Links Moon of Alabama
Ukraine elite police 'disbanded' BBC
Pentagon to prepare for full Afghanistan withdrawal Guardian
Big Brother is Watching You Watch
"Tweet Roll": Reactions to Glenn Greenwald's article on "How Covert Agents Infiltrate the Internet" Just Security
America's Secret Police Truthout
NSA Inspector General Speaks on Snowden for First Time, Says He Was 'Manic in His Thievery' Kevin Gosztola, Firedoglake
Obamacare Launch
Obama: Four million have signed up for ObamaCare The Hill

Kathleen Sebelius Has Changed Her Mind About What Obamacare "Success" Is BuzzFeed
US ambassadors face more backlash Guardian
Man Fatally Shoots Himself in Head During Gun Safety Lesson Gawker. Darwin award honorary mention? Except he already had kids :-(
Republicans take on Wall Street Politico
The bank tax rises from the dead Felix Salmon
This is nuts. When's the crash? FT Alphaville. Latest installment…
Moody's warns on specialised mortgage servicers Financial Times
Investors backing off from housing market in Phoenix Angry Bear. Phoenix was allegedly the smart play among the PE crowd; Las Vegas was for dummies (unless you were super early).
Political connections in turbulent times VoxEU
Ya' make your own luck, n'est-ce pas? Cathy O'Neil
Who Needs World War I? Pieria
Antidote du jour. Furzy mouse writes: "Sobe the iguana and Johann the cat were both rescued by a woman in Brooklyn , NY. Every day when the iguana is let out of her cage, she seeks out Johann for play time, along with a rabbit also kept as a pet."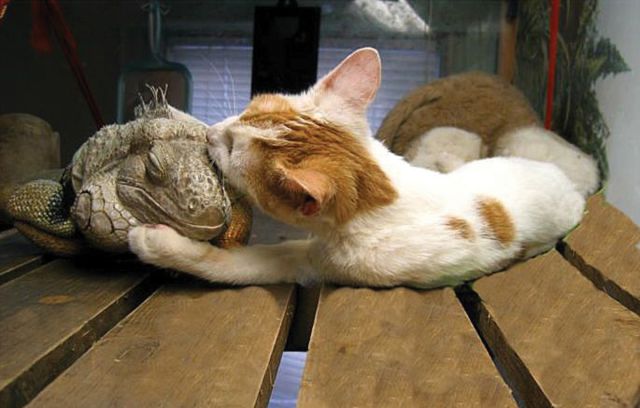 And a bonus from Scott! A video, so e-mail subscribers will need to visit the site.