No, this was not a world-record revolving door stint. Blythe Masters, head of JP Morgan's commodities group, was announced yesterday as having joined a Commodities Futures Trading Commission advisory committee. I didn't bother writing it up because what could you say beyond what appalling evidence it was of how much the Administration was willing to toady to JP Morgan (Acting CFTC Commissioner Mark Wetjen was responsible for this tasteless idea). The Federal Energy Regulatory Committee settled with JP Morgan for $410 million over charges of manipulating the energy markets. Masters also got away with lying to regulators during the FERC inquiry. She was lucky to escape civil charges. And that's before we get to the fact that the missing-in-action-as-far-as-big banks-crimes-are-concerned Department of Justice, was, predictably, not willing to take up the case. By any commonsense standard, Masters should have been under the hot lights.
But this was even worse than the specter of Jamie Dimon getting a raise for negotiating a very favorable settlement for widespread abuses and regulatory violations that took place on his watch. His board apparently also has a soft spot for children who shoot their parents and then plead for sympathy for being orphans. But this wasn't an internal wink and nod (and fat envelope with cash) for getting away with flagrant, recidivist lawbreaking; now Federal regulators are rewarding it.
The Twitterstorm was intense, although not as large as the #askJPM fiasco. That's no surprise; Masters is known mainly to finance pros and regulators, while the banks' misdeeds (and its shameless leader Dimon) are infamous.
A selection of choice tweets: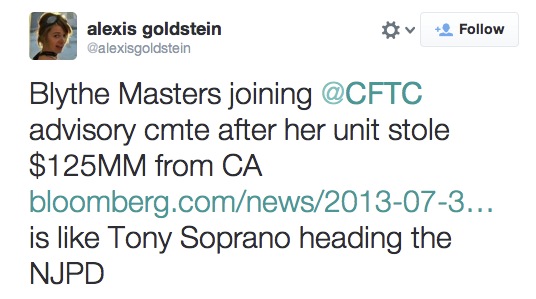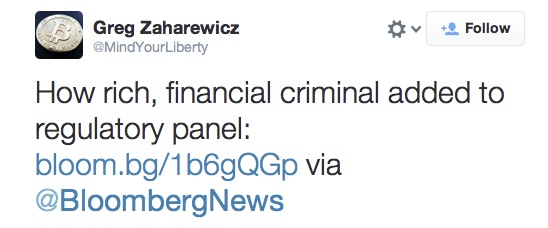 #FakeBlythe had some of the best offerings:



I will have to remember that definition of wonk….
Amusingly, the official cover for Masters' volte face is she suddenly checked her calendar and realized she was too busy with the sale of the bank's physical commodity business to do the role justice.
The Journal attributes the reversal to  Congressional unhappiness:
J.P. Morgan Chase JPM & Co. commodities chief Blythe Masters withdrew from a regulator's advisory panel a day after her appointment was disclosed amid Democratic lawmaker objections to her involvement, people familiar with the matter said.

The lawmakers expressed concern about Ms. Masters's participation in the Commodity Futures Trading Commission panel given her role presiding over a unit accused of manipulating power markets….

The CFTC's disclosure Thursday that Ms. Masters had been appointed to its global markets advisory committee prompted calls to the CFTC by aides to senior Democratic lawmakers, the people familiar with the matter said.

Lawmakers and their aides were "surprised" that a regulator would invite an individual whose division allegedly manipulated markets to act as an adviser on the regulation of commodities, one Senate Democratic aide said.
The Street.com, by contrast, does give the Twitterstorm credit for having contributed to the demise of this terrible idea.
However, the fox may still wind up running the henhouse. Bloomberg notes that the CFTC may appoint another JP Morgan exec to the advisory committee. If so, I hope the Twitter enforcers put paid this idea for good.