Yves here. While oligarchy has now become safe to use in polite company in the US, that's in part because it's behind the state of play. As NC regular Hugh likes to remind us, kleptocracy is in many ways a more apt description for our devolving economic system.
If kleptocracy is a disease, Tunisia is in Stage 4. Its ruling family that controlled an impressive swathe of the economy. But what is sobering about the Tunisian case study is that an overthrow of the government has done little to reverse the concentration of wealth and power. Is that because Tunisia was so far gone, or is this native to kleptocracy, that once it becomes established, it is difficult to extirpate? However, in Tunisia, regulation was the vehicle for creating near-monopoly conditions, while in the US, deregulation and weak anti-trust enforcement have facilitated increasing concentrations of wealth and power.
By Bob Rijkers, an economist in the Trade and International Integration Unit of the Development Economics Research Group, World Bank: Caroline Freund, former chief economist, Middle East and North Africa, World Bank: and Antonio Nucifora, lead economist for Tunisia, World Bank. Adapted from a post on the World Bank's future development website
From the powerful oil barons in the USA in the 1920s to today's oligarchs in Russia and Ukraine, entrenched interests have been a major concern over time and around the globe. North Africa is no exception. The fortunes accumulated by the family and friends of President Zine Al-Abidine Ben Ali of Tunisia and Hosni Mubarak of Egypt were so obscene that they helped trigger the Arab Spring revolutions, with protestors demanding an end to corruption by the elite.
In a new study, we find that the scale of state capture in Tunisia under Ben Ali's was extraordinary—by the end of 2010 some 220 firms connected to Ben Ali and his extended family were capturing an astounding 21% of all private sector profits annually in Tunisia (or $233 million , corresponding to over 0.5 percent of GDP).*
Tunisia's post-2011 opening gave us a unique opportunity to explore data that was previously inaccessible to the public. In collaboration with Tunisia's National Statistical Office, we compiled a unique data set: We merged data on the investment regulations with balance sheet and firm-level census data from Tunisia for 1994–2010 in which we identified 220 firms connected to Ben Ali's extended family (as identified by the Commission charged with confiscating the assets which belonged to Ben Ali and his extended family).
These connected firms grossly outperform their competitors in terms of employment, output, market share, growth, and indeed profits. How did they do this? The sectors in which these firms are active (such as telecoms, air and maritime transport, commerce and distribution, financial sector, real estate, and hotels and restaurants) are disproportionately subject to restrictions on entry and foreign investment.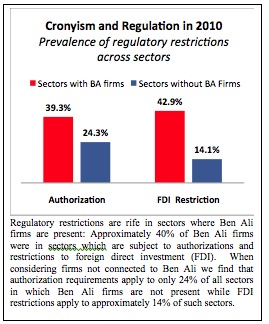 The performance of firms connected to Ben Ali's family is significantly larger when they operate in these highly regulated sectors. Put simply, constrained competition allowed more rents to accrue to Ben Ali firms. It didn't stop there. If regulations did not protect a lucrative sector, Ben Ali would use executive powers to change the legislation in his favor. Specifically, the introduction of new restrictions to foreign investment and authorization requirements is correlated with the presence and entry of firms connected to Ben Ali's family. Over a 16-year period Ben Ali signed 25 decrees introducing new authorization requirements in 45 different sectors and new FDI restrictions in 28 sectors that served to carve out and protect clan interests from competition—providing additional opportunities to extract extraordinary profits.
The evidence we find is consistent with a large body of literature showing that countries with more extensive business entry regulations tend to grow more slowly and have higher levels of corruption. Our results demonstrate that, in addition to disrupting firm growth and creating opportunities for bribery, cumbersome entry regulations are also likely to be systematically abused by the state when institutions are weak. The consequences of this use of regulations to extract rents (i.e. to appropriate wealth) is much worse than just the cost of the petty corruption. Consumers pay monopoly prices. Firms have no incentive to improve product quality. And the productivity gains and innovation that would come from new firms is halted. In other words, it undermines the competitiveness of the economy, hampering investment and the creation of jobs.
Three years after the revolution, the economic system that existed under Ben Ali has not been changed significantly—and the demands of Tunisians for access to economic opportunity are far from being realized. While efforts have been made to revise or reform some of these regulations, there is a possibility that Tunisia will have completed its political transition without reforming what was one of the principal facilitators of the corruption and cronyism that sent so many Tunisians to the streets three years ago.
Tunisia has taken a first and very important step: offering wider access to data and information to improve accountability. Now it is time for the second step, removing the regulatory barriers that protected the few at the expense of many.
______________
(*) All in the Family, State Capture in Tunisia, is the World Bank Working Paper number WPS 6810 and is available for download at the following link:
http://econ.worldbank.org/external/default/main?menuPK=577939&pagePK=64165265&piPK=64165423&theSitePK=469382