This is the latest post in our GT Group follow up series. In previous posts, we surveyed the ruins of the GT Group empire (here), and suggested that other dubious company agents were also part of it, here, here and here.
Picking over the rubble of GT Group's operations in New Zealand, with tie-ups to other offshore incorporation outfits still in mind, one turns over a stone in the document audit trail at Vincent International Limited, and discovers the strikingly named Inga SLAVSKA of TROPIC ALLIANCE LIMITED. One wonders who she is, where she's from, and what she's doing.
Tropic Alliance and the Taylors are linked again via companies at the address Plaza Level 41-117 Shortland Street, Auckland. Those companies are all directed by the high profile stooge who cropped up in the first wave of the GT Group scandal, Stella Port-Louis:
…GT Group was linked to the biggest money-laundering operation in US history.

Wachovia Bank – now a subsidiary of the global financial giant Wells Fargo – was fined $US160 million for helping to disguise the illegal origins of up to $US378 billion for Mexican drug lords.

The penalty was the result of a long US Drug Enforcement Administration investigation that uncovered multimillion-dollar transfers from Mexican currency exchange houses to the Wachovia sub-branch in Miami – money that was used to buy planes for cocaine shipments. Much of the money originated from the Sinaloa cartel, the fiercest protagonists in the Mexican drug war in which more than 28,000 people have been killed since 2007.

Last year police intelligence sources told Fairfax newspapers and the ABC's 7.30 Report that about half the cocaine now entering Australia was being sent from Mexico, and that the Sinaloa cartel was behind many of the shipments.

During the court proceedings it was alleged that four New Zealand firms registered by the GT Group – Keronol Ltd, Melide Ltd, Tormex Ltd, and Dorio (NZ) Ltd – helped launder about $40 million of the proceeds using Latvian bank accounts and Wachovia's London branch.

The US investigation provided a suggestion that the Taylor name was linked to an infinitely wider and more complex global network.

The sole director of each of the NZ firms was Stella Port-Louis, who has an address in the Seychelles. She appears as the director of more than 300 other New Zealand companies, many of them registered by one of the Taylors at Queen Street in Auckland.

In 2007, Port-Louis was singled out by US President Barack Obama – then a senator – for the way she headed up at least 100 companies in the US state of Wyoming when he warned of "serious problems confronting law enforcement as a result of minimal company ownership information requirements".
Watch out for the name Tormex Ltd, which will show up again later in this post.
Back to Tropic Alliance, which, we now think, might be part of that "infinitely wider and more complex global network". It also shows up in recent, mostly still live incorporations at 7 Rose Road, Ponsonby, also sometimes spelled "Ponsoby" by some careless typist. Amongst those incorporations is Tropic Alliance itself, directed by the striking Inga Slavska, from Riga, Latvia. We recall the Latvian connection, in the above quoted piece.
So we don't quite know who the striking Ms Slavska is really working for, yet, but we do now have an idea where she is. The address given as a residence looks as if it might be serviced offices, so it's only a rough idea.
At this point, the doughty investigative journalist might brush off his Latvian and hit the streets. This blogger has neither the budget nor the energy. Besides, there's always Google and LinkedIn.
Et voila: there is an Inga Slavska in Latvia , with a Swiss connection, apparently: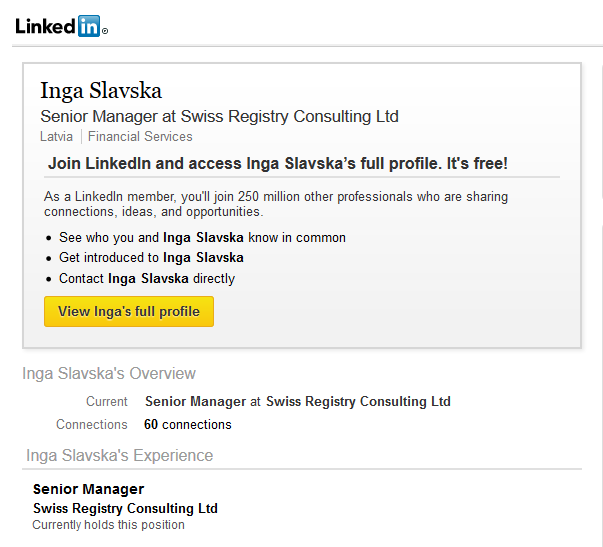 Off we trot to find Swiss Registry Consulting Ltd, who, despite their English name, turn out to be incorporated in Switzerland. These days, their web site redirects to a placeholder. But the Wayback Machine comes up with the goods: Swiss Registry Consulting was indeed an offshore incorporator, offering company incorporation in locations including Switzerland and New Zealand (and Latvia, Panama, Cyprus and the UK, inter alia), as recently as September 2013.
Unless by some wild fluke there's another completely different Latvian Inga Slavska who specializes in offshore incorporation in New Zealand, the two striking Inga Slavskas are one and the same person.
At last, more Googling and an ancient Zoominfo entry, archived here, give an idea of the man behind Swiss Registry Consulting Ltd, Erez Maharal:
…a professional financial intermediary since 1992, specializing in International Corporate & Tax Planning. He is a founder of Meridian Companies House (since 2007– Swiss Registry Consulting Ltd ) – one of the leaders of company formation business on Russian-speaking markets. In 1999-2000 he was Director for direct sales of Rietumu Banka (Latvia). Since 2005 he is a key consultant for Corporate Alliance AG, providing International Corporate and Tax Planning for large corporations and Wealth Management and Asset Protection services for High Net Worth Individuals. He is residing in Israel and Switzerland, has Master Degree in Theoretical Physics, PhD in psychology and different diplomas from Cleveland and Los Angeles Institutes of Gestalt Therapy. Author of publications in professional and general press.
Yet again, there's a Latvian banking connection, via that old job at Rietumu Bank. As you might expect, mindful of our previous posts on the Latvian connection, Erez Maharal crops up in connection with thepost Soviet money laundry too, specifically the Magnitsky case, in this 2011 article by Graham Stack:
According to Hermitage Capital Management Limited, the money taken in their name by Russian authorities flowed to Swiss accounts through a chain of phantom companies, including Nomirex from UK and Bristoll Export from New Zealand. Those companies in turn received money from a Moldovan company named SC Bunicon-Impex SRL. The shell companies hid the real perpetrators of the crime.

One of the key companies was Nomirex. Nomirex is tied to Tormex…
RS here: Tormex is the company we told you to watch out for, also involved with drug money laundering, established by GT Group…everything's connected…
…through at least one financial transaction between the two phantom companies.

According to the UK business registry, Nomirex was established in August 2006 and was wholly owned by a Cyprus company named Voilent Trade Limited. Voilent Trade Limited in turn is wholly owned by a company from Belize – Trade Invest System Ltd. According to UK business registry, the same Trade Invest System Ltd from Belize was at some point director in at least 250 UK companies, half of which no longer exist.

The agent which registered Nomirex was Meridian Companies House Limited, an international financial company, which specializes in the incorporation and management of firms and asset protection. The director of Meridian Companies House is Erez Maharal who is a specialist in offshore management.

Maharal told OCCRP in an email that "criminals all over the world use modern technical and law instruments and we can't do anything with this… It is possible to limit the use of such systems, but it will cause horrific troubles" to the majority of normal businessmen.

"Everyone can buy a company through the internet without saying anything about himself," said Maharal.

Maharal says that he really doesn't know anything about Nomirex's beneficiaries, bank accounts or why the company filed no reports to the companies' regulator. "We just registered the company, and nobody ever makes us aware what is going on with the company in future … I feel that I was framed."
That's as may be. At any rate, 2011's indignation is followed by apparent capitulation, in the last year or so, for the Maharal incorporation empire has started to fold its tents and depart into the night.
Maharal resigned from the board of Corporate Alliance AG on 10th June 2013 (free registration required).
As we saw, Swiss Registry Consulting put a redirect on its website, effectively terminating their marketing, sometime between September 2013 and November 2013.
The dissolution of Corporate Alliance AG in Switzerland was agreed in a meeting on the 14th February 2014 (free registration required). Presumably that Corporate Alliance AG web site will be disappearing soon. For future sleuths, their web site's front page is archived here and their incorporation offering here.
In the UK, Meridian Companies House filed a request to be struck off, on 26th February 2014.
Is that incipient disappearance to be permanent, or temporary? We don't know yet, but in a future post, we will find Maharal connections in other short-lived incorporators. So my hunch is that this change of nest site is a strategy, and that Maharal will be back, with a new brand, soon enough.
There's a little more to flush out, that hints at additional franchising agreements, or obfuscation.
There are two UK incorporation outfits that evidently work with Maharal, "Corporate Management and Consulting Limited", and "Administrative Providers Limited". Both are based in Milton Keynes, England. They are linked to each other by a shared director, DmitrijsKrasko, and to Maharal via Katarzyna Kulig-Piatek, who is also on the NZ register as a stooge for many of Tropic Alliance's group of companies. Dmitrijs Krasko may not be all that familiar with the splendours of Milton Keynes; he has a Latvian address, which, if you have been following our post series, which repeatedly uncovers Latvian connections, mostly to large scale moneylaundering, will not be a surprise.
Inevitably, GT Group gets a look in too, via another live association. Tropic Alliance has incorporated live companies directed by GT Group employee Leah Toureleo (as well as struck off companies adorned by GT Group stooge director Stella Port-Louis).
Who's fronting for whom, in the end? It hardly matters: in New Zealand, GT Group and Tropic Alliance work very closely together indeed.
Unlike the Maharal incorporation empire in Europe, the companies incorporated by Tropic Alliance in New Zealand are still sailing blithely on.
If I were the Corporate Risk Profiling Team at the New Zealand Companies Office, I'd flag them all as a big fat risk.