Get Ready To Party Inside PS1's New Courtyard Fungus Tower Gothamist (Chuck L)
5 Bizarre Sources of Energy OilPrice (Chuck L)
Former NASA Chief Scientist: "We're Effectively Taking a Sledgehammer to the Climate System" TruthOut
Recommendation against pelvic exam in asymptomatic, average risk, non-pregnant women ScienceDaily (Nikki)
The Rise of the DIY Abortion in Texas Atlantic (furzy mouse)
New method increases targeted bone volume by 30 percent ScienceDaily. Looks like weight training for couch potatoes.
Rio's Maracanã Stadium is Privatized Rio Times. This story is from last year, but in light ot the World Cup, EM thought NC readers should be reminded.
China manufacturing expands at fastest pace this year Telegraph
Japan: The Mystery of the (Almost) Invisible Suicide majiroxnews. owenfinn: "There are very large protests against the Goverment`s plan to "re-interpret" the constitution tonight outside the PM`s residence here in Tokyo – again no media coverage."
Rice-pledging scheme's dominoes are ready to fall Bangkok Post(furzy mouse)
Historic sentence for Akil Jakarta Post
Euro zone unemployment stuck, recovery stalls CNBC
Sarkozy held over influence claims BBC
What the Arab Youth Movements have Wrought: Don't Count them Out Yet Juan Cole
Argentina: will it or won't it default? Financial Times
Energy Sector Faces Attacks From Hackers in Russia New York Times
Ukraine
Ukraine Suspends Truce, Launches Attack Wall Street Journal
Iraq
How 2 shadowy ISIS commanders designed their Iraq campaign McClatchy
Big Brother is Watching You Watch
US court revives lawsuit against Abu Ghraib security contractors Aljazeera
The U.S. Chamber of Commerce Continues Its Winning Ways Constitutional Accountability Center (Chuck L)
Hobby Lobby: Not A Limited Decision Kit OConnell, Firedoglake
Breaking: NY's high court upholds Home Rule bans – Decision complicates natural gas prospects Shale Gas Review
North Dakota's Latest Fracking Problem Wall Street Journal
Loser of Republican Congressional Primary in Oklahoma Plans to Contest Election …Claims Body Double of "Dead" Incumbent Defeated Him Jonathan Turley. Chuck L: "The scariest thing in this link is that Murray got over 5% of the vote!"
Former CalPERS CEO Buenrostro plans to plead guilty in pension corruption case, lawyer says Sacramento Bee (Ana)
Fed has grown complacent on credit market risk Financial Times
A Grieving Father Pulls a Thread That Unravels Illegal Bank Deals New York Times
Class Warfare
Supreme Court rules against home care workers unions Daily Kos. Harris v. Quinn was a narrow ruling, so public sector unions are still OK for the moment. But the idea that home health care workers can't organize to get basic protections is still troubling.

6 Groups That Are Reinventing Organized Labor Think Progress (Nikki)

Robert Samuelson Wants People to Be Unemployed: The Economics of the Economics of the Great Recession Dean Baker (David L)
Sixty-Nine Days: The Ordeal of the Chilean Miners New Yorker (lambert). Today's must read.
Antidote du jour (Josh D). This is Pandit: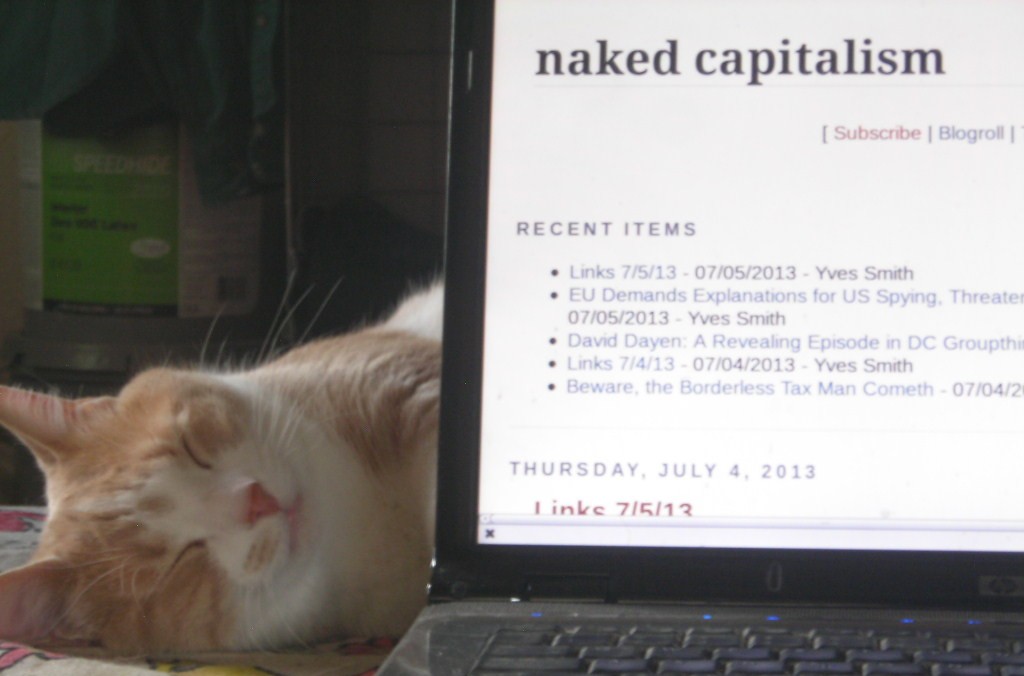 See yesterday's Links and Antidote du Jour here.