Competition: Speaking of Southeast Asia New Mandala
Video: Liquid Metal Flows Into Different Forms, T-1000-Style Popular Science (Robert M)
Fixing Climate Change May Add No Costs, Report Says New York Times. I hate to toot my horn, but I have pointed to evidence supporting this position this since 2007.
Ocean Algae Can Evolve Fast to Tackle Climate Change Reuters (Robert M). But no good news for coral reefs or shellfish.
Apple releases tool to remove free U2 album Associated Press (EM)
Apple a decade behind Japan mobile payment curve Agence France-Presse (YY). I know tech vendors were trying to push this technology in Europe nearly that long ago.
Digital Wallets Adam Levitin, Credit Slips. A badly needed dose of skepticism.
The Return of the Currency Wars WSJ Economics
China Discovers Gas Field in the South China Sea The Diplomat
China Is Mass-Producing Islands To Extend Its Strategic Borders io9 (furzy mouse)
Could Diabetes Derail China? Bloomberg
OECD slashes growth forecasts for leading economies Guardian (furzy mouse)
Scotland
Ukraine
Russia freezes Ukraine into submission: Kiev admits country doesn't have enough fuel for winter Independent (YY)

Eastern Ukraine offered three years of limited self-rule RTE News. Looks like Russia won. They wanted a buffer. They have no interest in owning Ukraine, an economic albatross, despite Western scare-mongering to the contrary.

Ukraine Offers Amnesty to Rebels, 3 Years of Limited Self-Rule; War and Peace Factions Split; More Killing is No Way to Honor Dead Michael Shedlock
ISIS
Hidden partners? How much Russia, Iran could help US against Islamic State. Christian Science Monitor

In Fight Against ISIS, US Needs Turkey To Stop Flow Of Money, Supplies, Foreign Fighters International Business Times
Big Brother is Watching You Watch
Google Report Shows Governments' Increasing Demands for Users' Data New York Times

Treasure Map: It's About Location, Not Gold emptywheel. Time for services that take your cellphone on a walk just to mess up the NSA.

Eyes on New Zealand GIS Watch. Lambert: "It seems NZ remote geographically does not mean remote functionally or in network terms."

"Project SPEARGUN underway" Public Address

Queensland stations weld bins shut over increased terror threat Independent (YY)
A glaring omission: Pollsters' choice of questions shapes the political MinnPost (MJL). BTW this sort of bias in polling is pervasive, not just in omitted issues but in how questions are phrased.
Exclusive: New Jersey unloads investment related to Charlie Baker 'pay-to-play' allegations Fortune. Note: this is a twofer, in that the story, broken by David Sirota, implicates both Chris Christie and Charlie Baker, who is running for governor in Massachusetts.
Daniele Watts: Django Unchained actress detained by Los Angeles police after being mistaken for a prostitute Independent (Chuck L). Notice how this shameful incident is getting traction overseas.
How should your community manage its water? Angry Bear. Expect to see questions like this a LOT more frequently.
The Stupidest Paragraph in Perhaps the Stupidest Article Ever Written Menzie Chinn, Econbrowser.
Global Fragmentation: Crying Wolf Again? Marc Chandler. Includes a discussion of political stability and the absence of the pressure from the left.
Building bank liquidity buffers, the FHLB, TBTF, WTF way Tracy Alloway, FT Alphaville
FDL Book Salon Welcomes Eileen Appelbaum and Rosemary Batt, Private Equity at Work: When Wall Street Manages Main Street Dave Dayen at Firedoglake
Calpers pulls out of 'costly' hedge funds Financial Times. Tries underplaying the CalPERS move, which is bizarre given its position in the industry.
A Dovish Market Has History on Its Side in Tuning Out the Fed Council for Foreign Relations
Conspicuous Consumption Watch
New Social Network For "Elites" Has $9,000 Membership Fee GovtSlaves (1 SK)
Antidote du jour (Lambert via Twitter):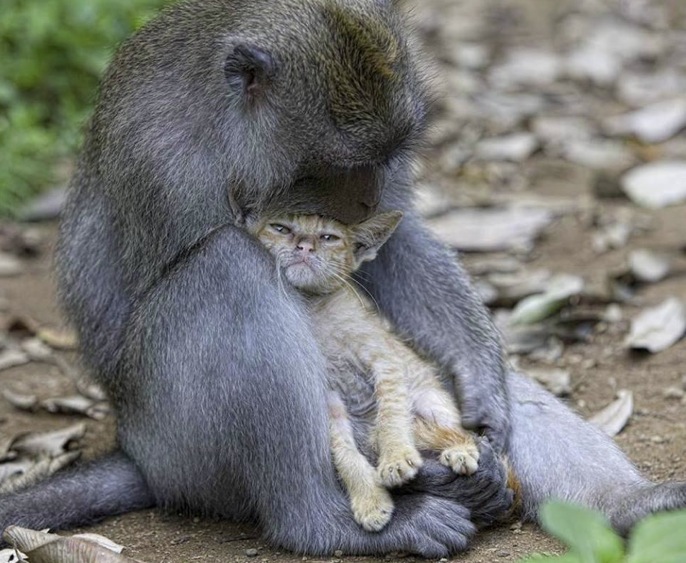 See yesterday's Links and Antidote du Jour here.