By Lambert Strether of Corrente.
Ferguson and the St Louis metropolitan area await the findings of the Grand Jury investigation into the the shooting of Mike Brown by Ferguson police officer Darren Wilson; "any day now," perhaps, but nobody knows which day. I don't want to address the particulars of the case here, or for that matter the potential for "mass panic" in the St Louis area.
Rather, I hope to show that some of the baselines that affect us all — the rotten economy, for example, or neo-liberal theories of governance — affect Ferguson, too; and I hope to convey some sense of what it's like in Ferguson on the ground, although I must confess that since Missouri is, er, a flyover state, it seems very very distant to me, even though I grew up in the Midwest, and I'd welcome reader commment from those in the area.
Further, I'm not going to address the actions of the extremely dedicated and persistent protesters[1], which strike me, again, from a distance, as strategic, ingenious, and principled; I especially liked unfurling a banner during a performance from the St Louis Orchestra, although presenting to the United Nations Committee Against Torture in Geneva runs an awfully close second.
Finally, I'm not going to venture a prediction on whether whatever happens in Ferguson after the grand jury verdict — the protesters would like the verdict to be murder — will scale out, whether as "violence" (that is, not police violence), or strategic non-violence, or both, or neither.
So, I'd like to start by looking at the "ground truth" of the protests, then the disproportionate forces arrayed against them, the oddities of the grand jury process itself, closing with the political economy of Ferguson and the words of Mike Brown's father.
1. The Protest Area Is Very Small
When I say small, I mean small: Geographically, numerically, and in terms of property damage caused. (That's not to denigrate the protests, everything starts out small. How not?)
Geographically small: Here is a map of yesterday's protests from the New York Times: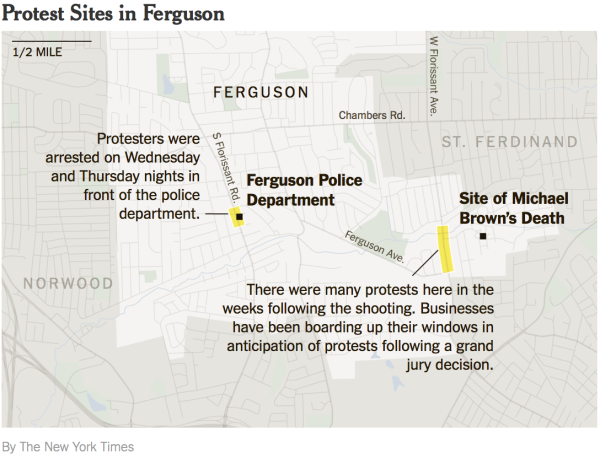 As you can see from the scale, the protest area on West Florissant is half-a-mile long. That's small. Maybe not Zucotti Park small, but small.
The protests are also small numerically. Here's yesterday's:
#Ferguson protestors shut down West Florissant last night. @LBPhoto1 pic.twitter.com/LeQzcTuqg7

— Chris King (@chriskingstl) November 22, 2014
However, that doesn't mean that the protests are reported as small; here a second photo of the same demonstration. Notice the cropping: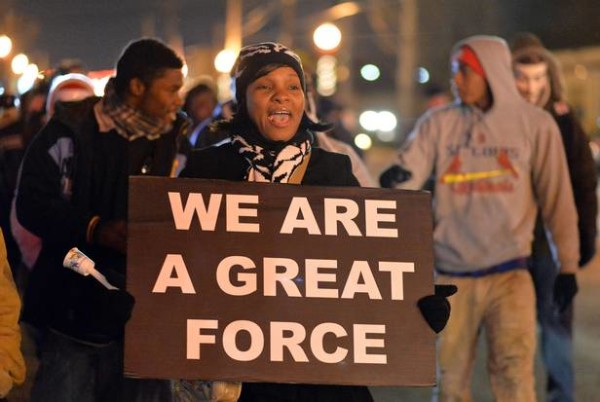 So, in place of a small band of hardy protesters in the cold seen from a distance, we have a tightly cropped image of one protester, with her companions, but many people will project an unknown but — doubtless!! — fearsomely large number of other protesters out of the frame. I think the same cropping technique happens in a lot of protest images[2]; the cropped photo will show one or two boarded-up buildings and people will project miles of boarded-up buildings; but the protest area on West Florissant just isn't that big! So when you see the coverage that is to come, ask yourself how the photos are cropped; the more context, the better. So, indeed the protesters may be a "great force," but if they are, it's not because of raw numbers, at least not yet.
Finally, the protest are small in terms of property damage[3];
28 businesses were reported to have been burglarized on Aug. 10, the first night of unrest after the Brown shooting. … One business in the city of St. Louis was burglarized in a targeted operation by looters on Aug. 11… Insurance claims from property damage due to Ferguson protests reported to the state totaled $250,000 after the first month of unrest; one prominent local insurance adjuster who processed three claims on West Florissant Avenue estimated damages were no more than $5 million, which included $1 million to $1.5 million for the burned QuikTrip. By comparison, damage to property in the 2001 St. Louis hailstorm: $2 billion.
That's it, despite hysterical media coverage. Watts, or Detroit, or Newark Ferguson is not. The scale and the timespan are simply not comparable. And the (public) police planning reflects this:
They expected four areas to emerge as protester "hot spots" after the announcement: the Ferguson police station, the stretch of West Florissant Avenue near the QuikTrip that burned the day after the killing, the business district in Clayton, and the Shaw Neigborhood, where VonDerrit Myers Jr. was killed by a St. Louis police officer last month after the officer said Myers fired at him.
(Man, you'd think if there were going to be riots, there already would have been, given that another black guy got whacked by a cop while the Wilson Grand Jury was still out[4].) So, three small town centers are larger than one small town center, and they're dispersed, but small they are. I'm reminded of nothing so much as an elephant trumpeting and stamping at the sight of a mouse.
2. The Forces Of The State Are Anti-Occupy Scale
Given, as we have seen, the small scale of the Ferguson protests, the State forces arrayed against them are remarkably large. We've got the Ministerium für Staatssicherheit DHS:
Yesterday should have been a normal workday for 28 year old Mark Paffrath, a Houseman at the Drury Plaza Hotel in Chesterfield. Instead, it turned out to be anything but.

Mark, a veteran of the US Navy [and born in Ferguson], having served in the middle east, has been employed at the Drury Plaza Hotel for approximately the last year and a half. Yesterday, however that employment abruptly ended. Mark says that on Thursday after work he snapped 2 photographs and a short video of
The vehicles in the photo at the link look like SUVs to me, so figure 4 Stasi agents operatives to a vehicle, for a minimum of 96. That's like a one-to-one ratio with last night's protesters. So what the heck are they all doing?
And then of course Governor Nixon called out the National Guard:
"[NIXON:] These additional resources will support law enforcement's efforts to maintain peace and protect those exercising their right to free speech. The National Guard is well-suited to provide security at command posts, fire stations and other locations as well as perform other functions that will free up law enforcement officers to remain focused on community policing and protecting constitutional rights."
"Command posts," plural?
The Governor would not go into operational details as to how many troops would be on the ground, but maintained the decision was in line with the original timetable laid out by St. Louis County prosecutor Bob McCulloch that the grand jury announcement would be made by mid-to-late November.
"[H]ow many troops would be on the ground"? Huh? Why, you'd almost think St Louis County was enemy territory, wouldn't you?
"People need to feel safe. Everything we are doing is being driven by the dual objectives, what I call the dual pillars," Nixon said. "Keeping the public safe while allowing protesters to speak."
Gee, I dunno. Call me crazy, but my thought is that if "people" "need to feel safe" Governor Nixon could give consideration to the concept of stopping cops from whacking people, and especially to stopping cops from leaving the bodies in the street, for hours, in the summer sun, that would be a big help with the feels.
And of course, we've got the FBI, and I imagine they've already set some clown up, or set some agent provocateurs in motion[5].  FBI Sends 100 Agents to Ferguson Ahead of Grand Jury Decision. Wowsers. I wonder if they're staying at the Drury too? That parking garage is gonna be crowded. Anyhow:
The 100 FBI agents were ordered to mobilize and arrive in Ferguson Friday, and additional personnel have been put on alert so they can be called in as a second emergency wave.
"Additional personnel"? If not FBI, what? Mercs? Vigilantes? The Orange Order?
And all this before we even raise the issue of militarization, the armored personnel vehicles, and all the ridiculous goony paraphernalia surplus to requirements for the wars the military lost in Iraq and Afghanistan. Trebuchets, for all I know.
Anyhow, the State response is on the same scale as the 17-city paramilitary crackdown the Obama administration orchestrated with DHS and Democratic mayors plus Bloomberg to smash Occupy. And I hope you are persuaded it's just as disproportionate a response.
However, bloated multi-agency responses like this are probably the new normal, because ka-ching, but also to gather intelligence on all protesters, no matter how peaceful, to infiltrate and discredit them, but also perhaps for practice.
3. The Grand Jury Process Is Sketchy
No matter the result, one would think that the powers that be would like the Grand Jury to be credible (that is, if avoiding violence is a goal for the State). Unfortunately, there are several reasons to think that it might not be.
First, there are several ways this Grand Jury is unusual. Here's how its structured:
A lawyer for the family of the black 18-year-old fatally shot by a white police officer said today the grand jury process playing out in Missouri is unlike anything he's seen before and is unfair.

The St. Louis County prosecuting attorney, Robert McCulloch, has said that, unlike with a typical grand jury, he would present to this grand jury all the evidence gathered in the police investigation and offer the jurors the opportunity to hear from any witness with relevant information.

The target of the investigation, Ferguson Police Officer Darren Wilson, was among those who testified.

A spokesman for McCulloch has indicated that the prosecutor's office will not likely make a specific recommendation about charges, but would give the grand jurors a range of charges to consider, from involuntary manslaughter up to first-degree murder.
While it is true that McCulloch isn't railroading through a non-indictment of Wilson, this process amounts to the same thing, doesn't it? What McCulloch has done is abrograte his prosecutorial authority and handed it over to the Grand Jury (who also have not been sequestered). No theory of the case, no recommendation of a charge, and, above all, nobody to speak for Mike Brown. It looks to me like the deck is stacked for acquittal, with McCulloch able not only to avoid blame, but to point to the deliberative process used!  And one might also wonder why a cop gets a special process that ordinary citizens don't get, especially in Ferguson.
Now, it is true that McCulloch has said that the proceedings have been recorded and will be made public, but a judge might not agree.
Second, Grand Jury proaceedings are supposed to be secret, but there are leaks, and none of them seem to favor Wilson's indictment. There are the (supposedly) hacked tweets. Then too, the autopsy favorable to Wilson. And Wilson's testimony:
The only significant disclosure [!] from the current proceedings has been a description of Wilson's four hours of testimony before the grand jury that was reported by the St. Louis Post-Dispatch newspaper.
So that's alright, then. Finally, there's yesterday's leak:
The signs pointed to the grand jury drawing near a decision as to whether Ferguson police Officer Darren Wilson will be charged with a crime for fatally shooting Michael Brown.

But word leaked out Saturday that when the Missouri grand jury wrapped up its session Friday, it hadn't wrapped up the case. The 12 grand jurors will meet again Monday, sources said.

People are getting antsy. Supporters of Brown's family want to see Wilson go to trial. The officer's supporters want him to be vindicated.

Business owners worry about their property. Officials are concerned about keeping the peace.
Gee. It's almost like that leak was orchestrated for the benefit who it did benefit: Business owners and "officials" (including the DHS, FBI, and the National Guard).
So, a Grand Jury with a weird process, that leaks for acquittal, that looks like a play-toy for the powers that be. Would you trust it?
4. Ferguson, a Small Municipality, Has Big Problems
I don't have a general account of the collapse of America's industrial heartland — back in the day before we became a petrostate, and actually made stuff — but it's apparent that collapse constrains Ferguson deeply. (Again, comments from knowledgeable locals or expats welcome.) Road and Track, in a splendid essay:
St. Louis is a difficult place to explain. During its heyday as a boomtown for industrial migration, mixed-race factory workforces weren't uncommon, but all-white housing covenants were stringently enforced. The Shelley v. Kraemer US Supreme Court case, which effectively disallowed explicitly racist housing codes in 1948, originated from a disputed two-story masonry at 4600 Labadie Avenue. Housing covenants fell away in the 1950s. By and large, St. Louisans' were too quaint for defiance. Instead, they left.

White flight from downtown accelerated around the time of the Shelley verdict. A de facto race line replaced legal segregation, driving a stake between St. Louis City and St. Louis County, with resources falling towards the latter in staggering disproportion. Inadequate public transportation, gerrymandered districting, and circumspect zoning policies all insured wealth discrepancy between the areas became an incredible, and insurmountable, plateau. Separate tax structures. Separate police forces. Separate schools. A fragmented St. Louis of Haves and Have-nots, often synonymous with white and black as a consequence of geographical composition, swelled westward.

Even so, a handful of communities straddling the northern edge of this fault line—among them Hazelwood, Florissant, and Ferguson—proved unique. They had nearby factories and infrastructure and manpower, an expansive socioeconomic palate anchored by thousands of blue-collar heads of household. Things here were okay, and this is where the Stingray was born.
(Here's an article that tracks white flight up Florissant through architecture.) And of course, the Stingray is gone. We can pile the foreclosure crisis (i.e., accounting control fraud) on top of the loss of Ferguson's industrial base:
Nationally, 17 percent of homeowners are underwater — they owe more on their mortgages than their homes are actually worth. In Ferguson, that figure sits at 50 percent. Because so many homeowners are struggling, the town is ripe for institutional investors — often hedge funds or private equity groups on the coasts, thousands of miles away — to buy up homes, then rent them to low-income tenants. And that's what has happened. Investment firms are responsible for roughly a quarter of all recent housing purchases in the town.

[P]eople of color with good credit received high-interest mortgages or subprime mortgages far more often than white borrowers with similar credit. These mortgages were meant for only the riskiest borrowers. Because of their higher rates, houses purchased with these mortgages were harder to pay off, and were more likely to face foreclosure.
In addition, we've got Ferguson, facing a revenue crisis as property taxes from the factories disappear, turning to the law enforcement system to raise revenue (a public policy approach suggested by an especially vile libertarian, Robert Poole). From Governing:
Ferguson's budget relies heavily on public safety and court fines that have skyrocketed in recent years. A review of Ferguson's financial statements indicates that court fine collections now account for one-fifth of total operating revenue. The St. Louis suburb of about 21,000 residents [like I said: small] took in more than $2.5 million in municipal court revenue last fiscal year, representing an 80 percent increase from only two years prior, when fines netted about $1.4 million.

[Brendan Roediger of the Saint Louis University School of Law] described a court system in Ferguson and select areas of St. Louis that function primarily as a revenue generator. "They don't want to actually incarcerate people because it costs money, so they fine them," he said. "It appears [because it is] to be a blatant money grab."
And finally, there's the breakdown between black and white not just in the St Louis area, but Ferguson itself: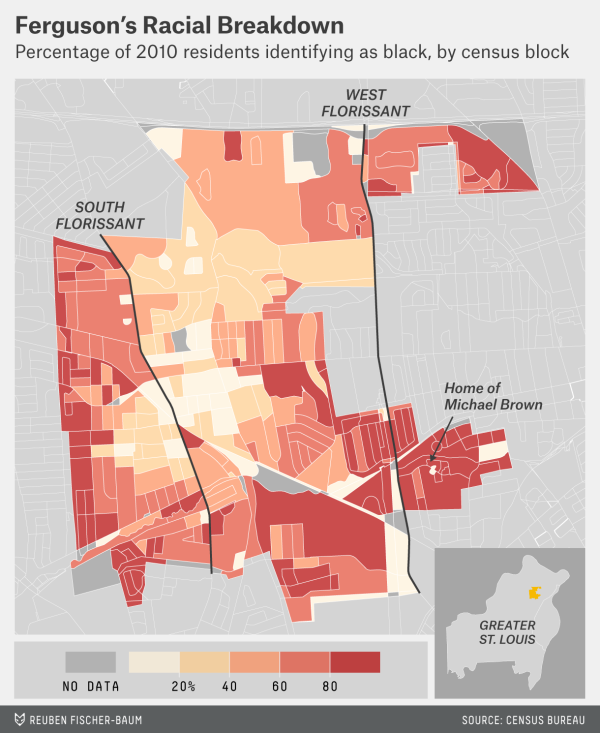 And Ferguson is undergoing a gentrification as well. From a Munchies review of Ferguson's restaurants:
But despite the community's efforts, Ferguson remains a divided city. There are two main sides of Ferguson, and two main business corridors. There's Florissant Road, where the police station and Corner Coffee are. The restaurants there are predominantly white-owned, and the strip is experiencing a mini-renaissance, with a new wine bar, and even some new loft apartments.

On the other side of Ferguson is West Florissant Avenue. That area is predominantly poor and black, and served mostly by fast food joints.
Just a thought, but I wonder how much of the tax dollars from the police shaking down West Florissant Avenue went to the wine bars and lofts of Florrisant Road, in the form of tax breaks and municipal services? If Ferguson is like my town, I would bet a lot.
So, if I were in a situation where the economy was shattered, foreclosures were rife, the police and the courts had turned into a shakedown operation, and then those same police whacked a friend of mine and left his body in the street to rot in the sun, and then the courts gave the perp every break I'd never been given, and then a ginormous military force parachuted in to enforce "calm" and prevent "violence," I'd be ticked. Frankly, I think the reaction of the aggrieved citizens of Ferguson has been remarkably mild, mellow, even, given the givens. Long may it remain so[6].
5. Conclusion: Mike Brown's Dad
Here's the statement from Mike Brown Sr., from the Los Angeles Times:
"My family and I are hurting, our whole region is hurting," Michael Brown Sr. said in the video, uploaded by St. Louis Forward, a St. Louis civic collective. "I thank you for lifting your voices to end racial profiling and police intimidation. But hurting others or destroying property is not the answer. I thank you for lifting your voices to end racial profiling and police intimidation. But hurting others or destroying property is not the answer. No matter what the grand jury decides, I do not want my son's death to be in vain. "
FWIW, and from far away, I think the question is not so much justice for Mike Brown, though it is that, or even straightening out Ferguson's municipal government, though it is that too. It's a question of who should run St Louis and why. If there is to be:
[I]ncredible change, positive change, change that makes the St. Louis region better for everyone.
it's very dubious that will come from Governor Nixon. Or, for that matter, Barack Obama and Eric Holder, or anyone else in power in official Washington, or aspiring to be. So who, then? Hmm….
NOTES
[1] This article from the Wall Street Journal, "Ferguson Grand Jury Set to Reconvene," addresses the question of how police tactics achieve police goals; but not how protester tactics achieve protester goals.
[2] And people like black bloc types know this, and exploit it; violence is photogenic!
[3] Unlike some, I believe that property damage is violence; try driving through the riot-torn areas of DC if you don't agree.
[4] To be fair, this cop wasn't told Myers was carrying a toy gun. So there's that.
[5] And right on cue, a "sting operation" netted two New Black Panthers. Well, naturally. One would expect nothing less.
[6] Of course, there's always an asshole.