The Business of Blogging Womens Wear Daily. In which people like yours truly are advised to sell clothes rather than ideas. But maybe I could sell "the revolution is coming" desk toys. Wouldn't you like having a tiny set of stocks (the kind they used to use in town squares) on view and fantasize how fetching Jamie Dimon would look in one? Or how about a working mini-guillotine on your desk? If it was really good, you could use it to cut carrots too. But that means you'd need to keep it well away from children's fingers.
We Finally Found The Mystery Virus That's Turning Starfish Into Goo Business Insider (David L)
However, I also bet if I came up with an "apres moi le deluge" clothing line meant to make fun of the rich for being ludicrously expensive relative to the quality, that it would actually sell. Americans aren't good at irony.
Uber tries to head off privacy criticism Financial Times
University Installs Prescription Drug Vending Machine On Campus CBS Las Vegas (furzy mouse). Only in America.
Why I Left United Airlines Tim Wu, New Yorker. Crapification.
Hong Kong
Thousands of police called up to help clear Mong Kok roads South China Morning Post

Protesters Smash Doors, Windows of Hong Kong Legislature WSJ China Real Time
ECB inflation target lacks credibility Financial Times
Europe's Central Bank Defies Own Rules in Cyprus Bailout New York Times
German town tricks neo-Nazis into raising money for an anti-Nazi charity Independent (Chuck L)
Germany's Merkel toughens tone with Russia's Putin BBC
China and Russia vow to build alliance Financial Times
Syraqistan
On Media Outlets That Continue to Describe Unknown Drone Victims As "Militants" Glenn Greenwald, Intercept
Big Brother is Watching You Watch
Libertarian Champion Rand Paul Helped Kill NSA Reform Bill Huffington Post
Keystone Fails in Senate (For Now) Foreign Policy
Gulf-Bound Tar Sands for Export? Follow the Oiltanking Trail Steve Horn
Jim Crow Returns Greg Palast, Aljazeera
Fees Paid To Rahm Emanuel Donor Firm Increased After Emanuel Became Mayor David Sirota, International Business Times
Mark Paffrath fired after Facebook photos of Homeland Security vehicles near Ferguson Daily Mail
VACCINE COURT' KEEPS CLAIMANTS WAITING Associated Press (furzy mouse)
Whither Markets?
It Official: Party Now, Apocalypse Later Wolf Richter

JPMorgan Downgrades US Stocks Business Insider (furzy mouse)

Hugh Hendry on central bank terror MacroBusiness
Class Warfare
Seven big U.S. companies paid CEOs more than Uncle Sam in 2013: study Reuters (upstater)

Are Some Banks Using Credit Reports to Help Collect Discharged Debts? Credit Slips

Paris chefs call for end to French kitchen violence BBC

The Best Look for a Leader Inc. Looking healthy is a big status marker. Winston Churchill was really proud that his reforms when he was Home Secretary led by World War II to the height difference between upper and lower class men being eliminated.

The Real Roots of Hedge Fund Manager Rage ProPublica. From last week, still germane.
Antidote du jour. From @theadvocatebr, via David M: "Can't make this up: 6 show cows escape on @LSU campus; at least 1 wanders down sorority row.."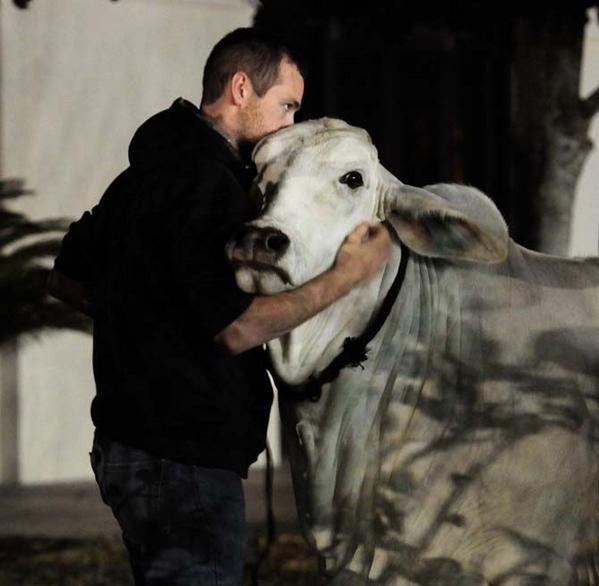 See yesterday's Links and Antidote du Jour here.