'WireLurker' virus hits iPhones and iPads Financial Times
Bitcoin Firm Head Charged in First-of-Kind Ponzi Case Bloomberg (furzy mouse)
Ebola
As Ebola infections drop, Liberian capital reawakens Washington Post
Popularity of 'solitary confinement' condos worries Hong Kong property watchers Nikkei
ECB Unites on Possible Further Stimulus Wall Street Journal
For E.C.B.'s Draghi, Promises Are Still His Main Policy Option New York Times
Deutsche Bahn fails in first court bid to stop train strike DW
Riots in Brussels: 100,000 Protest Austerity, Overturn Cars, Throw Fire Bombs; Wherefore Art Thou Austerity? Michael Shedlock
IPO Scandal in Denmark Is 'Poison' for Stock Market, Nasdaq Says Bloomberg
Putin Loses to China in Central Asia's Latest 'Great Game' BusinessWeek
Hungary is Helping Putin Keep His Chokehold on Europe's Energy Foreign Policy
Show me the money: PayPal to support cash payments in Russia Pando
In Ukraine Crisis, U.S. Businesses Face Tit-for-Tat Response to Sanctions New York Times
Syraqistan
Jihadists 'using cruise ships' BBC (furzy mouse)

Violence in Turkey's Kurdish region raises questions about peace talks McClatchy

Study: Westerners join Islamic State because of peer pressure, not social media Pando
Big Brother is Watching You Watch
Election Wrap
One Chart Explains Democrats' Loss Barry Ritholtz, Bloomberg

Could Obama have fixed the economy? Ian Welsh (furzy mouse)

Those Who Benefited Most from Obamacare Voted Republican Roll Call (furzy mouse). Maybe that means the assumption of "benefited" needs to be questioned. If you are forced to buy expensive insurance that does not cover much, pray tell who benefits?

Despite election defeat, foreign policy is not 'game over' for Obama Reuters. EM: "Makes it sound as if Obama and the GOP were actually at odds on various warmongering initiatives."

Obama is secretly Republican, can't wait to deal with new Senate majority Cenk Ugyur
Mississippi prisons chief resigns abruptly amid federal suit Reuters. EM: "We can only hope he'll end up being blessed with a multiyear up-close inspection regime of his former bailiwick."
Developer withdraws bid on 6,300 Detroit-area blighted properties Reuters (EM). This seems like no accident, but I wonder what the play was. Was the city dumb enough to let him bid without putting down a bond?
Crude oil hasn't bottomed yet, traders say CNBC
The Threat from Saudi Arabia's Oil Power Play Fiscal Times
Doubting the Economic Data? Consider the Source Floyd Norris, New York Times
Antidote du jour: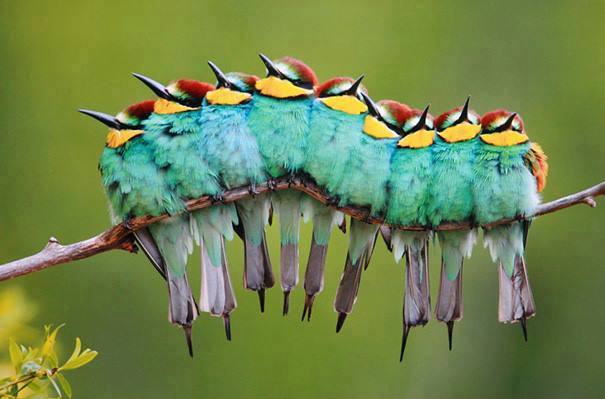 See yesterday's Links and Antidote du Jour here.