The largest vessel the world has ever seen BBC (furzy mouse)
"Organic" Factory Farm Investigation – Cornucopia (furzy mouse)
Geneticists Begin Tests of an Internet for DNA MIT Technology Review (David L)
What Happened When Marissa Mayer Tried to Be Steve Jobs New York Times (David L)
Sony Breach Result of Self Abuse Patrick Durusau
Amazon Not as Unstoppable as It Might Appear New York Times
The history of Australian property values (redux) MacroBusiness. EM: "I especially enjoyed this taking-to-the-woodshed of the economics profession and its astonishing inability to identify even the wildest asset-price bubbles."
Japanese animation: The Tale of Studio Ghibli Economist. I'm a big fan of Miyazaki, particularly Princess Mononoke. Sad.
Yes, there is an Asian space race Interpreter
The history of the new Chinese empire Business Spectator. Consistent with Pepe Escobar post yesterday.
US-Europe trade deal stuck on launch pad Financial Times (Li). As foretold here. Dead in 2015 probably means dead for real, but keep sending nastygrams to your Congress critters from time to time to be sure.
EU caps debit and credit card transaction fees Financial Times
Swiss Central Bank to Introduce Negative Interest Rates Wall Street Journal
EU's Greek Drama Needs a Final Act Bloomberg
Syriza reiterates its commitment to the eurozone EurActiv. There goes their bargaining leverage.
Ukraine/Russia
What Could Explain the Recent Collapse of the Ruble? EconoMonitor

Russia not fit to be part of international financial system – Cameron RT (Scott). After Libor, FX, money laundering, tax avoidance, and plenty of other scandals, the bar is so low I don't see how any bank can be deemed not to qualify.

Economic Fears May Push Russia Into Ukraine Deal New York Times
Big Brother is Watching You Watch
Billion Dollar Surveillance Blimp to Launch over Maryland Intercept (Chuck L)

Navy Develops 'GhostSwimmer' Drone That Looks Like a Shark Yahoo (Chuck L)
CIA Torture Report
Napoleon vs. Cheney: "Interrogation That Actually Works"; Icing on the "Hate-Cake" Michael Shedlock

U.S. torture report puts Romania's role under scrutiny Reuters. EM: "Note the self-serving, head-spinningly self-contradictory comments by Ioan Talpes."
Obama Imports and Immunizes Banksters Who Donate to the Democratic Party Bill Black, New Economic Perspectives
Political theater: Community groups giving HUD "Grinch of the Year" award Housing Wire
New Jersey Paid Fees To Mary Pat Christie's Firm After State Investment Was Terminated David Sirota, International Business Times
New Jersey Paying Fees to a Financial Firm That Employs Christie's Wife New York Times. The Grey Lady takes notice of Sirota's work and recaps it faithfully. This adds not-trivial pressure to the Christie camp.
Man can't challenge $280K tax bill he probably doesn't really owe, Pa. court says PennLive
Whither Markets?
A Brave New World Credit Writedowns

Fed signals tightening by mid-2015 Financial Times. Lead story. That's how I read the FOMC too. So it looks like the big rally today was Mr. Market using any excuse to goose the indexes prior to the critical-for-investment-manager-beauty-contests year end date.

Can Janet Yellen Be Serious? Bloomberg. Editorial. I didn't watch the Q&A but investors that did report that this was the first time Yellen really seemed not to be on top of her material, despite particularly softball questions
The regulators' dilemma: when to intervene amid rapid technological change? Financial Times (David L)
Class Warfare
Wealth Gap between America's Rich and Middle-Class Families Widest on Record WSJ Real Time Economics

Inequality In U.S. Today Is Worse than in Apartheid South Africa or 1774 Slaveholding Colonial America … and TWICE As Bad As In Ancient Slaveholding Rome George Washington

The Medical School as Hereditary Plutocracy – Retiring Board Chair Sanford Weill of Cornell Weill Medical School Names His Own Daugher as New Chair Health Care Renewal
Antidote du jour. Li wants some for Christmas, but I doubt these Yakut horses are happy in anything other than Northern Minnesota winter temps.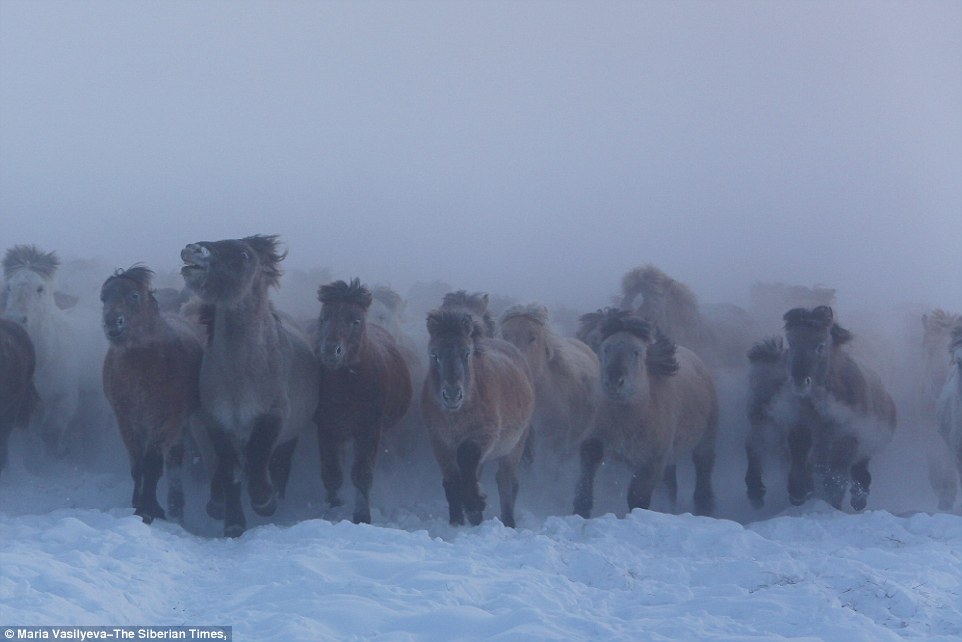 See yesterday's Links and Antidote du Jour here.