I may have to start using Tor just to circumvent getting the US version of non-US sites. I don't want to be redirected from guardian.co.uk to guardian.com, but that is what happens. And guardian.com has become so hopelessly US focused that it is close to useless on UK and European news. Grr.
A groundhog just chomped down on a Wisconsin mayor's ear Business Insider (David L)
Hare-raising! North Dakota neighborhood besieged by dog-sized JACKRABBITS DailyMail (Li)
Town rabbits downsize homes BBC (furzy mouse)
Iceland to build first temple to Norse gods since Viking age Guardian (furzy mouse)
London wakes up to snow: Capital is blanketed as Siberian gales are set to bring five days of sub-zero temperatures across the country Daily Mail. Richard Smith: "Cats terribly excited about it (only the second time this has ever happened, for them); yelled at us to bring us to the window, draw the curtains, and inspect this remarkable phenomenon. Then they discovered it was cold and wet."
Science's Biggest Fail Scott Adams. Actually, there is very good research on weight training, but most of it is in German.
High radiation detected in L.A. rain EnviroReporter (RR)
Exclusive: Google Is Developing Its Own Uber Competitor Bloomberg
In Net Neutrality Push, F.C.C. Is Expected to Propose Regulating Internet Service as a Utility New York Times
Atom-Thick Silicon Makes Crazy-Fast Transistors MIT Technology Review (David L)
France gripped as Dominique Strauss-Kahn vice trial begins Financial Times
Dangerous cracks at Europe's centre Gideon Rachman, Financial Times (David L)
Trying to Wrap Your Head around the SNB and Denmark? Marc Chandler
Grexit?
Croatia cancels debts of the poorest Washington Post (Nikki)
Balkans genocide verdicts expected BBC
Venezuela: a Coup in Real Time Counterpunch
Ukraine/Russia
"U.S. Considers Supplying Arms to Ukraine Forces, Officials Say" Sic Semper Tyrannis (Chuck L)

Ukraine Rebels Upbeat After an Infusion of Aid New York Times
Obama's Budget Seeks to Loosen Austerity Reins New York Times. We are now admitting that we have austerity in the US, and trying to pretend Obama is an opponent?
White House vows to block 'sequester' budget cuts in break with austerity Guardian. Notice parallel messaging in this headline.
More Obama Dead-on-Arrival Tax Proposals Michael Shedlock
Measles Proves Delicate Issue to G.O.P. Field New York Times
Police State Watch
Most dangerous criminals can be locked up indefinitely, court rules Telegraph

At retreat, Dem staffers escort reporters to restroom Politico (Jim S). Reporters treated as a bigger threat than terrorists.

The Reporter Resists His Government New York Review of Books (Nikki)
San Francisco Fed Explains Why Central Bank Misses Growth Forecasts Wall Street Journal Economics. More important than it seems. Shellacks models that use rational expectations, which is most of them.
Oil
Shell prepares to dismantle North Sea giants Financial Times (furzy mouse)

U.S. workers strike for second day at nine refineries; one to shut Reuters (EM)
Energy-Pinching Americans Pose Threat to Power Grid Wall Street Journal (Li)
Small Banks Score Gains in Lifting Regulation Wall Street Journal. Li: "Jimmy Stewart did a lot of damage."
Antidote du jour. William B from the Golden State dog show: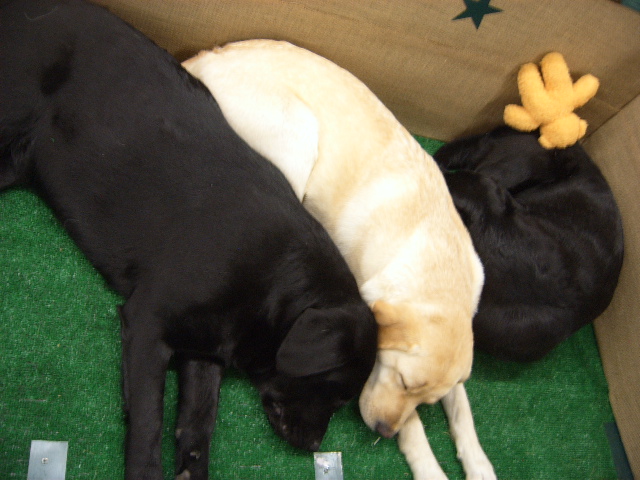 See yesterday's Links and Antidote du Jour here.