Enormous 3-million-year-old rodent used its teeth like elephant TUSKS: Ancient mammal used incisors as tool to dig and defend itself Daily Mail (Li)
Good news, guys: Economists use math to show that it's OK to leave the toilet seat UP! Daily Mail. Li: "Economists prove once again that they're f'ing useless." Your humble blogger: "The economists ignore that women who live with men wind up doing most of the housework. The toilet seat issue is yet another discourtesy. Too much discourtesy leads to no sex. Did they calculate the cumulative effect on how much the woman is willing to put out, and how that might negate their first order analysis?"
What happens to the losing team's Super Bowl championship shirts Guardian (Chuck L)
New York Attorney General Targets Supplements at Major Retailers New York Times. A long-standing issue, most of all with herbs (where freshness and where they are grown also counts)
Explanation of the biological activity of the measles virus Science (Nikki)
A company is now modeling suspects' faces using DNA from crime scenes Business Insider (David L)
Regulators Cite a New Danger in the Skies: Selfies New York Times
The AI Revolution: Road to Superintelligence Wait But Why (David L)
Uber Gave Money To MADD Last Summer, 6 Months Before A Glowing Report Gawker
Technology's next 25 years belong to the world, not the US Financial Times (David L)
It Took Four Million E-Mails to Get the FCC to Set Net-Neutrality Rules Bloomberg. So democracy works, but the bar is awfully high.
Australia Coming Apart at the Seams Michael Shedlock (furzy mouse)
EU Widens Multinationals Tax-Sweetener Investigation to Belgium Wall Street Journal
Grexit
Germany Deserved Debt Relief, Greece Doesn't Bloomberg. This is a remarkable piece, and not at all in a good way.

Cautious hope for Greece debt deal as leaders tour Europe BBC. Renzi in Italy made generally supportive noises about putting growth over austerity but did not comment on Greece's proposals. Juncker, who is head of the European Commission, also suggested some accommodation would need to be made for Greece.

A deal to bring modernity to Greece Martin Wolf, Financial Times
Ukraine/Russia
Legal Options for Ukraine's Russian Debt Problem Credit Slips

Saudi Oil Is Seen as Lever to Pry Russian Support From Syria's Assad New York Times
Syraqistan
How The US, Its Allies And Syria Unwittingly Corporatized ISIS CTuttle, Firedoglake
Draft of Arrest Request for Argentine President Found at Dead Prosecutor's Home New York Times. This looks terrible for Kirchner, but raises further questions: Alberto Nisman was found dead in his apartment on January 18. Why was this memo "found" now, two weeks later? His apartment was presumably a crime scene and inspected carefully, more than once. And would professional killers be so dumb as to leave evidence like this around? The memo was 26 pages, supposedly found in a garbage can. One way to square the circle, from a savvy reader: "Here's a bet: that the killers were not from the President's side, but Peronist politicians who were caught up in the 10 year investigation."
Imperial Collapse Watch
Big Brother is Watching You Watch
The Silk Road Trial Isn't Just About Drugs Slate

The Newest Reforms on SIGINT Collection Still Leave Loopholes Just Security. Quelle surprise!

EFF Joins Coalition to Launch Canarywatch.org Electronic Frontier Foundation
Former Maryland banker reveals he used to work for CIA Wall Street Journal (Chris M)
Obamacare
House G.O.P. Again Votes to Repeal Health Care Law New York Times

Is the GOP Finally Ready to Offer an Obamacare Alternative? Slate
Chris Christie's London trip was a disaster Business Insider
California man convicted in 'revenge porn' case Reuters (EM)
understanding the 4th quarter GDP report Daily Kos
The illusion of monetary policy independence under flexible exchange rates VoxEu. The Fed, in all seriousness, has taken the position that its monetary policies have no impact on other countries. In other word, QE induced risk-on trade money flooding into emerging economies was an act of God. This paper argues otherwise.
This is nuts. Who wants some eBonds? FTAlphaville
Most Brokerages and Advisory Firms Targeted by Cybercriminals Wall Street Journal. Li: "Another reason not to trust your broker."
Class Warfare
The One Percent's Great Escape Consortiumnews (Chuck L)
What happened when I confronted my cruellest troll Guardian (furzy mouse)
Antidote du jour. More pictures of tiger triplet at the Port Defiance Zoo in Tacoma, courtesy Melody: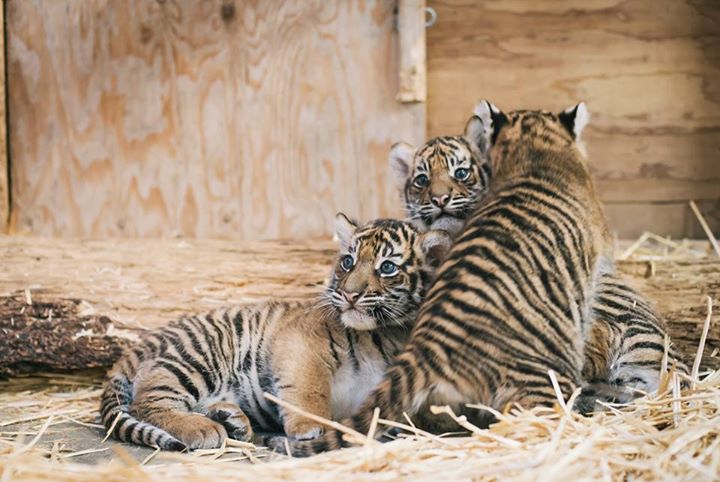 See yesterday's Links and Antidote du Jour here.