In our first post in this series, we introduced a vast Far Eastern pyramid fraud, Virgin Gold Mining Corporation (VGMC), that ran early 2010 to mid 2013. There were, at the very least, many thousands of duped investors in Asia, and reputedly billions of dollars scammed.
There was an apparent second phase to the scam, starting around September 2012: a plan to list Panamanian VGMC's non-existent gold mining assets via a supposed BVI-registered closed end fund, Asia(n) Gold Mining Asset(s) Corporation (AGMAC), purportedly controlled by a Swiss banker, one Roland Hurni-Gosman, who is already associated with the VGMC scam by way of video'd appearances at VGMC promo shindigs. One imagines the expected listing-time 'pop' in the share price was intended to suck in yet more wannabe insider investors.
That plan fell in a heap, apparently because of a strongly worded BVI regulator warning about AGMAC that appeared in late May 2013.
But there was still a plan "B", and for that, we must turn to the archived press releases of GXG Markets, a European small-cap stock exchange, where we find this, dated 6th October 2012:
The board of VG Resources Limited (VG) has today announced that VG has agreed terms with Virgin Gold Mining Corporation of Panama (VGMC) under which VG will acquire a range of assets from VGMC, specifically its corporate investment portfolio and VGMC's participation, joint venture and development rights in a number of present and future mining ventures. For the sake of clarity, VG has emphasised that the deal with VGMC is an asset acquisition and will not entail VG acquiring any shares in VGMC. Commenting on the deal, VG director, Bryan Cook said: "The board of VG is very pleased to have secured the company's first deal so soon after it was listed on GXG. This is the first step in achieving VG's longer-term strategic plan". Release Ends. Additional Information: VG Resources Limited was admitted to trading on GXG Markets-OTC on 27 September 2012 Its mission is to acquire one or more operating businesses through a merger, share purchase, asset acquisition, reorganization or similar transaction. Its initial efforts will be focused on businesses whose principal operation is gold mining in Central and South America…<more blether>.
Strange, huh? At about the same time that the VGMC/AGMAC assets deal is being trumpeted to VGMC investors, a whole other VGMC/VG Resources assets deal is announced on GXG Markets. You'd think that AGMAC and VG would be at pains to explain the exact split of assets involved. But that's not the end of the strangeness that emanates from this press release. For a start, the release seems to be quite wrong about Bryan Cook's director role. Opencorporates is confident that Bryan Cook was *never* a director of VG Resources: the director at the time of this GXG announcement was in fact a corporation, Temple Fiduciary.
To remind readers, Brian Cook is a recurring figure in my scam posts at Naked Capitalism: here he is as the leading figure of Asia Finance Corporation, a New-Zealand registered broker to a carbon credits scam that somehow also got listed at GXG Markets, some time back, and here he is again, just last week, in the footnote to what appears to be another large Asian Ponzi, Power8, which has sponsorship ties to major European football clubs. It's a small world, but we knew that already.
Back to the board at VG Resources: waiting in the wings, on the 6th of October, are: another UK corporation, Nauer Corporate Service(s), which relieved Temple Fiduciary from the VG board on the 10th; and alongside Nauer, none other than Mr Hurni-Gosman of soon-to-be-bust BVI wheeze AGMAC. Here's the very next GXG release from VG Resources, 11th Oct:
VG Resources Limited (VG) has today announced with delight that Mr Roland Hurni-Gosman has been appointed as a director and Chief Executive Officer of the company effective immediately. Mr Hurni Gosman, 64, who holds dual British and Swiss nationality, joins VG after a distinguished career in international banking and as a businessman. He was formerly a Managing Director of Credit Suisse Group and an Executive Vice President of Banque Generale du Luxembourg.

He has also held senior positions with Swiss Bank Corporation and was a Managing Director of Apax Group in the Bahamas at the time of its sale to BNP-Paribas. Since 2005, Mr Hurni-Gosman has acted as an advisor to and invested in, a number of companies engaged in the development of natural resources in Africa, the United States and South America. He brings to VG a wealth of international business and finance expertise.
Ok, but what's the deal? Is Mr Hurni-Gosman dismantling VGMC into two distinct vehicles, AGMAC (BVI registered) and VG Resources (GXG listed)? The spilt is far from clear. On the face of it, neither deal involves VGMC shares; just 'assets'. That seems odd too. What happens to the shares?
And anyway, with whom did VG Resources' non-representatives, not-yet-director Hurni-Gosman, or never-a-director Bryan Cook, negotiate the deal announced on the 6th? The Panama register tells us that at the time of the deal announcement, the directors of VGMC were professional stooges or offshore lawyers. The President was one Gerasimo Samudio, currently a director of 2,076 Panamanian companies, though I expect that total will have changed by the time you read this. I doubt if Hurni-Gosman or Cook would have got much sense out of Gerasimo, who is a mere low-paid cipher.
Meanwhile, archives of the VGMC web site proclaim an entirely different set of spurious  directors, but they are even more ghostly than Gerasimo: untraceable, in fact, apart from press releases that anyone could have written.
This whole deal is utter bullshit, obviously, but by the 18th October, the VG Resources announcement is being churned out via the VGMC hype machine, notably the VG Gold channel on Youtube. This screen shot gives another glimpse of the scale of these VGMC events.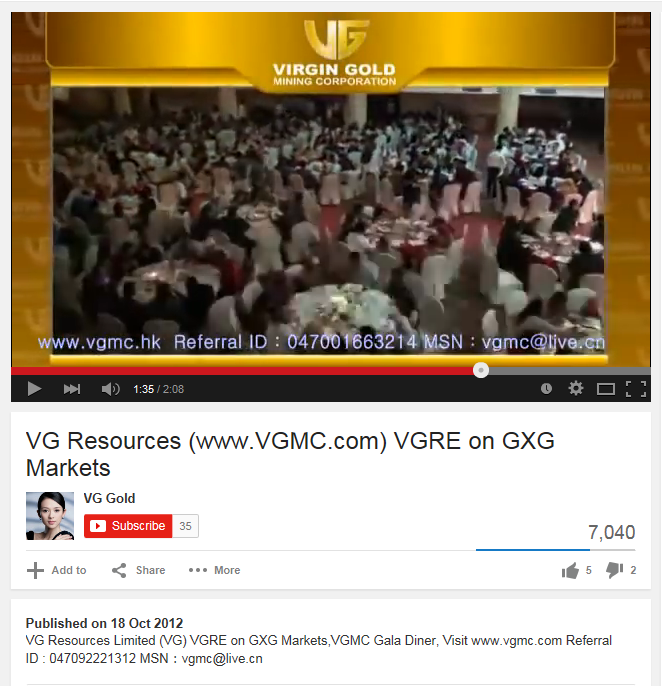 What next? It all comes to a head in mid-2013, via the so-called 'Know Your Client' session in London. Here's the key info about that, from a Scambook complainant quoted in my last post:
All shareholders worldwide are having the news on various websites that all shares got transferred to a fake asset management company in the Virgin Islands which couldn't even start work because it got detected that it was a scam.
…that'll be Hurni-Gosman's disappearing AGMAC…
So VGMC took back the shares and now asking shareholders to travel to London for a so-called 'Know Your Client' session without which shareholders will lose their rights to own shares in a new company called LISTCO.
…so LISTCO must be Cook/Hurni-Gosman's VG Resources.
Spelling it out: VGMC investors who still think there is something to salvage from this wreck will have to demonstrate their commitment by traipsing over to London, from Dubai, the Philippines, Thailand, etc etc, to perform the pantomime of presenting their paper ID (passport, etc) in person, in London. If they are too infirm, too cynical, or (now) too poor to take that trip, or can't get a visa, they'll lose their entitlement and can go hang.
Now that, ladies and gentlemen, is a shot at cooling out a whole bunch of marks, at one fell swoop. It's a way to thin the forest: thousands of distant furious investors become maybe several hundred still-gullible or simply-desperate ones. One problem: these days they can all talk to each other. Keeping them cooled out might still be a problem.
If some do make it to London, there is scope for a second dip into their pockets. It's time to wheel on the VGMC-endorsed Nauer Corporate Service(s), appointed corporate director of VG Resources at the same time as Hurni- Gosman: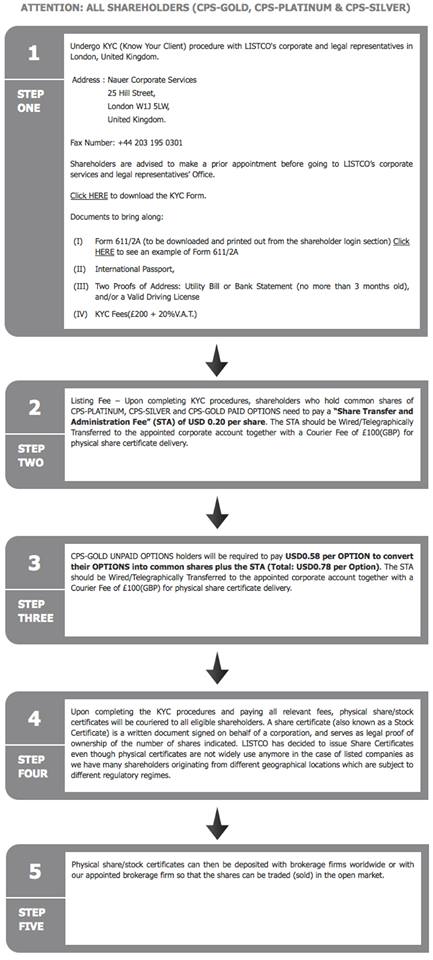 That's quite a lot of dips into pockets: a KYC fee, a share transfer fee if applicable and an option conversion fee. Then there's a return airfare between the Far East and London, and the time and effort expended travelling through all those timezones.
It's time, therefore, for a closer look at the recently established but mysteriously capable Nauer, who appear to have a big payday coming. A VGMC endorsement is not a good start: are they remotely credible?
Nauer Corporate Service(s) is a UK company, registered in late 2012, and still live as of this writing, though (did you guess) its web site, www.nauercs.com, is long gone. The founding director resigned in 2014. His name is Christopher David Orchard and he is or was a director of some 20 UK companies, including Capital Venture Europe, a GXG-listed shell founded by the renowned Canadian pump and dump artist Julius Csurgo, whose Merger Law brand and MonoBank PLC were the subject of a 2009 warning by the then-FSA.
Orchard's other past directorships have included HK6 Services Limited and Euro Forex Services (UK) Ltd. In both cases he was replaced by our Bryan Cook, so Orchard might just be another part of the team  behind VG Resources.
At the risk of sounding unfair: given those connections, readers may wish to take a cautious view of the genuineness of the KYC exercise conducted by Nauer.
Another reason to be doubtful is that firms conducting anti money laundering procedures in the UK, of which Know Your Client forms a part, are regulated in the UK by the Financial Conduct Authority. Yet there is no sign of an FCA Registration number in the archives of Nauer's web site, nor any sign of Nauer in the FCA's online register of authorised firms.
It's certainly fair to say that Nauer's engagement with the investors who rock up at Nauer's Mayfair office doesn't start well (click the picture for  a legible version):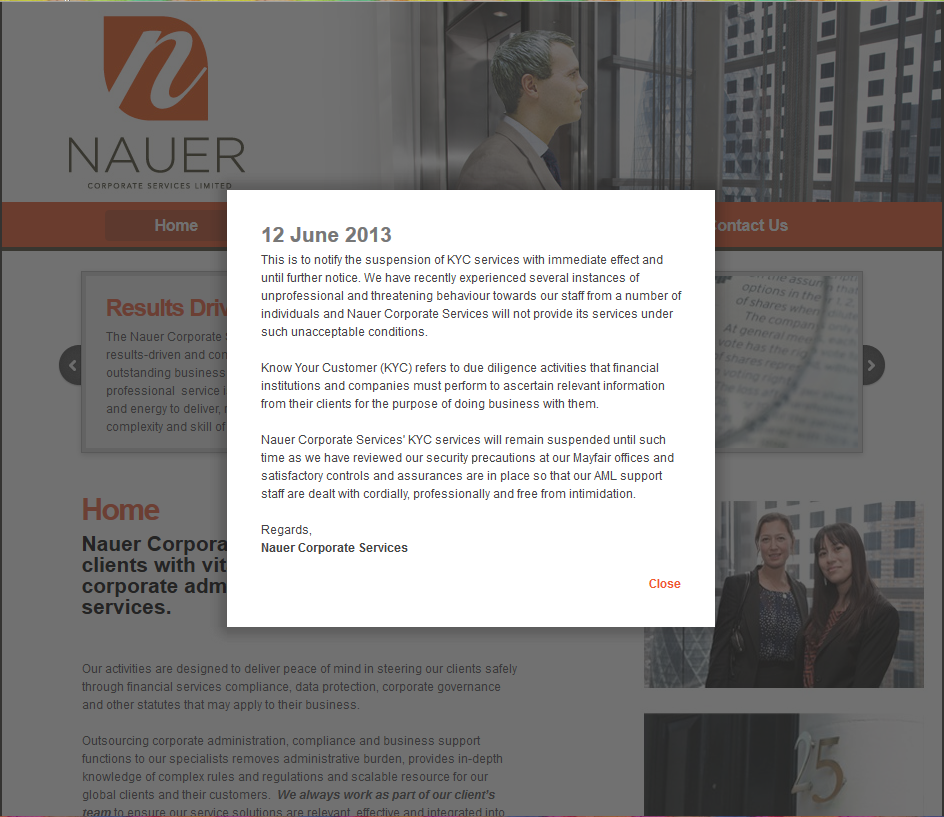 Neat: it must now look to some of the credulous investors who lined up a trip to London as if some of their hooligan fellow-investors have destroyed any chance of recouping the funds that went into VGMC. Divide and rule!
In what can hardly be a coincidence, VG Resources starts messing with VGMC investors' heads in a whole new way just 48 hours later:
PR Newswire

London, June 14

VG Resources: Deal with VGMC not proceeding

On 6th October 2012 the board of VG Resources Limited (VG) announced that itagreed terms with Virgin Gold Mining Corporation of Panama (VGMC) under which VG would acquire a range of assets from VGMC. VG emphasised that the deal with VGMC was to be an asset acquisition and did not entail VG acquiring any shares in VGMC.

The Board of VG Resources advises that the acquisition of assets from VGMC will not go ahead. The companies have not concluded this arrangement and VG Resources continues to identify relevant and value adding acquisition opportunities.

As with all important business decisions, thorough evaluation of proposed acquisitions need to deliver shareholder value and this remains the first and foremost priority for the business.
There goes Plan B…and now there isn't even a prospective UK-regulated listing deal to justify the meaningless KYC exercise in London. Preposterously, the pointless but expensive KYC exercise proceeds anyway. By September 2013, Nauer has stopped sulking about the unprofessionally-behaved VGMC scam victims…who are still showing up in London!
But that's scam victims for you: they often don't stop at just one crazy bad decision. A bit of money will stick to Nauer via the various fees, that's all. Nauer's web site folds its tents and departs into the night at the end of 2013, though maybe the KYC dribbled on for a bit after that.
But why are the investors still bothering with this London trip? After AGMAC (Plan A, which evaporated sometime after 27th May 2013) and VG Resources (Plan B, defunct after that 14th June 2013 GXG announcement), the remaining overseas investors, who troop in very expensively to Nauer, during the second half of 2013 or after, must now be trusting to some unannounced Plan C that will rescue their original investment in Virgin Gold Mining Corporation.
So what is plan C? It's a bit like plan B, but with a twist, and it is the subject of our next post.