Those who were hoping that Syriza would be cowed by the ECB's aggressive moves to shut Greece out of bond markets and Eurozone finance ministers' unified resistance to the new government's proposals are no doubt frustrated by its refusal to capitulate. On Sunday, Greek prime minister Alexis Tsipras gave a rousing speech reaffirming Syriza's plans. Ekathimerini's summary:
Prime Minister Alexis Tsipras on Sunday presented his government's policy program in Parliament, pledging to implement pre-election promises to revoke austerity measures, though not all at once…

The premier said the government would not seek an extension to Greece's bailout, noting that it would be an "extension of mistakes and disaster," and reiterated Greek demands for a "bridge" deal to be put in place until a "mutually acceptable agreement" is reached with creditors. "We do not intend to threaten stability in Europe," he said, adding, however, that he would not "negotiate" the country's sovereignty.

Tsipras said his government needs "fiscal space" for a discussion on restructuring Greece's debt and a new deal, adding that increasing austerity would only exacerbate the problem.

He pledged to replace a unified property tax (ENFIA) with a new tax on large property and to increase the tax-free income threshold to 12,000 euros from 5,000 euros. He also vowed to introduce a fair tax system and crack down on tax evasion and corruption. Collective wage bargaining will be restored, Tsipras said, adding that the minimum wage will return to 751 euros a month from 586 euros, though gradually from now until 2016.

Greek authorities would also reinstate at the end of the year the so-called 13th pension for retirees earning less than 700 euros a month, Tsipras said.

A chief priority remains tackling the "humanitarian crisis," he said, pledging free electricity and food to households that have fallen victim to the "barbarous measures" of recent years. In the civil service, immediate rehirings will include dismissed Finance Ministry cleaners, school guards and university administrative staff, he said, noting that this would not burden the budget and will come from planned hirings for 2015.
In parallel, a number of observers, including Alan Greenspan, argue that Greece either has to, or by virtue of not being willing to bend to the Troika, will wind up leaving the Eurozone. And at the moment, the Greek government does appear to have set up some incompatible boundary conditions: not defaulting, not "threatening the stability of the Eurozone," which presumably means a Grexit, but also not accepting demands that the Troika is treating as non-negotiable.
As we've stressed before, while a deal on restructuring Greece's debt could probably get done, it seems highly unlikely that a compromise can be found between the bailout brigade's idées fixes around structural reforms, which amount to squeezing labor, which stands in stark contrast with Tsipras' plans to boost wage levels and labor bargaining rights. Greece also wants to reduce the primary surplus it is required to achieve from 4.5% to 1% to 1.5%. While some respected commentators like Martin Wolf at the Financial Times regard that as a reasonable ask, the belligerent mood among Greece's creditors means that this request is also likely to be rejected.
Here are some of the grim verdicts from the press. First, from Wolfgang Munchau in the Financial Times, in an article titled, All Grexit needs is a few more disastrous weeks like this:
The first two weeks after Syriza's victory in the Greek elections had the effect I feared. A sceptical northern European public was converted into a hostile one…

Politically, the situation is now as bad as it was in 2010 when the Greek debt crisis began. It was an utterly disastrous week of economic diplomacy.
And Greece watcher Hugo Dixon at Reuters:

But here is the disconnect: Syriza is right. Austerity is a failure. Even the IMF effectively admitted that, although the policy side seems to ignore what its own research says.
Curiously, it was Bill Mitchell, and not the IMF, who put together this table that shows how the IMF forecasts for Greece under austerity compared to what actually happened: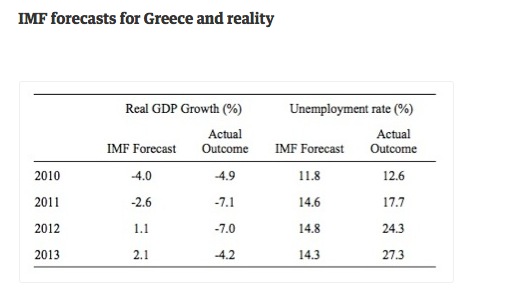 And Ambrose Evans-Pritchard highlights another axis of failure: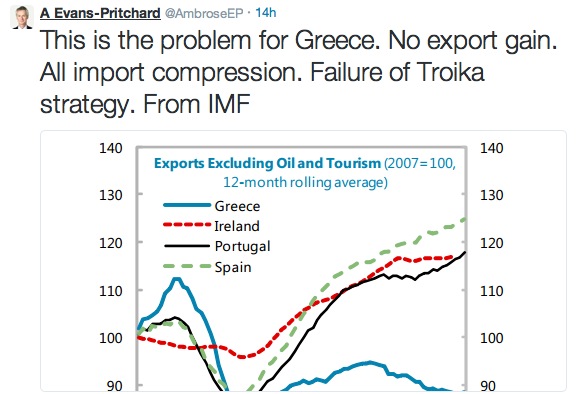 And Finance Minister Yanis Varoufakis continues to make waves by telling unpopular truths about austerity and the fragility of the Eurozone. From Reuters (hat tip furzy mouse):
In an interview with Italian state television network RAI, Varoufakis said Greece's debt problems must be solved as part of a rejection of austerity policies for the euro zone as a whole….

The euro zone faces a risk of fragmentation and "de-construction" unless it faces up to the fact that Greece, and not only Greece, is unable to pay back its debt under the current terms, Varoufakis said.

"I would warn anyone who is considering strategically amputating Greece from Europe because this is very dangerous," he said. "Who will be next after us? Portugal? What will happen when Italy discovers it is impossible to remain inside the straitjacket of austerity?"

Varoufakis and his Prime Minister Alexis Tsipras received friendly words but no support for debt re-negotiation from their Italian counterparts when they visited Rome last week. But Varoufakis said things were different behind the scenes.

"Italian officials, I can't tell you from which big institution, approached me to tell me they backed us but they can't tell the truth because Italy also risks bankruptcy and they are afraid of the reaction from Germany," he said.

"Let's face it, Italy's debt situation is unsustainable," he added, a comment that drew a sharp response from Italian Economy Minister Pier Carlo Padoan, who said in a tweet that Italy's debt was "solid and sustainable."
Most observers believe Greece has to knuckle under, and along conventional reasoning like that of Wolfgang Munchau, taking a tough position when you have a weak hand only leads to worse outcomes. The basis for the thinking that Greece must give in is its near-term funding needs: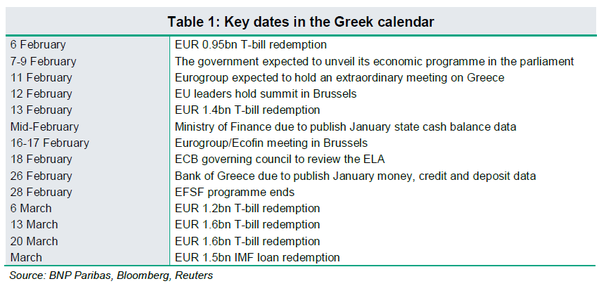 And Greece is cheeky enough to be asking for a short-term lifeline even as it is otherwise defying its financial overlords. From Reuters:
Instead of the next tranche of bailout funds – 7.2 billion euros due, pending a suspended review – Greece's new government wants the right to issue more short-term debt beyond a current 15 billion euro threshold. It also wants 1.9 billion euros in profits from Greek bonds held by the European Central Bank and other euro zone authorities.

With that as a bridge, Greek officials would then try to renegotiate payment of Greek sovereign bond debt, perhaps by extending payments, only paying interest and getting some respite on the budget surplus it is expected to run.
However, as much as Greece would like to get some relief while it is in negotiations, over the weekend government official indicated they can go it alone, at least for a few months. From another Reuters account:
Greece faces interest rate payments of around 2 billion euros over February and should repay a 1.5 billion euro loan to the IMF in March.

That has raised concerns the country may suffer a cash crunch, but this was dismissed on Saturday by the Greek official in charge of the government's accounts.

"During the time span of the negotiations there is no problem (of liquidity). This does not mean that there will be a problem afterwards," Deputy Finance Minister Dimitris Mardas said on Mega TV.

Asked whether the state may suffer a cash crunch if talks drag on until May, the minister said he did not expect the negotiations over a new deal to last that long.

"Even if they did, we can find money," he said.
Now in fact we won't know the full details of Greece's proposal until it tables it Wednesday, February 11 (although it is likely to go to a working group on Tuesday so we may get leaks then). However, the Greek government has been very consistent in its position, save Varoufakis' initial wobble on asking for debt writedowns, then changing that to suggesting financial structures that align incentives better and would also have the economic impact of a haircut. So if Greece makes no changes in its position, given that it is predictable that its request for financial break will be rejected, that would indicate that the upstart government is confident that it can pay its bills at least through the end of March.
That alone would represent a tactical defeat for the Troika. The whole point of the ECB mugging Greece last week was to force to the negotiating table by the end of the month, to take the bailout funds and all the existing "structural reform" strings attached. We discussed at some length why a short negotiating time frame was to the creditors' advantage.
And here is why the provocative move of Varoufakis' rejecting the Troika bailout monitors may actually have been inspired: with no Troika spies in Greece, Syriza knows where its finances stand, but the parties across the table are in the dark. Syriza is in a much better negotiating position keeping that critical information to itself.
Even though the odds of Syriza prevailing are still remote, the longer it can keep the negotiations going, the more press it gets, and the more it dents the perception that the Troika is all-powerful. Moreover, some of the governments that are most opposed to Greece getting a break are the governments of periphery countries that sold out their populations to the banking classes, namely Spain and Portugal. But there are two rounds of elections in Spain, in March and April. If anti-austerity party Podemos continues to gain in the polls, the government may feel pressured to moderate its stance in order to save its hide: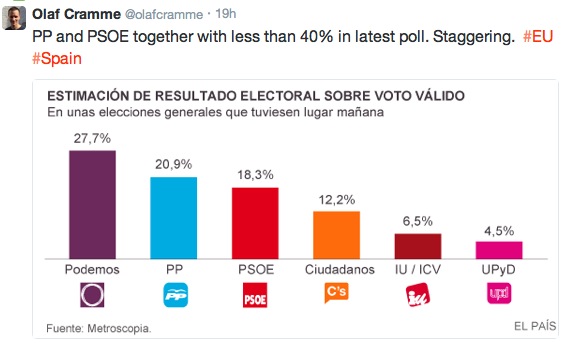 As we've also said, an even bigger potential political threat is France's extreme right wing, anti-Eurozone party Front National. Its leader Marine Le Pen has already promised to leave the Eurozone. Front National could well gain 5% to 10% in the polls if the party plays up the harsh treatment of Greece is being treated as showing how hostile unelected EU bureaucrats are to nation-states. The open question is whether it chooses to play that card before regional elections in France at the end of March.
Although they are less likely to be of immediate help, financial commentators are also showing some sympathy with much, and in some cases, most of Syriza's critique of extend and pretend. Even qualified media validation of Syriza's upstart effort chips away at the veneer of the Troika's legitimacy. And as we discuss in an accompanying post, Bernie Sanders has noticed (as we have) the Fed's dereliction of duty in not trying to curb the ECB in pursuing a course of action that puts the Eurozone, and hence US incomes and jobs, at risk. So again, while success is still a remote possibility, more external pressure may be brought to bear on the ECB and some of the Eurozone states, particularly if the negotiations drag on, the odds of a Grexit or default rise, and a Greek unraveling looks more and more likely to create political contagion.
Again, I must stress to readers that the odds are still very much against the Greek government. But despite the German paper Frankfurter Allgemeine Sonntagszeitung (FAZ) depicting pro-government rallies in Athens as part of a Syriza permanent campaign, the English version of Die Welt reports that the Greek public is firmly behind the new government's concerted efforts to get a better deal from its paymasters and to give its citizens a say in their own destiny. So the fight is still very much on.
Not Quite an Update 6:30 AM. This post has not yet launched yet, but Syriza looks to be knocking a big hole in one of the Troika's, and even more Germany's, pet assumptions: that there was no contagion, meaning financial contagion risk, in the event of a Grexit. Mr. Market is already not happy with mere brinksmanship. From the Financial Times:
Monday 10:40GMT. Europe's main equities markets are falling fast in early trade, as investors' attention turns back to the relations between Greece and its creditors.

Germany's Xetra Dax is under the most pressure among the region's main indices, its losses extending as the session progresses. The Frankfurt index is now down 1.8 per cent, having started the day down 0.8 per cent. The FTSE 100 in London is down 1 per cent while the CAC 40 is off 0.8 per cent in Paris.

On the eurozone periphery, Spain's Ibex 35 is 1.5 per cent lower while Portugal's PSI 20 is down 0.7 per cent. Greece's main index, the Athens General, is 5.2 per cent lower with banks once again taking heavy losses — the sub index tracking the Greek banking sector is down 10 per cent. The region-wide FTSE Eurofirst 300 is 1.3 per cent weaker.

The losses come after a defiant speech on Sunday from new Greek prime minister Alexis Tsipras, in which he said the country would not seek an extension to the country's current bailout, putting his leftwing government on a collision course with its creditors in the run-up to this week's EU summit.

Greece's sovereign borrowing costs are higher, with the yield on its 2-year debt up 70 basis points at 21.33 per cent and the yield on 10-year debt up 59 basis points at 11.04 per cent.
Now having said that, the Eurozone authorities are (unlike their American counterparts) presumably more worried about bond yields than equity markets. The Euro has traded up a smidge this AM, so the worries that have led equity investors to reduce risk exposures have not translated into further weakening of the Euro.