By Richard Smith
It looks very much as if the Public Accounts Committee read my recent blog post about HSBC and Mossack Fonseca. The blog post simply backfitted some sourcing from public records to a very good article in vice.com by Ken Silverstein about the phenomenally awful clients of Panamanian law firm Mossack Fonseca, and tied all that up with the embattled CEO of scandal-ridden money laundering megabank HSBC.
The Assad and Mugabe connections to Mossack Fonseca, which are just instances of the full horror, made it to the account of the Public Accounts Committee hearings provided by The Guardian:
It was Stuart Gulliver's bad luck to be summoned before the Treasury committee last week. Margaret Hodge, chair of the public accounts committee, doesn't take kindly to being upstaged by other committees and clearly felt that she should have had first dibs at the HSBC chief executive. It was doubly bad luck for Gulliver that this could well be Hodge's last committee as chair; if Labour have a majority at the next election, the Tories will insist on a Conservative chair. Even at her gentlest, Hodge is a ferocious interrogator; when she's facing her swansong in front of a large audience that included the Argentinian ambassador, she is merciless.

In front of the Treasury committee, Gulliver had picked his fingers to the bone. With no flesh left to pick, he kept his stumps firmly clasped together throughout. He looked and sounded like a man who expected the worst. Last week he had sounded defiant, unrepentant even. Before Hodge, his voice quavered. She has that effect on people.

"You got paid through a Panamanian account that had been set up by a man who managed accounts for Assad and Mugabe," she observed. Gulliver prevaricated, saying that though it looked bad, it really, really wasn't. Hodge unleashed her pet pitbull, Stephen Phillips, the Tory MP who could well have been in line to be the committee's next chair had he not been earning so much as a QC. "We will get on a lot better if you answer questions directly," Phillips snapped. "Why did you choose Panama?" "I didn't choose Panama," Gulliver said. Hodge and Phillips started laughing. As did everyone else.

Once Gulliver worked out that the quickest way out of this was to accept he was a fairly useless person, Hodge lost interest and turned her attentions to Chris Meares, the man who had been in charge of HSBC's private banking arm while industrial-scale tax evasion and money laundering was taking place. It was one of life's more unequal contests. "I have never had my honesty and integrity questioned," Meares squeaked.
The section from from 15:20 onwards of the recorded session from the Parliamentary Accounts Commission session will sound strangely familiar to readers of NC's recent post or the vice.com article. The word 'bagman', not really Margaret Hodge's vocabulary, but very much vice.com's (and mine, lately), is as good a marker as any.
So anyway, the Parliamentary Accounts Committee beat up Stuart Gulliver, who just sort of rolled up into a ball and took it, armoured by his confidence that his own tax affairs were in perfectly good order, and not that easy to check up on anyway. Perhaps the Committee should have gone after the deplorable risk and reputation management implied by the tie-up to Mossack Fonseca, instead.
It doesn't matter much though: courtesy of the Public Accounts Committee, a nice big stone has descended at speed into a very murky pond. There are ripples. The pond life is stirring!
First to break the surface is Sir Alan Duncan, as reported on the 11th March:
A senior Tory has accused Margaret Hodge, the Labour chair of the public accounts committee, of bringing parliament into disrepute by being "abusive and bullying" towards senior HSBC executives when they appeared before her panel.

Sir Alan Duncan, a former international development minister, called on Hodge to apologise after she demanded that Rona Fairhead quit or be sacked as chair of the BBC Trust over her role as an independent director at HSBC.

In a letter to Hodge, Duncan also claimed she had made "undoubtedly libellous assertions" about the tax affairs of the bank's chief executive, Stuart Gulliver.

The letter follows a fraught hearing on Monday when MPs from both parties questioned three HSBC bosses over allegations that its Swiss private banking arm had colluded in tax evasion and avoidance by its clients.

During the hearing, Hodge said Fairhead's performance as an HSBC director – a job for which she is paid £513,000 – meant that she was no longer fit to continue in her £110,000-a-year role heading the BBC Trust.
The report adds:
Duncan, who has been a longstanding critic of Hodge's combative style at the helm of the public spending watchdog, said she was guilty of straying beyond the committee's remit and indulging in "inappropriate grandstanding".

…

You were rude, abusive and bullying in a manner which brings your committee and the proceedings of the house into disrepute," he told her.
Oddly, I couldn't confirm Duncan's status as "a longstanding critic of Hodge's combative style" anywhere online. Let's have some links to other public statements by Duncan on Hodge, or it didn't happen, that criticism. I can always update the post if someone shows me counterevidence. In the mean time, it's almost as if someone had made that bit up, to camouflage quite another interest that Duncan might have in this story.
Let's suppose that in fact Sir Alan cares little about Rona Fairhead, but, for quite different reasons, might like it if the PAC was considered disreputable. Where does that take us? Let's look where Sir Alan doesn't want us to look, shall we?
It's all to do with big oil. Let's go back to 2011, when Sir Alan Duncan was plain old Alan Duncan, and a serving minister:
The government has admitted that the international development minister, Alan Duncan, took part in meetings between officials operating a Whitehall cell to control the Libyan oil market and Vitol – a company for which Duncan has previously acted as a consultant.

The "Libyan oil cell" involved a group of officials working in the Foreign Office since May waging a quiet campaign against Muammar Gaddafi's regime by controlling the flow of oil in the country.

It is said to have played a discreet but crucial role in the campaign in Libya by helping to enforce the sanctions regime to prevent Gaddafi importing and exporting oil while allowing oil to reach the rebels in the east. That oil came via one company, Vitol.

Duncan, a former oil trader and multi-millionaire, has had a 30-year friendship with the managing director of Vitol, Ian Taylor, at one point operating as a consultant to the company and as a non-executive director to a subsidiary firm. Taylor has also been a Tory donor, declared on Duncan's parliamentary register of interests.

Douglas Alexander, the shadow foreign secretary, said the government's disclosure of the existence of the oil cell was mired in mystery about Duncan's role in it. "Given Alan Duncan's reported links with Vitol this curious briefing from within government actually raises more questions than it answers," he said.
There seems to be some sort of row going on between the Government and the Foreign Office:
Civil servants in the Foreign Office are known to have expressed deep concerns about the existence of the cell, warning that it appeared to be encroaching too far on commercial purposes. One person with knowledge of the Whitehall machinations described their mood as "mutinous".

A senior government source with a close understanding of the NSC said Duncan was crucial to the genesis of the cell, but acknowledged the civil service angst, adding: "There's always a certain type of civil servant who thinks the role of civil service is not to be in contact with the real world at all, but the difficulty with that is if you want things to happen you do need to understand what's happening outside the civil service."
Vitol turn out to be quite an interesting bunch.
Vitol is the largest trader of oil and refined products in the world. The business – named after two Dutchmen that originally founded it as a barge operator in Rotterdam – buys and sells more oil and gas than household names such as BP and Shell.

Vitol handles about 5m barrels a day and controls 200 supertankers and other vessels to move it around the world. The company – officially based officially in Switzerland – does not control the giant oil fields or petrol stations associated with the likes of BP and Shell but does engage in exploration from Russia to West Africa, as well as storage and a host of other activities. It also turns over revenues of more than $140bn (£87bn) in a good year. It has a presence in every leading oil-producing country, including Iraq and Syria.

Taylor has retained a good friendship with Duncan since the two met as oil traders at Shell. The Tory politician sat on the board of oil company Arawak until it was bought in 2009 by Vitol.
Here's some more from the Scottish newspaper The Herald, giving Vitol the right of reply to various points made in a report on the funding of the Scottish Referendum's "No campaign" (Vitol's Taylor made contributions).
Here are the detailed responses from Vitol to points put by The Herald for this story, which were sent by the company's PR firm at 7pm on April 9 2013, and added online on April 16:

1. (The Herald) In 2001 the Observer revealed that the company paid a million dollars to Serbian war criminal Arkan to sort out an oil deal with the regime of Slobodan Milosevic which had turned sour.

(Vitol) The facts to which the article in question relates date back to the 1990s and did not involve any illegal conduct on Vitol's part. At no stage has any government or regulatory agency investigated or accused Vitol of engaging in any illegal conduct in relation to the facts in question.

2. In 2007 Vitol pleaded guilty in a New York court to paying bribes to officials of Saddam Hussein, undermining the UN oil-for-food programme in Iraq. It paid fines, restitution and costs totalling $17.5m.

This statement is false and misleading. Vitol has never admitted to bribing Iraqi officials and did not plead guilty to paying kickbacks to Iraqi officials under Saddam Hussein's regime. Along with other lifters of Iraqi crude oil under Iraq oil-for-food programme, including some major oil companies, Vitol has acknowledged that some payments were made outside the scope of the UN oil for food programme to the account of the national Iraqi oil company for the development of Iraq's oil infrastructure. These payments were surcharges demanded by the state oil company of Iraq (SOMO) from all lifters, and were paid to the account of the national Iraqi oil company. They were neither bribes nor kickbacks.
Here I must interject something. According to Manhattan District Attorney Robert Morgenthau, reported in Bloomberg, Vitol pleaded guilty to theft (first degree grand larceny), not to bribery:
Nov. 20 (Bloomberg) — Vitol SA, a Switzerland-based oil-trading company, pleaded guilty to theft and will pay $17.5 million for paying kickbacks to Iraq for oil bought under the United Nations oil-for-food relief program.

The company pleaded today in state court in New York, Manhattan District Attorney Robert Morgenthau said.

…

Vitol paid $13 million in kickbacks to Iraqi officials while UN officials running the oil-for-food program were led to believe no such payments were made, according to Morgenthau.

…

Morgenthau's investigation of Vitol began as a result of a 2005 inquiry of the UN program led by former U.S. Federal Reserve Chairman Paul Volcker. More than 2,200 companies paid almost $1.8 billion in bribes to Hussein's regime to win contracts, Volcker found.

In June 2001, a Vitol agent was told by Iraqi officials that surcharges must be paid, according to the plea agreement. From then to September 2002, Vitol paid $13 million in surcharges, either directly or sellers of crude oil, prosecutors said.

Serge Boidevaix, a former secretary-general for the French Foreign Ministry, was president of Vitol SA Paris, a shell company, and acted as an intermediary with the Iraqis, according to New York prosecutors. He has been under investigation in France since 2005.

Vitol's Plea

In the New York case, Vitol pleaded guilty to first-degree grand larceny and agreed to pay the $13 million in restitution to the Iraqi people plus $4.5 million in lieu of fines, forfeiture and the cost of the prosecution.

"This agreement brings to a close the government's investigations of Vitol and its affiliates regarding the U.N. Programme,'' Vitol said in a statement.
So that's all right then, at least in the mind of Vitol's PR man. "Vitol pleads guilty to grand larceny" turns into "Vitol has acknowledged that some payments were made outside the scope of the UN oil for food programme", and when the Herald reports "grand larceny and kickbacks" as "bribery and kickbacks", it's "false and misleading".
I venture to suggest that it's not quite as misleading as Vitol's PR.
Back to The Herald and Vitol:
3. In September last year Vitol admitted buying and selling Iranian oil in a deal with China, but its Swiss status meant it did not technically breach EU and US sanctions.

Vitol has at no stage broken any sanctions on trading oil. Vitol ceased all sales of refined product to Iran and all purchases of crude oil from Iran before the introduction of all relevant international legislation. Vitol is fully compliant with applicable international laws and regulations governing trade with Iran. We refer you to a statement published on the Vitol website on 26 September 2012 in this regard:

http://www.vitol.com/latest-news/192-vitol-statement-concerning-trade-in-iranian-crude-oil-and-oil-products

4. During and after the Libyan conflict Vitol played a controversial role, providing fuel to rebels and selling their raw product – deals said to be brokered by Foreign Office officials and by International Development Minister Alan Duncan – a former friend and work colleague of Mr Taylor and the recipient of donations from him.

The facts are that Vitol and other companies, including various oil majors, were approached by the Qatar International Petroleum Marketing Company Ltd with a request to sell a cargo of crude oil supplied by the Libyan company AGOCO, on behalf of what was then the National Transitional Council of Libya (the 'NTC'), and in exchange supply AGOCO with oil products for essential power generation and transportation needs. Following detailed negotiations, Vitol agreed to the proposal at very considerable commercial risk.

Neither Mr Duncan, nor the Foreign Office brokered the transactions in question.

5. Last year it was revealed that for a decade the company had been using Employee Benefit Trusts to avoid tax on incomes of its UK staff and was now in discussion with HMRC about a deal to pay this off.

Vitol is satisfied that all its tax affairs are compliant with the appropriate legislation.  It does not provide public comment in relation to its dealings with the tax authorities in any of the jurisdictions in which it operates.  Nor does it comment on the remuneration of its employees.
Clearly there's nothing to see here. Vitol's guilty plea is an "acknowledgement"; the Herald's reporting is false and misleading; the Public Accounts Committee is being brought into disrepute by Margaret Hodge's grilling of Rona Fairhead.
But still…shell companies, dictators, tax evasion, kickbacks: it's all a bit Mossack Fonseca, isn't it? Surely Margaret Hodge's favourite disreputable Panamanian lawyer, Mossack Fonseca, is nothing to do with Vitol or Sir Alan Duncan? That would be a long shot, wouldn't it?
But, oh dear, either Vitol's been terribly careless with its international branding, or this is Sir Alan Duncan's mate's Vitol's Panamanian subsidiary: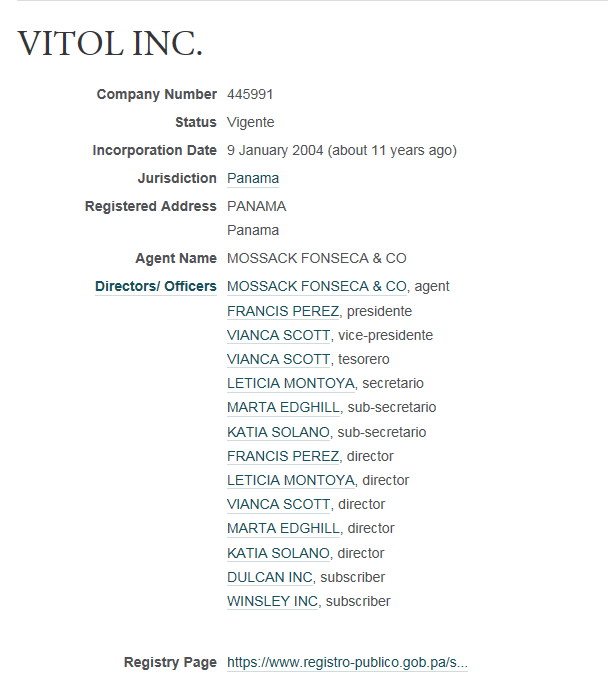 Time will tell how much this really means: there's been a massive data leak from Mossack Fonseca, and 100,000 sensitive Mossack Fonseca emails are cruising towards the world's press.
While we wait for the revelations that will occur once those emails have been analysed, we might as well bear in mind the possibility that the Mossack Fonseca connection and Vitol are parts of the real reason why Sir Alan Duncan is now badmouthing Margaret Hodge.
Naturally, my thanks must go to Sir Alan Duncan for drawing my attention, via his press campaign today, to all of these interesting connections.
Update 9 March 2016: It's the Public Accounts Committee, not the Parliamentary Accounts Committee
Update 11th April 2016: Vianca Scott, currently vice president of Vitol, Inc, died more than a decade ago.