Gator pays golf course a visit 10 News
New Evidence Suggests Last Ice Age Caused By Earth Floating Into Extremely Chilly Part Of Galaxy Onion (David L)
Variable Stars Have Strange Nonchaotic Attractors Quanta Magazine (Chuck L)
Open-source hardware is gaining critical mass Computerworld (Chuck L)
Documents Detail Sugar Industry Efforts To Direct Medical Research NPR (David L)
Apple's high-stakes negotiations with the Chinese government could complicate Obama's tough talk on snooping Quartz. So Apple is perfectly fine with throwing Chinese dissidents under the bus to secure an advantaged position in China. The defiance of the Administration is particularly cheeky given that Apple is a bigger beneficiary of government R&D than Google (see Mariana Mazzucato's The Entrepreneurial State for details).
Global Capital Heads for the Frontier Dani Rodrik, Project Syndicate (David L). Rodrik has argued for capital controls in emerging economies, and makes his case here.
BOJ Aggressively Buying Japanese Stocks Wall Street Journal (EM)
That euroglut outflow and the real Japanisation of Europe FT Alphaville. Important.
Global finance faces $9 trillion stress test as dollar soars Ambrose Evans-Pritchard, Telegraph
Dollar surge poses policy dilemma for Fed Financial Times
This is historic: The dollar will soon be worth more than the euro Washington Post (furzy mouse). Well, no, it has traded as low as .89….
Grexit?
Ukraine/Russia
IMF aims for 'immediate' stabilization with latest Ukraine bailout deal Reuters. Jim Haygood: "What a catastrophe. One couldn't design a more certain train wreck."
Syraqistan
Why Obama's Hopes Of Decapitating The Islamic State Won't Work Andrew Cockburn, Counterpunch

Leak investigation stalls amid fears of confirming U.S.-Israel operation The Washington Post (furzy mouse)

Herzog Lead Over Netanyahu Increases to 4 Seats Daily Kos (furzy mouse)
Big Brother is Watching You Watch
New smoking gun further ties NSA to omnipotent "Equation Group" hackers ars technica (Chuck L)

Cellphone tracking technology comes to Los Altos Hills Los Altos Town Crier (Balaji). "'So, just to be clear,' [county supervisor Joe] Simitian said, 'we're being asked to spend $500,000 of the taxpayers' money plus $42,000 a year thereafter today for a product, the brand name of which we're not sure of, the product specs we haven't seen, a demonstration we don't have and we've got a nondisclosure requirement as a precondition?'"
Imperial Collapse Watch
MAYBE OBAMA'S SANCTIONS ON VENEZUELA ARE NOT REALLY ABOUT HIS "DEEP CONCERN" OVER SUPPRESSION OF POLITICAL RIGHTS Glenn Greenwald, Intercept

Postcard from the End of America: Washington D.C. CounterCurrents (RR)
Obama's Selma Song: America Is Not Racist – It's Just Ferguson Glen Ford
House Panel Prepared to Subpoena Over Hillary Clinton's Emails Wall Street Journal
Illinois, unions duel over pensions in state's high court Reuters (EM)
Chris Christie Maintained State Pension Investments In Prudential After Top Official Gave Contributions International Business Times
New Jersey worst state for public pension funding: report Reuters (EM)
Utah Passes White-Collar Felon Registry New York Times
Two Officers Shot During Protest Near Ferguson Police Department NBC (furzy mouse). Uh oh.
New York Hedge Funds Pour Millions of Dollars into Cuomo-Led Bid to Expand Charter Schools Democracy Now
Treasury Urged to Scrutinize Foreign Real Estate Buyers for Money-Laundering Risk New York Times
Wall St. banks launch massive buybacks, boost dividends USA Today
Deutsche and Santander fail US stress test Financial Times
GE Weighs Deeper Cuts to Capital Business Wall Street Journal
Fed Inspector General Reopens Leak Investigation ProPublica. Sure looks like Fed general counsel Scott Alvarez sat on it.
Class Warfare
How income fraud made the housing bubble worse ScienceDaily (Chuck L)
"Trade" Deals
The Trans-Pacific Partnership and China's Reality Triple Crisis

TPP at the NABE Paul Krugman. Krugman comes out forcefully against the TPP, and is also denying Larry Summers what look to be his efforts to define the left flank of respectable opinion. Krugman, as a trade economist, nixing a soi-disant trade deal, is hard to ignore. Peculiarly, he ignores the sovereignty-underminig investor-state dispute settlement panels, but finds more than enough to dislike in the intellectual property provisions.
The Dangers of Intelligence without Creativity or Judgment Ian Welsh. One minor quibble re Larry Summers: even though he is famed for his intelligence, having seen him in action, his reputation rests at least in part on his debating skills (and being a highly dominant personality). Despite economics' fetishization of mathematics, it also prizes argumentation (without, as debaters would, giving demerits for tricks like straw manning and ad hominems, which Summers uses routinely).
There Are Nearly Six Unemployed Construction Workers for Every Construction Job Opening American Prospect
Antidote du jour. Andrea: "Marine birds being beautiful at last week's big blizzard. Tough little guys but always so elegant, even screeching!"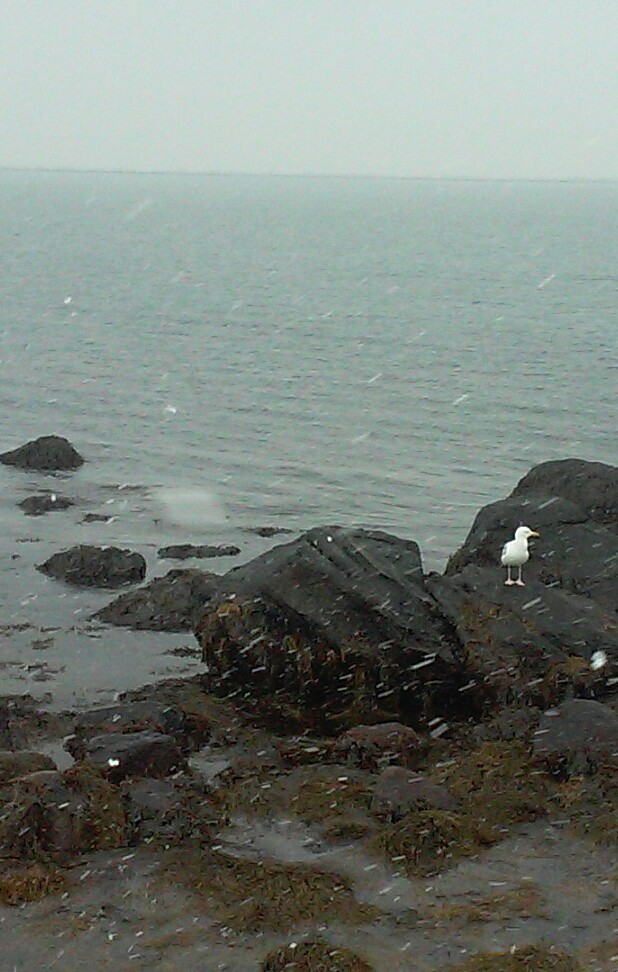 See yesterday's Links and Antidote du Jour here.