By Lambert Strether of Corrente.
TPP
Hatch and Wyden could unveil the fast track bill "as soon as" this afternoon [Reuters].
Senate Majority Whip Cornyn expects vote next Tuesday [Politico]. No amendments allowed [Democracy Now!]
Australia: "What the pharmaceutical industry is proposing is that it be provided with12 years of absolute monopoly – seven years longer than the current data protection period in Australia… Each year of extra monopoly protection would cost Australia's Pharmaceutical Benefits Scheme hundreds of millions of dollars. Over the medium to long term, this could cripple the PBS" [Brisbane Times].
"Hatch revealed that the yet-to-be-unveiled legislation contains 150 negotiating objectives and said his committee will carefully review if the White House has met each one" [The Hill].
Banks and Banking
Derek Kaufman, global head of fixed income at Citadel LLC, is leaving the hedge fund firm after losing $1 billion last year in a variety of trades [Bloomberg]. Even today, a billion is a lot of money!
"Mr. Bernanke will become a senior adviser to Citadel, the $25 billion hedge fund founded by the billionaire Kenneth C. Griffin" [New York Times]. And to think Ben got his start blogging!
Dutch Nazi-costumed dominatrix banker fired [Daily Mail]. €10K a week seems low. Perhaps that was the difficulty?
2016
Sanders to hold conference call with Iowa Democrats tonight, Thursday [Guardian].
"So let Bernie risk the "spoiler" role and, as a presidential candidate, spearhead a truly progressive movement under whatever third-party ticket serves him best" [Manchester Journal].
Elizabeth Warren: "When small banks break the law, their regulators do not hesitate to shut down the banks, toss their executives in jail, and put
their employees out of work." Not to be churlish, but I'd like to see jail time for executives as a bullet-point policy recommendation ["The Unfinished Business of Financial Reform," Remarks at the Levy Institute's 24th Annual Hyman P. Minsky Conference (PDF)]. And the audio (Furzy Mouse). The venue — Levy Institute is a citadel of heterodoxy, and the Wall Street Journal doesn't name it in its coverage — is as interesting as the message.
Clinton on Warren in Time's "100 Most Influential People": "she never hesitates to hold powerful people's feet to the fire: bankers, lobbyists, senior government officials and, yes, even presidential aspirants" [Time].
The S.S. Clinton
Chafee: Clinton too "Bush-like" on foreign policy [CNN].

Three tough questions for Clinton [WaPo].

1. Will Clinton support the trade deal in the Pacific?

2. What does Clinton think about standardized testing in schools?

3. Will Clinton propose an expansion of Social Security?

NC readers have a lot more questions than three!

Weeks after Cisco executives killed a shareholder initiative to force the company to prevent the Chinese government from using Cisco technology to engage in what critics said was widespread human-rights abuse, Cisco was honored as a finalist for the State Department's award for "outstanding corporate citizenship, innovation and democratic principles." The next year, they won. "[R]ecords reviewed by International Business Times show that Cisco had by December 2008 donated from $500,000 to $1 million to the [Clinton] foundation" [David Sirota, International Business Times].

Clinton's populist themes warm the hearts of liberal donors [WaPo]. No. Policy is all.

"[The Clinton campaign is] all so dull, so bland, so scripted, so planned, so typically political. And perhaps, just perhaps, it's what American voters deserve" [Liz Mair, Daily Beast]. Typically, it's Democrats who blame the voters, not Republicans like Mair.

Clinton video team disputed [Reuters]. Can't tell if the drama is real, or manufactured by the press.
Republican Principled Insurgents
"Rubio Rhetoric Breaks With Past, but Ideas Don't" [AP]. As NC readers already know.

CNN host to Rubio on gay marriage: "You're the candidate of yesterday" [Talking Points Memo].
Stats Watch
Jobless Claims, week of April 11, 2015: Initial claims rise, though 4-week moving average little changed, and is 25,000 below month-to-month comparison [Bloomberg].
Housing Starts, March 2015: Still "sluggish," below expectations. Permits stronger, but still "disappointing" [Bloomberg]. "Overall, housing is still soft even with weather improving. The latest data will likely keep the Fed on the loose side in the near term."
Consumer Comfort, April 12, 2015: Cooled from an eight-year high on expectations [Bloomberg]. "Moods improved for Americans at the top of the wage scale and worsened for those at the bottom. The comfort gauge for workers earning $100,000 or more climbed to 71.9, its second-highest level since August 2007. For the under $50,000 category, it fell to 34.5 last week from 36.1. The 37.4-point gap is the second-biggest between the groups so far this year."
Philadelphia Business Outlook Survey, April 2015: Headline gain masks slowing of new orders and contracting backlog [Bloomberg].
"Not to forget every Fed member recognizes their role in 'managing expectations' as they all believe that the economic performance has a large psychological component. That is, if people were led to believe things were getting worse that would cause a downturn" [Mosler Economics].
Water
California Water Board attempting to flex atrophied muscles, inspired by Brown's rationing order [Los Angeles Times].
When the water runs out in Sao Paolo [Le Monde Diplomatique].
Corruption
Senate leader Dean Skelos and son reported to be targets of Preet Bharara Fed investigation [New York Times].
UK's Northampton University finances new "town centre" campus with private bond issue backed by Treasury [Northhampton Chronicle]. KPMG signed off. So that's alright then.
Black Injustice Tipping Point
"EXCLUSIVE: 'Sir, why was I shot? All I did was reach for my license' – innocent black victim of yet another police shooting calls for bodycams after traffic stop cop opened fire" [Daily Mail]. When the Daily Mail gets in on the action…
Al Sharpton starts hunger strike on Loretta Lynch nomination [The Hill].
Supervisors told to falsify training records training record of Bob Bates, the Sheriff's crony who says he wanted to tase Eric Harris but shot him instead. [Tulsa World].
Class Warfare
"How a living wage is calculated" [The Economist].
Survey: American's economic mood improves (oh?), but almost 70 percent say inequality is growing [Bloomberg].
News of the Wired
* * *
Readers, feel free to contact me with (a) links, and even better (b) sources I should curate regularly, and (c) to find out how to send me images of plants. Vegetables are fine! Fungi are deemed to be honorary plants! See the previous Water Cooler (with plant) here. And here's today's plant, the fourth of "I Wish It Were Spring!" week five (Kurt Sperry):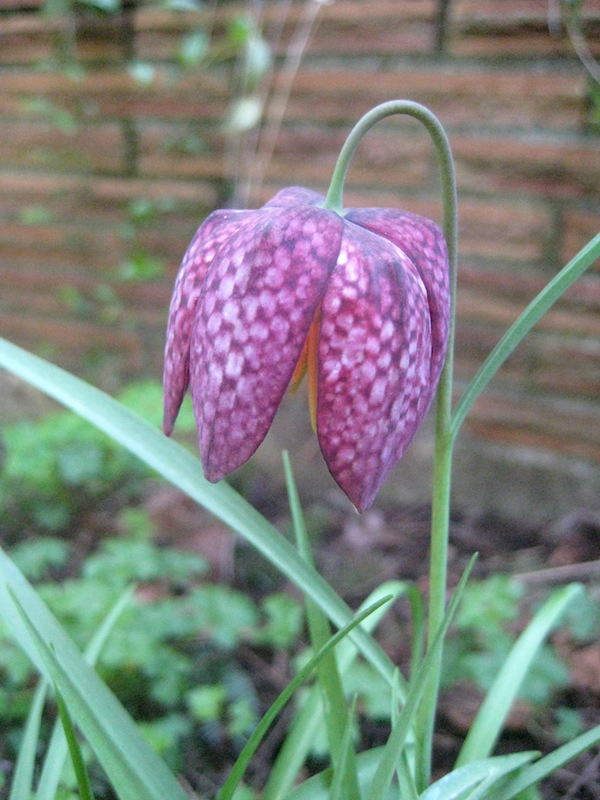 A Fritillaria, or "Checker Lily."
Do others have more gardening photos yet? Too early?
If you enjoy Water Cooler, please consider tipping and click the hat. It's the heating season!
Talk amongst yourselves!