CWM FX was this year's sponsor of the still-enormous, but declining, annual London Boat Show:
Craig Droste, General Manager of CWM FX, said: 'We are exceptionally proud to be the official title sponsor of the CWM FX London Boat Show where we can portray the strength of the relationship between Finance and Maritime Sectors. We are very pleased to add this sponsorship to our growing portfolio of existing sponsorships with CWM Cyclone and Barry McGuigan and in Moto GP with CWM LCR Honda. Its a great time for CWM FX to introduce the ethical and efficient way to trade the FX market on a global scale. Our CEO, Anthony Constantinou always states its just the beginning of a fantastic sponsorship and CWM FX is looking forward to furthering its relationship with the London Boat Show on a larger scale.'
Just the beginning? Constantinou may not have got that quite right. Judging by this report from last week's London Standard, there will be a new sponsor next year:
…early this month, police raided the financial group's premises and arrested 13 people on suspicion of fraud by false representation and money laundering.

For weeks, the police and Financial Conduct Authority would not even confirm it was CWM which was involved. This left it to social media to speculate what might be going on, causing much consternation among its clients.

At the time of the arrests, the Standard called for more information to be made public, either by the police or the Financial Conduct Authority, which assisted in the inquiry.

Now, at last, some of the secrecy is lifting. The police today confirmed it was CWM, and issued a statement calling for anyone who's invested in its managed funds offering 5% interest per month to contact them.

Quite generous, 5% a month.
Readers should of course decode the drily British "Quite generous" as "A screamingly obvious scam". Sustained returns like that are impossible, and only promised in scamland. It appears this "managed fund" was only ever offered over the phone: there's nothing in the web site archives about it.
The lengthy news blackout is not completely unprecedented when there's a boiler room raid, but still interesting. For more than three weeks after the raid, the identity of the raided firm was a mystery, and the raidee denied everything:
CWM FX – a foreign exchange trading platform with a website that lists the Heron Tower in its contact details – wrote on its official Twitter account: "CWM FX is operating as normal. Merely an AML [anti-money laundering] enquiry & had no correspondence to us." The tweet was deleted later in the day.
Indeed it appears that on the very day of the raid, CWM's very well-known spokesperson, last seen acting for the victims in the Murdoch phone hacking enquiry, passed on her client's utterly pointless lie:
On the same day CWM FX instructed high-profile lawyer Charlotte Harris – now working for Kingsley Napley, having left Mishcon de Reya towards the end of last year. Through Harris, who is best known for her role in the phone-hacking inquiry, CWM FX denied that it has been raided by the police or that it has been implicated in any investigation at all.
But news manipulation via a top lawyer is only the start of what happens when you've got an aggressive liar with a bit of money behind him. The CWM fiasco is set to trash quite a few sports-related business plans:
CWM FX not only becomes the new title sponsor of SVR, but its growing portfolio of sponsorships also include Chelsea Football Club, Wigan Warriors rugby league, CWM LCR Honda in MotoGP, CWM Cyclone boxing promotions, Sport Industry Breakfast Club and the sponsorship of the Outstanding Contribution to Sport Award in 2015.

As per the LCR MotoGP bikes, CWM FX's distinctive livery will appear across all of Cheshire-based SVR's Clio Cup cars in 2015 – it hopes to confirm two more drivers in the coming weeks prior to the start of the new season at Brands Hatch, Kent on the weekend of Sat 4th/Sun 5th April. All 18 races on this year's Renault UK Clio Cup calendar take place at British Touring Car Championship events meaning huge trackside crowds and live TV coverage on ITV4.
By 26th March the CWM/Chelsea FC linkup had been airbrushed off the Chelsea web site, of course.
One therefore assumes this partnership won't be happening either: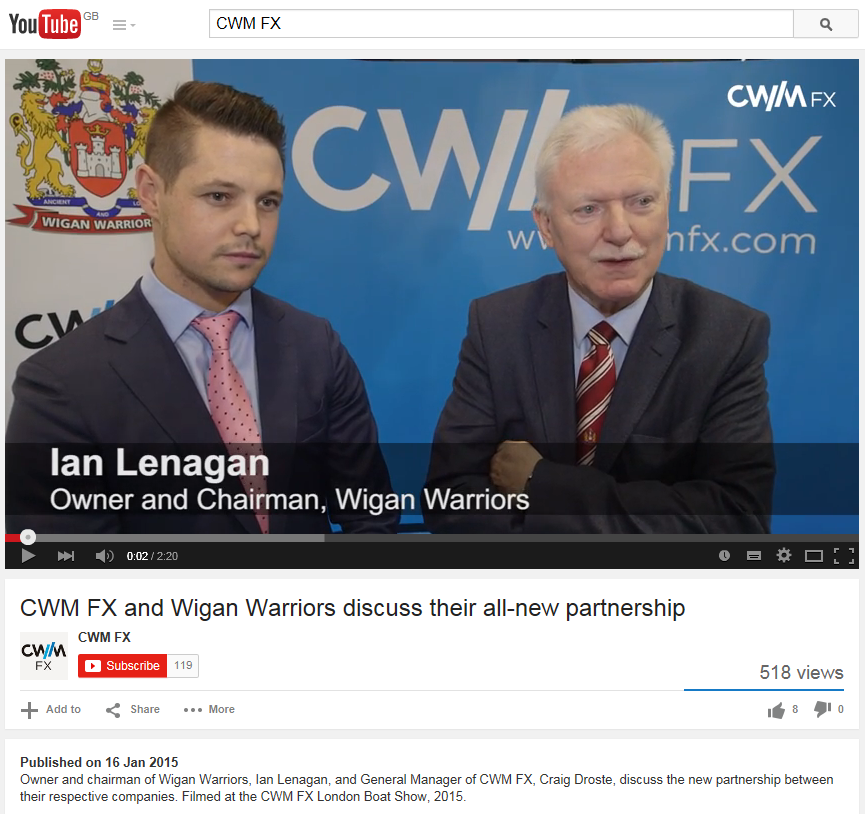 …nor, presumably, will the LCR motorcycle racing deal work out…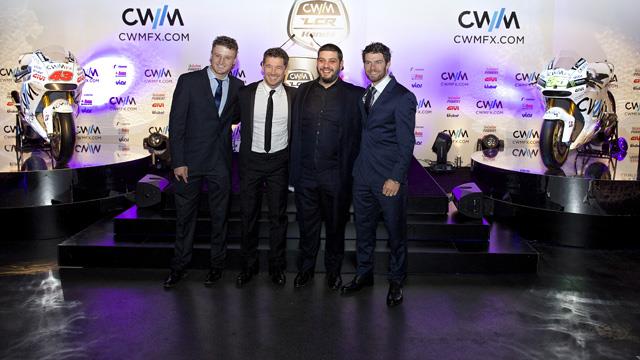 …nor, one supposes, will Cyclone, the TV/Boxing promo deal with former world boxing champion Barry McGuigan, come to anything…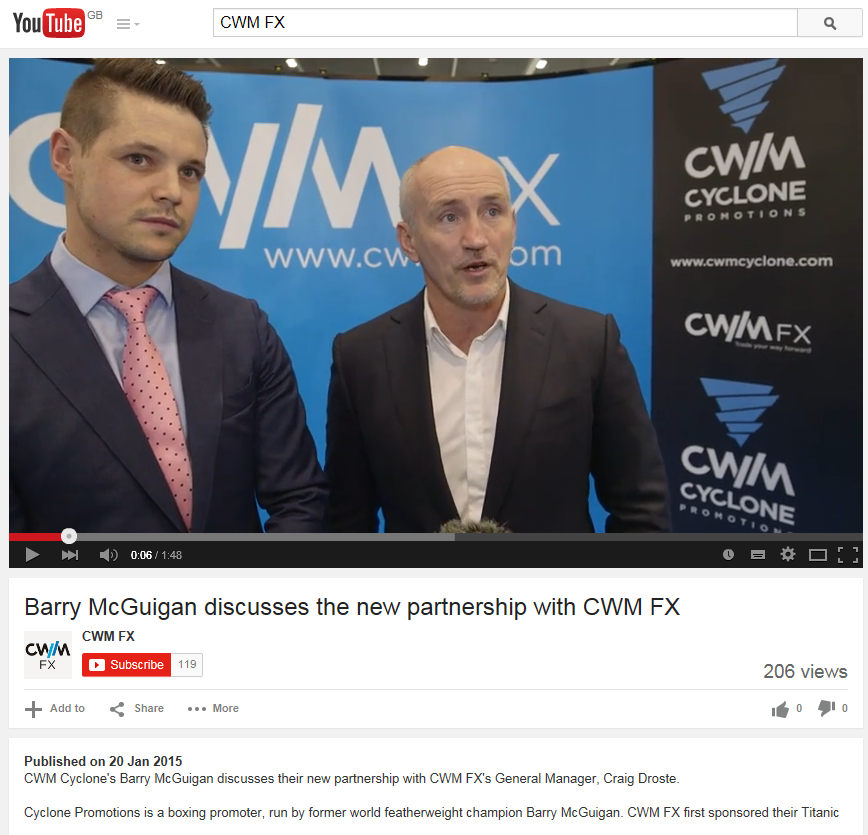 …and I should think SVR's Renault Clio will soon need new livery: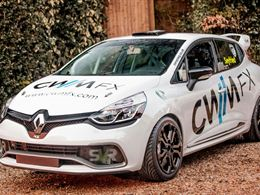 Having reviewed CWM's meteoric sports sponsorship activity, let's return to its boss, Anthony Constantinou, in the Standard:
Sources said CWM's boss, Anthony Constantinou, is one of those who was arrested.

Until today, Constantinou has been better known for being photographed with royals and sports stars due to his company's sponsorship of Chelsea FC and the Boat Show.

But City types recall that he is also the tragic son of fashion tycoon Aristos Constantinou, gunned down in his Bishop's Avenue mansion in 1985 when Anthony was three.

The unsolved case became known as the Silver Bullet Murder due to the six nickel-jacketed bullets that ended Aristos's rags-to-riches life.
"Unsolved" is one word for it. There is a prime suspect:
In February 1999, an assistant commissioner at Scotland Yard wrote to the Constantinou family's MP, Rudy Vis, saying that the second police investigation had involved a "complex and protracted" phase.

The letter continues: "It led to the identification of new evidence which, when considered with the existing facts, pointed directly at Elena Constantinou as being implicated in the murder of her husband, Aristos. "

A series of reports were submitted to the Crown Prosecution Service, detailing the findings of the investigation and recommending that proceedings be instigated against Elena Constantinou."

But, the letter adds, the CPS decided a court would be unlikely to convict.
With that sad and lurid back story out of the way, we can get down to being wise after the event about CWM FX. To some it will seem picky to point out that CWM FX Limited wasn't even registered as a UK company until March 12th, two months after the Boat Show had concluded and, as it turns out, just days after its offices were raided, on the 3rd March. Even the oldest CWM company, CW Markets, was first registered as recently as October 2013. CWM is just a brand, after all: there are plenty of other companies in the bewildering, international and and very newly-built  CWM empire.  Only a pedant would care which particular CWM business entity pays the UK salaries and office rent.
Meanwhile, the CWM FX web site was first registered on 14th November 2013, by proxy, of course, so, even there, CWM FX 's brand connection to the wider CWM group isn't really nailed down in public records. The connection is just implied by the omnipresent Mr Constantinou and the CMW logo.
Then there's this FCA warning from last year, about an FX trading outfit with the same company name as another of Mr Constantinou's firms, Aixia Limited, but trading as "T4X Signals". T4X Signals' archived web site makes contradictory claims: first, that T4X Signals is a trading name of Aixia Limited, and second, that T4X Signals Limited is a UK company with an address in Houndsditch. But it isn't, and never was. In other words, the corporate structure underlying T4X Signals is at least as hazy as CWM's.
So that's the pedigree that hooked all those sponsorship deals: an FX broker, just over a year old, named after an anonymously-registered web site, with a UK office but no definitely identifiable UK company to pay for it, whose principal's previous business activities appear to have attracted an FCA warning. All of this fronts an FX service regulated in Cyprus, Leverate,  part-owned by Danish FX white-labeller Saxo Bank.
Even without hindsight, there are some pretty massive problems with the look of all this. How did so many fall for it? I don't mean to sound sarcastic, but small-time startup FX outfits don't usually have the cash at hand to sponsor Chelsea Football Club, Wigan Warriors rugby league team, CWM LCR Honda in MotoGP, CWM Cyclone boxing promotions, the Sport Industry Breakfast Club, the Outstanding Contribution to Sport Award in 2015, and the London Boat Show. Those deals would have been struck at such lightning speed, apparently in a few months in late 2014,  that their full cumulative absurdity is only obvious in retrospect.
But still, anyone on the other side of any of these CWM FX sponsorship deals could have carried out a sanity check on their partner, and nobody did. Most particularly, the Leverate deal was only struck in October 2014. It's not obvious why anyone thought that CWM FX had even the semblance of a functioning business before that date. If the scuttlebutt around CWM's managed FX fund Ponzi is any guide, a nameless Greek billionaire would have been mentioned in the sponsorship offers, playing the same role as a Nigerian minister in a 419 scam.
Evidently the money talked. As we already know, and most especially in sports sponsorship, money talks loudly enough to drown out any kind of duly-diligent cavilling. For instance, money talked quite deafeningly to the Lotus Formula 1 team, who took sponsorship cash from an obvious carbon credits boiler room in Dubai. It talked just as loudly to football teams Everton FC, Fulham FC and RCD Espanyol, who accepted sponsorship from an equally obvious Far Eastern investment scam, Power8. In this type of deal, famous sports teams function both as suckers and shills. One could multiply the examples.
But now there's a puzzle. If not from long-established profitable businesses, where might all the loquacious CWM cash be coming from? At this point, David Marchant of Offshore Alert chips in with a new name, Belvedere Management Group.  That is one possible clue about the source of the funds:
Victims of Belvedere Management Group's global fraud scheme were pouring so much money into its London division that 33-year-old boss Anthony Constantinou regularly threw huge wads of cash up in the air for employees to grab as it rained down or scoop from the floor while on their hands and knees, according to a former employee.
According to Marchant, that cash took the form of 500 Euro notes. Now, the 500 Euro note is so very decidedly the money launderer's favourite denomination that it has a nickname, the Bin Laden, and cannot be exchanged in the UK. So I suppose one might as well chuck handfuls of useless banknotes at UK employees. Of course, one does still wonder exactly where Constantinou got them from: Belvedere or not, it will be shy folk offshore, for sure. Whether they will be keen to come forward is anyone's guess, for the moment.
There's more colour from Marchant, who reckons he has an eyewitness:
…Constantinou was 'frequently drunk on vodka' and 'groped female employees' at CWM's London office.

…DMS Bank (Cayman) sues its former boss, Jazeb Jones, for 'improper relationship' with CWM.

…Bank claims Jones accepted 'unauthorized and excessive gifts' from CWM.
This fiesta of due diligence failure and branded bombast has one final ornamental feature. Anthony Constantinou's impulse control may be little better than his possibly murderous mamma's. But at least he didn't assault the formidably irascible but very dutiful Anne, Princess Royal, though he recently had the opportunity.
Her Royal Highness once gave me a bit of a fright on the A419 into Cirencester – she drives like Mr Toad – but here she is, steadier when not behind the wheel, turning out to do her bit for business at the January 2015 Boat Show.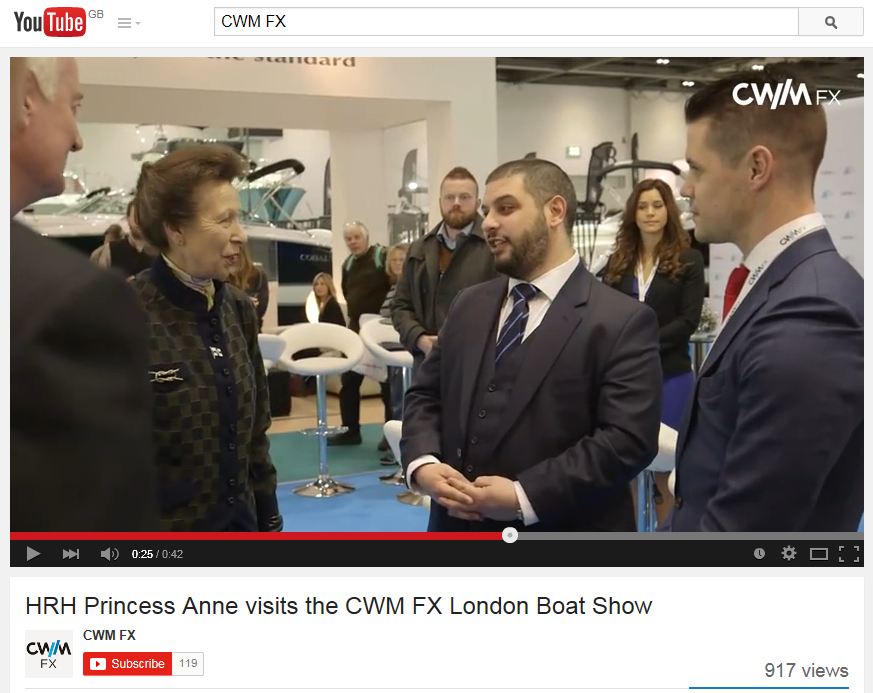 The respectful fat guy with the beard, giving our Annie the chat, is £100Mn fraud suspect and alleged drunken groper Anthony Constantinou. As you can see, he is just about within range, but, wisely, keeping his hands to himself.
We will turn our attention to the force ultimately behind this striking juxtaposition, "Belvedere Management Group's global fraud scheme", in our next.