Abbott's Plucky Business Adviser Undoes Hoax Run By All Of Science SBS Comedy. Chuck L: "News flash from the down-under Onion."
Norway's 'We're Sorry' Monument to 91 Dead Witches Daily Beast (Dr. Kevin)
Super Typhoon Noul begins to lash northeastern Philippines CNN
Colombia to ban coca herbicide BBC
Utility: Verizon To Exit Wireline Business Within 10 Years DSLReports (Chuck L)
Legislators Introduce Bill Calling For Nationwide Ban On Non-Disparagement Clauses Techdirt (Chuck L)
California Supreme Court Shows How Pharma 'Pay For Delay' Can Violate Antitrust Laws Techdirt. Chuck L:
The antibiotic Cipro, which is the drug at the center of one of the cases described, attacks a broad spectrum of bugs but can have wicked side effects. It should be retained in the quiver as a late or last resort for life-threatening infection but is frequently prescribed as a preventative. There are several cases in my extended family of severe carnage when it was prescribed thus. Among its side effects are attacks on connective tissue and chronic fatigue syndrome. My nephew, who is a high school teacher and coach, suffered both. The former was in the form a detached bicep he incurred when spotting a girl doing a handspring, and the fatigue issue cost him an entire summer of his usual work as one of the most sought after fishing guides in the northern Minnesota lake country. (He writes frequently for In Fisherman magazine.) There are other, worse horror stories on his dad's (my brother-in-law) side of the family including a cousin who has been wheelchair bound for 15 years and counting. Then there's my son-in-law, who is a serious although not professional keyboard artist. His favorite relaxation after a stressful day at work (he's an IT project manager) was to put on his earphones and play for a half hour. One dose of the stuff and his wrists went to hell. He's just now getting back into the music after almost five years. He did considerable research on the issue and sent the results to family and friends far and wide. Unfortunately my copy is somewhere on one of my comatose laptop computers.
Overkill: An avalanche of unnecessary medical care is harming patients physically and financially. What can we do about it? New Yorker. Jeff S:
Two things stick out. It somewhat obliquely infers that an effective method of cost control might simply be to require second opinions for major (often expensive) non-emergent care in order to cut down on over diagnosis….It's much cheaper to pay a second $150 consulting fee for a second opinion in order to avoid an unnecessary $60k surgery on the spine

The second is an observation that it matters how this is done. See here:

If an insurer had simply decreed Taylor's back surgery to be unnecessary, and denied coverage, the Taylors would have been outraged. But the worst part is that he would not have got better. It isn't enough to eliminate unnecessary care. It has to be replaced with necessary care.

And insurance provider denying the coverage and simply requiring a second opinion to prevent over diagnosis both achieve significant cost savings. But the first leads to bucking the system and rage by the patients while the second results in buy-in and gratified and satisfied patients.
The great unraveling of globalization Washington Post (David L)
Rocco Galati challenges role of Bank of Canada in latest case CBCNews (PBF)
Frontex can't solve the Mediterranean migration crisis on its own – here's why The Conversation
UK Elections
Grexit?
Syriza and Socialist Strategy- Debate video and transcript International Socialism. From February, very clear and incisive. Lambert: "No doubt interesting to the sort of finance person who reads Lenin ;-)"

Schaeuble Says Greece Playing Chicken With Default Risk Bloomberg

Greek leader faces revolt by party hardliners as debt showdown looms Guardian. The statement re popularity is not quite right. Syriza's approval ratings are at 36%, still ahead of all other parties but below the 39% at the time of January elections.

Greece: Suspicions that the central bank undermines government unbalanced evolution. The "Bank of Greece" is part of the European System of Central Banks. The governor is a political appointee, but we know how much (as in how little) that means in terms of being independent from banking interests.
It has started or Wise up Macedonians! Vineyard of the Saker. Chuck L: "Next up on the neocon Regime Change train: Macedonia!"
Syraqistan
U.N. rep accuses Saudis of violating international law CNN (furzy mouse)

Netanyahu: Even His Friends Detest Him Counterpunch (Carol B)
Ukraine/Russia
We pay tribute to all those who fought to the bitter for every street, every house and every frontier of our Motherland YouTube (with subtitles, Sayed). I watched only part but this is well done. And I do think it's petty and tacky to have excluded Russia from VE Day celebrations given the horrific cost the USSR paid to help secure victory.
Ukrainian citizens from all over the country descended on Donbass to fight the Kiev junta Fort Russ (Chuck L)
Big Brother is Watching You Watch
Accused of Spying for China, Until She Wasn't New York Times
Trade Traitors
5 Leading Legal Scholars on TPP: We Write Out of Grave Concern Reader Supported News (RR)
California drought rules frustrate regions that prepared for the worst Guardian
Why Baltimore police want prosecutor Marilyn Mosby off Freddie Gray case Christian Science Monitor
US nuclear plant shuts down after fire Guardian. Indian Point, near NYC.
SEC Examining Blackstone Fee Practices Wall Street Journal. The SEC has asked "informally" for information. Why no Wells notices?
Illinois Supreme Court Strikes Down Law to Rein in Public Sector Pensions Wall Street Journal. Chuck L: "Apparently the ISC hasn't got the neo-liberal memo yet." Haha, and it couldn't happen to a nicer guy than Bruce Rauner.
Class Warfare
Don't give in: an angry population is hard to govern; a depressed population is easy New Statesman
Antidote du jour. Dr. Kevin's Mothers' Day offering: "While nursing her young cubs, a mother polar bear seems to fall into a meditative state."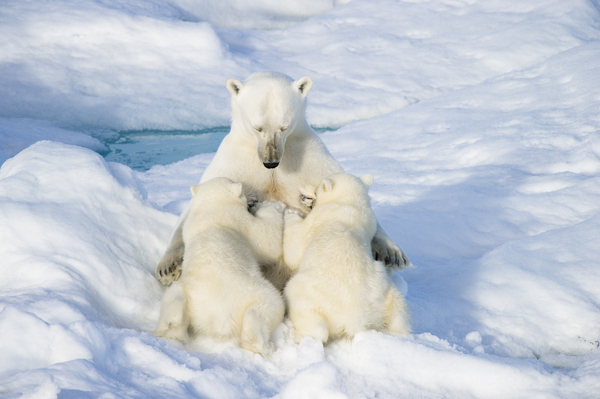 See yesterday's Links and Antidote du Jour here.