DNA saves NSW north coast dog from death row ABC (YY)
Go Ask Alice New Yorker (furzy mouse)
US scientists: Global warming pause 'no longer valid' BBC
The Emerging Science of Human Computation MIT Technology Review (furzy mouse)
Uber's French Resistance New York Times
The South China Sea Word War Pepe Escobar, Counterpunch
Chinese expansion calls for firm challenge China Spectator. Note the Australian navy consists of about all of six ships. I'm exaggerating but not by much.
Abe wants G-7 to spell out opposition to muscle-flexing by China Japan Times. This plus Greece is going to make for a higher-stakes G-7 than usual.
PM's EU negotiations of no significance – Lord Lawson BBC
Incoming Barcelona mayor wants to introduce tourist cap Telegraph. I really like Barcelona and I can see the basis for his concern. The few times I've been there in the summer, the tourist areas were awfully busy.
The rewilding plan that would return Britain to nature BBC. Does that mean getting rid of Tories first?
Grexit?
Ukraine/Russia
RUSSIAN REALISM – PRICE OF PAINTING COOLS John Helmer. An economic indicator.
Syraqistan
In ISIS, the Taliban Face an Insurgent Threat of Their Own New York Times

Israeli NGO Breaking the Silence meets Obama aides in Washington Haaretz
Big Brother is Watching You Watch
Trade Traitors
Congress Can — and Should — Declassify the TPP FPIF (furzy mouse)
Rivals show sands shifting under Clinton Edward Luce. Luce is very connected, so when he's not doing hackery on behalf of Summers, he's worth listening to.
EPA says no evidence that fracking has 'widespread' impact on drinking water CNCB
Millions of US government workers hit by data breach BBC
Cancer Clusters In Florida: The Silence Of The State Counterpunch
Black Injustice Tipping Point
Mass Protests Trigger Washington Post Study of Police Killings Black Agenda Report

Black America is getting screwed: Shocking new study highlights the depths of economic disparities Dave Dayen, Salon
How the Red Cross Raised Half a Billion Dollars For Haiti ­and Built 6 Homes ProPublica
Mr. Market Has a Sad
Trading the global bond market panic CNBC

Gross Says Bond Turmoil Scary as Hell Even Without Bear Market Bloomberg
OPEC expected to stay the course, pressuring rivals to cut costs Globe and Mail
Is the takeover surge a sign of trouble? Gillian Tett, Financial Times
IMF's Surprising Message to Yellen on Interest Rates Fiscal Times
Stand with Elizabeth Warren: Tell SEC Chair Mary Jo White to implement the CEO Pay Rule now Democracy For America. Better if you write a letter to Mary Jo White (address here), but this is a fallback.
Class Warfare
This is a pathetic story of unadulterated corporate greed. The entire H-1B visa program is a ploy to allow low wage workers to immigrate to the US and take jobs from highly skilled US workers so that corporations can increase executive pay. Absolutely disgusting. The truth is though, many corporations are doing it as they cry to Congress to increase the numbers of slave laborers allowed into the country through the program. Truly an awful situation as the jobs lost are high paying.
Amartya Sen: The economic consequences of austerity New Statesman (Swedish Lex)
Antidote du jour. Chris A: "The Honeybee is on my raspberries. Both my blueberry and raspberry bushes are audibly buzzing with them. They aren't all dead yet!"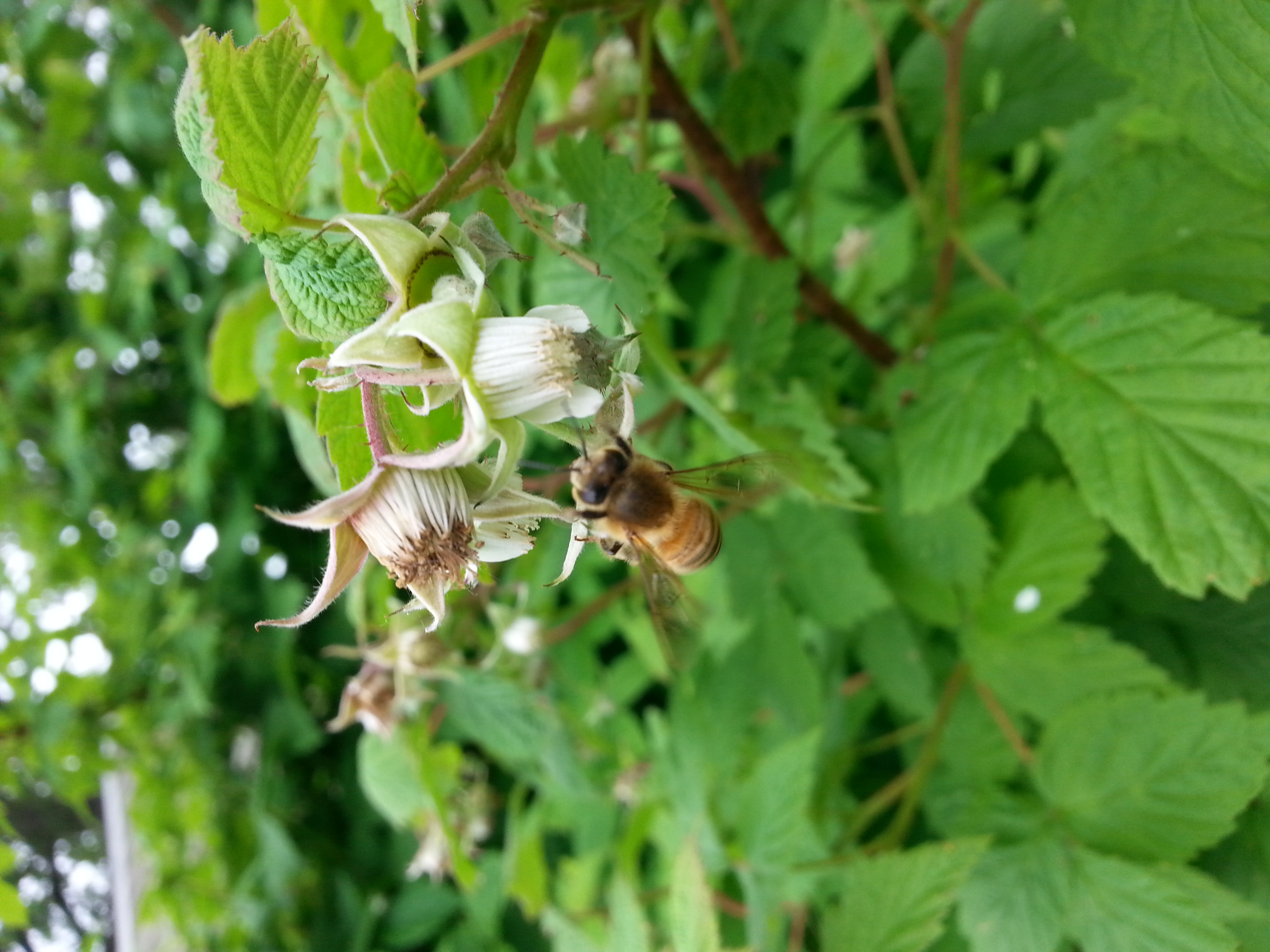 See yesterday's Links and Antidote du Jour here.