One of the class markers of the private equity industry is that its members routinely fly on private jets. That's often because the larger and even some of the smaller firms charge their private jet travel to private equity portfolio companies. That means that the cost is borne first and foremost by investors in private equity like public pension funds, private pension funds, universities like Harvard and Yale, and other foundations and endowments.
The enormous costs of private jets, while they are borne by the investors, are almost entirely hidden from them. PE firms keep investors in the dark by having the portfolio companies they've bought on behalf of their investors pay these jet bills. Amazingly, investors have been fooled by this simple ruse for decades – it's as if your stockbroker deducts his fee from your account, and you regard his services as free because you never see a bill.
Now admittedly, there are cases, if you are taking a team of people from one not-well-air-serviced location to another, when private jet travel is cheaper than flying commercial. But those instances are rare.
It does not appear that private equity firms have obtained authorization to travel at a more luxurious standard than is the norm for the investors themselves or Corporate America generally. We searched through our stash of private equity limited partnership agreements and found no disclosure regarding the use of private jets.
In the last couple of years, PE firms have begun disclosing their use of private jets in their Form ADVs, an annual disclosure form that all but minute private equity firms must file with the SEC as of 2012. Note that this disclosure does not constitute having obtained authorization from the limited partners, which would have had to come when they were committing contractually to invest in private equity funds, not afterwards.
Here is the ex post facto confession of the costs borne by investors in the current Form ADV Part 2 for Blackstone, which manages recent Blackstone flagship private equity funds such as Blackstone Capital Partners V L.P. ("Blackstone V"), Blackstone Capital Partners VI L.P., and Blackstone Capital Partners VII L.P, along with affiliated funds:
Travel and entertainment expenses in connection with the Funds' investment activities (including first class and/or business class airfare (and/or private charter, where appropriate), first class lodging, ground transportation, travel and premium meals (including closing dinners, social and entertainment events with portfolio company management, customers and service providers))
By contrast, when the limited partners who are members of the Advisory Committee travel, they are reimbursed only for "reasonable" expenses, per the Blackstone V limited partnership agreement:
The Partnership shall reimburse the members of the L.P. Advisory Committee (or, at the request of the Limited Partner who such member represents, such Limited Partner) for the reasonable travel, lodging and meal expenses of attending L.P. Advisory Committee meetings.
If you look at the Form ADV Part 2 for Carlyle Investment Management L.L.C. , you see under the header "Common Expenses":
Expenses that are typically borne by Advisory Clients (or their respective portfolio companies) generally include, without limitation…..(iii) all out-of-pocket fees, costs and expenses incurred in developing,bidding on, evaluating, negotiating, structuring, obtaining regulatory approvals for, purchasing, trading, settling, monitoring, maintaining custody of, financing, accounting, monitoring, holding and disposing of actual investments (including related information management systems and travel expenses, which may include the use of charter flights, as appropriate…..
Again, a gander through our copy of the limited partnership agreement for Carlyle Partners V, L.P. shows no consent by limited partners for private jet use, merely the repeated invocation that investors are on the hook for "travel expenses" or in the case of Broken Deal Expenses, "any" travel expense. By contrast, if you look at the section on the Advisory Committee (p. 88 of the PDF, second paragraph on the page), you'll see again that the lowly Advisory Committee members are entitled merely to "all reasonable out-of-pocket expenses incurred in attending meetings."
The word "reasonable" is widely used in contracts in the US as a way to make sure parties to an agreement don't have free rein to run up large bills. But what about the more ambiguous "appropriate"? Given that private jet use is widespread among private equity general partners and pervasive among the biggest firms, one might conclude that general parters are taking undue liberty with the control they have over portfolio company checkbooks and the lack of transparency and oversight.
Remember, private equity fee and expense abuses are so common that former SEC head of examinations Andrew Bowden stated that more than half the firms the SEC had examined as of early last year were engaged in what amounted to stealing from investors or other serious compliance infractions. And relative to all the other chicanery that the media has already divulged at private equity firms, private jet abuses are so penny-ante, relative to other forms of rent extraction, as to be beneath the SEC's notice.
Now one could argue that those upstanding general partners might only be charing first or business class travel to their investors except when private jets really are cheaper, and paying the upcharges out of their own pockets. If you believe that, I have a bridge I'd like to sell you.
Indirect confirmation of the lengths to which private equity firms can go in shifting expenses to investors comes via a lawsuit by Adam Levine, TPG's former head of communications, against the firm. Levine filed a wrongful termination suit in which he alleged that TPG Growth was charging all the costs of its in-house legal team to TPG funds and portfolio companies via treating them as contractors and consultants. He had told TPG that it needed to beef up its communications unit in connection with its plans to go public. The suit stated he was told that he by chief operating officer Jerome Vascellaro that he needed to produce a plan showing how the cost would be similarly borne entirely by TPG's investors. When Levine objected and tried escalating the matter, he claims he was threatened (being "gutted like a carp," for instance) and was terminated without the firm giving him all his compensation due. Despite TPG's announcement that Levine withdrew his suit and they didn't pay him to go away, Reuters reported that a source close to TPG said Levine was compensated for equity interests he was owed. If you read the suit, that was one his demands. Given the latitude in valuing of private firms, that could cover a lot of sins. Levine has also filed an SEC whistleblower suit on these claims.*
But far more telling is the information contained in a newsletter by a former chairman of the investment committee of CalPERS' board and now a fellow at Harvard's Edmund J. Safra Center for Ethics, Michael Flaherman, titled "LPs Pay for PE Private Jets". Flaherman's research on questionable legal fee discount practices was cited in a in a recent Gretchen Morgenson article in the New York Times on private equity. He declined to comment on this post.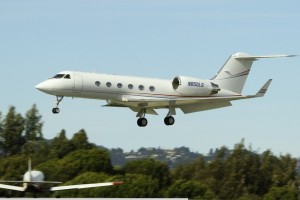 His newsletter documents two cases in detail. The first of is twp Gulfstream IV jets and a Bombardier Challenger jet owned by a private equity firm with all of 30 professionals, Leonard H. Green. Note that a Gulfstream IV carries 22 people. The images shown are of one of the two Leonard Green Gulfstream IVs, plus an interior shot of a representative Gulfstream IV interior. Using estimates that err on the low side, Leonard Green operates $25 million worth of aircraft which would cost at least $1 million a year to finance. The crew, hangar, insurance and equipment maintenance cones to at least $500,000 a plane. Flight time (landing fees, pilot, crew, fuel) is $5,000 per hour. Assume a mere 500 hours of flight time per plane per year, or $2.5 million a plane.
When you total that, you get:
$1 million of financing + 3 planes ($2.5 million of flight time + $500,000 of fixed costs) = $10 million
Flaherman charitably calls that $9.5 million per year.
Leonard Green's Form ADV Part 2 discloses the use of private jets:
In certain instances, LGP [Leonard Green & Partners] is reimbursed by a portfolio company for expenses incurred by LGP in connection with its performance of the above referenced services for such portfolio company. Such expenses include business, first, or private class travel and meals and such expense reimbursements are not subject to the reduction arrangements described above.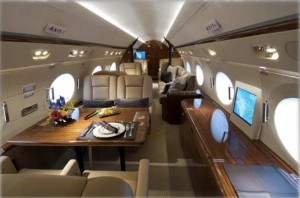 You can see why it's so troubling that limited partners have no insight into or control over how private equity firms make portfolio companies into their piggy banks, particularly since private equity firms are fiduciaries. Fiduciaries are held to the highest standard of care under the law. They are obligated to put the interests of their principal ahead of their own.**
How, pray tell, is in in the interest of Leonard Greene's clients to use private jets at all, save when normal commercial flights make getting from Point A to Point B particularly time consuming or costly? One excuse is that the private equity kingpins need privacy so they can work en route. All sorts of other professionals that work on confidential matters, such as megamillion dollar corporate transactions and bankruptcies, fly commercial. Is this an admission that private equity staffers are less able to keep secrets than other dealmakers? The "we need to be alone" excuse is also undercut by the private equity norm of offering empty seats to members of competing firms if they are flying the same route.
The Leonard Green example highlights how troubling are the optics, and potentially the reality, of private jet use by private equity firms. With firm assets sitting in hangars near a private equity firm's headquarters, it's not hard to imagine that the default is to use them when they are free.
There is also the problem of how to charge for an asset with significant fixed costs. Given a bare minimum of $2.5 million per annum in fixed costs, Leonard Green is also going to be highly motivated to book enough flights, whether or not they are warranted, to defray their overheads. Remember, that's the same type of behavior that TPG is alleged to have engaged in with its general-partner-level legal infrastructure with one of its funds. But that practice gets into another matter: is it even proper for a fiduciary to charge any of its overhead to a client, or alternatively, to base its charges for the use of its planes on third party rates, since those firms include not just overhead costs but also a profit margin? Presumably having one's own mini-fleet is for the convenience of Leonard Green staff. Why should the limited partners pay for that?
The other example in Flaherman's missive is that of Gerald Parsky, the chairman of Aurora Management Partners based in Los Angeles. Recall that its fund Aurora Capital was one of the five firms involved in the CalPERS pay-to-play scandal. From the newsletter:
A commercial database lists a Cessna Citation jet (tail number: N708GP) as owned by "RSF Management Services Inc" in Rancho Santa Fe, CA. That firm's retirement plan filings show Aurora's chairman, Gerald Parsky, as the plan administrator.

The jet typically travels multiple times per week between an airport in Carlsbad, CA and the Santa Monica Airport. According to Wikipedia, Mr. Parsky resides in Rancho Santa Fe, near Carlsbad. As with Leonard Green, the plane's tail number gives a clue to its apparent owner's initials.
The Aurora Management Partners Form ADV Part 2 states that Aurora Capital investee companies, Aurora Capital funds and separate accounts carry certain costs, which "includes first or business class commercial air travel, the actual cost of non-commercial air travel, annual airport lounge fees…."
Flaherman stressed that investors in Aurora Capital funds have no idea what if any cost they are bearing of what looks to be regular 100 mile commuting jaunts by private jet. Parsky in a written reply confirmed that he owned the jet in question and used it for commuting (which wad more than Flaherman said). He tried characterizing the newsletter as "inaccurate" when it is hard to see any inaccuracies when you read the original newsletter against Parsky's response.*** The meat of Parsky's reply:
I am the owner of the referenced plane and use this plane to travel from my home in Rancho Santa Fe to Los Angeles on a frequent basis. I pay for all expenses associated with this travel out of my pocket and at no point in time have I ever charged Aurora's limited partners, its funds or its portfolio companies for these personal commuting costs.
I hate to sound pedantic, but one assumes this reply was carefully crafted, yet it is less than comprehensive. "These personal commuting costs" are defined as flights from his home to Los Angeles, meaning his trip to work only. Perhaps by happenstance or due to the fact that it was easier to capture them on the WSJ flight database, Flaherman listed flights from Santa Monica to Carlsbad, meaning the trip home, and Parsky didn't address that. When I worked on Wall Street and at McKinsey, it was normal for professional firms to pay employees who stayed later than a certain time at night (typically 8:00 or 9:00 PM) for their commute home by hired car even though that was not a tax deductible expense. It may simply have been a drafting error on Parsky's part, but he has managed to leave the status of his flights home unresolved.
Needless to say, these private jet examples serve as a disturbing reminder of how little information limited partners get about how private equity funds are charging fees and expenses at the portfolio company level. As Curtis Loftis, the Treasurer of South Carolina, said via e-mail:
A standard private equity agreement allows the GP and its long list of cronies, aka portfolio companies, affiliates, parallel and feeder funds, co-investors and others, to tap LP resources at will. The agreements are one-sided instruments designed to pluck the retirees and taxpayers clean. They accomplish that goal with a style and grace reserved for those with a special sense of entitlement.

The public funds, despite what they say, do not understand these documents and even if they did they are not present when most of these spending decisions are taken, allowing the GPs to spend at will with the only oversight being a high-level, backward looking audit that few LP understand or read.

PE can be a worthwhile venture with positive economic results for pensions funds, but as often as not, it is a complex, expensive and heady adventure that enriches a few at the expense of the many and is made possible by dumping vast amounts of unquantified risk on the retirees and taxpayers. Certainly, the GPs are getting richer while the public are enduring the risks and reaping little actual returns.
A board member of a pension fund reacted to the Flaherman newsletter:
When I read this, I got angry. What are asset management fees for if not overhead? But when I got to the footnote about how it was possible that Leonard Green and Aurora were departures from the normal practice of non-disclosure of private jet charges, I had to smile. We really are chumps. I'm pretty sure our fund doesn't get that information.
While private jets are far from the biggest offense in private equity, they represent one a galling example of fiduciaries not merely ignoring their duties, but thumbing their noses at them. It's important to crack down on this abuse, not just as a starting point for cracking open the unjustifiable lack of disclosure of fees and costs borne by portfolio companies, but also to start to cut the industry's overweening sense of entitlement down to size.
____
*Ed Walker, a former securities regulator, occasional Naked Capitalism contributor and Firedoglkae regular (as masaccio) took note of an oddity in the Order for Agreed Permanent Injunction between TPG Global and Adam Levine:

What is remarkable about this section is that it is inconceivable that Levine could compel the SEC to destroy or return material that Levine provided as part of his whistleblower filing. In most instances, contractual provisions that violate statute or public policies are not enforceable. It's over my pay grade, but it's hard to fathom that Levine would agree to terms he could clearly not satisfy unless it was understood by both parties that that provision was not binding at least as far as the SEC was concerned. One has to therefore wonder why this provision was included at all. One guess was that it was to provide a basis for replies to any investors that made inquiries so as deny to Levine's claim in his suit that he was a whistleblower, which is a stance TPG has taken from the outset. Since Levine's SEC whistleblower claim received only limited media coverage, most investors would presumably not be aware of it.
** Readers who are familiar with corporate use of private jets might contend that private equity firms run too much audit risk to use private jets casually, particularly for what might arguably be private use. Our understanding, based on anecdotal reports, is that while the IRS is accustomed to looking at whether executives and employees of a company make improper use of company-paid private jets, they do not typically look at more complex control issues (ie, that private equity firm employees who are not directors or employees of a private equity owned company can nevertheless invoice the private equity portfolio company for private jet use and it would pay the invoice).
*** Here is the full text of Parsky's reply as taken from Flaherman's second newsletter. We called the Aurora Capital offices several times seeking a media or other contact e-mail address to check the accuracy and completeness of Mr. Parsky's statement. They did not get back to us. Here is the full text from the newsletter:
Dear Mr. Flaherman,

Your June 29, 2015 newsletter contains factually inaccurate statements about Aurora Capital Group and me, and I request that you retract these statements and correct your newsletter immediately. I am the owner of the referenced plane and use this plane to travel from my home in Rancho Santa Fe to Los Angeles on a frequent basis. I pay for all expenses associated with this travel out of my pocket and at no point in time have I ever charged Aurora's limited partners, its funds or its portfolio companies for these personal commuting costs.

Our publicly available Form ADV accurately summarizes our travel procedures.

In your newsletter, you wrote: "Admittedly, we do not know whether investors are being charged any portion of what appears to be Mr. Parsky's commuting expense via private jet." In the future, please verify your facts before publishing information about me or anyone else at Aurora Capital Group.

Sincerely,

Gerald Parsky