By Lambert Strether of Corrente.
2016
Policy
"Rather that a lot of what he says makes sense. [Trump's] policies aren't as crazy as people make out, and people who support him aren't as stupid as the media pretends" [Ian Welsh].
Money
"But eight years' worth of Bush's emails with his former colleagues and employees in state government portray a former public official hard at work utilizing the relationships he had made in office. For the benefit of clients, friends and allies, he leveraged his political connections to shape outcomes on everything from online education to insurance regulation, from disaster management to a proposed bike trail near a golf course where Bush's father and brother were members" [Business Insider]. Ka-ching. Maybe I should file this under corruption. Then again, maybe I should file everything under corruption.
Criminality
(I'm filing the Clinton email saga under criminality (a) because it's demonstrably corrupt, and (b) because if an official privatizing their public communications isn't criminal, we should find a way to make it so.)

From the [New York Post], in links today. Generally, I've restrained my desire to snark on the personal characteristics of the candidates, but this photograph (granted, a file photo, not a Clinton reaction shot to the story) makes Clinton look like butter won't melt in her mouth. "Yeah, I wiped the server. And?"

Raising, as the Gilded Age cartoonist Thomas Nast raised, this eternal question:

Caption: UNDER THE THUMB. The boss: "Well, what are you going to do about it?"

It has occurred to me, further, that the three leading candidates: Trump, Sanders, and Clinton, all share one characteristic: In this campaign, they (as the kids say) "Give zero f*cks." They are all happy warriors, doing exactly what they've been waiting for the chance to do for years, things that only they can do. Trump is being Trump. Sanders is giving the hour-long policy speech of a lifetime, in front of thousands. And Clinton is defending her all-important dynastic network by giving a gigantic upraised middle finger to the press, the Republicans, and an ongoing Republican investigation. Do what you love!

(Adding: Clinton isn't the only thumb in the game or on the scales, of course. But in all cases, "What are you going to do about it?" applies.)
The Voters
"A closer look at the polls shows that [Sanders] is simply not within striking distance of winning the nomination. His support has run into a wall: women, blacks and Hispanics continue to support Mrs. Clinton by a wide margin, as do white moderate and conservative Democrats" [New York Times].

Sawant returned to Seattle City Council [Seattle Times].
The Trail
Excellent roundup on the Sanders field operation [Buzzfeed].

Right now, the supporters at Sanders' huge public events are being funnelled into a digital campaign run by Sanders' longtime digital aide, Kenneth Pennington. Outside huge Sanders rallies in Portland and Seattle, teams of volunteers wandered among the queues of supporters waiting to get in and gathered email addresses and phone numbers on clipboards. Inside the event, supporters were admonished to send a text message to Sanders' campaign, logging them and instantly signing them up for offers to volunteer and attend future Sanders grassroots events in their area.

UPDATE Clinton staffer Michelle Kwan gives tour of Clinton Brooklyn headquarters [Elle]. Kwan: "It does take a village. It is like a family. Since people are just at the other side of the office, it's like instead of writing that email you just get up and go and ask. It's that kind of environment."​ I have a headquarters in Brooklyn I'd like to sell you….

"Iowans are mad as hell, and they know who to turn to — Donald Trump" [Politico].

"The groundwork laid by Trump's sizable Iowa staff, with 10 paid operatives and growing, is the clearest sign yet that the unconventional candidate is looking beyond his summer media surge and attempting to win February's first-in-the-nation caucuses" [WaPo]. I think most of us make a distinction between "serious politics" and kayfabe; the hope then becomes that at some point reality will assert itself and Trump will drop out. But for Trump, the kayfabe is the reality. It's as unsurprising that he would have Iowa staffers as it is that he would hire actors to cheer him at his announcement, or refer to the other Republican debaters as "contestants."

Trump to appear at Iowa State Fairgrounds by helicopter, proceed to the butter cow after presser [Des Moines Register]. Perhaps a Donald Trump parodist — with toupee — could arrive by kick scooter. Where is the parody Donald Trump? And don't tell me Trump is his own parodist.

Gore not running, says Gore spokesperson [Politico]. The press hedges its bets [WaPo].

"The Democratic Party deserves to steer its own future. Not just lash itself to the RMS Hillary" [Wall Street Journal, "The Clinton Ship Takes on Water"]. It's so precious when Republicans pretend they're giving Democrats good faith advice. But the S.S. Clinton, eh?
Clown Car
Carly Fiorina goes anti-vax [WaPo].

Lessig: "I want to run to build a mandate for the fundamental change that our democracy desperately needs. Once that is passed, I would resign, and the elected Vice President would become President" [Medium]. So how does that work? The VP moves up, and then — under continuity of government rules — the Speaker of the House moves up? So John Boehner becomes VP after a Lessig victory? 

"Fifty-four percent of Garden State registered voters believe that Christie should step down, compared to 41 percent who want him to remain governor, according to a new Rutgers/Eagleton poll" [The Hill].
Stats Watch
Producer Price Index, July 2015: "A rise in costs for trade services pushed wholesale prices up slightly more" [Bloomberg]. "Fed policy makers have been waiting for the prior effects of the oil collapse to fade and for year-on-year trends to improve to their 2 percent policy target. But is that happening?" But: "The Producer Price Index year-over-year deflation continued – and deflation marginaly grew over last month" [Econintersect].
Industrial Production, July 2015: Motor vehicle production surged, but "excluding vehicles, however, manufacturing rose only 0.1 percent. The lack of strength here is the result of business equipment which edged only 0.1 percent higher after declining 0.2 percent in June" [Bloomberg].
Consumer Sentiment, August 2015: "After easing in July, consumer sentiment is expected to stabilize in the flash August reading" [Bloomberg].
"[Gross] is betting that investors are overpaying to shield themselves from big swings and that markets ultimately won't move too much in either direction" [Bloomberg].
"The record lows in claims are inconsistent with the sharp drop in withholding tax collections. It suggests that regular weekly incentive pay, such as sales commissions at some retailers, auto dealers, and the like, has collapsed over the past month. If that is the case, then it won't be long until the layoffs begin" [Econintersect]. Note my priors: A Maine bear.
"The labor market recovery so far has made up less than half of the prime-age employment lost in the recession"  [Bloomberg]. "Made up" assumes that there's an equilibrium, a mean to which employment will revert. Na ga happen, absent political intervention. Say, a jobs guarantee.
TPP
Chile: "In Chile, where the administration of President Michelle Bachelet has moved forward with the TPP negotiation process, opposition is strong in the legislature. Even Bachelet's minister of foreign affairs has indicated that Chile won't sign the agreement if the TPP doesn't meet certain criteria" [Foreign Policy in Focus].
Black Injustice Tipping Point
"Ferguson's 'Lost Voices' camp out over a year to push peace, protest police brutality" [RT].
"Just because they don't have a driver's license doesn't deserve to lose their life. Just because a person's on the street corner selling cigarettes, maybe he's doing that to make ends meet so he can pay his utilities or take care of his situation at home with his kids. That's the reason why we're out here on these street corners."
But those are not demands. At some point, shouldn't that happen?
Police State
"A Wall Street Journal analysis of the latest data from 105 of the country's largest police agencies found more than 550 police killings during those years were missing from the national tally or, in a few dozen cases, not attributed to the agency involved. The result: It is nearly impossible to determine how many people are killed by the police each year" [Wall Street Journal, "Hundreds of Police Killings Are Uncounted in Federal Stats"].
NYPD's Bratton thinks more people need to be in jail [Vice].
Militia Watch
"Three members of a border militia group are behind bars, charged with conspiracy to sell cocaine. They were caught in an FBI sting operation, involving an undercover agent, a plot to steal drugs and money from cartel smugglers, an offer of murder for hire and a high speed chase through the streets of Phoenix" [KPHO]. Probably as trustworthy as any other FBI sting operation but nevertheless… 
Gaia
"This is the year of the heatwave. We've had heat waves off and on for the last few years, but it seems that there are more now than ever before. While some have tried to argue that global warming can't really cause warming (sometimes expressed as heat waves), it does" [Science Blogs].
"Some honeybee colonies adapt in wake of deadly mites" [Cornell Chronicle]. Agricultural beekeeping, as a monoculture, was vulnerable.
Water
"World without Water: The Dangerous Misuse of Our Most Valuable Resource" [Der Spiegel].
"Even though California has historically seen wet winters during strong El Niño events like the one now underway, experts say, there are at least four or five major scenarios in which this El Niño could fail to end the state's drought" [San Jose Mercury-News].
"The Glendale club and other private golf courses swept up multimillion-dollar rebates to replace turf despite the fact they were already irrigating with treated wastewater, one of the most environmentally-friendly sources" [Los Angeles Daily News].
Health Care
"Fifty hospitals in the United States are charging uninsured consumers more than 10 times the actual cost of patient care" [WaPo]. "All but one of the facilities are owned by for-profit entities. … 'For-profit players appear to be better players in this price-gouging game,' said Ge Bai, an assistant accounting professor at Washington and Lee University and a study co-author." Boy, that's a shocker!
Class Warfare
"Those whom the Gods wish to destroy, they first make acquiescent" [Memex]. Because TINA. Though the author doesn't use Hirschman's exit, voice, and loyalty construct, they recommend exit via boycott.
"US DOJ: It's unconstitutional to prohibit the homeless from sleeping outside" [Boing Boing]. "The law, in its majestic equality, allows the poor to sleep under bridges…."
"The crippling problem restaurant-goers haven't noticed but chefs are freaking out about" [WaPo]. If only there were some market-based mechanism that would adjust the supply of human rental to the demand for it!
"The idea that Katrina was a sort of biblical flood that washed away liberal excess in New Orleans is taken as gospel by conservatives and corporate democrats alike" [Alternet]. The Chicago Tribune's Kristen McQueary publishes an Op-Ed hoping a second Katrina will hit Chicago. "A sleeping city, forced onto the rooftops. That's what it took to hit the reset button in New Orleans. Chaos. Tragedy. Heartbreak." And, of course, thousands of dead ni– people. Rarely do see see Rule #2 of neo-liberalism expressed so openly; Kristen McQueary, clearly, is a vile human being. Here's an excerpt from a more humane view: "Katrina's World: Blues, Bourbon, and the Return to the Source." Interesting to see the intersection of race and class interest in disaster and disaster capitalism.
News of the Wired
"Antidepressant drug trials criteria not generalizable" [Science Daily]. Sounds like a marketing problem…
"Walk about 100 meters east of the Observatory's meridian line. Slow down to a crawl as your GPS approaches 0 degrees, 0 minutes, 0 seconds longitude" [Leap Second].
"After 63 years, Globetrotters drop rival Generals as primary opponent" [ESPN].
* * *
Readers, feel free to contact me with (a) links, and even better (b) sources I should curate regularly, and (c) to find out how to send me images of plants. Vegetables are fine! Fungi are deemed to be honorary plants! See the previous Water Cooler (with plant) here. And here's today's plant: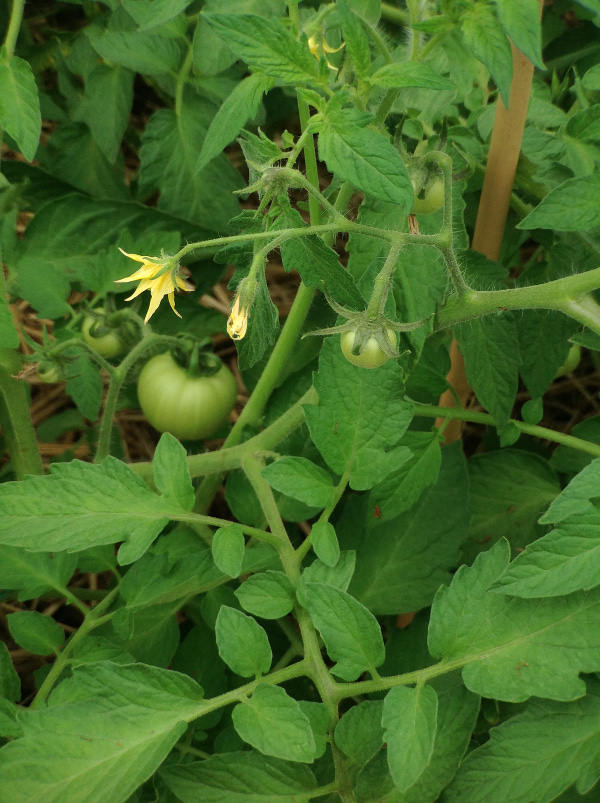 My tomatoes are coming along! This is Maine….
If you enjoy Water Cooler, please consider tipping and click the hat. I need to keep my server up! And this is turning into a tough month…