By Lambert Strether of Corrente.
2016
Policy
"[Sanders] said Wednesday that the Postal Service caused a "disaster that is negatively impacting Americans all over this country" when it shuttered more than 140 mail-sorting plants and slowed delivery times to cut costs" [WaPo]. He's right. We should be setting up Post Office banks, like Warren suggested, not degrading the Post Office so privatizers can feast on the remains.

Clinton and McAullife call for gun restrictions [Think Progress].

"Hillary blames Virginia news-crew shooting on guns being too 'readily available' – just after touring community college machine shop where students learn gunsmithing" [Daily Mail].

"Trump Puts a Serious Wall Street Issue on the Table: Hedge Fund Carried Interest" [Bloomberg]. Issues are oldthink, Bloomberg!
Money
"Mr. Sanders has raised more money in gifts of $200 or less than any candidate, Democrat or Republican, an analysis of campaign finance reports shows. A huge chunk of his money — $11.4 million, or about 75 percent of all his contributions — has come from small donations routed through ActBlue, an online site that facilitates contributions to Democrats, records show" [New York Times].

"CBS correspondent Julianna Goldman reported Tuesday that some in Biden world believe they can raise $25 million to $30 million" [Wall Street Journal, "Funding Options for a Biden 2016 Campaign"]. I have yet to see anybody give a good reason why Biden should run. But insiders think so. Therefore, it would seem they have a reason that we don't know about. Ticked off worker bees at State stashed something away? And see What Does Joe Biden Know? 
The Voters
"Since 2006, there have only been seven public polls (out of thousands) showing that more people believe the country is generally headed in the right direction than the wrong direction. In recent years, the "right-track" optimists have rarely hit even the 30 percent mark" [National Journal]. Political class, in chorus: "Let's run two dynasties against each other!" Works, until it doesn't.

"Georgia County Admits To Illegally Disenfranchising Voters" [Think Progress]. " To make sure the problems do not continue in the future, the county has promised to spend an additional $200,000 on new training software for their poll workers."
The Trail
"Trump Telling GOP Brass He Will Forgo A Third-Party Run: Sources" [HuffPo].

"Sanders huddled with advisers at his home here Wednesday to chart what he describes as the second phase of a campaign that has exceeded all expectations but still lacks the infrastructure and support from the party elites that could help him compete with Clinton on a national level" [WaPo].
Stats Watch
GDP, Q2 2015: "The second-quarter did show a big bounce after all, up at a revised annualized growth rate of 3.7 percent which is 5 tenths over the Econoday consensus and just ahead of the high estimate" [Bloomberg]. "The impact of today's report on Fed policy for September's FOMC is likely to be minimal. Focus at the upcoming meeting will be on the state of the global financial markets and, very importantly, the strength of next week's employment report for August." And: "GDP revisions generally do not cause a ripple in the marketplace. That is not the case today as the revision of Q2 GDP manifests an economy in much better shape than initially believed. That suggests strong momentum as Q3 began" [Across the Curve].
Corporate Profits, Q2 2015: "Corporate profits in the second quarter came in at $1.824 trillion, up a year-on-year 7.3 percent" [Bloomberg]. But: "Profits of domestic financial corporations increased $33.9 billion in the second quarter, in
contrast to a decrease of $23.4 billion in the first.  Profits of domestic nonfinancial corporations
increased $16.5 billion, in contrast to a decrease of $70.5 billion" [BEA].
Kansas City Fed Manufacturing Index, August 2015: "Factory activity in the Kansas City Fed's region remains in deep contraction" [Bloomberg]. "This report speaks to significant distress for the region which is getting hit by the oil-led fall in commodity prices. Taken together, regional reports have been mixed to soft so far this month, pointing to slowing for a factory sector that got a bit boost from the auto sector in June and July. The Dallas Fed report, which like this one has been badly depressed, will be posted on Monday."
Bloomberg Consumer Comfort Index, week of August 23, 2015: "The global markets aren't holding down the consumer comfort index which is up for a second straight week" [Bloomberg]. Consumer Sentiment tomorrow.
Pending Home Sales Index, July 2015: "Pending home sales came in at the low end of expectations" [Bloomberg]. "[P]ositive but far from exceptional, pointing to no more than moderate growth ahead for existing home sales."
Jobless Claims, week of August 22, 2015: "Unemployment remains very low with initial claims down" [Bloomberg]. "All the readings in this report are very low and suggest that remaining slack in the labor market [such as it is] is very thin." And: "Claim levels remain near 40 year lows" [Econintersect].
The Fed: "Mind the Gap: Assessing Labor Market Slack" [Liberty Street Economics]. "Direct measures of slack, however, are not available and must be constructed. Here, we build on our previous work using the employment-to-population (E/P) ratio and develop an updated measure of labor market slack based on the behavior of labor compensation. Our measure indicates that roughly 90 percent of the labor gap that opened up following the recession has been closed."
The Fed: "Second Fed rate hike delay this year slowly getting more official" [Reuters]. December, it now seems. But depriving the 1% of free money during the holiday season would be bad. They need to buy gifts!
"Back in January, I predicted that total 2015 bankruptcy filings for the U.S. would be "somewhere around 800,000." Revisiting that prediction, the numbers seem right on track to meet it" [Credit Slips].
The Fed: "[Big-time hedgie Ray] Dalio argued [that the Fed] may ultimately be forced to reverse course. He compared the central bank's predicament to the one it faced during the mid nineteen-thirties, when it raised rates only to do an about-turn as the economy fell into another slump [The New Yorker]. "[T]he Fed, rather than tightening policy (that is, raising rates), might well end up easing instead—purchasing bonds and pumping money into the financial system."
Mr. Market
"Assessing just how large the bubble has grown in U.S. markets as a result of the Fed's zero-bound interest rate strategy since December 2008, Tan Teng Boo, founder and CEO of Capital Dynamics appeared on a Bloomberg Television segment this morning and summed up our new market bubble in a few words. Boo said just five U.S. stocks — Apple, Google, Microsoft, Facebook, and Amazon  — are worth more than the Frankfurt, Germany stock market, which represents the fourth largest economy in the world" [Wall Street on Parade]. "All five of these stocks have one thing in common: they all trade on the Nasdaq stock market. That's the market that gave you the 2000 bust that erased $4 trillion from investors' pockets in dot-com and tech blowups as well as the stock market that oversaw a massive price rigging cartel for more than a decade."
"Just over half of Americans say they are invested in the stock market, but their direct stock holdings are small, making up only 14% of household balance sheets"  [The Economist, " How exposed are American households to the stock market?"]
"Hedge-fund managers like to promise their investors protection from market swings. In the recent stock swoon, many were caught off guard" [Wall Street Journal, "Hedge Funds Bruised by Stocks' Meltdown"]. "That is a hit to an industry that has for years excused its relative underperformance compared with benchmarks by promising that collections of bets on and against markets—a so-called long/short strategy—would insulate the impact of any future market gyrations."
Black Injustice Tipping Point
"Rhode Island Church Taking Unusual Step to Illuminate Its Slavery Role" [New York Times]. Excellent. More like this, please.
"A guide to debunking 'black-on-black crime' and all of its rhetorical cousins" [Fusion]. Nice round-up.
TPP/TTiP/TISA
Malysia: After a talk with USTR Michael Froman, "International Trade and Industry Minister Mustapa Mohamed said Monday that he has yet to see 'the light at end of the tunnel' in areas of dispute for Malaysia. These include state-owned enterprises, labor and Bumiputera rights — privileges granted to ethnic Malays considered economically weaker than the minority ethnic Chinese" [Malayian Reserve]. On Bumiputera: As careful NC readers already know.
Japan, Op-Ed by Supachai Panitchpakdi, former director general of the WTO: "The truth is that the TPP is a second-best option for Asia that will create significant adjustment problems, especially for smaller countries. The priority for Asia should be the [Regional Comprehensive Economic Partnership], and if the U.S. and other countries want closer trading relations with Asian countries, it should be in that context" [Nikkei Asian Review]. "[The RCEP] pact that would include China, Japan, South Korea, India, Australia and New Zealand as well as the ASEAN countries."
Corruption
Obama Presidential Library selecting architects: "We're not asking them for a design. We're trying to get to know them," says a consultant to the project [WaPo]. How cozy. 
The Obama Center will have an interactive museum about the president and his administration, expansive green space with community gardens and "quiet spots for passing the white envelopes reflection," indoor and outdoor performance space, education programs, healthy dining for visitors, talent labs and offices for the Obama Foundation, officials said.
Ka-ching. I wonder what on earth the "talent labs" are for? 
Chicago pension officials turn to consultants Callan Associations to find out where to place $11 billion in teachers retirement funds. Callan associates recommends Bank of New York Mellon [Business Insider]. As it turns out, Callan is on the Mellon payroll, and Mellon itself is run by crooks. Ka-ching.
Gaia
"Sea Levels Are 3 Inches Higher Than They Were in 1992" [Time]. That's pretty fast for geological time.
"A retired couple hoped to save money by going solar, but after 11 months, their solar panels were never activated, and their bills were never lowered. The problem? The panels were creating too much­ power" [NBC].
"The washing away of Cajun culture" [BBC]. Katrina. 
Canada
Trudeau talks sense on ZOMG teh debt!!!!!!!!!! deficit spending [The Star]. Empowering fiscal policy, wotta concept. How come NDP bought into the neo-liberal line on this?
Police State
"First State Legalizes Taser Drones for Cops, Thanks to a Lobbyist: [Daily Beast].
"The Minneapolis Police Department is discontinuing prostitution stings following three criminal cases being dismissed in the last month due to the officers engaging in sexual activities with the sex workers" [Photography is Not a Crime]. Shoulda used drones!
Wretched Excess
"Nazi Treasure Train Hunt: Significant Find Confirmed in Poland" [NBC]. Make up your own jokes!
Class Warfare
"Holocaust exposure induced intergenerational effects on FKBP5 methylation" [Biological Psychiatry]. "This is the first demonstration of transmission of pre-conception parental trauma to child associated with epigenetic changes in both generations, providing a potential insight into how severe psychological trauma can have intergenerational effects." And: "The idea is controversial, as scientific convention states that genes contained in DNA are the only way to transmit biological information between generations. However, our genes are modified by the environment all the time, through chemical tags that attach themselves to our DNA, switching genes on and off" [Guardian].
"Getting Murdered At Work Is Incredibly Common In The U.S." [Think Progress].
News of the Wired
Trademark Litigation Attorney Needed – Contingency Fee Case [Another Word for It].
"Recovering from the Wrong Abstraction" [The Chainline]. "When the abstraction is wrong, the fastest way forward is back." The context is programming, but I can't help but think the moral of the story has wider application…. 
"How security flaws work: The buffer overflow" [Ars Technica].
"How babies are REALLY made: Researchers find sperm use a tiny 'harpoon' to attach themselves to eggs" [Daily Mail].
"The many feuds of Donald Trump, diagrammed" [WaPo]. Who designed this? The guy they fired from Bloomberg after the redesign fiasco?
"The Cinematic Lost Cause" [Jacobin]. This Jacobin issue is unusually strong, even for Jacobin.
George R.R. Martin fields reader questions [Not a Blog].
"'Tsundoku,' the Japanese Word for the New Books That Pile Up on Our Shelves, Should Enter the English Language" [Open Culture]. I have a bad case of Tsundoku. To name a few, in no particular order:
Fatal Invention: How Science, Politics, and Big Business Re-create Race in the Twenty-first Century (Dorothy Roberts)
Shadow & Claw: The First Half of 'The Book of the New Sun" (Gene Wolfe)
The Anatomy of Revolution (Crane Brinton)
A Brief History of Neoliberalism (David Harvey)
Profiting Without Producing: How Finance Exploits Us All (Costas Lapavitsas)
Specters of the Atlantic: Finance Capital, Slavery, and the Philosophy of History (Ian Baucom)
(To be fair, there are many other books I have finished, and I've read bits of all of these!) 
Readers, what are your tsundoku?
* * *
Readers, feel free to contact me with (a) links, and even better (b) sources I should curate regularly, and (c) to find out how to send me images of plants. Vegetables are fine! Fungi are deemed to be honorary plants! See the previous Water Cooler (with plant) here. And here's today's plant (Optimader):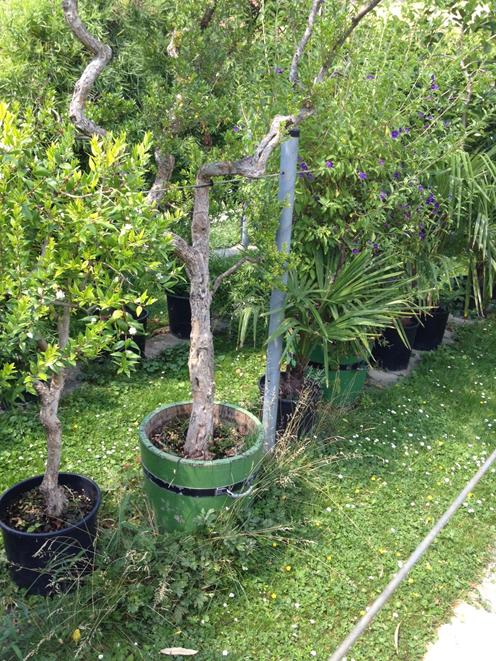 Optimader: "[P]runed back old espalier." I have seen pruning make an immense difference in yield, but the pruner needs to know what they're doing. I think the concept to understand is apical dominance, but readers will correct me.
Bonus video (optimader):
Chicago Botanic Garden's "Spike, the Titan Arum" (Corpse Flower) live, as it were.
If you enjoy Water Cooler, please consider tipping and click the hat. This is turning into a tough month, and I need to keep my server up!