We are a little light on Links. We'll have them done by 7:30 AM.
The man who speaks 32 languages – and counting New Statesman (Chuck L)
Delta and American Airlines ban transport of big-game trophies BBC (furzy mouse)
Devastation as hitchhiking robot hitchBot found 'murdered' in US city London Evening Standard. Chuck L: "Where else but in the US of A?"
HitchBOT video shows attack; tech sector rallies around little visitor Philly.com
Tiny Drones That Navigate with Insect Eyes MIT Technology Review (furzy mouse)
Conservapedia gets schooled by evolutionary biologist Daily Kos. Worth reading for the quotes from a great takedown.
China's Response to Stock Rout Exposes Disarray Wall Street Journal
China Seeks Businessman Said to Have Fled to U.S., Further Straining Ties New York Times
Grexit?
The third aspect: the appeasement of the center of economic power, the oligarchy, and what is called in Greek "diaploki," the intricate nexus between business interests, politicians, and the state. And here we must be absolutely specific. It would of course be a mistake to attach all blame to individual persons. But we should be quite clear about the fact that there have been enclaves providing bridges with sectors of the oligarchy inside Syriza, even before it came to power.

There is nothing coincidental about the exceptionally opaque role of the vice prime minister, Giannis Dragasakis, as the person par excellence devoted to keeping the status quo untouched in the entire banking and financial sector, standing as a barricade against any attempted change in a system that today forms the nerve center, the literal heart, of capitalist power in its relation to the state.
Syraqistan
The Cruel and Indefensible War on Yemen American Conservative (reslic)

Gulf Countries Now Back Iran Deal; Buchanan Explains Republicans' No-Win Situation Michael Shedlock

USA, Turkey and Israel Act As Air Force for ISIS George Washington
Ukraine/Russia
IMF Says Sanctions Take Toll On Russia Wall Street Journal

Ukraine sends new debt proposal to creditors in week – Finance Ministry Reuters
Special Report: State Department watered down human trafficking report Reuters Chuck L: "Per the David Dayen tweet: 'We're 1 whistleblower away from a massive problem for the Obama WH (or at least it should be).'"
Obama Sells Out Human Health and the Environment By Making Nuclear a Centerpiece of Climate Policy George Washington
Wary Voters Shake Up Presidential Race, WSJ/NBC News Poll Finds Wall Street Journal
Six phrases to watch for in Thursday's GOP debate Christian Science Monitor (furzy mouse)
Trump says won't be 'throwing punches' in U.S. Republican debate Reuters (EM)
House of Representatives Passes Bill in 15 Minutes to Revoke Americans' Passports without Due Process Liberty Blitzkrieg
California fires: Firefighters struggle to contain blaze BBC (furzy mouse)
One Way to Fight California's Drought: Desalt the Ocean Wired. Aiee. I have not looked at desalination lately, but last time I did, it has meaningful energy costs. And as resilc points, out, "Then what with the salt? Ship to Ghana like e waste??" Water, carbon emissions and food need to be addressed as an integrated problem, not in a one issue-in-isolation manner.
A.C.L.U. Sues Over Handcuffing of Boy, 8, and Girl, 9, in Kentucky School New York Times
Black Injustice Tipping Point
How To Be Filmed Murdering a Man, Cover It Up, Be Free On Bail, And Ask For Your Job Back Daily Kos

March to Washington begins with civil rights rally in Selma Reuters (EM)

The Man Who Shot Michael Brown New Yorker
This Recovery Really Is Different Barry Ritholtz, Bloomberg
Former trader given 14 years prison for market manipulation Associated Press (allan)
The Challenges of Fighting Money Laundering New York Times. Resilc: "If it was laundering for is2 or narcos the Feds would tkae my house and every last dime. If HSBC or Chase, take it from the dividends of retirees. It's da merikin' way."
Investigating The Trading Activity Of Collateralized Loan Obligations Portfolio Managers Liberty Street Economics
Puerto Rico triggers historic default as austerity spiral deepens Ambrose Evans-Pritchard. This is frustratingly off the mark. Puerto Rico has suffered from insufficient fiscal spending. That is not the same as austerity.
An egregious error on the history of central bank actions in crises Carolyn Sissoko. Sissoko scolds Brad DeLong
Gearing Up For Employment Day Tim Duy. Fedwatching.
Credit card holders gouged more than $2 billion since 2011, research shows Sydney Morning Herald (EM)
SEC Set to Probe Pimco Exchange-Traded Fund Wall Street Journal. Looks like they fudged valuations. And Wells notices are serious. They mean roughly, "We are preparing to file a suit but we'll give the suspect one last chance to try to explain his way out of it."
How Is Normalization of Monetary Policy Going to Work? St. Louis Fed. Key sentence: "Federal Reserve Board economists estimate that the normalization process will take about seven years once it starts." And that assumes it actually starts…
Class Warfare
Robert Reich: America is revolting against its ruling class Salon Resilc: "Wake me up when employees start fragging bosses and billionaires' limos take rpg fire."
Antidote du jour From the story There's A Teen Mountain Lion Out On Her Own For The First Time Laist: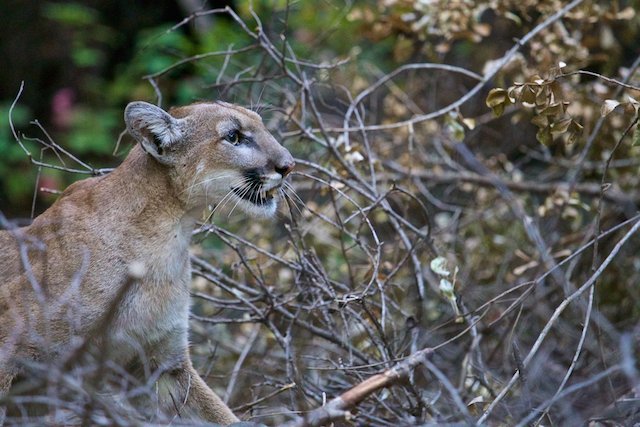 See yesterday's Links and Antidote du Jour here.