One not-often-enough discussed issue is that elections of public pension fund board members are widely believed to be subject to undue influence by incumbent board members and their important allies, particularly unions. There are credible rumors in California, for instance, of unions pressing candidates who file as challengers to current board members to withdraw.
And that's before you get to the fact that board member elections are subject to other forms of manipulation. Unlike other elections of public officials, board member elections are conducted by the organization itself. That's a standard that no election monitor would ever deem to be acceptable.
A reader submitted a Public Records Act request for the election filing of the individual who opposed board member Harry Keiley, who has been on CalSTRS board since 2007, but then withdrew. This from the document that CalSTRS produced (the full form is embedded at the end of the post):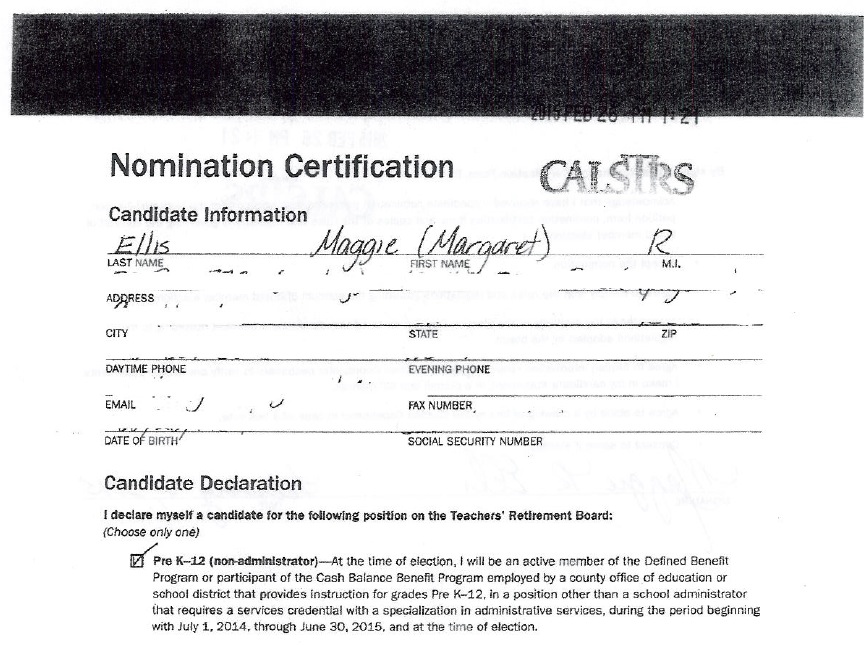 Here is the e-mail sent in response to the records production:
Subject: Public Records Act Not Fulfilled

Tifani,

The document you sent me yesterday cannot possibly be a true copy of the record I requested, which was:

"a copy of the "nomination certification" form submitted by the candidate described as withdrawing from 2015 election for the K-12 (non-administator) seat…"

The document you sent me was illegible in all of the information provided by the candidate other than her name! Since the document is illegible, it is not a true record, unless the record that CalSTRS itself possesses is also illegible in the same way.

I presume that you did not intend to redact the illegible information, since your transmittal letter contained no reference to withheld information or citation of the reasons, as required under G.C. 6253, for why the information was exempt from disclosure pursuant to the Public Records Act. Moreover, the illegible information was not blacked out according to the convention of record redaction.

I am sure that CalSTRS is aware that it is bedrock law in California, and across the U.S., that filings of candidates for public office are public records (other than social security numbers). To allow otherwise would severely undermine the capacity of the press and public to verify the integrity of election processes. Moreover, even if CalSTRS had offered some strained argument about the candidate's privacy interests, which you did not, it would be impossible for CalSTRS to apply those arguments to some of the missing information, such as the candidate's city of residence or zip code.

Since CalSTRS clearly did not intend to redact the illegible information, again, a conclusion I draw because you didn't offer any legally-required justifications for redactions, I am left to conclude that there are only two other possible explanations. Either the document copy was corrupted in scanning, in which case I ask that you re-scan it and forward to me again, or the document was tampered with. This latter possibility is extremely troubling, as it would suggest criminal liability for whoever engaged in tampering with election records.

Please send me a true copy of the requested record.

Thank you.
This message was sent August 21. CalSTRS has not deigned to reply.
It's critical to understand that it is a fundamental principle of of public records laws that election petitions are documents that members of the public can review. The underlying reason should be obvious: in the absence of independent oversight, al sorts of mischief can take place.
I attempted to contact a California teacher and former local union president Maggie Ellis who is almost certainly the same Maggie Ellis who withdrew the nomination. She is still working as a teacher but is no longer the president of her local. I am sure that were she contacted now that the unanswered question of her withdrawal was made public, she would deny the role of union pressure even if that were a factor.
As troubling is the position CalSTRS has taken: it is above the law, both the Public Records Act and potentially election laws. This is not the sort of conduct that is acceptable for any public body, let alone a fiduciary.
Nomination-Form
Nomination Form