By Lambert Strether of Corrente
TPP/TTiP/TISA
Labor: "The actual TPP labour chapter, while including minor concessions to the unions' concerns, fails to include the most critical amendments that workers in TPP countries had proposed. It does not refer directly to ILO Conventions. The labour chapter still relies on a state-state dispute mechanism which relies entirely on the discretion of TPP governments to prosecute claims against one another; this stands in stark contrast to the investor-state mechanisms available to corporations" [International Trades Union Confederation].
Procurement: "Language included in the TPP procurement chapter jeopardizes Buy American. It would give companies operating in any of the 11 other Pacific Rim member countries equal access to many of the U.S. government contracts that now go to local businesses that build and provide upkeep to key infrastructure in our communities. And that would lead to fewer jobs at home." [James Hoffa, Detroit News]. Note that Malaysia got a much better deal for its state-owned industries.
"There remain several obstacles to the successful completion of the agreement and its effective WTO integration, with the most important of these being the inclusion of more WTO members among the signatories–and the hearts and minds of citizens" [European Parliament].
Tobacco: "Under the WHO tobacco treaty, FCTC, Malaysia is obligated in to reduce tobacco use and strictly regulate the tobacco industry. The TPPA does the opposite. The problem with TPPA starts in the Preamble itself as it requires [sic] the Parties to 'establish a predictable legal and commercial framework for trade and investment…' However the FCTC on the other hand encourages a government to go beyond the basics and do everything needed to save lives, hence a government should not become subservient to the tobacco industry's commercial pursuits" [Malaysia Kini].
2016
Policy
"Donald J. Trump on Wednesday morning repeated a statement he made the night before in the Republican presidential debate: that wages are 'too high' in the United States, an argument he made to explain his opposition to raising the minimum wage" [New York Times]. "The remark is at odds with the otherwise populist message Mr. Trump has often espoused." Yes. Yes, it is.
Voters
"'The replacement of working-class whites with upscale professionals has turned the Democratic coalition into an alliance with a built-in class division,' wrote Columbia Journalism Professor and NYT Columnist, Thomas B. Edsall, on the migration of professionals from the Republican party to the Democrats. 'While constituting a minority, the relatively upscale wing clearly dominates party policy and provides the majority of the activists who run campaigns, serve as delegates to the convention and have become the core of the party's donor base'" [Business Insider]. Interesting if true. Important article!

"Since July, Democrats and independents have actually given a more favorable rating of the Republican-controlled Congress than Republicans" [WaPo]. "Just 8 percent of GOP likes GOP-controlled Congress. That's bad for Paul Ryan and great for Trump and Carson."
Money
"The [Kock] network's financial support for Ernst ― detailed here for the first time ― offers the first signs of a move into GOP primaries. The Kochs and their allies are investing in a pipeline to identify, cultivate and finance business-oriented candidates from the local school board all the way to the White House, and Koch operatives are already looking for opportunities to challenge GOP incumbents deemed insufficiently hard-line in their opposition to government spending and corporate subsidies" [Politico]. "the GOP establishment has been nervously watching the Kochs' evolution from wonky libertarian think tank funders to political kingmakers, which comes as money and power are migrating away from the Republican Party. There is a widespread, if mostly unspoken, concern that the brothers' network is gradually encroaching on some of the party's core functions, like candidate recruitment, voter registration and data."
The Debates
"Democrats scheduled debates on days when no one will watch" [Vox]. "Thursday is prime time for debates. Democrats have just one debate on Thursday." Gee. That's odd.

"Trump took 24 percent of the Twitter conversation, followed by former Florida Gov. Jeb Bush, retired neurosurgeon Ben Carson and Sen. Ted Cruz (Texas) at 12 percent each. Sen. Marco Rubio (Fla.) followed at 11 percent, Ohio Gov. John Kasich and Sen. Rand Paul (Ky.) with 10 percent apiece and businesswoman Carly Fiorina at 9 percent" [The Hill].

"For months, the Republican presidential race has been animated by the party's inchoate anger about the state of the country and an equally undefined hope that a candidate would emerge who could usher in an era of civic renewal. But the debate here and its aftermath marked an abrupt transition from vague promises about making America "great again," in Donald J. Trump's phrase, to a new season of the campaign shaped more by the glaring policy fissures that are dividing Republicans over what exactly to do about the nation's problems" [New York Times]. "Years' worth of arguments conducted at issues forums and in the pages of policy journals and newspapers are now coming to life. The Republican hopefuls are sparring over such high-fiber fare as tax policy: whether to adhere strictly to the party's supply-side creed or move at least modestly toward policies aimed at bolstering lesser earners. They are clashing over the role America plays in the world, and whether fiscal conservatism is compatible with a drastically enlarged military." Maybe. Or Atrios is right, and the only common factor is trolling liberals, so-called.

"John Kasich, already on the ropes in the GOP primary with his low polling numbers, is now confronting the fallout from the fourth Republican debate, with conservative media thrashing the Ohio governor for soft positions on immigration and bank bailouts" [Politico].
The Trail
"The results are in for one Illinois university's famous mock presidential election, but the clear winner may surprise some" [NBC]. "Western Illinois University's mock election predicted a landslide victory for Democratic candidate Bernie Sanders, with running mate Martin O'Malley, in 2016. The predicted Sanders-O'Malley ticket garnered 404 electoral votes to Jeb Bush-Marco Rubio's 114 votes. In the popular vote, Sanders earned 741 votes (49 percent) to Bush's 577 (38 percent). The famously accurate mock election correctly predicted the outcomes of the 2008 and 2012 elections, and the university claims it's the "largest and most elaborate mock presidential simulation in the nation." (This is not the poll mentioned in today's Links!)

"Nearly 7 in 10 Americans think Hillary Clinton acted either unethically or illegally by using a private email server while secretary of State, a new poll says" [The Hill]. They're right. She privatized her email server, and then doled out the email she wanted to, and held on to what she didn't want to. So, she's not accountable for her official communications.

"Hillary Clinton is on wrong side of everything: Stop telling me I have to vote for her because of the Supreme Court" [Salon]. Amen!

Bob Dole endorses Jebbie [The Hill]. The kiss of death?
Stats Watch
Jobless Claims, October 2015: "Initial jobless claims held unchanged at 276,000 for the highest 2-week run in two months" [Econoday]. "The ratcheting higher of initial claims the last two weeks could become a concern if they fail to show improvement in next week's report, one that will be very closely watched." And: "Claim levels are at 40 year lows (with the normal range around 350,000 weekly initial unemployment claims of levels seen historically during times of economic expansion" [Econoday].
JOLTS, September 2015: "In a positive sign for labor demand, job openings in the JOLTS report popped back up" [Econoday]. "But in a contrasting indication of worker hesitance, confidence in the strength of the labor market may be limited based on the report's quits rate which remains stubbornly low." But: "[T]he predictive elements show that the year-over-year growth rate of unadjusted private non-farm job openings improved significantly from last months poor numbers" [Econoday]. "JOLTS job openings are a good predictor of jobs growth turning points."
Bloomberg Consumer Comfort Index, week of November 8, 2015: "The consumer comfort index ended three straight declines" [Econoday]. "Good news for retailers ahead of the holidays."
Retail: "The retailer of "Miracle on 34th Street" warned Wednesday that its stores were awash with merchandise after a sluggish fall season and that slow business would force it to go all-out on discounts during the holidays" [Across the Curve]. "Aggressive discounting from one of the country's biggest merchants is bad news for retailers this holiday sales season, which is shaping up to be highly discount-driven. It also raises questions about the strength of the economic recovery, and of consumer sentiment." Could be e-commerce nuking the box stores; I've gotta say, my local Macy's is pretty sad. Anyhow, warehouse hiring is up, and cardboard is down. But Amazon shipping requires both. So WTF?
Retail: "U.S. consumers are feeling more generous this holiday season and plan to spend more on gifts this year than they did last season as a better economy and lower gas prices leave more wiggle room in their pockets" [Market News].
Rail: "October 2015 is down 4.3% over October 2014. Now the year-over-year rolling average is below than the year-over-year rolling average of one year ago" [Econintersect].
Shipping: "China's largest shipping company, Cosco, that it will launch regularly scheduled shipping services along Russia's Northern Sea Route," spurred by the shrinkage of Arctic ice [Longshore & Shipping News].
Honey for the Bears: "Yesterday came reports that Fidelity had marked down the value of its investment in Snapchat by around 25% between the end of July and the end of September, based on an investment it had made just this past spring" [Fortune]. "Fidelity has [also] taken the red pen out for companies like Blue Bottle Coffee, Dataminr and Zenefits." Froth.
Honey for the Bears: "Signs have emerged in Silicon Valley that legislation easing private share sales can't come fast enough for employees who want to divest at a high price, as some big investors are reconsidering the lofty valuations they once put on tech startups" [Bloomberg].
"Total shareholder payouts in 2014 were more than $1.2 trillion, but money moving from investors to businesses in the form of IPOs and venture capital is less than $200 billion," says CUNY economics professor J.W. Mason [Bloomberg] (original paper). "Instead of being invested, Mason figures, much of the cash being handed to investors is going into increased consumption by the wealthy." Hermés stocking stuffers…
The Fed: "While noting that the job market has made progress, Dudley said he wasn't ready to commit to December, adding that 'we have still not seen compelling evidence' that a tighter market is leading to greater compensation gains" [Bloomberg]. I remain long Hermés stocking stuffers.
"The Fed: "In comments to reporters after speeches at the Cato Institute, Richmond Fed President Jeffrey Lacker said the Fed's pledge to move at a gradual pace was simply a forecast. St. Louis Fed President James Bullard said he expected the Fed would not hike rates as fast as they did in 1994 or between 2004 and 2006 but added the Fed would have to respond and hike at a faster pace if the economy showed marked improvement" [MarketWatch].
The Bernanke on interest rates: "The low rate of interest isn't something that God gave us here. It's something that is a feature of the economy. There's a lot of savings in the world looking for a relatively small number of good-return investments, and so the equilibrium real interest rate in the economy is very, very low" [New York Times].
Today's Fear & Greed Index: 56 (-7); Greed [CNN]. Last week: 72 (Greed). (0 is Extreme Fear; 100 is Extreme Greed). Drifting back toward Fear…
Health Care
"Colorado will vote next year on establishing a universal, 'single-payer' healthcare system after supporters secured enough signatures to get the measure on the ballot" [The Hill]. Colorado has a population of ~5 million. That's more than Vermont's ~630K, but is the scale right?
"Medicare Premiums to Increase by 16% not 52%, as Initially Projected" [Wonkwire]. Wait, wait. I thought Social Security said there was no increase in the cost of living? By which I mean living?
Black Injustice Tipping Point
"Mizzou hunger-strike figure from Omaha, son of top railroad exec" [St Louis Post-Dispatch].
Gunz
"[A] 15-year-old freshman shot himself in the head with a 9mm semiautomatic pistol in front of his English class at Lecanto High School that morning" (they lived) [Star-Telegram]. See, if the damn school hadn't been a gun-free zone, some other student could have shot the gun out of his hand. Anyhow, it's a small price to pay for a well-regulated militia.
Our Famously Free Press
"When publications become wire services for platforms, they get flattened out. They focus more and more precious institutional energy on reaching a platform's audience rather than their own, and their voice changes. They stop paying attention to the needs and preferences of their loyal audiences to cater to their borrowed, disloyal, Facebook-driven one, and they lose intimacy and trust" [Quartz].
"The so-called 'Shadow Industry' for ebooks is growing at the expense of the traditional book publishing and selling, ISBN-based, universally trackable contractual infrastructure. 'Shadow' books don't have their rights bought up and traded around like so many credit derivatives, like traditional books are – or perhaps maybe we should start call them 'subprime' books instead" [Tech Crunch]. "To be clear, what I'm saying is that traditional publishers actually make their money not from the traits of novels, or biographies, or any other kind of *text:* they make their money from bundles of paper that can essentially be seized or held up at the border, or be pulped, or burned, or just deteriorate in ways a digital file can't."
Class Warfare
"If we can't find ways to boost demand, then we can look for ways to reduce supply. Specifically, we can encourage people to work less. This would mean policies that promote shorter workweeks, paid time off for family leave and sick days, and more paid vacation. Reductions in the average number of hours worked per worker could lead employers to hire more employees. A tighter labor market would help to bring the upward pressure on wages and prices needed to combat secular stagnation" [CEPR].
News of the Wired
"This Microsoft tool recognizes emotions in pictures" [Microsoft]. Better put that sticky note over your laptop's camera…..
"Finite state machines can also be used to compactly represent ordered sets or maps of strings that can be searched very quickly" [Andrew Gallant's Blog]. "The technique presented in this article is also how Lucene represents a part of its inverted index."
"Dating site algorithms are meaningless. They really don't do anything. In fact, the research suggests that so-called "matching algorithms" are only negligibly better at matching people than random chance" [WaPo]. So Tindr is a phishing operation with a valuation of $5 billion. Alrighty, then.
"'Engineer' is an aspirational title in software development. Traditional engineers are regulated, certified, and subject to apprenticeship and continuing education. Engineering claims an explicit responsibility to public safety and reliability, even if it doesn't always deliver" [The Atlantic]. "The title 'engineer' is cheapened by the tech industry. Today's computer systems pose individual and communal dangers that we'd never accept in more concrete structures like bridges, skyscrapers, power plants, and missile-defense systems." Damned right.
"Where Disruptive Innovation Came From" [Harvard Business Review]. This is a review of the professional literature. Where "disruption" and "innovation" came from as buzzwords, along with "startups" and "unicorns," was glibertarian grifters in Silicon Valley floating on a frothy mix of hype and free money from QE. #JustSaying.
Word of the day: Zersetzung [Wikipedia].
"index#1 – 15 things about the left that may or may not undermine the left" [Bella Caledonia].
* * *
Readers, feel free to contact me with (a) links, and even better (b) sources I should curate regularly, and (c) to find out how to send me images of plants. Vegetables are fine! Fungi are deemed to be honorary plants! See the previous Water Cooler (with plant) here. And here's today's plant: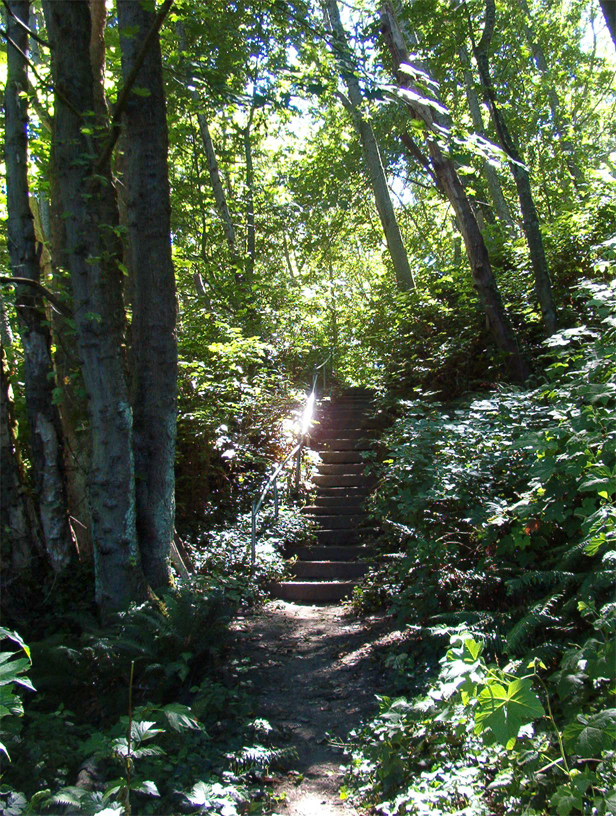 "Magic Stairway" at the Coastal Maine Botanical Gardesn.
If you enjoy Water Cooler, please consider tipping and click the hat. Winter has come, I need to buy fuel, and I need to keep my server up, too.