By Lambert Strether of Corrente
Readers, this will be a little shorter than usual; I had to spend time shouting at some vendors. Well, not shouting, exactly; WASPs don't shout.
TPP/TTiP/TISA
"The TPP Is the Last, Best Opportunity for New Global Trade Rules" [Council on Foreign Relations].
2016
Corruption
"As secretary of state, Hillary Clinton intervened in a request forwarded by her son-in-law on behalf of a deep-sea mining firm to meet with her or other State Department officials, according to the recently released Clinton emails" [AP]. "One of the firm's investors had asked Clinton's son-in-law, Marc Mezvinsky, who is married to Chelsea Clinton, for help setting up such contacts, the emails show." Public office for private gain = corruption, quid pro quo or no.
Policy
Clinton's much ballyhooed gun control ad aired just six times on broadcast TV [New York Times]. "[T]he play for the gun ad stands in contrast to the use of 15 other ads that Mrs. Clinton has aired, which have run anywhere from 103 times in one case to 1,659 in another."

"Media mogul Haim Saban, one of Hillary Clinton's biggest backers in Hollywood, said that the U.S. should step up its scrutiny of Muslims in the wake of the deadly ISIS attacks in Paris" [The Wrap].
The Voters
"Proposition 14, approved by voters in 2010, is a "top-two" primary system in which all candidates appear on the same ballot in June and the two highest vote-getters, regardless of party, face each other in November. Its practical effect has been that in some legislative districts, two Democrats wind up in runoffs, thus allowing Republican and independent voters to tip the balance in favor of the less liberal of the two" [San Jose Mercury-News]. "ßOver the past two election cycles, the system — coupled with redistricting by an independent commission — helped create a bloc of moderate, business-friendly Democrats in the Assembly, and it's beginning to have the same effect in the Senate." So you can see that if the Democratic innner party doesn't have Blue Dogs, it seeks to create them. 

"So 65 percent of likely GOP primary voters support Trump's new proposal [to ban Muslim non-citizens from entering the country], 51 percent strongly. By contrast, likely voters overall oppose it by 50-37" [WaPo].
Money
"[D]onors have helped put more institutional muscle behind the focus on inequality, funding left-leaning think-tanks like the Roosevelt Institute and the Center for American Progress, which is closely aligned with the Clinton campaign" [The New Republic]. Wait, what? And speaking of CAP:

I'm having trouble understanding these two things at the same time pic.twitter.com/VxeJBBhRYB

— David Sirota (@davidsirota) December 10, 2015
The Trail
"Bernie Sanders' New Hampshire favorability is 'almost unheard of' in new poll" [Boston Globe]. Yes, that's the headline from the "Live Free or Die" state.

Ohio Democrat Nina Turner Is Trying To Convince Black Voters To Take A Chance On Sanders" [Buzzfeed].

"5 things I learned writing an e-book about Bernie Sanders" [Will Bunch]. Bunch is one of the good guys.

"What's more, the steady drift of Trumpism into digital-age fascism has been actively abetted by the same media now conspicuously wringing its hands over Trump's excesses" [The Baffler].

"And while it may seem like a lurching, chaotic campaign, Trump is, for the most part, a disciplined and methodical candidate, according to a Washington Post review of the businessman's speeches, interviews and thousands of tweets and retweets over the past six months" [WaPo]. Good reporting:

The Post's analysis found several qualities to Trump's approach. First is a pattern of experimentation that suggests that he is testing his insults and attacks as he goes along. Like a team of corporate marketers, Trump understands the value of message-testing — but he appears to do it spontaneously, behind the lectern and on live television.

Well worth a read. Trump isn't a loose cannon.

"As Ted Cruz Rises in Polls, He Is Banking on the South" [Wall Street Journal].
The Hill
"[C]ongressional leaders scramble to negotiate a fiscal year 2016 omnibus spending package and a tax extenders bill, the House and Senate are preparing to pass Friday a stop-gap spending bill that will keep the federal government funded until December 16" [Market News]. Words like "scrambling," "racing," are most often tells for artificial constraints construed as natural and inevitable. They convey abnormality, while resolutely refusing to examine its source.
Stats Watch
Jobless Claims, week of December 7, 2015: "Claims are up in the latest data, pointing perhaps to a softening of what has been a very solid labor market. … Claims are up in the latest data, pointing perhaps to a softening of what has been a very solid labor market. Initial" [Econoday]. Damn. Where's that punchbowl? Maybe Janet left it under her desk… And: "Initial Unemployment Claims Rolling Average Marginally Worsens" [Econintersect].
Import and Export Prices, November 2015:  "Cross-border price pressures remain negative with import prices down 0.4 percent in November and export prices down 0.6 percent" [Econoday]. "Year-on-year contraction is perhaps less severe than prior months but not by much." And: "Trade prices continue to deflate year-over-year, and energy / agriculture prices drove this month's decline" [Econintersect].
Bloomberg Consumer Comfort Index, week of December 6, 2015: Edged higher [Econoday]. "Both the assessment of current economic conditions and the buying climate improved which is good news for holiday shopping. The component for personal finances continues to slip and is at its lowest point since mid-August. Consumer confidence readings have been a bit shaky going into year end."
Quarterly Services Survey, Q3 2015: "Information revenue rose 0.7 percent in the third quarter compared to the second quarter" [Econoday]. Mr. Information always answers questions… 
Commodities: "Glencore revealed it is considering an IPO of its agriculture business, besides the search for a trade investor it has previously announced, as the commodities giant unveiled a debt-cut plans which sent its shares soaring" [Agrimoney].
Commodities: "Across the American shale patch, companies are being forced to square their reported oil reserves with hard economic reality. After lobbying for rules that let them claim their vast underground potential at the start of the boom, they must now acknowledge what their investors already know: many prospective wells would lose money with oil hovering below $40 a barrel" [Bloomberg]. So, a bezzle.
Rail: "The Good News Is That Is Week Is Not As Bad As Last Week" [Econintersect].
Shipping: "Carriers are repeating some of the mistakes that got them into such hot water in 2009, but the industry is not facing a crisis on the same scale as in 2009 and its finances are in better shape to survive the current crisis" [Port Technology].
Shipping: "Temasek sells NOL at below book value – implications for other potential sellers: [Hellenic Shipping News].
The Fed: "So what would happen if, faced with another downturn, US policy has to be eased again?" [HSBC, Across the Curve]. 1) More quantitative easing; 2) negative rates;  3) looser fiscal policy; 4) helicopter money; and 5) policy paralysis.
The Fed: "Growth next year is expected to be 'fairly persistent,' a new survey from the Philadelphia Federal Reserve Bank shows Thursday, despite GDP gains this year coming in lower than expected just six months ago" [Market News]. Watch adverbs carefully; weasels nest in them.
The Fed: "[The Federal Reserve is] accepting the resubmitted capital plan of Bank of America. (B of A, Deutsche Bank and Santander had their capital plans rejected in March, but B of A was still allowed a $4 billion buyback proposal. Twenty-nine other banks made it OK through the stress test process" [Market News].
The Fed: "The greatest monetary-easing cycle in the history of the U.S. has left a mind-boggling amount of cash floating around in the economy. Banks hold $2.5 trillion in excess reserves — money they essentially don't know what to do with — at the Federal Reserve" [Bloomberg]. Oh. Can I have it?
Honey for the Bears: "Rising risks are the result of a loosening of loan underwriting standards, which, says the [Office of the Comptroller of the Currency], 'reflects broad trends similar to those experienced from 2005 through 2007, before the most recent financial crisis….'" [Wall Street on Parade].
Honey for the Bears: "Nothing good [on yesterday's wholesale trade numbers], sales flat and inventories down a very small amount as sales/inventory stays way too high" [Mosler Economics].
"Nakamoto's encrypted PGP key can unlock a huge stash of bitcoins — a million or so worth more than $400 million, accounting for about 7 percent of all bitcoins in existence. No one has touched that bitcoin hoard" [Japan Times]. "Should the real Nakamoto begin cashing in those bitcoins, it could destabilize the cryptocurrency." Yikes!
Today's Fear & Greed Index: 35 (0); Greed [CNN]. Last week: 49 (Neutral). (0 is Extreme Fear; 100 is Extreme Greed).
Black Injustice Tipping Point
"Conflict can destroy movements. We need to fight the system, not each other" [Guardian]. Important and sad post from Eric Garner's daughter.
Health Care
"Maine co-op cuts off individual enrollment" [Modern Health Care]. Sigh.
"Obamacare Is Now on Life Support" [Fiscal Times]. If ObamaCare does what the Heritage Foundation designed it to do — destroy single payer — and then goes into a death spiral, not only will we be better off, so will all future generations. Obama, Democrats, take a bow! And a special shout-out to career "progressives," who helped.
Corruption
"Feds are in town to save Rahm, not to bury him" [Mike Klonsky]. 
"Our so-called leaders are funding a decadent and corrupt machine that exists to serve themselves rather than the city.  The players are extracting extreme and undue profits as the city careens into financial insolvency. Residents face bleak futures while the players enjoy bright futures.  The fact that Chicago is famous for this 'machine' is disgraceful"  [Forbes]. Man, I don't understand this. Obama came up in Chicago. How could Chicago be corrupt?
"Rahm Emanuel is in deep, deep trouble" [WaPo].
"News Corporation Gets Taxpayer Support After Giving Andrew Cuomo A Big Book Deal" [International Business Times]. Ka-ching.
Our Famously Free Press
"Why the Public Can't Read the Press" [The Atlantic]. "Nuts-and-bolts Washington coverage has shifted to subscription-based publications, while the capitol's traditional outlets have shrunk." Important!
Imperial Collapse Watch
"What is the scale of the threat to U.S. supercarriers of China's growing undersea capabilities?" [The Diplomat]. "There have been numerous instances of American carrier groups being surprised by SSKs, friendly or otherwise, during either training exercises or regular deployments. The most famous is arguably the 2006 incident of a Song surfacing at a distance within firing range of the Kitty Hawk battle group. Critics point out that if a relatively inferior sub like the Song was able to penetrate the carrier's screen, a more capable one such as the Kilo would find the endeavor easier." The rest of the article is, in essence, "not to worry." So, OK.
Corruption
Black Injustice Tipping Point
"Argument analysis: Now, three options on college affirmative action" [SCOTUSBlog]. So how come there's never any chin-stroking about legacy admissions?
Gunz
"That's right: Legislation approved two weeks ago by the Republican-controlled Ohio House would allow state residents with concealed-carry permits to pack their loaded, hidden guns into day care centers when they drop off the kids" [New York Times]. It's OK; the kiddies should be wearing their bulletproof blankies at all times anyhow.
Guillotine Watch
"The 40% Rule: A Navy SEAL's Secret to Mental Toughness" [The Hustle]. So the moral is: "Break all the small bones in your feet, and if you're lucky, a squillionaire will take you on as a houseboy." Readers may wish to provide their own morals to the story.
And speaking of squillionaire golfers: "Cal Poly Receives Record Athletics Donation: $10 Million for Golf Program" [KSBY]. The reader who sent this link remarks: "This is my alma mater, an ag college in central California which has gutted their liberal arts department and has many adjunct professors, and of course the money would have been better spent on academics." For some definition of "better," of course.
Class Warfare
"A Critique of Piketty on the Normative Force of Wealth Inequality" [Crooked Timber]. 
My main concern is with Piketty's normative argument, which is naturally less fully spelled out, but we can reconstruct it as follows:

1. Any inequality that is not justified is unjust.

2. Economic inequality is unjustified: it either comes from a fraudulent claim about merit or from inheritance.

3. Therefore, economic inequality is unjust.
News of the Wired 
"A unicorn startup is channeling the Occupy Wall Street movement to 'Break the Banks' " [Business Insider]. Please kill me.
"Two years ago, scientists at the UK's University of Reading gave some rats Champagne every day for six weeks, then asked them to complete a maze. That might sound like a fraternity hazing ritual, but the results warranted celebration: Without drinking Champagne, the rats had an average success rate in the maze of 50 percent, but that increased to 70 percent after some bubbly" [New York Post].
"John Trudell, Outspoken Advocate for American Indians, Is Dead at 69" [New York Times]. The euphemism seems to be "walked on," rather than "passed," which I find preferable.
"California research firm J.D. Power and Associates's June survey of new car buyers found the greatest complaints involved vehicle connectivity systems. The auto makers' voice recognition and Bluetooth pairing were top concerns, it said" [Wall Street Journal, "Auto Makers Losing Battle for Dashboard Apps"]. Totally what I want drivers thinking about: Bluetooth pairing. 
"Retrotopia: Economics by Other Means" (the next in the series) [The Archdruid Report]. No issues with voice recognition in vehicles — "Left! I said left! Oh n-o-o-o-o-o-o!!!!! — in the Lakeland Republic, eh?
* * *
Readers, feel free to contact me with (a) links, and even better (b) sources I should curate regularly, and (c) to find out how to send me images of plants. Vegetables are fine! Fungi are deemed to be honorary plants! See the previous Water Cooler (with plant) here. And here's today's plant (RS). Look at that lovely dark pile: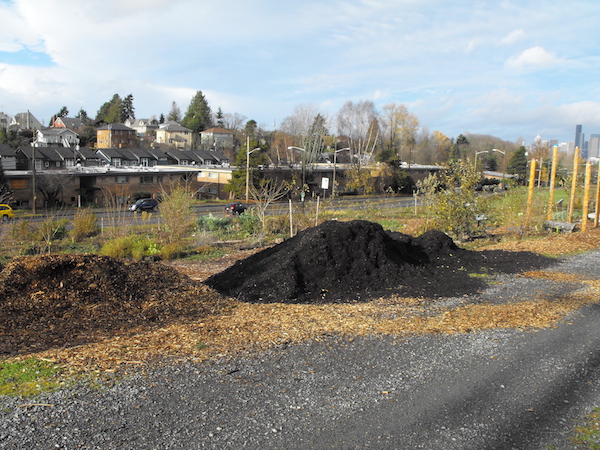 RS writes: "Fence in apiary and mulch pile."
* * *
If you enjoy Water Cooler, please consider tipping and click the hat. Winter has come, I need to buy fuel, and I need to keep my server up, too.