By Lambert Strether of Corrente
Readers, today I must rush to the shop to retrieve my Mac laptop from the shop, which they failed to fix, having ordered the wrong keys. I hope I don't lose a tooth to the grinding. Of course, Apple having designed a machine that's absurdly difficult to repair is part of the problem, but that's why one pays a repair shop the big bucks. Snarl.
TPP/TTIP/TiSA
"The World Trade Organization ruled Monday that Canada and Mexico can slap more than $1 billion in tariffs on U.S. goods in retaliation for meat labeling rules it says discriminated against Mexican and Canadian livestock" [ABC]. This is country-of-origin labeling. Crazy stuff. I mean, who wants to know where their meat comes front? Oh, and that talking point that the US never loses an ISDS suit? Vaporized.
2016
Policy
"Elizabeth Warren endorses Hillary Clinton's proposed new Wall Street regulations" [Salon]. "She and I agree." However, reading beyond the (Democratic apparatchik-authored Salon) headline, I think Warren's position is more nuanced. Clinton's Op-Ed (not really "proposed" "regulations") might set a floor. I don't see Warren as saying it sets a ceiling. However, that's what Clinton clearly means.

"Donald Trump on Monday said there should be a 'total and complete shutdown of Muslims entering the United States,' a surprising escalation of rhetoric—even for him" [Politico]. Including, apparently, US citizens who are Muslims, translators, ambassassadors, etc. How Trump proposes to implement this without a religious test at the border is unclear, at least for countries (like the United States) that don't put religious status on passports.

""Large segments of the Muslim population" are driven by a blind hatred, Trump said, and until and unless "we are able to determine and understand this problem and the dangerous threat it poses," members of the Islamic faith must be kept from the country indefinitely" [Los Angeles Times].

And then there's this:

.@realdonaldtrump: "We can't live like this. It's going to get worse and worse. We're going to have more World Trade Centers." #chsnews

— The Post and Courier (@postandcourier) December 8, 2015

(And Santorum plays the same card: "Iowa could be terror target" [Des Moines Register].

Here are some reactions to Trump's latest:

Chair of South Carolina Republican Party: "As a conservative who truly cares about religious liberty, Donald Trump's bad idea and rhetoric send a shiver down my spine" [@MattMooreSC].

Jebbie: "Donald Trump is unhinged" [Newsweek]. And Jeb Bush is at 4%.

Karl Rove: "If you call all the people you're running against losers, clowns, and dopes, that's not the language of someone who unifies the party" [New York Magazine]. Well, no. No it isn't.

"Trump Gives Muslim On Fence About Radicalizing Just The Push He Needed" [The Onion].

Of course, there's the Twitter:

Remember when a Muslim American immigrant was crowned Miss USA in a pageant Donald Trump owned? pic.twitter.com/p0POMn1E9M

— Dena Takruri (@Dena) December 8, 2015

Careful photo selection by @TimesofIsrael. h/t Josh Abraham pic.twitter.com/0X06s2xqOr

— Stu Loeser (@stuloeser) December 8, 2015

My reaction:

If things go on as they are, Trump is going to taste blood, and he — and the rest of us — will have to figure out how to react to the innovation. (That is, the kayfabe will extend to the audience, as opposed taking place in and just outside of the ring. Not a dry seat in the house, but not in the usual sense of the term.) I can see this happening in two ways: First, and most obviously, we've already seen avowed Trump supporters beating up homeless people, and roughing up protesters at Trump campaign events. And when something much worse happens? Less obviously, both Trump, and Santorum, are giving anybody who wants to "sharpen the contradictions" both within the United States electorate and in its imperial policy a barely concealed but very clear blueprint of how to do so: Launch an attack in the election season. I remember vividly the gaslighting that Bush administration used during campaign 2004 — remember those stupid color-coded threat levels? — but a genuine attack (for some definition of genuine) could have much more impact. The lizard backbrain likes blood. As do many quite cool intelligences, globally. This could get ugly.
The Voters
"Donald Trump has a base: 76% of Republicans think Islam is un-American" [Ezra Klein, Vox]. Although I don't know the quality of the American values survey.
The Trail
"Presidential hopeful Bernie Sanders said Monday that it would be "a real disservice to many millions of people" for him to shift his campaign focus away from issues impacting the "disappearing middle class," despite intense media interest in terrorism and foreign policy" [WaPo].

"History shows that even in an normal year, Iowans rarely settle on a final decision until the last possible moment. In past election cycles, the final four-day poll conducted just before the caucuses shows how much turbulence remains late in the race" [J Ann Selzer, Bloomberg]. Selzer is the dean of Iowa pollsters. She says: "I have seen too much to speculate on how this caucus will turn out. It is unlike any I have polled before. It's unlike any my predecessors would have polled before. Anything can happen. And likely will." I agree. I also think her statement applies across the board, i.e., to the Democratic race. People who declare — months before the first vote has been cast! — that Clinton has won, or Sanders has lost, or even that O'Malley is a non-factor, should in my view look more to opportunity than succumb to despair. (Note also Karl Rove:"There's never been anything like this" [New York Magazine].)

Iowa: Trump, 33%; Cruz, 20%; Carson (fading) 16%; Rubio: 11%; Bush: 4% [CNN].

"A site with the domain name JebBush.com redirects to the real estate mogul's official presidential campaign page, donaldjtrump.com, and features Trump's slogan with options to support or donate to his campaign" [The Hill]. All that money, Jebbie. All that money…
The Hill
"Speaker Paul Ryan (R-Wis.) indicated Monday that Congress might not hit the Friday deadline to pass a catch-all government spending bill and renew a package of tax breaks" [The Hill]. "A shutdown is still unlikely, since Congress would pass a short-term measure lasting a few days if the omnibus isn't ready in time."
Interesting article on dynamics in the House Republican caucus [The New Yorker].
Ryan represents a bridge between Boehner's generation and the members elected since 2010, and some in the older guard told me they don't know if Ryan can control [Freedom Caucus leader] Labrador's faction any better than Boehner could. 'The question remains: can we change the underlying political dynamic that brought us to this point?' Charlie Dent, the head of the Tuesday Group, a caucus of fifty-six center-right Republicans, told me. He said that the Republican conference was divided into three groups: seventy to a hundred governing conservatives, who always voted for the imperfect legislation that kept the government running; seventy to eighty 'hope yes, vote no' Republicans, who voted against those bills but secretly hoped they would pass; and the forty to sixty members of the rejectionist wing, dominated by the Freedom Caucus, who voted against everything and considered government shutdowns a routine part of negotiating with Obama. 'Paul Ryan's got his work cut out for him to expand the governing wing of the Republican Party,' Dent said. 'There shouldn't be too much accommodation or appeasement of those who are part of the rejectionist wing.'
Then again, this is the party that impeached Bill Clinton over a *******, and went on from there to try to steal election 2000 in Florida. There really isn't much new here.
Stats Watch
JOLTS, October 2015: "Job openings, which had been extremely strong, are falling quickly" [Econoday]. "there is one plus in the drop in openings (at least if you're a hawk at the Fed), is that it does not point to an increasing pace of labor market utilization at a time when available labor is diminishing which in turn points to less pressure on wages."
NFIB Small Business Optimism Index, November 2015: "Expectations are falling in consumer confidence readings and also some business readings including the small business optimism index" [Econoday]. " Components showing the most weakness relative to October are future sales followed by the economic outlook and earnings trends. But holding steady at solid levels are job openings, capital investment plans, and hiring plans." And: "[C]ollapses in November after three stagnant months" [Econintersect].
Consumer Credit, October 2015: "total consumer credit rose a lower-than-expected $16.0 billion in October" [Econoday]. "Still, the pause for revolving credit won't be lifting expectations for holiday spending." And: "The headlines say consumer credit rate of growth declined – and came in well below market expectations. Our analysis shows year-over-year consumer credit growth rate decelerated. Still consumer credit growth remains well above economic growth" [Econintersect]. And: "Looks like the last blip up just got reversed so it continues to go nowhere and it's at levels higher than before the last recession" [Mosler Economics].
[Wall Street Journal, "The November Jobs Report in 14 Charts"]. So far as I can tell, nothing is really better than before the Crash, and there's lots worse. I wish I'd gotten to the party while there was still punch…
Health Care
"Association Between the Affordable Care Act Dependent Coverage Expansion and Cervical Cancer Stage and Treatment in Young Women" [Journal of the American Medical Association]. Increased access to health care can increase treatment.
Our Famously Free Press
"Democratic presidential candidate Sen. Bernie Sanderswon [Time's] annual readers poll with more than 10 percent of support, but didn't make it on the shortlist" for 2015 Person of the Year [The Hill]. Gee, that's odd.
Trump and "access panic" [The Awl]. With Trump's twittorrhea, he doesn't have to beg for access.
"By permeable publishing, we mean a new form of reading experience, in which readers may "push back" through the medium to ask specific, contextual (and constrained) questions of the author" [New York Times Labs].
Gaia
"China's capital on Monday issued its first ever 'red alert' for pollution, as the city government warned that Beijing would be shrouded in heavy smog from Tuesday until Thursday" [HuffPo> (PT)]. Pictures of Beijing are all over the twitter. Not looking good.
"Chinese artist uses 'vacuum cleaner' to turn smog into brick" [CNN]. Literally. He walks around Beijing holding the nozzle of an industrial vacuum cleaner up in the air. After a month, he turns the detritus in the bag into a brick.
"Canada shocks COP21 with big new climate goal:" 1.5 degrees C [National Observer (PT)].
"[Elliot Diringer, Center for Climate and Energy Solutions] has advice for oil executives [at COP21]: 'You are really going to have to devote some energy to repositioning the image of the industry as a solution instead of as a problem.'" [CBC].
Imperial Collapse Watch
"Amnesty: Most weapons used by IS were seized from Iraqi army" [AP]. It would really be more sensible, and humane, if we dumped pallets of cash over Syria. Let the magic of the marketplace work…
Guillotine Watch
"Brazen thieves target Gwyneth Paltrow's Goop pop-up store in New York – and run off with $173,000 of merchandise after forcing open display case" [Daily Mail]. "Paltrow's lifestyle range features $8,900 dresses, custom-made furniture, and at the 'lower end' $275 leather bracelets."
Class Warfare
"How Change Happens: Interdisciplinary perspectives for human development" (PDF) [Oxfam]. I have a weakness for typologies, as readers know, so I'm doing to paste in a (too small, sorry) image of the key table, "The Rough Guide to How Change Happens":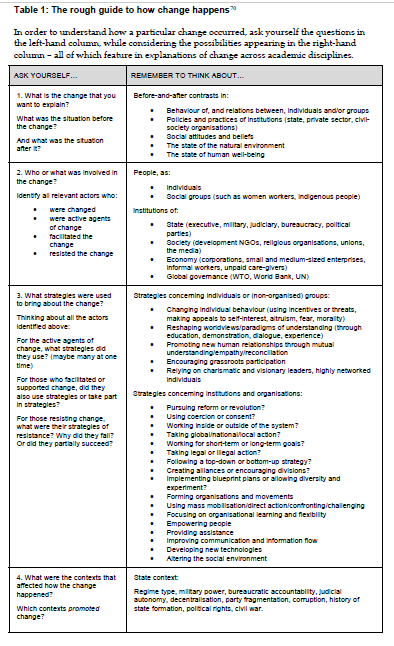 Shannon Liss-Riordan, "the lawyer looking to kill the 'gig economy'" [Marketwatch]. "The lower-cost business model referred to by many names that these startups rely on hires workers on a freelance basis, without the full benefits of employees, and often gets them to use their own resources, such as their own cars, bikes, etc. But these drivers, shoppers or even "ninjas" can often be monitored through a company's mobile app or internal software, asked to wear company uniforms, behave according to company policies or "suggestions," and can be easily terminated." Note that many, many of Silicon Valley's sky-high valuations depend on companies whose business models depend on breaking the law to enter markets, and screw over workers into the bargain.
"Intersectional Food Politics & The Failure of SNAP Challenges" [Decolonize all the things].
Recently Gwyneth Paltrow tweeted a picture of $29 worth of food to equate to what a family on SNAP benefits has for a week with on food stamps. … Rich people who do SNAP challenges don't have to deal with the overlaying, connected, & intersecting factors of poverty & the consequences of deteriorating health that comes with it. So the processed foods they have to constantly eat coupled with the stresses of poverty puts them at higher risk for a wide variety of chronic illnesses. The stress of poverty alone can kill. … [And] SNAP challenges ignore how ridiculously difficult it is for poor people to get SNAP benefits. For instance, if you're working poor and have a family, when are you supposed to have the time to make it to a downtown social services office when you work during their open hours? Not to mention the fact that many people who make more than the federal poverty threshold are STILL POOR but don't qualify for SNAP benefits. These individuals have to practically make due with tiny food budgets & make food stretch paycheck to paycheck, month to month. Food insecurity is not limited to SNAP benefits, poverty is not limited to the federal poverty line.
"A farmer-philosopher who confounds expectations about Islam and outsiders in the South" [The Economist]. Not sure where to file this, but it goes well with the previous link.
"College enrollment rates are dropping, especially among low-income students" [WaPo].
News of the Wired
"Algorithm writers need a code of conduct" [Guardian]. MR: "Isn't it a little late?"
"Discovery of Giant Wasp Opens Window to Ancient Forests" [New Historian]. I'm a giant WASP myself…
"Researchers want to wire the human body with sensors that could harvest reams of data—and transform health care" [Scientific American]. Interesting tech. OTOH, you have to wonder what insights that teaching medicos to train their five senses on the actual human in front of them can do, especially in countries that are not rich. Sight, sound, touch, taste, smell are all highly evolved "sensors," after all.
"The race to bring driverless cars to the masses is only just beginning, but already it is a fight for the ages. The competition is fierce, secretive, and elite. It pits Apple against Google against Tesla against Uber: all titans of Silicon Valley, in many ways as enigmatic as they are revered" [The Atlantic]. "Revered"?
* * *
Readers, feel free to contact me with (a) links, and even better (b) sources I should curate regularly, and (c) to find out how to send me images of plants. Vegetables are fine! Fungi are deemed to be honorary plants! See the previous Water Cooler (with plant) here. And here's today's plant (Kokuanani):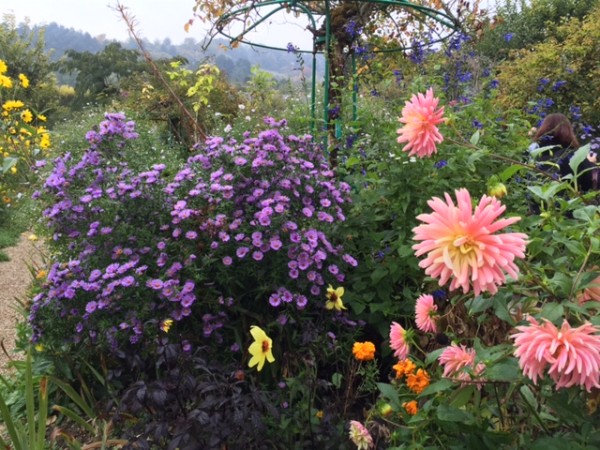 Note the masses of color. Monet's Giverney is a grandmother's garden!
* * *
If you enjoy Water Cooler, please consider tipping and click the hat. Winter has come, I need to buy fuel, and I need to keep my server up, too.