Donkey Who Nearly Died In Flood Breaks Into A Grin When He's Rescued Dodo (YY)
Paris attacks: France accepts Russian puppy Dobrynya to replace slain dog ABC (YY)
Study: More Useless Liberal Arts Majors Could Destroy ISIS Gawker
Read Arnold Schwarzenegger's delightful response to climate deniers Grist
Despite Push for Cleaner Cars, Sheer Numbers Could Work Against Climate Benefits New York Times
Chomsky was right, researchers find: We do have a 'grammar' in our head MedicalXpress (Robert M)
What Happens If Someone Uses This DIY Gene Hacking Kit to Make Mutant Bacteria? Motherboard (resilc)
China?
Finland Plans to Give Every Citizen, Rich or Poor, $870 a Month TakePart
French Elections
Front National's election triumph leaves mainstream parties reeling Guardian. This is not getting the attention in the US that it warrants.

French Far Right Victory Brings Eurozone Disaster Closer Fortune Swedish Lex: "We began warning about this five years ago, I think, when Merkel and Sarkozy imposed austerity and Sarkozy domestically turned xenophobic in order to win votes from le FN:

But, as CER's Tilford points out, "the politics have been moving in a worrying direction for a long time." Unless something changes the direction of travel, it's only a matter of time before Europe's pivotal economy and body politic finds itself ruled by a motley bunch of neo-, crypto- and quasi-fascists absolutely irreconcilable with Europe's current status quo.
Venezuelan Government Losing Grip As Low Oil Prices Take Their Toll OilPrice
Syraqistan
Imperial Collapse Watch
Big Brother is Watching You Watch
'Spell-check for hate' needed, says Google's Schmidt BBC. Lambert: "Wowsers".

After Paris Attacks, French Cops Want to Block Tor and Forbid Free Wi-Fi Motherboard

Florida woman arrested for hit-and-run after her car calls police Guardian (furzy mouse)
2016
Most Republicans Have Negative Views Of Muslims — And Toward A Religious Test FiveThirtyEight
Expert: Homegrown terrorism threat is real The Hill. Resilc. "See date."
Coarsening the Culture: Republicans Need To Do Some Housecleaning Washington Monthly
Black Injustice Tipping Point
Video Evidence Appears to Contradict SFPD Account of Mario Woods Killing KQED (Alan C)
Gunz
Sticking to Our Guns New York Review of Books

Nevada Republican lawmaker shares Christmas card featuring fully armed family Daily Kos (furzy mouse)

Jeb Bush, who purged thousands of innocent voters from the Florida rolls, thinks the no-fly list is too error-ridden to screen gun buyers. New Republic
Economist's Criticism of Federal Reserve Policies Gains Ground New York Times. Um, we've been linking to economists who have been saying this sort of thing for years.
Obama to cancel millions in student loans swindled by Rubio-supported Corinthian Colleges Daily Kos
OPEC Won't Cut Drilling, and Prices Plunge 5% New York Times
Commodities rout deepens as Chinese trade data signal weaker demand Guardian
From "Leading the Way" to "Losing its Way": CalPERS Andrew Silton. Important. Silton is the former Chief Investment Officer for North Carolina and therefore a particularly well informed commentator. Silton has also been producing more intense, edgy looking art since he's been following CalPERS. Hope he regards that as a plus, or at least a useful expansion of his range.
A Revolving Door Helps Big Banks' Quiet Campaign to Muscle Out Fannie and Freddie Gretchen Morgenson. Great reporting. I need to write a post on the policy issues on Fannie/Freddie "reform"…
Class Warfare
Antidote du jour. From The nine lives of Russia's Hermitage cats. The Hermitage is one of those sites you really must see if you can arrange it. Not only is the art astonishing (and I'm pretty jaded on that front) but so are the places themselves (and I've seen a few of them too). It goes a very long way in explaining why Russia had a revolution.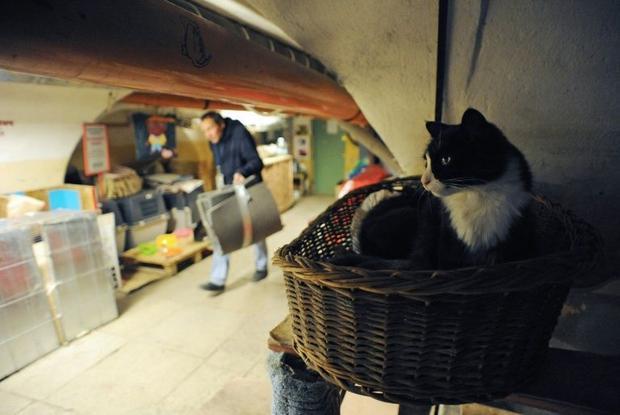 See yesterday's Links and Antidote du Jour here.