Five of the world's sneakiest animals BBC (furzy)
Hunting secrets of the Venus flytrap PhysOrg. Chuck L: "Fascinating!"
Thorough, not thoroughly fabricated: The truth about global temperature data ars technica (Chuck L)
Five Years Later, Tunisians Take to the Streets Again Foreign Policy
Mr. Market is Moody
Stocks surge on oil rally and ECB aid hint Financial Times

Draghi Rally Fizzles In Less Than One Day: Failure In Pictures Michael Shedlock

Fears grow of repeat of 2008 financial crash as investors run for cover Guardian (Sid S)
China?
China Tries to Allay Global Concerns About Its Management of Yuan Wall Street Journal

The tiny shifts that can signal huge changes Gillian Tett, Financial Times. The old pre-crisis capital markets reporter Tett looks to be back….which is a crisis indicator.
EU to clamp down on corporate tax avoidance schemes Financial Times
A Faustian moment for the German Left Politico. Sahra Wagenknecht looks to be making a bid of sorts now that Merkel is wobbly.
Inside Germany's Higher Defense Spending Foreign Affairs (furzy)
France to keep state of emergency 'until IS defeated' – PM Valls BBC (furzy)
Migrant Crisis
Migration 'putting EU at grave risk' BBC

Merkel looks to Turkey for help to deal with migrant crisis DW
Syraqistan
Russian warships make Soviet-era display of might off coast of Syria Guardian. I would assume the US does this sort of thing upon occasion…

Russian Space Agency discussing possible training of Iranian astronaut SpaceDaily. Chuck L: "I expect the neocons will be freaked at this, if they're not already."
Big Brother is Watching You Watch
A Drone Protestor Heads to Jail Bill Moyers
2016
Economic Policy Progressives Need the MMT Community to Get Its Feet on the Ground Rugged Egalitarianism
Flint
A Question of Environmental Racism in Flint New York Times

Finally, We Know Exactly What Led to the Flint Water Crisis Jezebel. Resilc: "I would chip this mofo Fargo style without thinking twice."

What Snyder Knew: Flint Email Dump Shows Attempts to Shift the Blame Common Dreams (John L)
Black Injustice Tipping Point
How Taxes Have Kept Wealth White Too Much (Judy B). From last year, but still germane.

Georgia Police Officer Indicted for Murder of Unarmed Black Man New York Times
This Time, Cheaper Oil Does Little for the U.S. Economy New York Times. As we predicted…
Saudi Arabia says $30 oil is 'irrational' Financial Times. Therefore, no production cuts.
U.S. Is Hiding Treasury Bond Data That's Suddenly Become Crucial Bloomberg (resilc)
Moody's puts 175 on downgrade watch Financial Times
Former regional mall outside Rochester sells for $100,000 at auction Democrat and Chronicle. Allan C: "It's 11 p.m. Do you know where your REIT is?"
Class Warfare
Senator Elizabeth Warren Calls for Action to Root Out Influence of Money in Politics YouTube (furzy)

A tax break that Wall Street cannot defend Financial Times. I managed to miss this. From last week. An editorial. Consistent with what I have been hearing from tax pros, that the carried interest loophole is on its last legs.

Should It Be Easy for Wall Streeters to Take Government Jobs? Gawker (resilc)

Airbnb Takes Its Case to U.S. Mayors Conference New York Times
Antidote du jour. James: "Attaching an image from Presstv (Iran) showing a pic of a wolf pack. The article stated they're becoming increasingly common."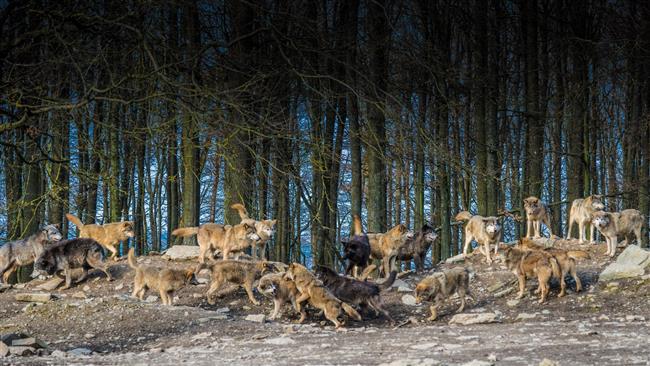 See yesterday's Links and Antidote du Jour here.