Staten Island Official Subtly Owns Real Estate Developer With Incredible Choice of Street Names Gawker (Chuck L)
Unity call as Pope Francis holds historic talks with Russian Orthodox Patriarch BBC
Media Either Ignores Pope / Patriarch Meeting, or Completely Misrepresents It Russia Insider
Elizabeth Warren asks CDC to consider legal marijuana as alternative painkiller Guardian
Mr. Market is Still Upset
Deutsche Risk Failures Now a Global Problem Forum (guurst). From last year, still relevant.
Sweden Goes Negative
Sweden's central bank Riks-rolls the market FT Alphaville

Negative 0.5% Interest Rate: Why People Are Paying to Save New York Times. You want to destroy capitalism, this is the blueprint. As Machiavelli advised his prince, "You can kill a man's father, but you cannot take his patrimony."

Why Sweden's Negative Deposit Rate Isn't As Scary As It Looks WSJ MoneyBeat
Fukushima clean-up 'may take 40 years': Cleaning up Japan's Fukushima Daiichi nuclear plant, which suffer.. CNN
How did Iceland clean up its banks?
Austrians Need Constitutional Right to Pay in Cash, Mahrer Says Bloomberg (Chuck L). I hate to say this, but this is probably the only upside of American being full of guns. I don't think Fed officials dare propose either negative interest rates or getting rid of cash due to the odds of armed backlash (bank officials and employees, and various officials being targets). It's the fear Kissinger actively cultivated re Nixon, that he was a madman and there was no telling what he might do.
A Comedy of Terrors Counterpunch. Bill B: "On Syriza."
Syraqistan
Putin is a bigger threat to Europe's existence than Isis Guardian (Sid S). Soros is taking his message on the road…and blaming Putin for the refugee mess!
Big Brother is Watching You Watch
New York police have covertly tracked cell phones, group says Reuters (EM)

Munich Security Conference. Guurst: "Where lots of creeps assemble."
Imperial Collapse Watch
Deconstructing America's 'Deep State' Consortiumnews (Chuck L)

What Comes Next After Pax Americana? Joschka Fischer, Project Syndicate (Sid S)

AMERICA AT BAY – EVADING DESTINY Sic Semper Tyrannis
2016
Watch a corporate executive turn a room full of workers into Bernie Sanders and Donald Trump supporters Huffington Post

Clinton adjusts pitch: I can be a Sanders, just better McClatchy (resilc)

America's Corrupt Media – How Reporters Took Direct Orders From Hillary's Staff Mike Krieger (RR)

Apparently there's a special place in hell for Democratic politicians who criticize Barack Obama as insufficiently progressive. And a special place in heaven for politicians who have accepted $133,246 from the private-prisons industry but tell Black and Hispanic voters at a debate shortly before the Nevada caucuses and South Carolina primary that they want to end the private-prison system Angry Bear

New Ted Cruz Ad Spoofs "Office Space" In Clinton Server Attack RealClearPolitics (resilc)

Eric Garner's Daughter Endorses Bernie Sanders New York Magazine. The ad is amazing. And it's a gripping reminder of how much needs to be done to stop the widespread injustices done to blacks and other people of color.

Black Political Discussion On the 2016 Presidential Race is Wider and Deeper Than in 2008 or 2012 Bruce Dixon (Bob K)

Sanders proudly declaring "Kissinger is not my friend" totally destroys notion that Clinton's better on foreign policy Salon

The best protection shield for Bernie … failed evoution

Donald Trump Signs a Baby – Talladega Nights Scene Charles Pierce, Esquire
CFTC Likely to Charge Multiple Banks for Libor Rigging Wall Street Journal
Gross, Pimco rivalry hinges on US economy Financial Times
Mortgage Fraud and Growing Worries Matt Levine, Bloomberg. A very wide ranging news wrap.
Class Warfare
Carrier workers' rage over move to Mexico caught on video – Feb. 12, 2016 CNN (resilc). In the way too small world category, I valued that business for United Technologies in 1984 when working for McKinsey. I had to spend time in Mexico City, and concluded there was no reliable data in the Mexican economy on which to do a valuation. The members of the local office agreed, and said, "We do a lot based on feelings." I was nevertheless able eventually to cobble up a proper valuation based on the current owner's POV, where he could play domestic asset valuation/redepreciation games and would also be able to get more actual work done by his employees (domestic unions play ball better with powerful local oligarchs than gringos) v. the UTX perspective (a very high market discount rate for peso risk). When you did the math, the (I am not making this up) 10x difference between bid and offer prices was perfectly rational. We did the valuation as a favor of sorts, and I exited thereafter. I don't know when exactly the deal got done, but my impression was that UTX was eager despite the awfully high hurdles. And Monterey was a dump. Hugh 10-20 story high piles of raw materials that dominated the area, with small temporary-looking mainly one story manufacturing plants scattered among them.

NYC charter school hit with criticism after video of teacher berating student spreads online Raw Story
Antidote du jour. Since this is from Richard Smith (originally @AkshatRathi), one can deem this to be an anti-antidote. But it's a 200 year old Chinese giant salamander, so it probably deserves some slack.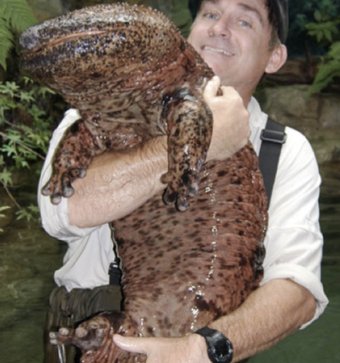 See yesterday's Links and Antidote du Jour here.