Ships' noise is serious problem for killer whales and dolphins, report finds Guardian (Jeff W)
Researchers find birds can theorize about the minds of others, even those they cannot see PhysOrg
Rescued Baby Orphans Keep Cozy With Stuffed Animals The Dodo (furzy)
The causes of selfie-related fatalities Boing Boing (resilc). Wow, this is a category?
First U.S. Zika virus transmission reported, attributed to sex Reuters
Zika: Outbreak worse than predicted because virus has no symptoms, warns Brazilian health minister Independent
Japan Goes Negative
Great Graphic: Falling Equities and US Treasuries Blunt Impact of BOJ's Surprise Marc Chandler

Japan's Negative Interest Rate Gamble Economonitor. A very good overview.
China?
China's Antigraft Campaign Isn't 'House of Cards,' People's Daily Says WSJ China Real Time Report

U.S. says summit with ASEAN nations 'not anti-China' Japan Times
Thwarting the European hegemon as sterling wilts amid Brexit fears Telegraph. Here the famously Euroskeptic Torygraph is acting like the dog that is scared it will actually catch the car.
Refugee Crisis
Satirical Video Urges Africans To Rescue Old People From Denmark Huffington Post

EU court: 'Irregular' migrants should not be jailed Politico
Syraqistan
Exasperated by Netanyahu, France Prepares to Recognize Palestinian State Truthdig

The Final Breakup of Iraq? Barzani calls for Kurdistan Referendum Juan Cole (resilc)

The West Must Stop Giving Turkey a Free Pass New York Times
Big Brother is Watching You Watch
Safe harbor deal divides opinion Politico

U.S. and Europe in 'Safe Harbor' Data Deal, but Legal Fight May Await New York Times
Imperial Collapse Watch
The West Is Traveling The Road To Economic Ruin Paul Craig Roberts. Teejay: "Devastating commentary."

The People's Campaign: The Real Hastert Case- All in One Place Boiling Frogs Post. The text is a bit overwrought but the video is well presented. From Chuck L:

You may recall that in the wake of 9/11 Sibel Edmonds, a young Turkish American woman, responded to a public appeal from the FBI for people who were fluent in Middle Eastern languages. Very soon after she was hired she listened to tapes of wiretaps that indicated serious wrong-doing involving very high levels of the US government. When she sought to shine light on what she had learned she was silenced with some of the most draconian gag restrictions ever applied. For nearly fifteen years now she has kept digging and working to get the story out. She has now assembled connections to the story in one place at the link above. If nothing else, people should click on the first video, and overview that is 16 minute long.

'Micro' Drones, 'Arsenal' Plane, Railguns Funded in New Defense Budget Military.com
2016
Iowa nightmare revisited: Was correct winner called on caucus night? Des Moines Register. Note this was picked up by USA Today.

Sanders Campaign: Iowa Democrats Lost 5 Percent of Vote Roll Call

Coin toss broke 6 Clinton-Sanders deadlocks in Iowa — and Hillary won each time MarketWatch (resilc). Calling Nassim Nicholas Taleb's Fat Tony.

Why I think Clinton did not win the Iowa caucuses: The spread between Clinton and Sanders remained at 49.8 to 49.6 percent for soooo long, increased a bit, a few times, but always returned to 49.8 to 49.6, never quite getting to 49.7 to 49.7. And Des Moines was at 83% percent for evvvvver. Until REALLY LATE. Angry Bear

Iowa Democrats push back on Sanders claim of lost votes The Hill

Clinton's Narrow Win Sparks Nervousness Among Supporters Associated Press via the New York Times. Jeff W:

There's sort of a clueless denialism going on here.

Allies pinned at least some of her problems with young voters on a muddled message.
…

"I think there was something ….to Sanders' message that inspires the base," [Brad] Anderson [an Iowa political consultant who supports Clinton] said.

Maybe that "something" is that Bernie Sanders is analyzing problems and planning to address them while Hillary Clinton is viewed as a walking exemplar of what some of those problems are?

Bernie raises $3 MILLION in 24 HOURS! KABOOM! Daily Kos (furzy). But readers say Kos is still front-paging Clinton articles.

Bring our elites closer to the people Martin Wolf, Financial Times. This is plausible on the surface but if you read it with any discernment, you'll see plenty of incoherence. This is pearl-clutching masquerading as analysis. I would have loved to have parsed it, but there are way too many things to write about right now.

McConnell wary of divisive 2016 fights The Hill

Donald Trump, 2016's first loser Politico

Marco Rubio isn't the second coming of George W. Bush. He's much worse. The Week (resilc)

Which States Cruz, Trump and Rubio Need to Win New York Times

Liz Cheney Announces She's Running For Congress In Wyoming… From Virginia Huffington Post (furzy)
Pharma Executives Worry About Presidential Candidates Demanding Reform Intercept (resilc). They should have realized getting greedy could lead to blowback.
What Happens to Farmers' Interests After Everyone Packs Up and Leaves Iowa? Charles Pierce, Esquire
US immigration's electoral impact: New evidence VoxEU
Flint
Democrats Try To Corner Republicans On Flint Water Crisis Huffington Post

FBI joins Flint, Michigan, water contamination probe Reuters (EM)
Police State Watch
Justice Department launches review of San Francisco police Reuters

Chicago sees January murder surge as Emanuel's poll numbers fall Reuters (EM)

Chicago police officer will sue estate of teen he fatally shot WGN-TV (Chuck L)
Angry White Men
Watch: Oregon militant challenges Chris Christie to sumo wrestling to end standoff OregonLive. Chuck L: "The video is hilarious!"
Fed
Fed stress-tests negative interest rates idea Reuters

Fed vs. the Dollar: Why Yellen Can't Win Wall Street Journal
Global gas market braced for price war Financial Times
Dimon-led governance project a tough sell Financial Times. Yet more proof of the diminished stature of CalPERS. Its experience with corporate activism is that it was profitable. And these players are all conflicted by wanting corporate 401 (k) business. No acknowledgment of that. But the piece does point out why Dimon is not a very credible salesman for this idea.
Baby boomers' retirements could cripple professions like air traffic controller, farmer, and geriatrician. Slate (resilc)
Guillotine Watch
Martin Shkreli All but Gloated Over Huge Drug Price Increases, Memos Show New York Times
Class Warfare
Worse than the Roaring Twenties: What even Thomas Piketty underestimates about American income inequality Salon

New Research from Raj Chetty Shows Poor Black Boys Have High Unemployment Rates Due to Concentrated Poverty Atlantic (resilc)
Antidote du jour. Chet G:
Attached is a photo of an eastern screech owl sitting in its tree hole (taken on Sunday). Whether you consider the tree or the owl, the camouflage is wonderful. (I've been occasionally photographing the owl in its home going back to February 2012, and it is always a pleasure to see it there: http://www.lookoutnow.com/feeder/owl02.htm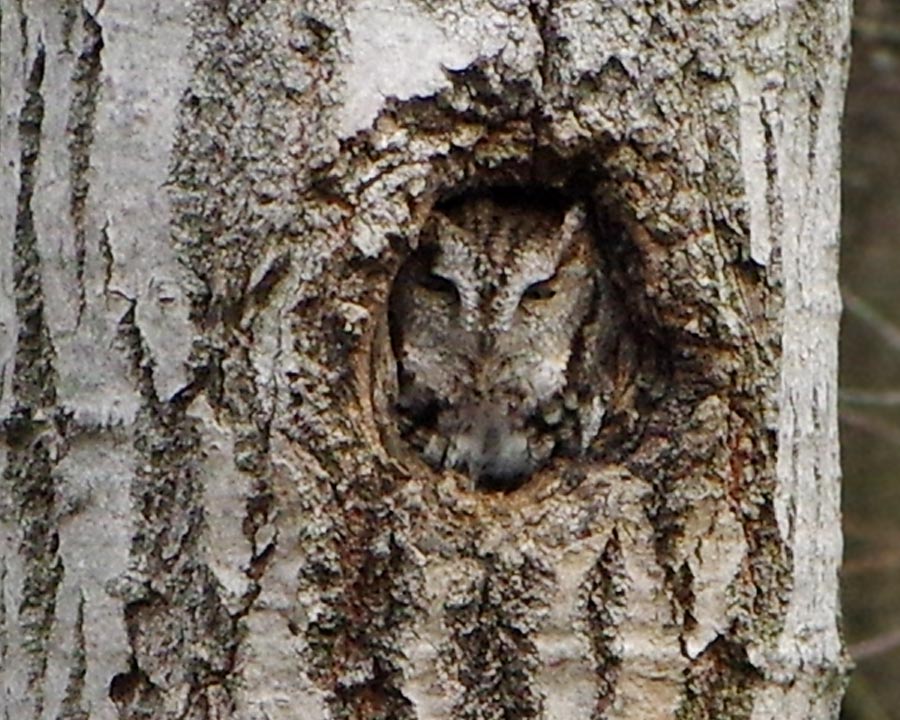 See yesterday's Links and Antidote du Jour here.